Summerstar Tourist Parks Unveils 66KW Solar Array System at Tom Price Tourist Park

Summerstar Tourist Parks has commissioned the install of a 66KW Solar Array System at Tom Price Tourist Park
The system is now up and running, reducing the daytime electricity consumption at the park to close to zero during daylight hours
The average energy produced by the 66KW system is 105,996 kwhs per year
Tom Price, Western Australia: Summerstar Tourist Parks, a leading provider of exceptional caravan and holiday park accommodation experiences in Western Australia, is delighted to announce the successful installation of a state-of-the-art 66KW Solar Array System at Tom Price Tourist Park. This significant initiative showcases Summerstar's commitment to sustainable practices and reducing reliance on mains power in the region.
The brand new 66KW solar array system installed at Tom Price Tourist Park
Tom Price Tourist Park was carefully selected as the ideal location for this solar array system due to several key factors. The park enjoys abundant sunshine throughout the year, with minimal wind compared to coastal parks, eliminating the risk of cyclones. The park also had availability of unutilised land, making it an ideal space for the construction of the solar array system. The park's expansive size and well-established infrastructure provide ample capacity to accommodate this large-scale system, an optimal site for harnessing solar energy efficiently and consistently and ensuring maximum sustainability.
The installation of the solar array system at Tom Price Tourist Park aligns with Summerstar's strategic objective to reduce the company's environmental footprint. By generating clean and renewable energy, the park will significantly decrease its dependence on the electricity grid while simultaneously contributing to a greener future.
"We're exceptionally pleased to have this infrastructure up and running." said Summerstar Tourist Parks owner John Layman. "It's been over a year in the planning and it's amazing to see it come together."
The 66KW Solar Array System comprises ten sets of string panels, each consisting of sixteen 415W panels. This robust system has been specifically designed to minimize daytime electricity consumption at the park and is already bringing the electricity consumption close to zero during daylight hours.
"It's a great step towards keeping costs down for the guests and reducing our carbon footprint in this beautiful part of the world." Mr Layman said. "So far, we're producing more during the day than we can use!"
The system produces an average of 105,996 kwhs per year and it is estimated that the system is the equivalent of powering an EV for 1 million kms in a one-year period (based on the fact that most electric sedans and hatchbacks should average between 10kWh/100km). By harnessing the power of the sun, Tom Price Tourist Park can now operate more sustainably while continuing to provide outstanding amenities and services to its guests.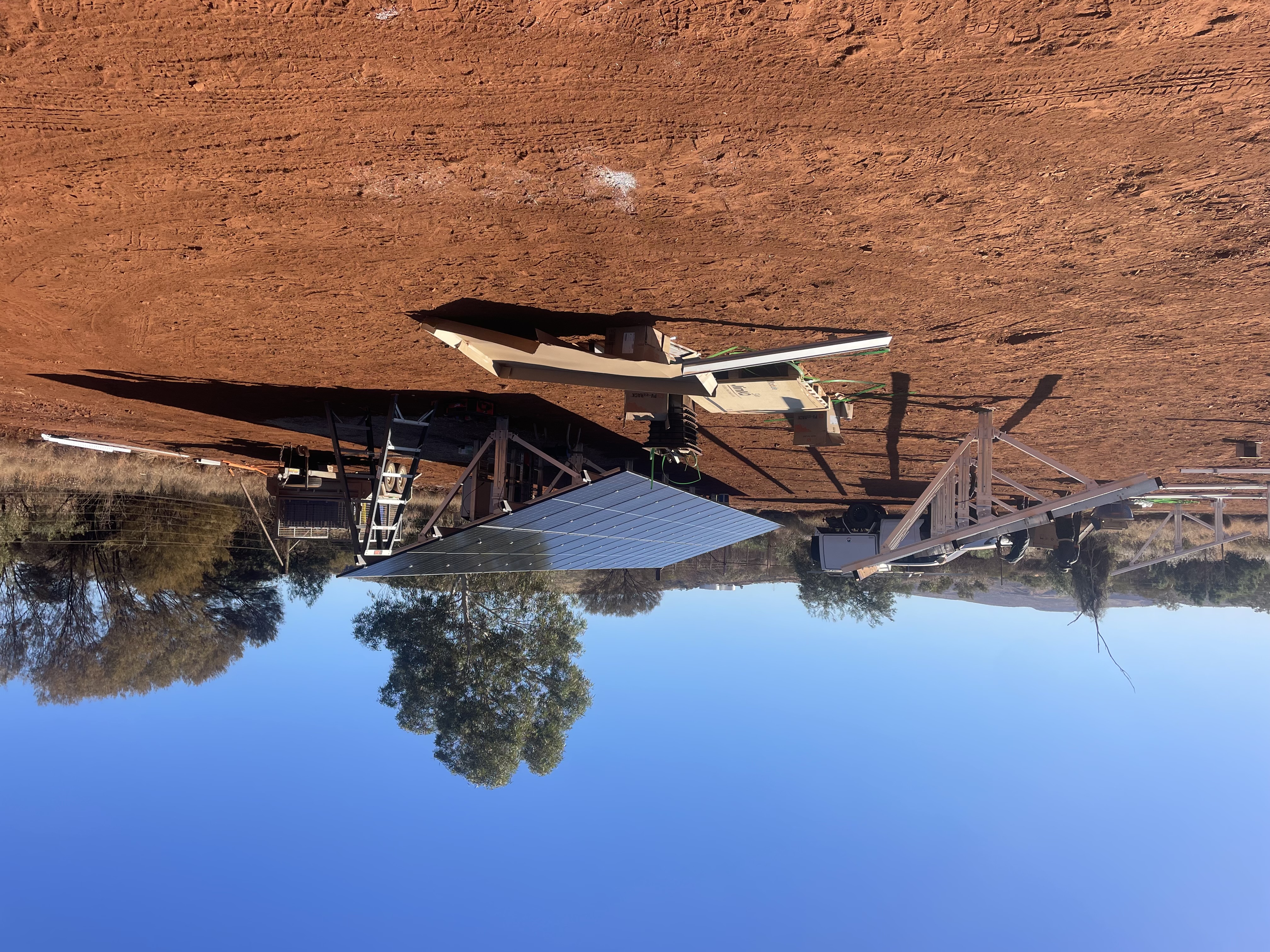 The 66KW solar array system at Tom Price Tourist Park was installed by Geniux
Summerstar Tourist Parks would like to extend its gratitude to Geniux, the reputable solar energy solutions provider, for their outstanding work in installing the solar array system at Tom Price Tourist Park. Geniux's expertise and dedication to delivering high-quality installations have been instrumental in bringing this project to fruition.
"With thanks to Peak Energy for the project management, Sinewave for the assistance with the installation, the Shire of Ashburton for their help in getting the project through and Rio Tinto for their ongoing support." said Mr Layman.
This remarkable development underscores Summerstar Tourist Parks' ongoing commitment to environmental responsibility, renewable energy, and exceptional guest experiences. The company remains steadfast in its pursuit of sustainable practices and will continue to explore innovative solutions to enhance the overall quality of its parks.
----
ENDS
About Summerstar Tourist Parks: 
Summerstar Tourist Parks is a group of family owned and operated caravan parks, holiday parks and tourist parks with over 20 years of experience in running parks and providing guests with comfortable and convenient options for their stay.
Summerstar Tourist Parks operates a range of properties across Western Australia, from coastal destinations to rugged outback locations with a range of accommodation options, from caravan and camping sites to fully self-contained cabins, and are a popular choice for families, couples, and solo travelers looking to explore the beauty of Australia's diverse landscapes.
Over the years, the company has grown and expanded, acquiring more properties, and upgrading their facilities to provide guests with comfortable and modern amenities. Today, Summerstar Tourist Parks is still family-owned and operated and continues to be a leading provider of affordable and convenient holiday park accommodation in Western Australia.