If you're planning a road trip or camping holiday, choosing the right snacks to consume along the way is an important consideration.
If a flaky pie of questionable age or greasy chips and sauce from a quick refuelling stop are your usual options, why not try some healthier choices for your next trip.
With a little imagination and planning, eating healthy on-the-go isn't as challenging as you think.
The 17 best healthy road trip snack ideas
1. DIY fruit cup
If you're heading up north to road trip along WA's Coral Coast, stop in at the Perth Mango Farm in Neerabup or pick your own strawberries at the Picking Farm in Wanneroo. These local spots offer the perfect excuse to create fruit cups for the kids, whilst encouraging them to be active as well.
Fruit snacks can be mixed for variety depending on the season and road trip. Keep the fruit in zip-lock bags between cool packs or in cold mason jars and eat from the jar. To increase your vitamin and nutrient intake, add grape tomatoes to your fruit cups. These small packages are ideal for road trip snacking and provide anti-inflammatory benefits, with vitamins A, C, K.
2. Popcorn
If you leave off the butter and salt, popcorn is a healthy snack.
In fact, air-popped popcorn or natural popcorn without added salt and butter gets the Heart Foundation's tick of approval. You can add garlic powder, olive oil or cinnamon for more flavour without compromising on healthiness. Making popcorn is an easy and fun DIY job for the kids. Store it in brown lunch bags or zip-lock bags for on-the-go snacks. Alternatively, grab the 'lite' popcorn version from the supermarket.
3. Mini bento box
Bring Japanese-inspired dining to the comfort of your car.
Mini Bento boxes are a good idea for fussy eaters or kids who love variety. Pre-pack them using lunch boxes before you leave. Fill with your favourite snacks or get inspired here. Travel snack kits and bento boxes can also be turned into full meals, using them to make things like deconstructed rice bowls with protein and veggies.
4. Weetbix balls
If you're after the perfect chocolate guilt-free snack, try Weetbix balls.
Easy to make, store and eat, they have no sugar and are a tasty spin on the Aussie staple lamingtons. They're also vegan and only have 154 calories per ball.
5. Vegemite scrolls
Vegemite is another Aussie snack food, essential for road trips.
Grab an on-the-go vegemite and cheese snack, prepare vegemite sandwiches or stop in at your local bakery for vegemite scrolls. Whichever way you choose to consume the national spread, it's loaded with vitamins to reduce fatigue and support brain health, important when getting behind the wheel.
Feeling creative in the kitchen? Try these easy cheese and vegemite scrolls for your next road trip.
6. Absolutely nuts
Want a healthier alternative to chips and junk food? A handful of almonds, sunflower and pumpkin seeds, walnuts, cashews and other nuts will provide your body with some healthy fat and proteins.
Make your own trail mix with your favourite nuts and mixes. Try a combination of dark chocolate chips, coconut flakes, nuts and raisins to keep you feeling full longer.
If you want a nutrient-rich, mega-healthy homemade trail mix, this raw superfood recipe has goji berries and hemp seeds to give you a healthy boost of energy.
7. Low-fat banana muffins
Make a batch of banana muffins for the next family road trip.
These portable treats are quick and simple to bake, with high levels of stress-reducing potassium. Mix up the recipe and add raisins, coconut flakes or goji berries o.or, swap them with low-fat blueberry oat muffins which are gluten, dairy, nut and refined sugar-free.
8. Hummus avocado wraps
If your kids are bored of sandwiches, switch to healthy, filling wraps when you're on the move.
Get creative with combinations or stick with this classic California-style hummus wrap. DIY hummus and add roast pumpkin with your choice of protein. Prep the wraps in advance and roll them in aluminium foil for an easy on-the-go road trip meal.
9. Nourishing crackers
Ditch the chips for nourishing crackers that aren't full of refined flours and processed fats.
Carman's has a range of seed and grain-loaded crackers that can be eaten on their own or with your favourite spread, cheese or homemade hummus. Mary's Gone Crackers, herb flavour, are also good energy boosters because they're loaded with quinoa, pumpkin seeds and sunflower seeds. Stuck for inspiration? Wrap your taste buds around these hummus recipes.
10. Savoury DIY power bars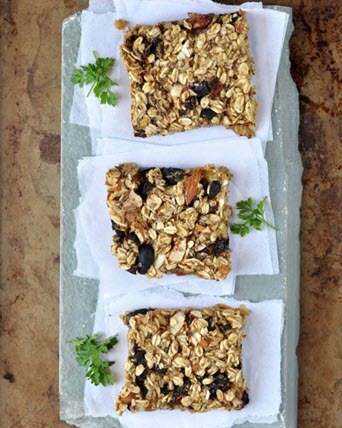 Protein power bars with oats are a nourishing, high fibre snack.
Add nuts, seeds and coconut and these road trip bites can help stabilise blood sugars while also providing a slow release of good fats into your body. Most recipes are simple to make, sustaining and healthy. Here are 34 healthy energy bars you can make at home.
11. Mason jar power smoothie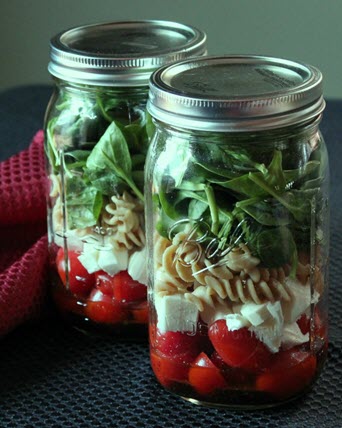 Just because you're driving doesn't mean you have to miss the road snacks. Fill up a mason jar that fits into your car's cup holder. These are ideal for nut and fruit mixes, or a power smoothie to energise the designated driver.
Tip: Mason jars should be the staple for every road trip. Use them to prep burrito bowls and salads to eat on the go.
12. Coconut chips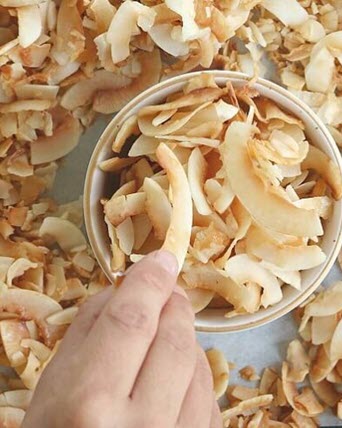 Ideal for that mid-afternoon sugar craving, coconut chips are made from slices of coconut that have been baked in oil. Toast them in the oven until they become crunchy and store in zip-lock bags once they're cooled.
You can add cinnamon, turmeric, paprika or olive oil for extra flavour. But remember, coconut has a naturally high-fat content, so you won't need oil like you would cooking regular chips. Learn how to make them here.
13. Homemade veggie chips
Regular potato chips can also be switched for vegetable chips for a guilt-free and surprisingly tasty alternative.
Tear washed veggies into pieces and toss with olive oil and salt. Spread onto a baking sheet and bake for 15 minutes until crispy, then let cool. Alternatively, deep fry vegetable slices into road trip chips.
14. Baked pea chips
Chilli flavoured Harvest Snaps have less than 100 calories and come with the natural benefits of peas. Made from 65% whole green peas, this tasty chip-like snack is baked, not fried. Get the little pods of flavour here.
15. Roasted chickpeas
A healthy, crunchy snack to replace the servo's junk food.
Roasted chickpeas are protein and fibre-packed and can be flavoured with almost any seasoning. Garlic spice or honey spice seasoning are popular to start with. For added benefits, include anti-inflammatory spices like tandoori.
Tip: Almonds are also great roasted. Toast sugar-free almonds in the oven with olive oil and pepper. Their naturally nutty flavour intensifies once toasted and they're a high-quality source of protein to keep you feeling energised and alert on your road trip.
16. Dry cereal
If you're after a trail mix with a twist, dry cereal can make a fun road trip snack for the kids. Encourage them to make their own by adding a variety of different dry cereals to the mix.
Choose healthier options such as fibre-rich, whole grain cereals such as Weet-Bix, cornflakes, Carman's muesli, Uncle Tobys Oat Brits and Kellogg's All Bran. Use mason jars or zip-lock bags to store and eat dry cereal trail mixes.
17. Cut veggies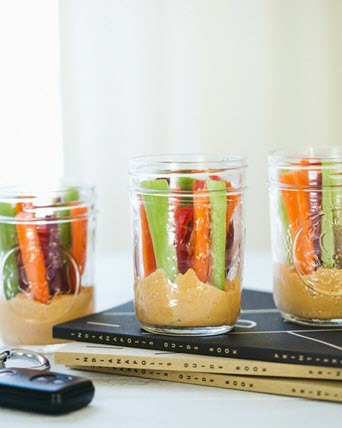 Cut veggies are a quick and easy snack to prepare which can be eaten on the go.
Choose colourful options such as carrots, red capsicum, celery and grape tomatoes in zip-lock bags and serve with hummus or other dips. Use lunchboxes to make veggie/dip packs if you're feeding kids.
Eco-packaging
Road trip snack foods don't have to be unkind to the planet.
If you want to live a more sustainable lifestyle, eliminate single-use plastic and plan ahead with your road trip foods. Use reusable containers, including reusable drink bottles, and eliminate the use of plastic cling wrap or opt for the green-friendly version instead.
You can also reduce the amount of plastic you use with biodegradable zip-lock bags, functional bowl covers and other eco-friendly kitchenware goodies.
Whether you're driving up north or exploring WA's south-west coast-to-coast route, packing the right road trip essentials and yummy snacks can help you enjoy the trip to its fullest. Be sure to also check out our delicious camp cooking recipes perfect for travellers camping in rural destinations.