Geraldton is a beautiful coastal city situated in the vast expanse of Western Australia. Located 400 km from Perth, this major west coast seaport is also a popular tourist destination.
Locals and visitors have lots to explore, including the city centre, the port, the foreshore, and the iconic Point Moore Lighthouse. With a perfectly dry Mediterranean climate and over 160 days of sunshine each and every year, Geraldton is the perfect beach destination.
Whether you're looking for safe family fun, great surf breaks or secret fishing spots, the magnificent white sandy beaches of Geraldton have something for everyone.
Dog-friendly beaches in Geraldton
For travellers visiting with their furry friend, many of the beaches along Geraldton's shoreline are also pet-friendly. Be sure to double check before heading along with your dog as some beaches prohibit dogs, and some require dogs to be leashed. See here for dog-friendly beaches.
Let's take a close look at the best beaches in Geraldton.
Map of Geraldton beaches
Town Beach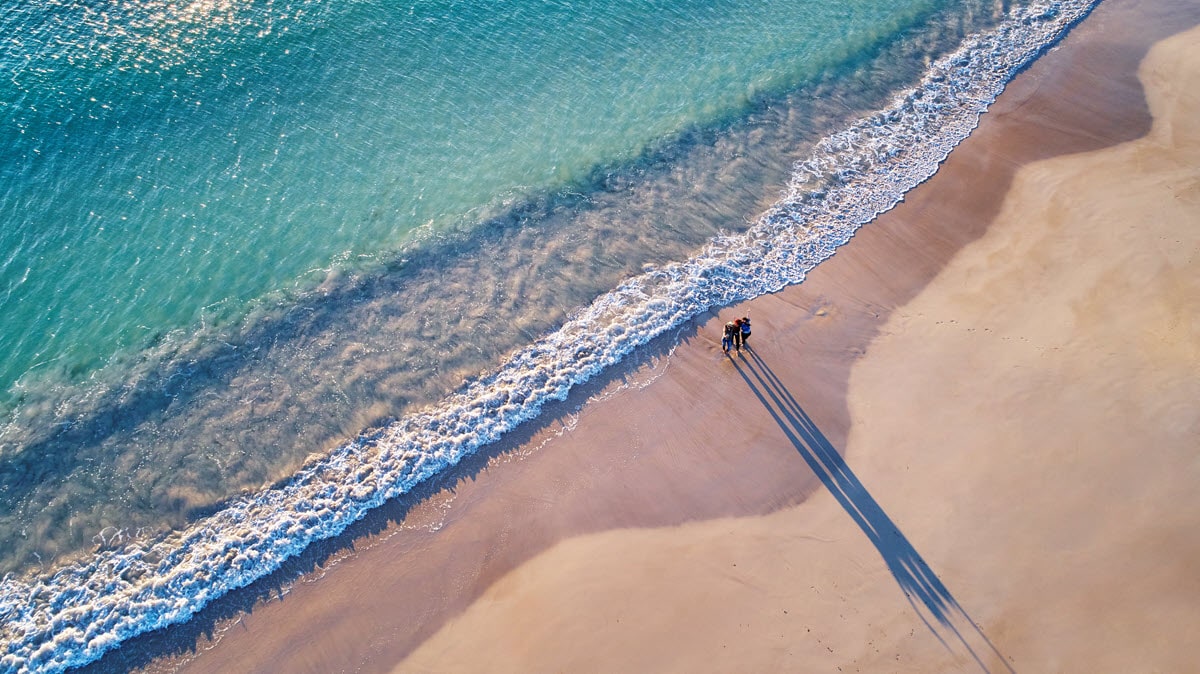 Stunning coastal views over Town Beach in Geraldton, Western Australia.
Town Beach is an accessible beach in the heart of Geraldton. With a small sandy beach and an adjacent yacht club, Town Beach is the perfect place to sit down and soak up the relaxed WA vibe.
Town Beach sits between the Geraldton Foreshore Playground and Esplanade in the town centre, which is a rejuvenated waterfront area and stunning lookout. Geraldton Beach is a few minutes walk to the north, with both beaches described by locals as the Front Beach.
Dogs are prohibited at Town Beach.
Pages Beach
Another one of Geraldton's spectacular beaches is the stunning spot of Pages Beach, located just West of Geraldton's Port. Pages Beach is protected from southerly winds, which makes it a popular swimming, windsurfing, and fishing location.
This beautiful family-friendly beach also has a playground and barbeque facilities, and it's not far from the popular Point Moore Lighthouse. For many families, the inclusion of a playground makes it one of the best beaches in Geraldton.
Dogs are permitted on a leash from the west end of Pages Beach to north of the Point Moore Lighthouse between the hours of 4pm to 8am.
Point Moore Shoreline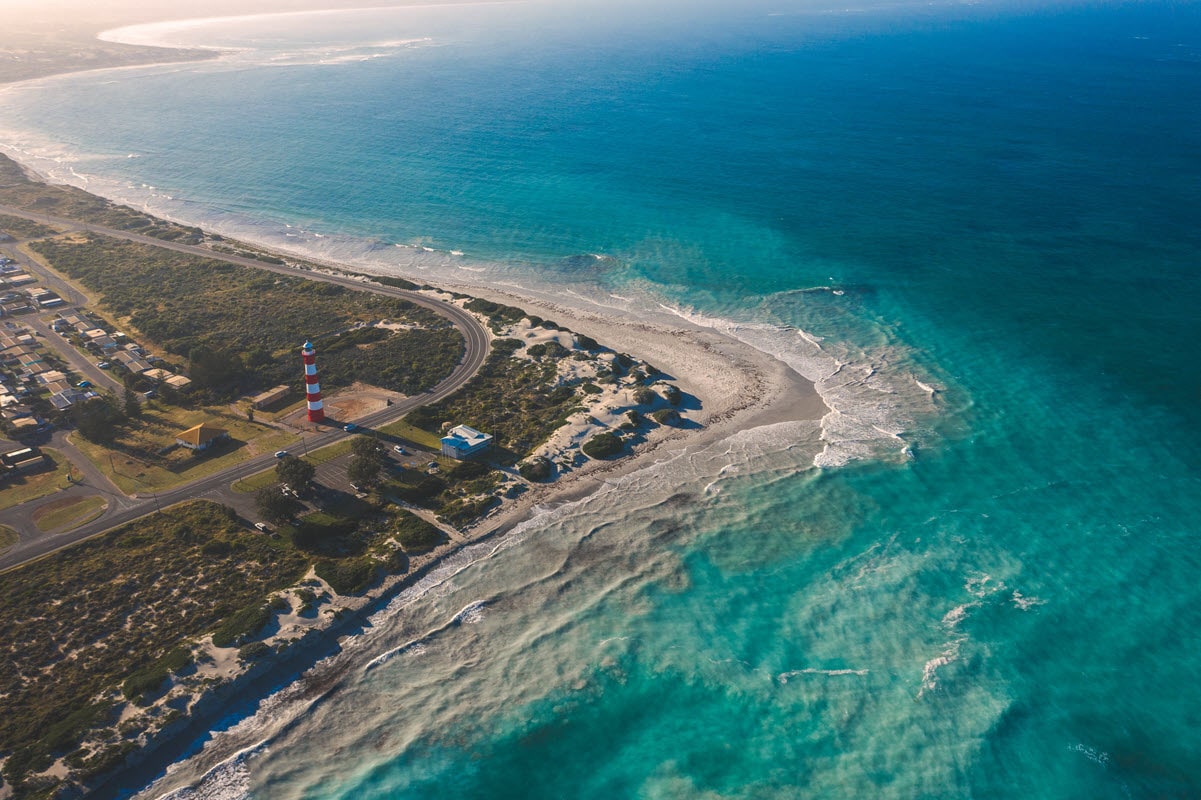 View of Point Moore Lighthouse and the coastal area of Pages Beach in Geraldton, WA.
After Pages Beach, the Point Moore shoreline curves dramatically around the lighthouse. This area features a prominent sandy area and a large intertidal reef. Unlike many of Geraldton's protected beaches, Point Moore is renowned for its rough and windy conditions.
This beach is ideal for experienced windsurfers and kiteboarders, and conditions can also be great for surfing, paddle boarding, body boarding, and snorkelling.
Dogs are permitted at the Point Moore Shoreline - leash free area.
Greys Beach
Just around the corner from Pages Beach, you'll find Greys Beach. This lazy spot is protected from northerly winds, which makes it perfect for swimming and long afternoons in the sun.
Greys Beach is also very close to Point Moore Lighthouse, with lots of people hitting the beach after taking in the lighthouse and adjacent Bob Davies Park.
Dogs are permitted at Greys Beach - leash free area.
Back Beach
On the back end of this coastal town lies the iconic Back Beach. If you travel south from Greys Beach, past the amazing Separation Point Lookout, you'll get to the Back Beach area.
This is a great beach for surfing, with conditions perfect for beginners and experienced alike depending on swell size and wind direction.
Known fondly by locals as 'Backers', this is the perfect place to bring your surfboard, boogie board, or kiteboard.
Dogs are permitted on a leash at Back Beach.
Tarcoola Beach
If you follow Back Beach south for just over a kilometre, you will get to Tarcoola Beach. This beach, and the neighbouring Glendinning Park, are popular with local families and visitors from across Australia.
Once again, Tarcoola Beach is a hive of fun water-based activities, from swimming and surfing to beach fishing and kiteboarding. If you want to take it a little easier, Tarcoola Beach is also the perfect place for a lazy afternoon in the sun.
Dogs are permitted on a leash at Tarcoola Beach.
Champion Beach
Heading north, not far from the Geraldton Front Beach area, you get to the still waters of Champion Bay Beach. Home to the Champion Bay Surf Life Saving Club, which is a local bedrock, this beautiful beach is easy to reach from the city centre, and there's an adjacent car park on Champion Road.
The beach curves gently around Marina Park, which also features a public toilet and the always-popular AJ's Beach Cafe.
Dogs are prohibited at Champion Beach.
St Georges Beach
Further north, St Georges Beach is a great location for beginner windsurfers and kiteboarders. This much-loved beach is also a popular spot for stand-up paddle boarding, fishing, and swimming.
St Georges Beach is not far from the Geraldton CBD, which makes it a great choice for local families and interstate visitors. Along with great water-based fun, you can expect well-maintained barbeque facilities and a playground for the kids. When the tide is low, you can explore the local rock pools.
Dogs are permitted on a leash at St Georges Beach.
Glenfield Beach in Drummonds Cove
If you drive roughly 20 minutes north of the Geraldton CBD, you'll get to Glenfield Beach in Drummonds Cove. 'Glennies' is a popular surfing spot with locals, with conditions generally best between April and October.
The beach is still very usable in summer, however, with November to March ideal for windsurfers and kiteboarders.
Drummond Cove is a family-friendly area with a playground and barbeque facilities, and nearby Drummonds Point is a fantastic reef break for experienced surfers.
Dogs are permitted on a leash at Glenfield Beach in Drummonds Cove.
Flat Rocks
Further from town in the other direction lies Flat Rocks. This location is 35 km south of Geraldton, offering great surfing over winter. With a reef bottom break for left- and right-hand surfers, Flat Rocks is much-loved by local and visiting board riders.
This beach hosts various surfing events, including the Geraldton Boardriders Club, Sunshine Surf Masters, and WA State Round Competition.
Dogs are permitted at Flat Rocks - leash free area.
The best Geraldton accommodation for beach lovers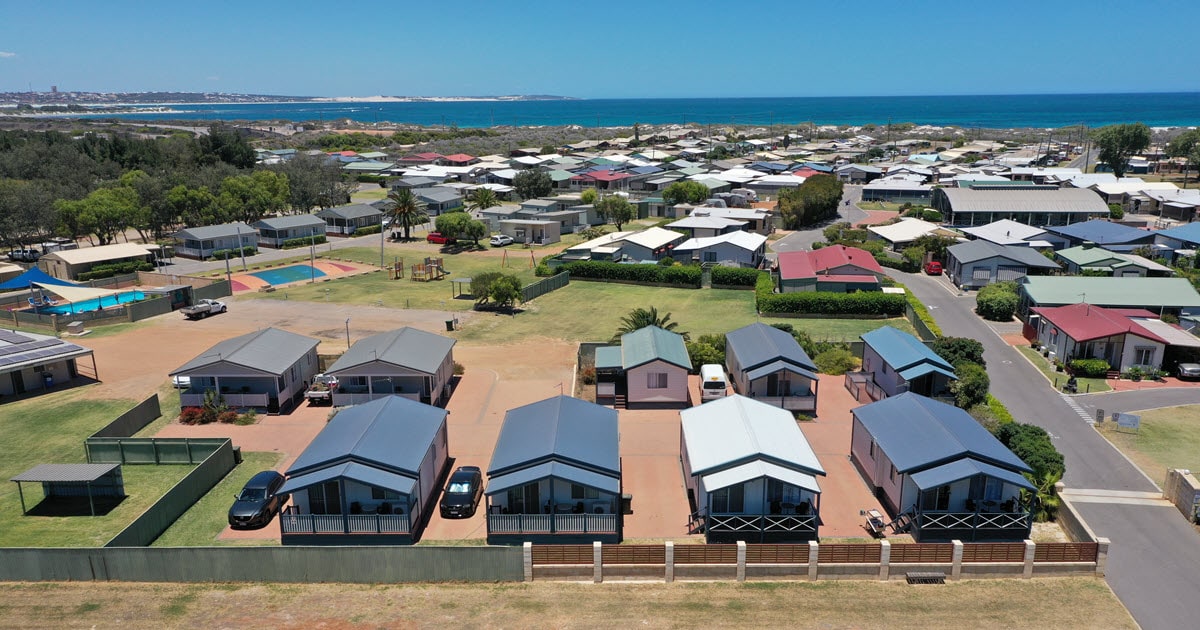 Book your stay close to many of Geraldton's beaches at Geraldton Belair Gardens Caravan Park.
If you're looking for somewhere to stay in the local area, Geraldton has a lot to offer.
Geraldton Belair Gardens Caravan Park is a great choice for beach lovers, with many of Geraldton's best beaches right at the doorstep. This local WA caravan park is nestled between Pages Beach and Greys Beach, with Point Moore and its iconic lighthouse also within walking distance.
With great views in every direction and the ocean just 250 metres away, Geraldton Belair Gardens Caravan Park is the ultimate waterfront destination. Along with the fantastic location, guests also get to enjoy free Wi-Fi, a great outdoor pool, and a games room for family fun.
For travellers visiting with dogs, our unpowered camping sites and powered camping sites are both pet-friendly. If you want to get up close and personal with Geraldton's beautiful beaches, book your accommodation in Geraldton today.