Western Australia's 20,000+km coastline makes this state an angler's paradise for fishing.
Today, there are more opportunities than ever to grab a legal catch. Artificial reefs are being built off the coast of Perth's northern suburbs, but beach fishing still remains an Aussie and tourist favourite.
In early 2019, the WA Government estimated almost 750,000 Western Australians went fishing. That's not including tourists and Aussie locals who venture over for the outdoor experiences.
After a new fishing holiday destination?
Keep the sand between your toes and head to the beach for a catch of the day.
WA's best beach fishing destinations map
Our favourite WA beach fishing locations:
Broome
Find local fishing hot-spots
Western Australia's northern coastline is home to some of the most scenic beach fishing destinations, and Broome is no exception. Beach fishing in Broome provides a variety of fishing locations and fish varieties including queenies, golden trevally, dog mackerel and snook. Head down to the Broome Jetty which is a local hot spot for fishing and don't forget to pop into the local tackle store to find out where the fish are biting.
Fishing snap submissions - Broome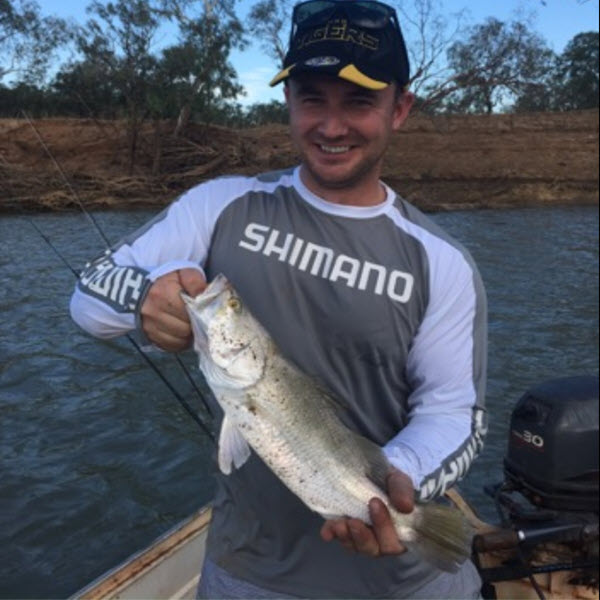 Paul Heeney
Paul Heeney - the time he caught the smallest barramundi in the world, caught in Broome.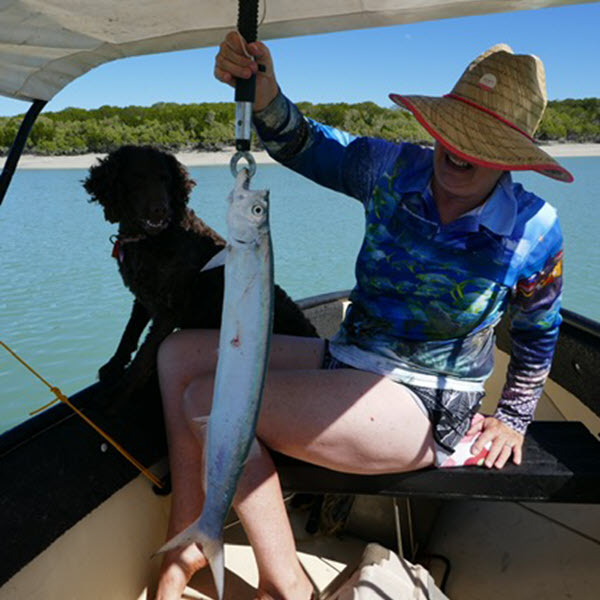 Rob Thorburn
This is Kirsty with a good Wolf herring in Broome accompanied by Layla our Murray River Retriever.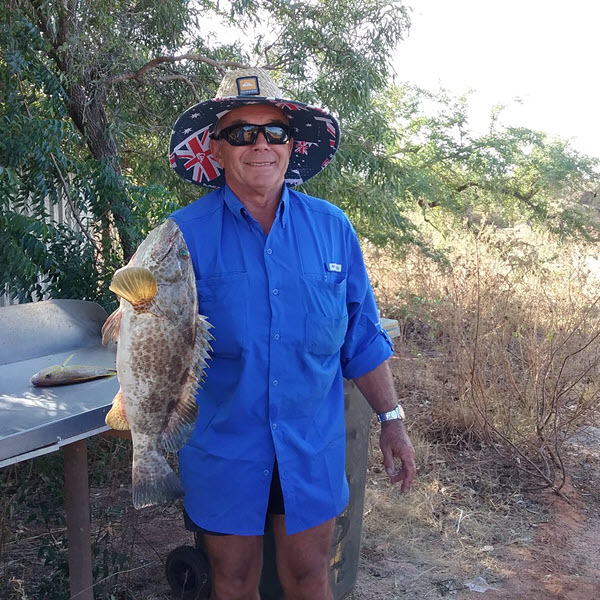 John Magyar
Roebuck Bay, Broome WA. Spotted Cod. 18th June 2019.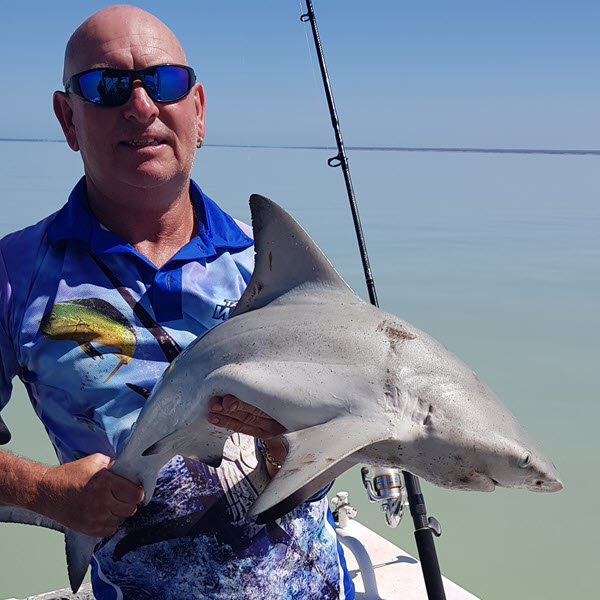 Alan Jepp
Little blacktip shark caught in less than a metre of water in Broome WA.
Eighty Mile Beach
WA's longest uninterrupted beach
Eighty Mile Beach is located between Broome and Port Hedland and is known by WA locals as one of the best beach fishing destinations in the state. Threadfin salmon, blue nose salmon and mulloway are amongst the many varieties of fish that can be caught from the shoreline.
Fishing snap submissions - Eighty Mile Beach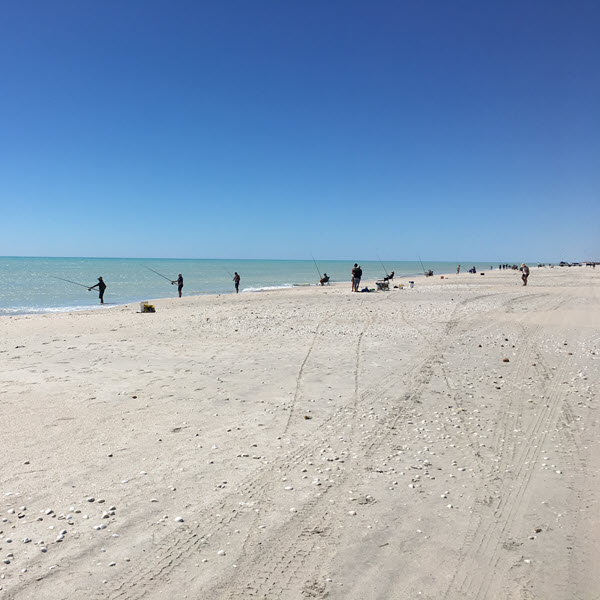 Neil Weller
Every 20 metres as far as the eye can see is someone with a line in the water. Great fishing, beautiful water and fantastic beach!
Colin Verwey
My favourite fishing spot. Eighty Mile Beach, a place where you can relax and enjoy the fastness while fishing.
Shirley Henderson
On our holiday at Eighty Mile Beach south of Broome this year I caught the largest edible fish I have ever caught. Fishing from the beach with a Penn reel and beach rod I landed this Threadfin Salmon measuring 1080mm and weighing 21 lb. As I have partial knee joint replacements I fish sitting in my chair, that way I can get leverage on my catch.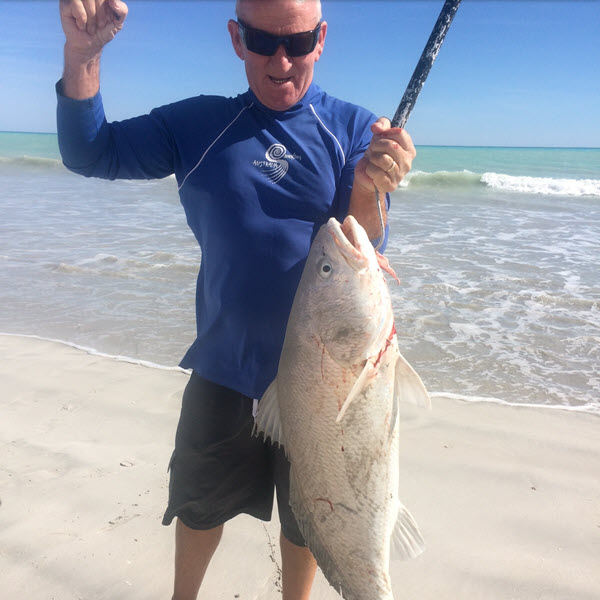 Michael Henderson
Michael Henderson & wife were up at 80 Mile Beach for their annual stay & was very happy to catch his first northern mulloway in August this year. It turned out to be on their last days fishing before heading back to the cold south-west when the fish struck just coming up to the high tide. The mulloway weighing 25 lb & was a superb fighting fish caught from the beach after what turned out to be a quite year going off previous years. Bring on 2020.
Mackerel Islands
Tropical fishing destination
For a tropical fishing destination, the Pilbara region has some of the state's best spots.
Mackerel Islands and Cowrie Cover are ideal for Bluebone Fish, Barramundi, crabs and squid. Whilst you're there, book a turtle tour (November-March) or snorkel through an ocean of colourful coral and reef fish.
Fishing snap submissions - Mackerel Islands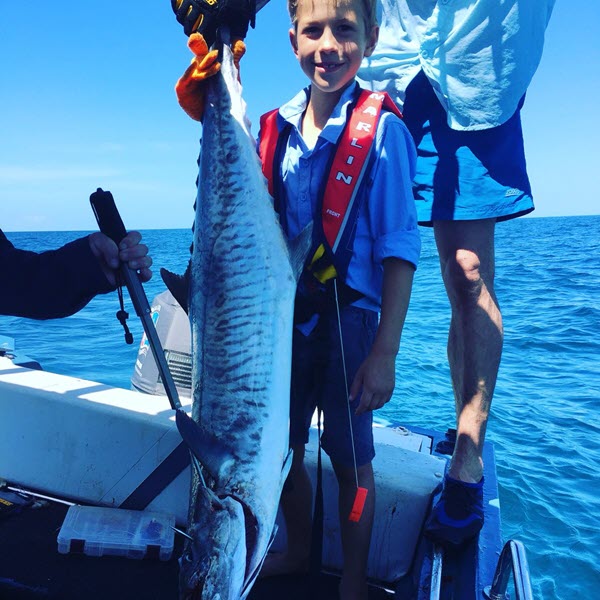 Hugo Collins
Hugo Collins fishing 5 NM off Direction Island in the Mackerel Islands archipelago.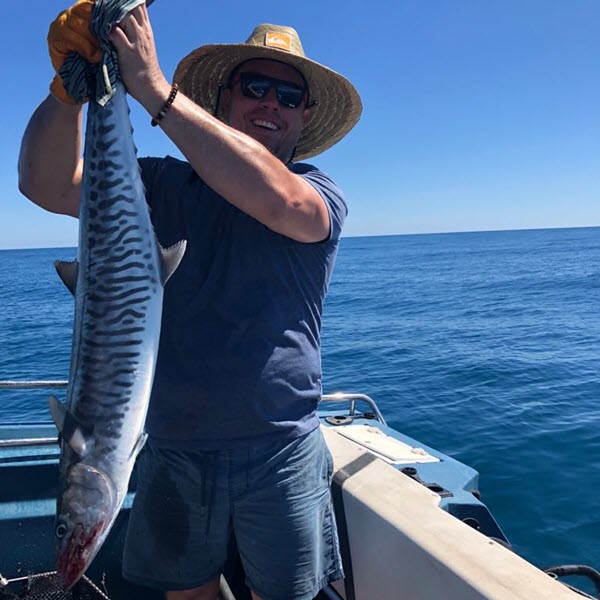 Scott Collins
Spanish Mackerel caught 30 Nautical miles northwest of Onslow - Mackerel Islands.
Exmouth
Home of the GAMEX fishing event
Fishing the shores around Exmouth offers a wide array of fish varieties. These include barramundi, mangrove jack, trevally, bream and cod. For the game fishing enthusiasts, the yearly GAMEX game fishing competition allows you to try your hand catching some of WA's biggest fish.
Fishing snap submissions - Exmouth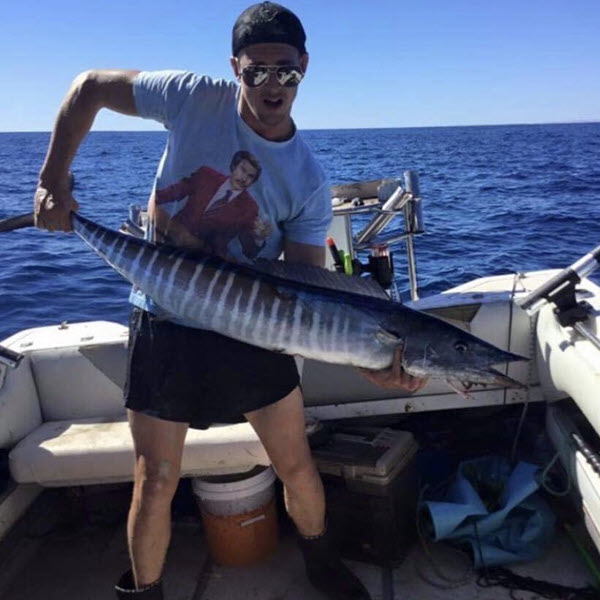 Philly Rice
Boys trip fishing in Exmouth.
Ken
We love fishing the beaches along wreck road in Exmouth. You can watch the sunrise and sunset over the ocean. This little fella got tangled in my line, great to see the abundance of turtles in the area. And we quite often catch a feed of fish. My wife likes to fish on the beaches near the bundego boat ramp lunch. Gotta love Exmouth.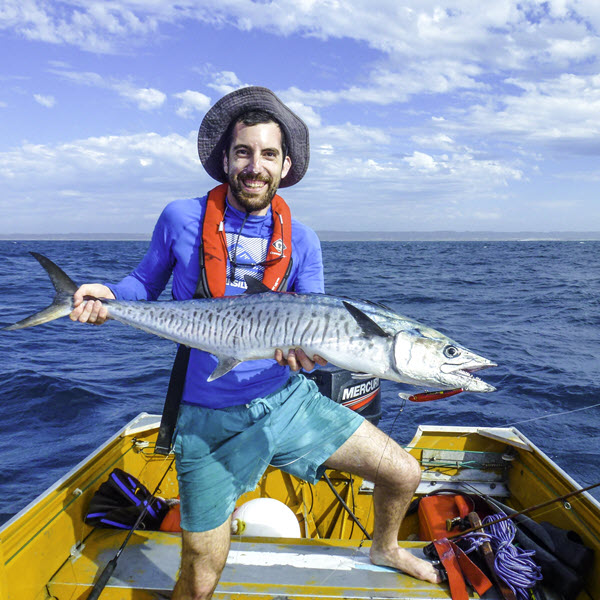 Tim Grose
Small boat, trolling close to shore and whack!! An awesome Spanish Mackerel caught in Exmouth. How good is fishing in WA!
Shark Bay
World heritage
We just had to add Shark Bay to the list, following the multiple submissions we had come through. Shark Bay definitely seems to be a crowd favourite. When fishing in Shark Bay, make sure you come prepared, with knowledge of the sanctuary cones, fishing rules and of course, where you can find the best catch!
Fishing snap submissions - Shark Bay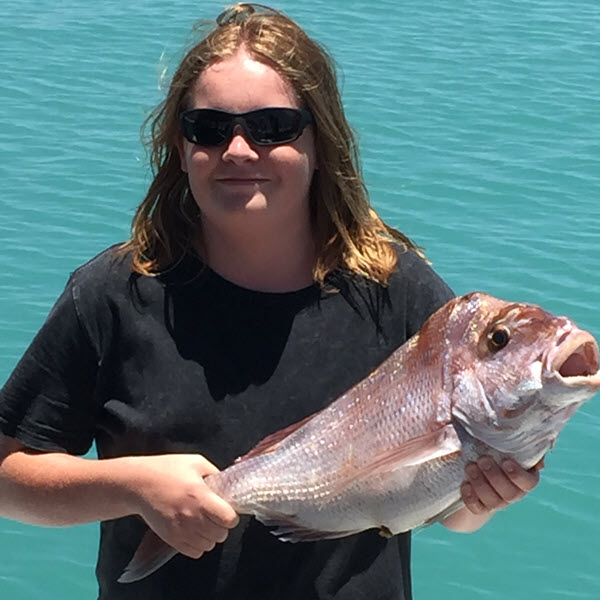 Renee Muir
Monkey Mia - Mac Attack fishing charter. Shark bay. Catch of the day by my son - pink snapper.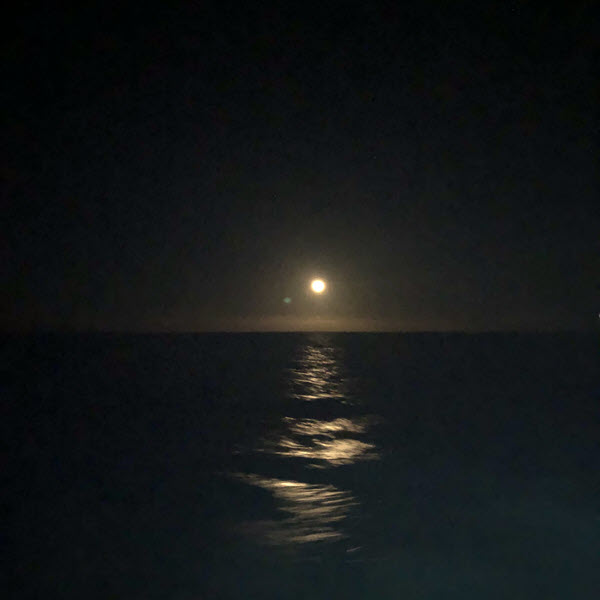 Chad Fletcher
Amazing image of Shark Bay, Western Australia.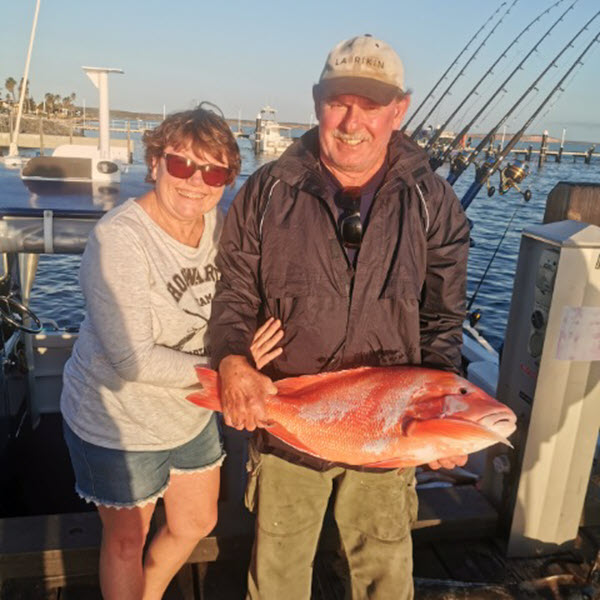 Terry O'Reilly
Very Nice Red Emperor Catch!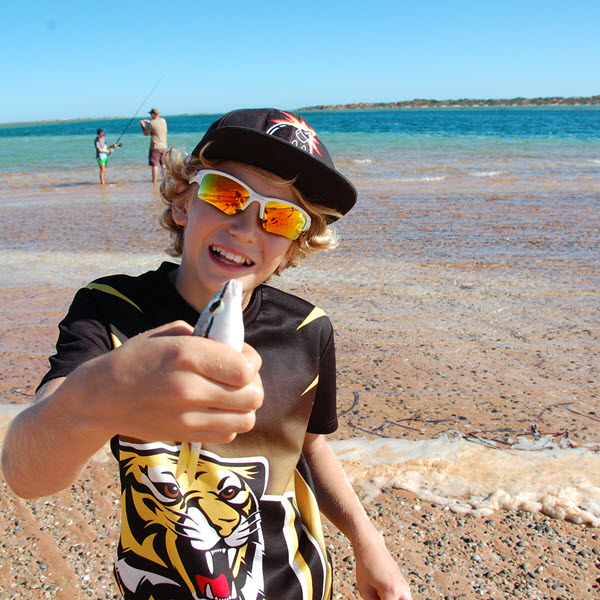 Andrea Lippiatt
This is my son Isaac who caught his first fish at the Big Lagoon, Shark Bay with my husband and son in the background.
Mike Thompson
Here is a couple of photo's of the biggest Narrow Banded Mackerel I have landed, it was caught while trolling when sailing single-handed on my Noelex 25 trailer yacht out of Denham Shark Bay, I was heading for Big Lagoon but because of a strong north wind I sailed toward the Salt Works to get offshore before tacking for Big Lagoon when this Mackerel took my lure and sailing single-handed had great difficulty reducing speed and getting this fish on board, it swam under the dinghy I was towing and I had to pass the rod under the tow lines twice before tiring it enough to get it on board. I have caught quite a few Mackerel in the Shark Bay Area but this is the largest I have landed.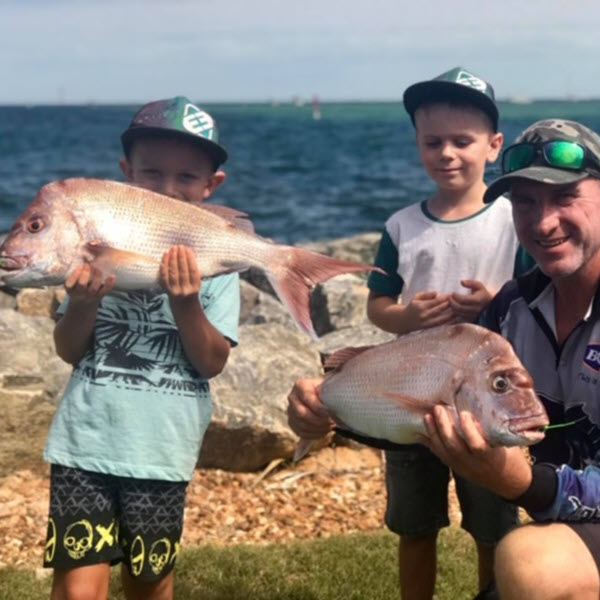 Aaron & Susan Peterson
Aaron and Susan Petersen, with the kids on holiday in Denham, Shark Bay! These snappers were caught on a fabulous 1/2 day fishing charter there!
Kalbarri
Surf fishing
Kalbarri's Wagoe Beach is a stretch of shore offering surf fishing for tailor and mulloway. If you're lucky, there's also a chance of catching rare bonefish.
Both Wagoe and Lucky Bay are famed for their surf fishing. However, fish at Wagoe you'll need to stay in the chalets as it's privately owned. Local species include Yellowfin Whiting, King George, Blue Swimmer Crabs, Coral Trout and Baldchin Grouper.
Fishing snap submissions - Kalbarri
Alan Jepp
Spanish Mackerel caught from my boat in Beautiful Kalbarri. Nice Tuna. And a lovely Mullaway in the Murchison River Kalbarri.
Ritchie Kirk
Two photos attached both taken at Kalbarri where a group of us have been making an annual fishing trip for the past 37 years. The first shot is of myself with a Spanish mackerel caught just near Bluff Point which is in the background. The second shot is of a rather frisky Yellow Fin Tuna.
Diana
Diana 5yrs old fishing Kalbarri Murchison river Xmas 2018. Caught a 35cm Bream.
Horrocks Beach
Tailor and whiting
Horrocks Beach is the perfect destination for travellers seeking a secluded and less populated beach fishing destination. Cast offshore to catch small tailor and whiting – usually best fished at dusk and dawn.
If you're travelling by 4WD, a short drive north will take you to Lucky Bay (only accessible via a four-wheel-drive track). Lucky Bay is the perfect beach fishing destination for Tailor and Mulloway.
As you reach the end of your day fishing, head back down the track and stop in at Horrocks Beach Caravan Park. The park features all the essential amenities for a comfortable night, located right next to the beach.
Fishing snap submissions - Horrocks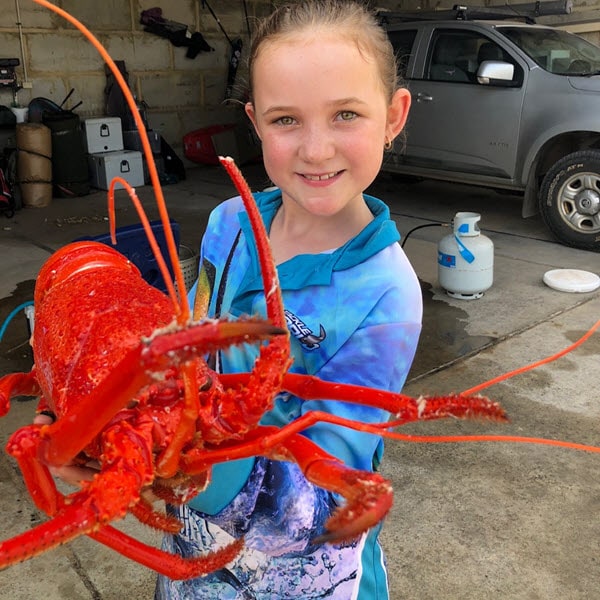 Mitch Braithwaite
This photo is of a crayfish my daughter Ella Braithwaite and I caught off Horrocks WA. It was well over 1kg.
Fi Simpson
Stayed at Horrocks Beach. 16th Aug 2019. Beach fishing early evening. Caught 2 Tailor one night and a skippy on another night using pilchards as bait. Moved onto Denham. No luck but some great fun trying and met friendly local wildlife.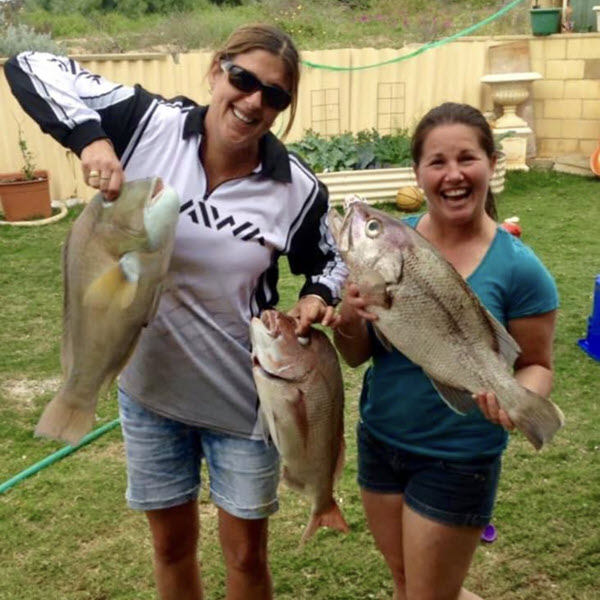 Belinda Davis
Great catch at Horrocks!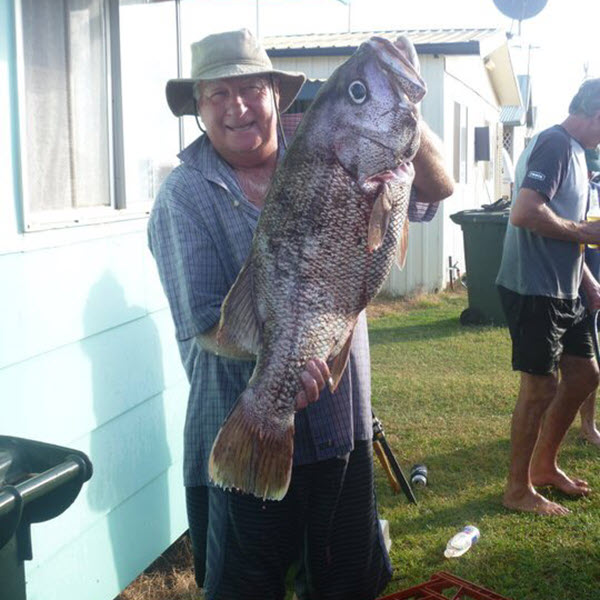 Ross Duncan
Sent in by Aleisha Duncan: My grandad Ross Duncan. 11kg Jewfish caught at Horrocks Beach.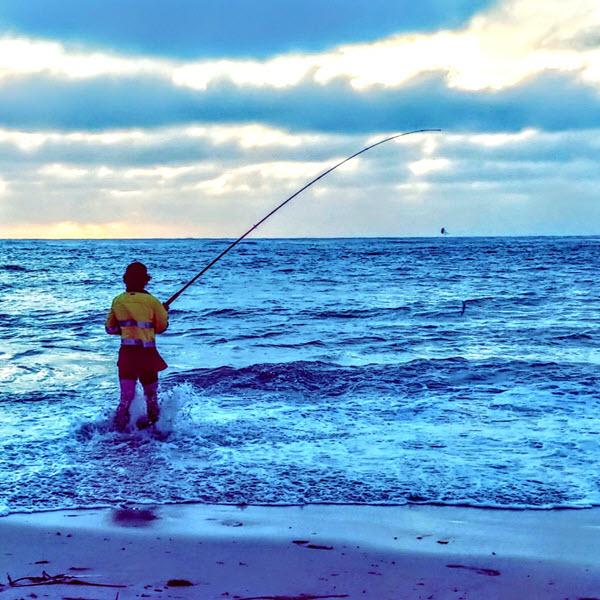 Kiah Baskerville
My 14-year-old son fishing at Horrocks Beach.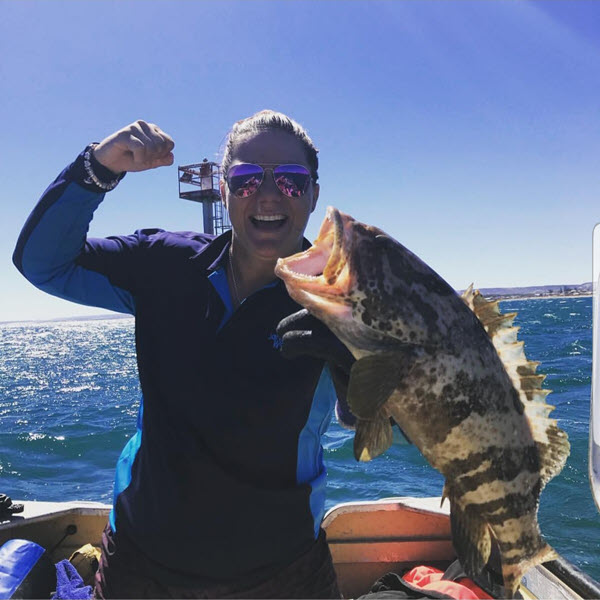 Bianca
This photo was taken on the last day my Pop was healthy enough to head out on the dingy to do what he loved most... Fish! Was the only fish we caught while just off the beach at Horrocks!
Abrolhos Islands
Iconic WA fishing destination
The Abrolhos Islands is one of Western Australia's best beach fishing destinations, located just 60 km west of Geraldton. While many fishers venture off the island on charter boats to fish in the local area, beach fishing the Abrolhos Islands is also amazing, with the ability to catch varieties including Mackerel, Yellowfin Tuna and Yellowtail Kingfish.
The Abrolhos Islands is also the ideal location for travellers looking to snorkel and dive, with the islands being predominately coral-based with some of the most magnificent coral gardens in the world.
Fishing snap submissions - Abrolhos Islands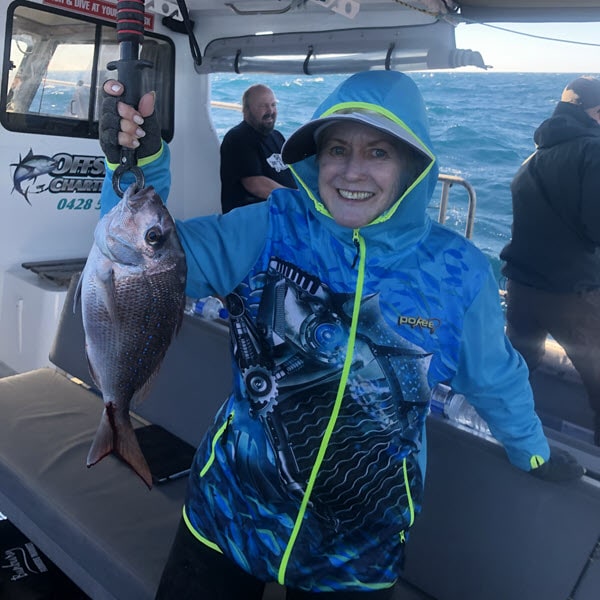 Maria Addicott
This is my snapper caught off the Abrolhos this August 2019. The Samson I caught was too big for me to hold for a pic. The whole purpose of this trip was to go on a fishing charter to the Abrolhos. Was not disappointed. Off Shore Charters were fantastic.
Jurien Bay
Adventurer's playground
Jurien Bay is an adventure destination with beach and deep-sea fishing, skydiving, surfing, water skiing, snorkelling and sandboarding to do.
Cast from the beach between the limestone groynes for fishing and crabbing. Crawfishing is also popular here. Check the local information for where you can and can't fish. The Marine Park has special rules which apply to some zones.
Stop along the way to fish at Wedge Island, north of Lancelin for good 4WD beach access. Expect Tailor, Mulloway, Sharks, Herring and the occasional Snapper and Samson Fish.
Fishing snap submissions - Jurien Bay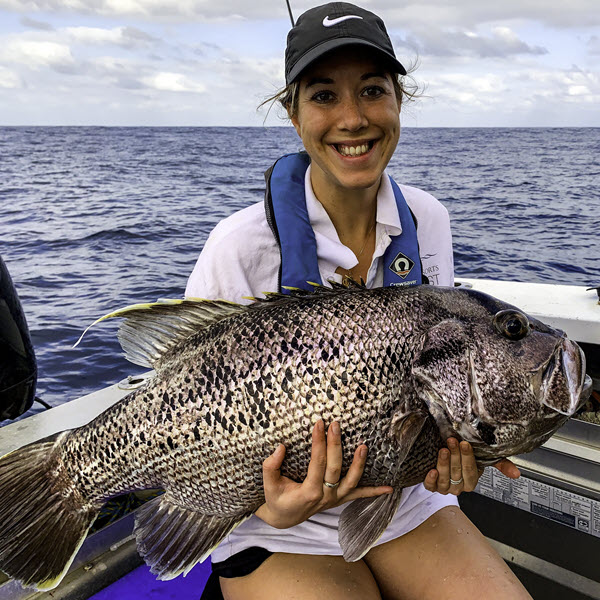 Sarah Harris
Sarah's First trip to Jurien Bay produced a true WA icon, an 18kg West Australian Dhufish!
Two Rocks
Beach and reef
Here you'll find multiple beach and reefing spots to lure Tailor and Mulloway.
Follow the 4WD tracks along the beach to discover reef and gutters to fish. For a change of pace, head to Two Rocks marina.
Trigg Beach
Salmon and sand patches
Follow the stretch of beach from Sorrento to Trigg for popular fishing spots.
Trigg Point and Watermans Bay have rocky reefs for Herring and Tailor. Sandy patches between the reefs make it easy to target whiting year-round. If you fish in autumn, Australian Salmon can also be found sheltering in the reef holes and gutters.
Fishing snap submissions - Trigg Beach
Lance
Here's a few tailor Lance caught at Trigg Beach.
Fremantle
Herring and squid
Fremantle also offers fishing locations with wheelchair access. For jetty fishers, there are fishing platforms designed to give easy access to disabled fishers; check out the wharf along Victoria Quay and North and South Mole for the best jetty fishing spots. Here you'll find Butter Fish, Snapper and Mulloway. For safer off-the-rocks fishing. South Mole is best in the morning.
Woodman Point, a seaweed groyne south of Fremantle, is ideal for Herring and Garfish. Feel like heading out on the boat? Boat fishing is at its peak here in early summer for Snapper.
Mandurah
Surf and beach fishing
White Hills 4WD beach fishing with a backdrop of surf breaks. Catch Tailor, Herring and Whiting at dusk and dawn.
Fishing snap submissions - Mandurah
John Woodward
Black Bream caught from the Serpentine River, Mandurah. All caught within 45 minutes. This was a welcome surprise for me as this fishing day was the first since a recovering from urgent life-threatening surgery 6 months before. My wife was smiling when she took the photo.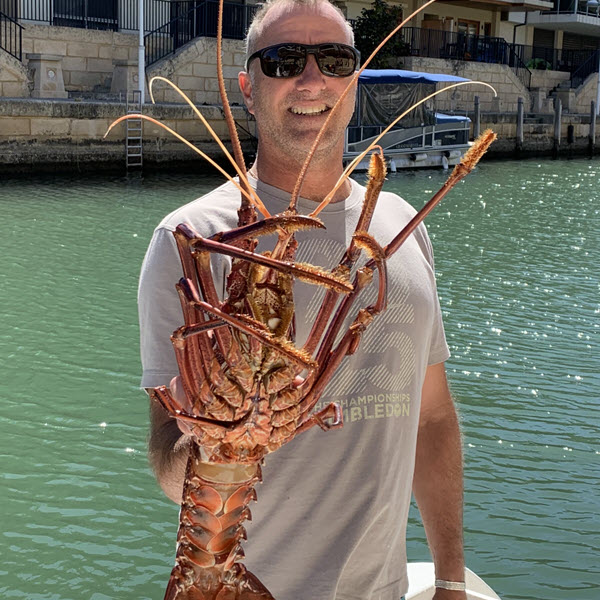 Simon Gladman
2.5kg Jumbo Crayfish caught while diving off the Mandurah coast.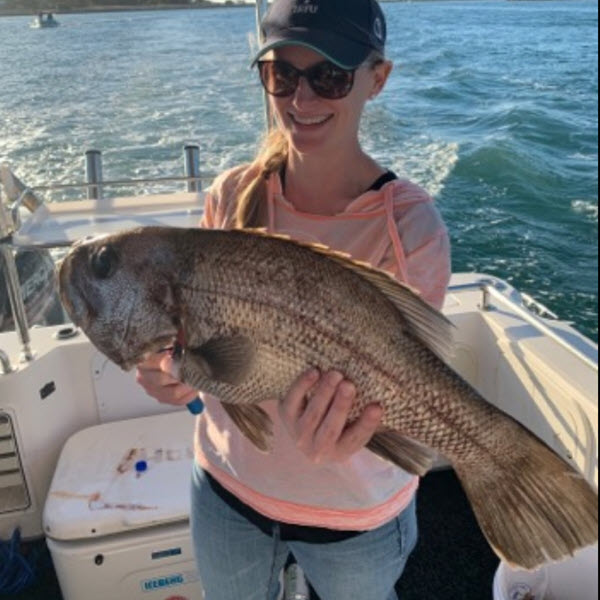 Meg Green
The first time she caught a Dhufish, caught in Mandurah.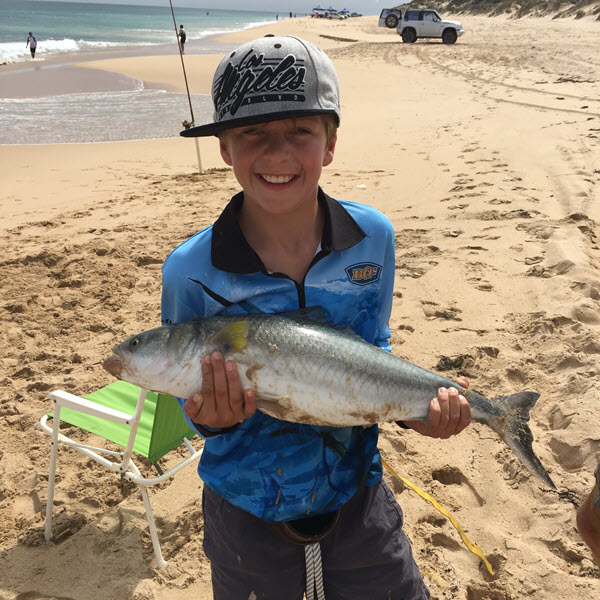 Paull O'Malley
Salmon Fishing at White Hills 4WD beach south of Mandurah. My son Kalen's first salmon.
Dunsborough
Beach jetty with wheelchair access
The rocky shoreline at Old Dunsborough Boat Ramp has multiple high and low points to fish from.
For wheelchair-friendly fishing, the jetty has easy access. The best time to fish is autumn when Salmon is loving the surf. You'll also find Garfish and Herring.
Whilst you're there, head to Meelup Beach, Bunker Bay and Eagle Bay Beach for other top fishing spots.
Fishing snap submissions - Dunsborough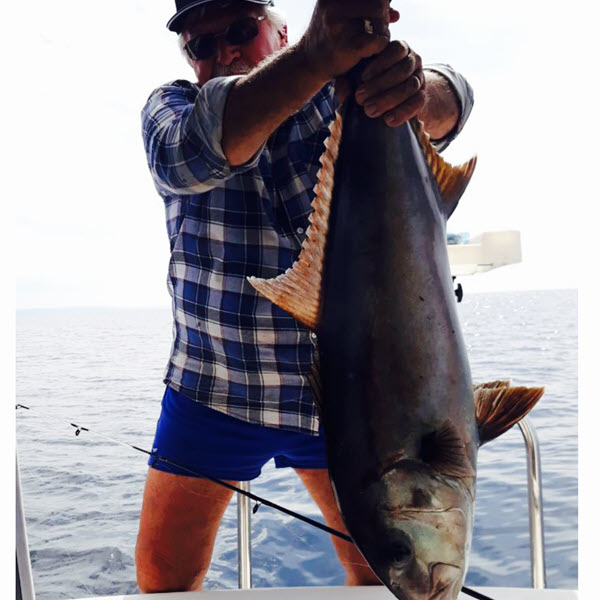 Colin Verwey
Fishing in the bay off Dunsborough, Geograph Bay.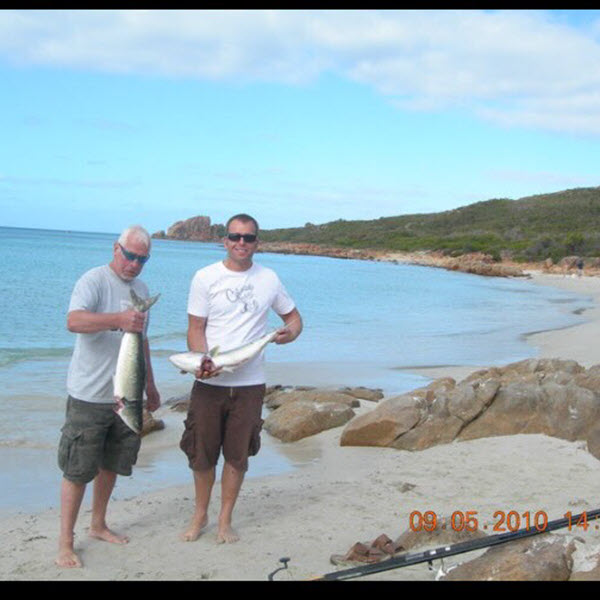 Linda Evennett
This was taken Myalup Beach Dunsborough, it shows my husband and son, fishing for salmon.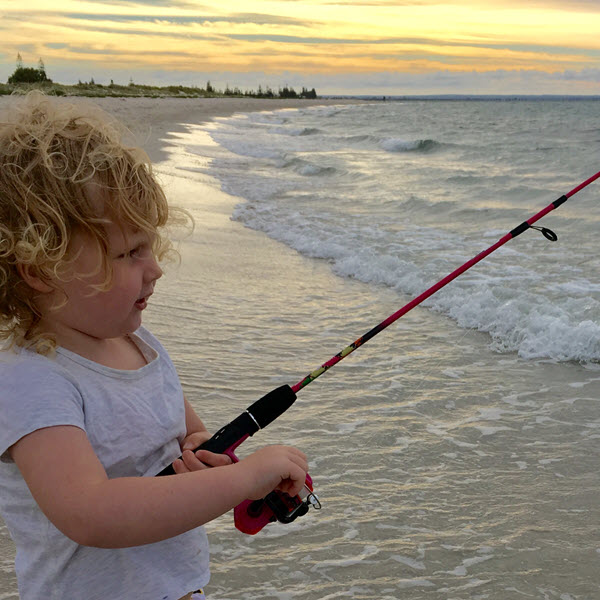 Aleisha
Amelie was pretty stoked to get her own fishing rod for Christmas and even more stoked to out catch her dad! @Wonnerup Beach near Dunsborough.
Yallingup
Family-friendly
The wine and surf aren't the only good things about the Margaret River region. It's where fishing is also at its peak.
Pack the family and dog for a trip down south. Yallingup, one of Margaret River's most popular beaches, offers family-friendly fishing options. Kids can learn how to tackle the line with small reef fish, Herring, Salmon and Whiting.
Stay in the heart of the action at Riverview Tourist Park in Margaret River. If conditions are calm, try your luck with Yellowtail Kingfish at Sugarloaf Rock. Southern Bluefin Tuna, Aussie salmon and Samson Fish are the top catches here. For Dhufish, flathead and crystal clear waters fish at Smiths Beach.
Walpole
Fish Nornalup Inlet
The small picturesque town of Walpole is located in Western Australia's South West, just a short drive from Perth. Located right on the edge of Nornalup Inlet, Walpole is an anglers ideal fishing spot, offering a range of beach fishing locations and unspoiled waters for seafaring fishers.
Head to Walpole if you're seeking Black Bream, Silver Bream, Yellow Fin Whiting, King George and Skippy. To stay right in the heart of the action, Walpole Rest Point Caravan Park is located right on the banks of the Nornalup Inlet Marine Park.
Fishing snap submissions - Walpole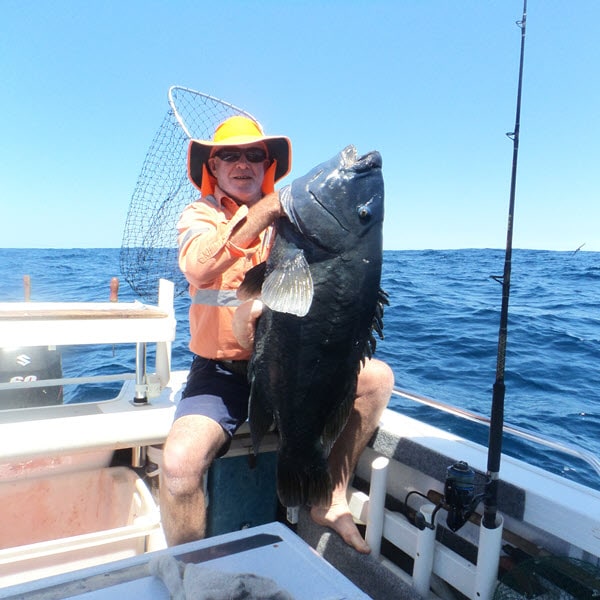 Noreen Axcell
My favourite fishing photo of my husband, Daniel Axcell. The fish caught was a giant blue groper (25+ kilos). He was staying at Walpole in November 2017 and was fishing about 2 kilometres offshore in 30 meters of water. It took him over half an hour to land as he was only using 20-pound braid.
★ Fishing Snap Competition Winner! ★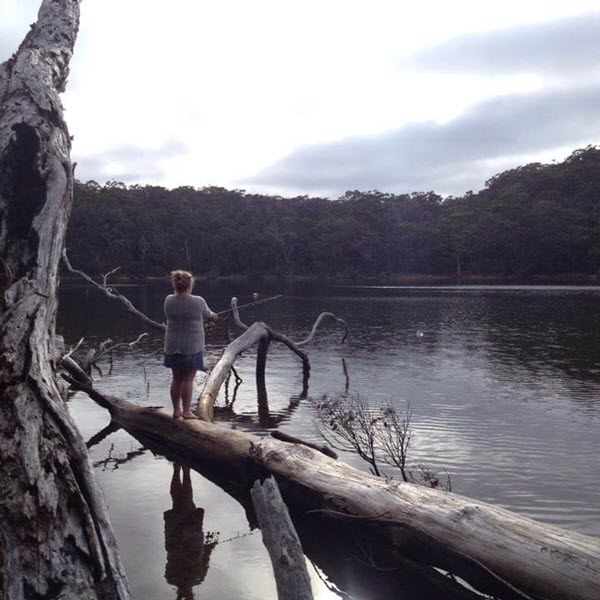 Rebecca Lee-Metcalfe
This is me fishing in the Nornalup Inlet in Walpole. It was beautiful and I still hold the record (between my husband and me) for the biggest bream!
Albany
Fishing variety
There's more to Albany than migrating whales and pristine beaches. The port city is also renowned for its fishing, where variety is abundant and Salmon averages 5-10kg.
Once you're in Albany there are some of the state's best fishing spots.
Cheynes Beach and Parry's Beach are classic four-wheel drive destinations where salmon, herring and skipper can be caught any time of year. There will be fish between the capes and Hamelin Bay too.
Fishing snap submissions - Albany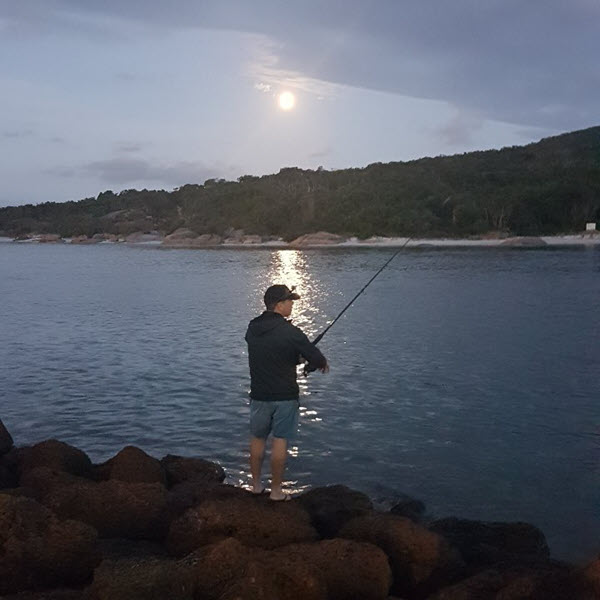 Scott Collins
Full moon fishing in Albany chasing King George Whiting. One of the best rock/beach fishing towns in Western Australia.
Esperance
Freshwater beach fishing
Esperance offers fishing experiences for travellers of all skill levels, whether you're wanting to fish in the calm protected waters, take the boat offshore, or head out on a fishing or diving charter. Head to one of the best beaches in Esperance to catch species such as Herring, Salmon, Flathead and Whiting, including:
Bandy Creek
Lake Windabout
Fishing snap submissions - Esperance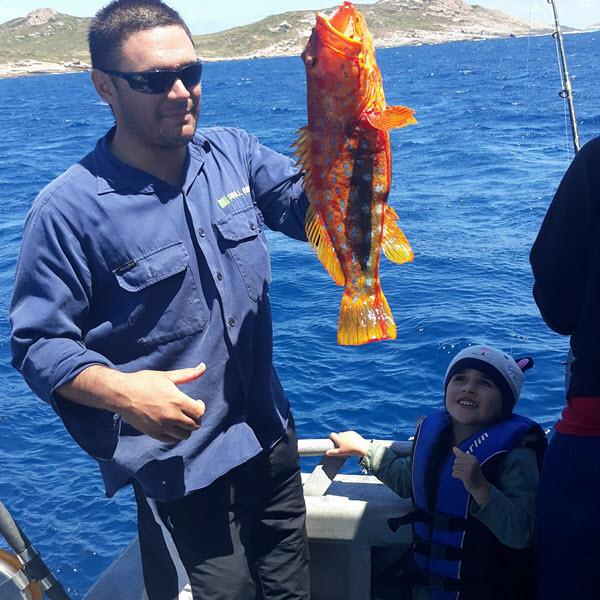 Vinny
Vinny (dad) little Diana (daughter) blackjack fishing charter Esperance.
Beach fishing tips
New to fishing or want to improve your skills?
Remember to:
Check local tide times and fisheries size and bag limits
Choose beach fishing gear suitable enough to handle the conditions
Use a swivel on either side of your running sinker to reduce line twist
Understand species specifics; some large fish like Jewfish are nocturnal and easily spooked when light shines on them
Give fellow beach fishers space and don't cast over lines
While you're here, make sure you follow our blog or contact our team to chat about family-friendly accommodation throughout Western Australia.