A world-renowned area for whale watching, Western Australia is sure to please nature and animal lovers of all ages. In this article, you'll find out what magnificent whales you can see, as well as where and when to see them.
Awe and wonder await you in the waters of Western Australia, so jump in!
The stately cetaceans of the sapphire seas
Although the waters off the coast of Western Australia shelter and nourish all sorts of sea turtles, dolphins, seals, penguins, and more, the main draw for many marine spectators is the whales making their annual migrations.
Blue whales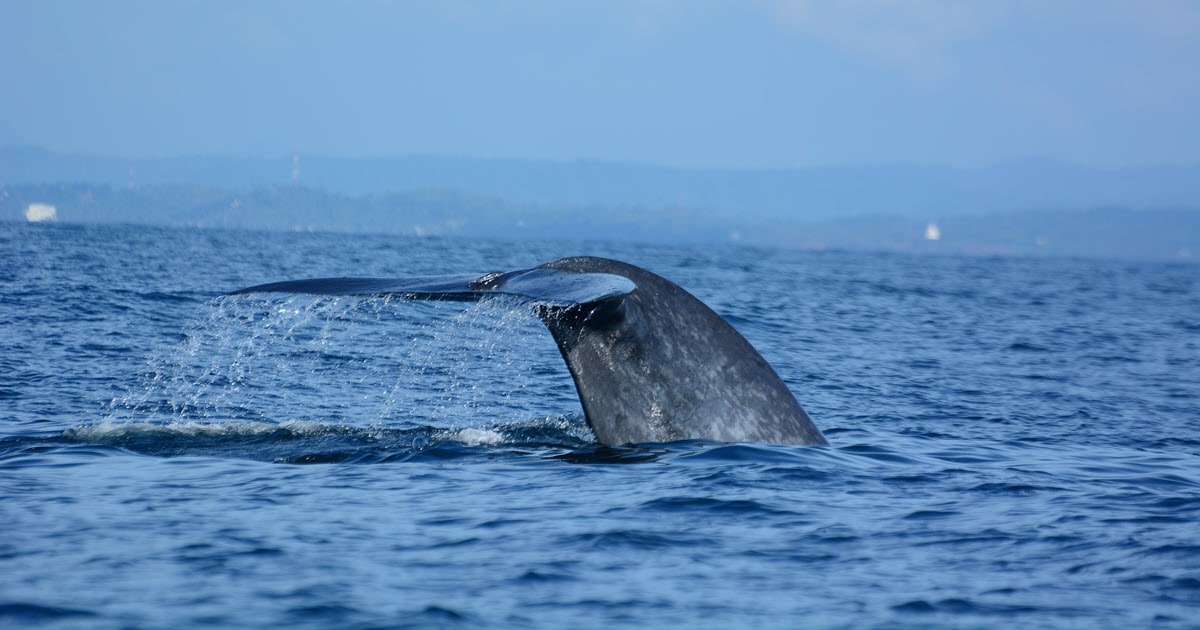 Blue whales swim through the ocean off the coast of Western Australia.
The world's largest mammal will leave you awestruck, even though these gentle goliaths feed on krill.
In the summer, blue whales congregate off the southern Australian coast to chow down on swarms of krill. As autumn approaches, they follow the krill to Perth Canyon to continue feeding for several weeks in anticipation of the long migration ahead. From there, they travel north into international waters in the wintertime, around the Banda Sea.
They birth their calves and raise them in the relative warmth of more tropical waters, heading back to the Bonney Upwelling to start the cycle all over again.
Humpback whales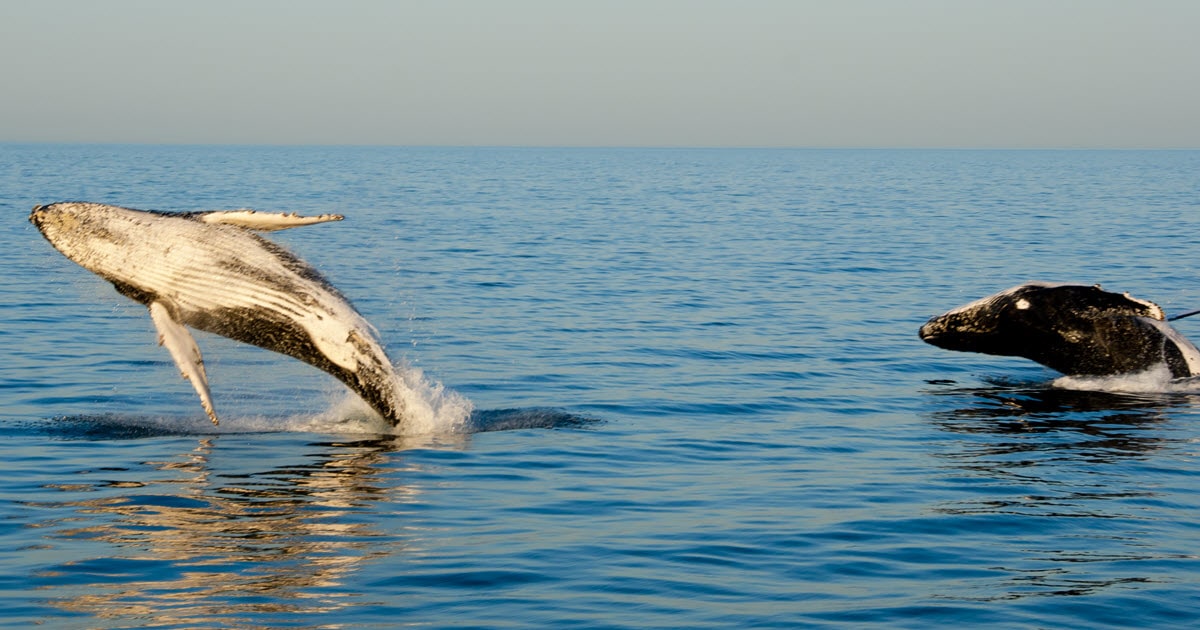 Two humpback whales jumping out of the water off the WA coastline.
Once nearly extinct, humpback whales have made a truly epic comeback, with tens of thousands making their yearly, 4-6 month journey to and from Antarctica and the Kimberley region.
The world's biggest humpback migration happens in Western Australia. In the winter, humpback whales start northwards during their breeding season, the destination being their usual nursery grounds in more tropical waters. There is a lot of activity along the way, with male humpback whales vying for females, and young ones frolicking and learning from their elders.
Female humpback whales who have finished weaning the calves born in the previous year, juveniles, and the 'bachelors' start heading back south as the seasons change. Then come the thousands of newborn humpback whale calves and their mothers making their way back into Antarctic waters.
Southern right whales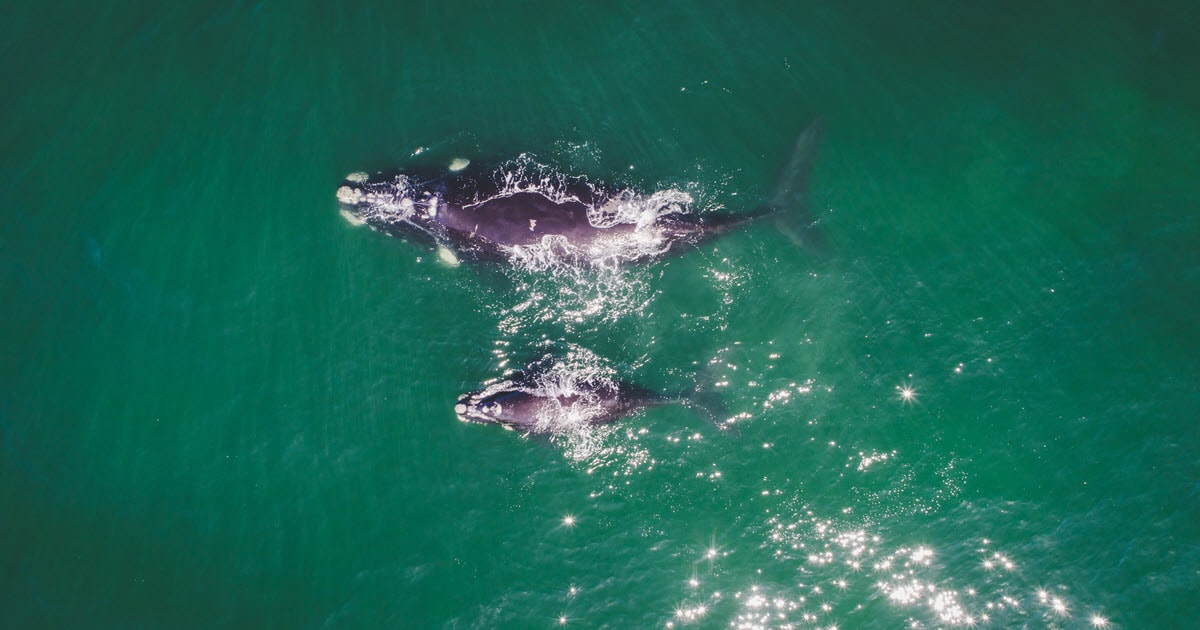 Southern right whales swim through the open water.
Having survived a tragic era of extensive whaling, the southern right whale numbers are slowly but steadily rising, with the females giving birth to single calves every few years.
Like the humpbacks, the southern rights travel north from the waters off Antarctica during the winter. Because of their immense blubber reserves, they don't need the warmth of tropical waters.
Their nursery grounds are closer to Flinders Bay, along shallow waters by the coast. Southern right whales start heading back south towards late spring, back to their summer feeding grounds around Antarctica.
Killer whales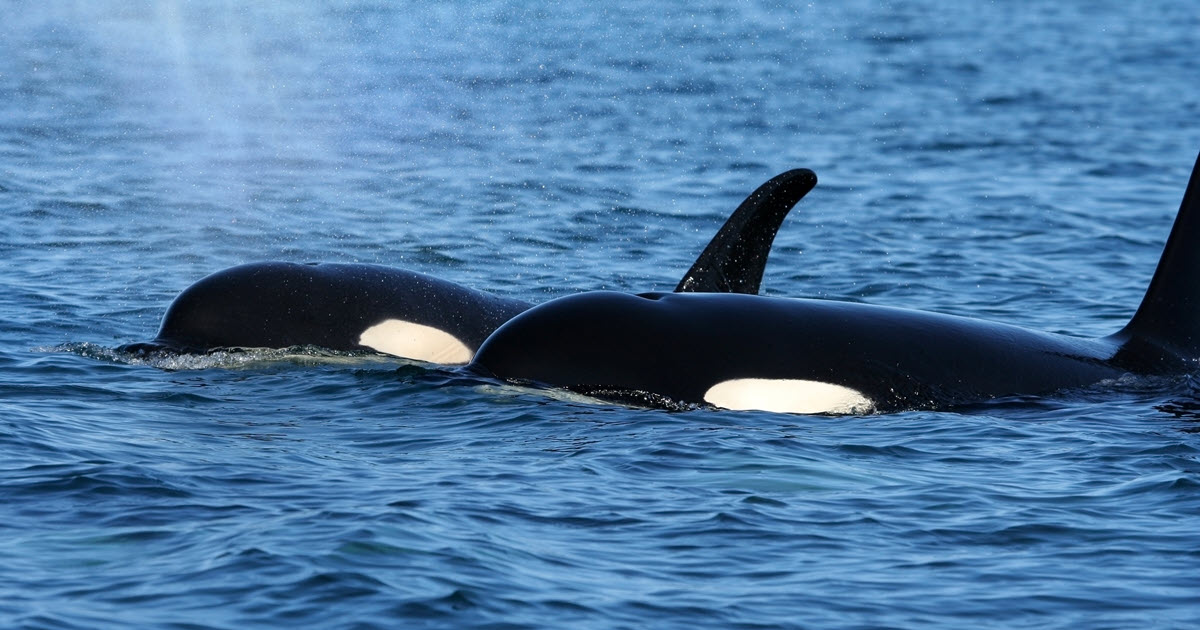 Killer whales (Orcas) swim side by side in the ocean.
Also known as orcas, these apex predators are actually the largest kind of oceanic dolphin.
They are found in all the oceans of the world but tend to have higher numbers in colder waters. Clever and communicative with their series of clicks, pulsed calls, and whistles, orcas have strongly bonded matrilineal pods.
When and where to experience the best whale watching in WA
Marine wildlife can be viewed throughout the year, but if your main goal is to behold the beautiful behemoths in Western Australian waters, you might want to consider the following.
Best seasons for whale watching in Western Australia
Whale watching in WA is most rewarding between May and December (whale watching season in WA), when the humpbacks, southern rights, and blue whales travel along the WA coast — frequently coming close enough to the shore that you can see them with (or even without) binoculars.
Best destinations for whale watching in Western Australia
There are popular whale watching vantage points all along the coastline, from the Margaret River region north to the Kimberley coast. Starting in the south and moving north, these are just a few places where you will find the best whale watching in WA.
Augusta: Flinders Bay is where you'll find nursery grounds for southern right whales, but the humpback migration route passes through here as well. Many whale-watching tours leave from the August Harbour from mid-May through August.
Margaret River: This area is one of the most popular venues for whale watching, Margaret River is where you can see migrations in the winter and spring.
Perth: There are many reasons to visit Perth, including some of the most spectacular beaches in the world. Perth is also one of the few places to view blue whales at their feeding grounds. September through December brings many sightings of humpbacks, especially with calves.
Jurien Bay: Chartered whale-watching cruises bring visitors to the 'Humpback Highway', where you can see magnificent humpback whales breaching and playing in Jurien Bay.
Kalbarri: A growing hub for whale watching, Kalbarri has accessible cliffs that overlook deep ocean floors and provide a unique vantage point.
Broome: Broome is a humpback whale hotspot and also the only place you might catch a glimpse of the rare snubfin dolphin.
Walpole: Make the most of Conspicuous Cliffs which gives the perfect vantage point to spot whales migrating up the coast of Walpole.
For orca watching, you can do no better than Bremer Bay, especially between January and March, where you may also see sperm whales and pilot whales. Southern right whales birth their calves here in July.
Book a whale-watching adventure with Summerstar Tourist Parks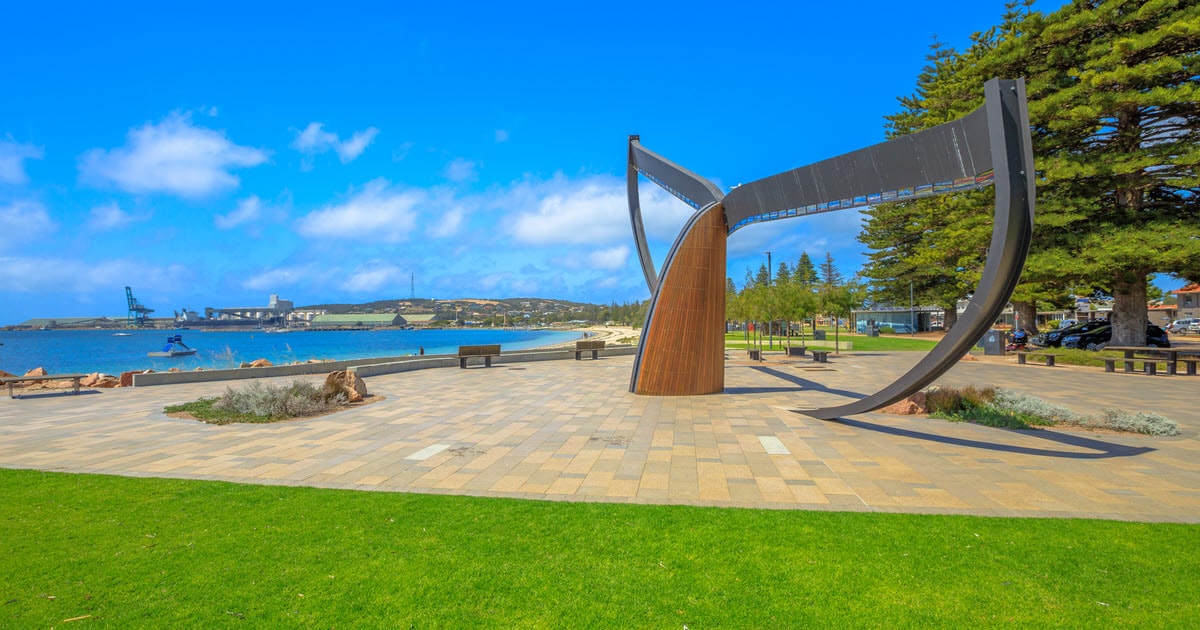 Whale tail statue at the Esperance Foreshore in WA's southwest.
Summerstar Tourist Parks offer memory-making caravan vacation venues for all budgets. A caravan vacation at any Summerstar site is perfect for a family getaway for whale watching and so much more. You'll find our caravan parks near some of the better-known whale-watching hubs, such as Kalbarri, Broome, Margaret River, and Jurien Bay.
Additionally, our tourist parks in Busselton, Carnarvon, Esperance, Geraldton, Horrocks Beach, and Walpole are located in the vicinity of whale watching tours. Contact us for more information and take a look at the amenities and activities at each of our caravan parks.
It's time to reconnect with the majestic marine mammals and the very best of what Western Australia has to offer.