Walpole-Nornalup National Park is a uniquely beautiful parkland teeming with rich biodiversity, tannin-tinted rivers, and extraordinary Aussie wildlife. With a diverse landscape that encompasses stunning beaches, towering tingle forests, peaceful wetlands, and native bushland, this park has something for every kind of visitor.
Whether you're planning a family camping trip, weekend adventure, or romantic getaway, there's plenty to explore within the park's expansive perimeters. You'll find this other-worldly escape on WA's magical Rainbow Coast, 400km south of Perth or 120km west of Albany, and deep in the Walpole Wilderness Area.
But before you set out, there are some Walpole attractions that you simply cannot miss.
Here's a checklist of the best secluded beaches, picturesque picnic spots, and Instagrammable lookouts that deserve a place on any Walpole-Nornalup National Park bucket list.
Instagram-worthy lookouts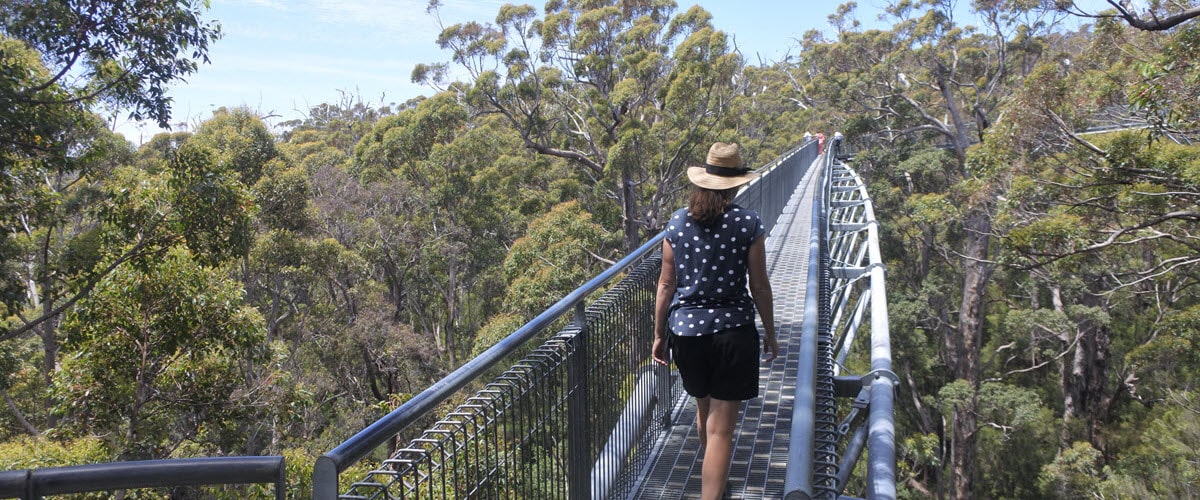 Conspicuous Cliff
The Conspicuous Cliff viewing platform boasts expansive views over Conspicuous Beach - one of the most stunning shorelines on the southern coastline.
A lookout over this spectacular seashore reveals unspoiled golden sands, sun-baked limestone cliffs, and sprawling granite headlines peppered with swamp paperbark and red flowering gum. And from July to October, you might even be able to spot some migrating whales as they make their annual journey along the coast.
Don't forget your camera!
Hilltop Lookout
Hilltop Lookout offers breathtaking views over the Frankland River and Nornalup Inlet and out towards the Southern Ocean.
On a clear day, see if you can spot Saddle Island and Goose Island in the distance, and look out for frolicking pelicans and graceful manta rays in the jewel-blue waters down below.
Valley of the Giants tree top walk
Walpole-Nornalup's famous 40-metre-high walkway takes you on a Valley of the Giants treetop tour through gigantic karri trees and magnificent red tingle timbers.
From the dizzying heights of your unique vantage point, look down and enjoy a completely different perspective on this ancient wilderness, with spectacular views over all of the rich Australian wildflowers, fauna, and wildlife below.
Mount Clare Summit
Hike the short but relatively steep 2.4km trail through lush karri and tingle forest to the summit of Mount Clare — you'll be rewarded with awesome views over the myriad of landscapes that make up the Walpole Wilderness, as well as the majestic Southern Ocean beyond.
For bushwalkers, plenty of interesting trails lead off from Mount Clare too, including the Deep River Loop walk and the Shedley Drive Loop walk.
Places to picnic, swim, and relax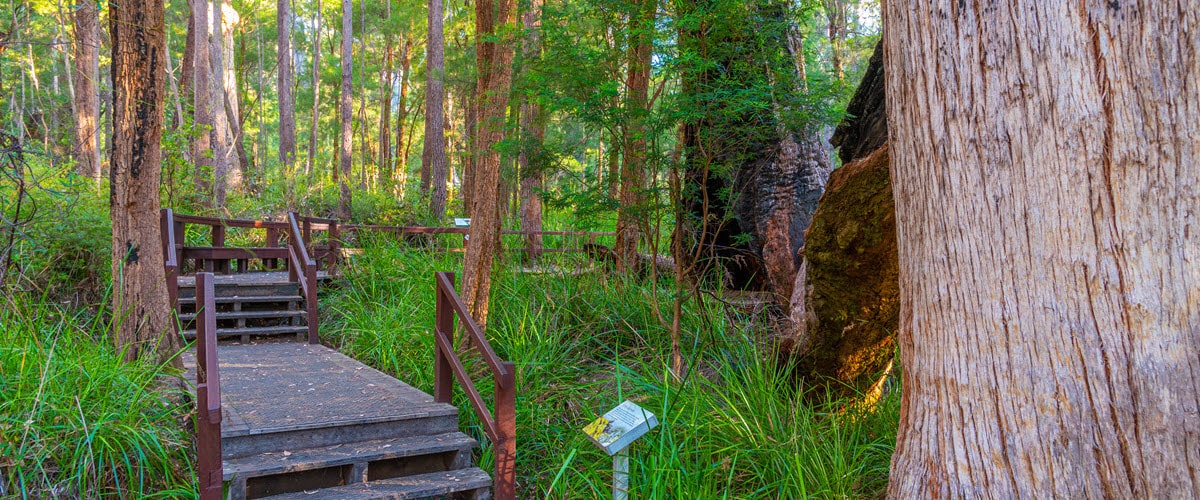 Monastery Landing
Sitting serenely on the banks of the mighty Frankland River, rumour holds that Monastery Landing gets its name from a surveyor's assistant, who once remarked that the peaceful spot was 'as quiet as a monastery'.
Despite its popularity with swimmers and birdwatchers, Monastery's Landing is still every bit as tranquil today. The landing sits about 4km upstream from the Nornalup Bridge and makes for the perfect secluded picnic spot after a busy day of hiking and sightseeing.
Peaceful Bay
Raw and untouched, the aptly named Peaceful Bay offers expansive views across the Southern Ocean, with pristine sandy beaches that stretch as far as the eye can see. Go for a swim or a paddle, rig up your fishing rod, take a stroll along the coastline, or relax on the sugary white sands.
Rest Point
Walpole's Rest Point is a popular spot for fishing, boating, and watching the sun go down.
The elegant jetty leads on to a picturesque gazebo and makes for the perfect photo op. Plus, this landmark waterfront is the ideal place to sit back and watch the local pelicans and other Australian waterbirds that call Rest Point home.
And if you're looking for somewhere convenient and comfortable to spend the night, you'll find the popular Walpole Rest Point Caravan Park close by too.
Unspoiled beaches and scenic hiking trails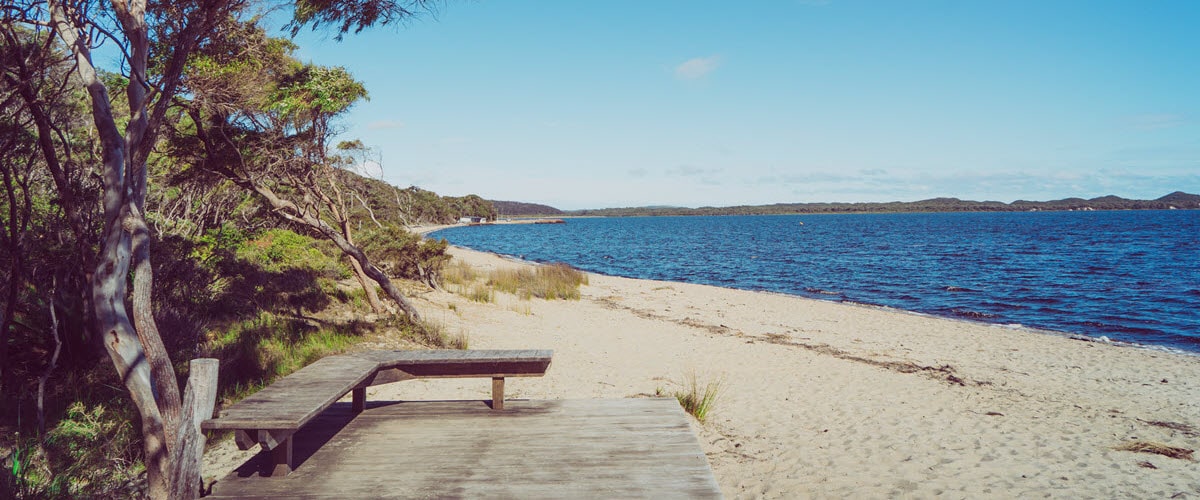 Coalmine Beach
This popular swimming spot on the shores of Nornalup Inlet is also a magnet for adrenaline junkies, with ideal conditions for sailing and windsurfing, canoeing, or kayaking. And if you still have the energy to spare, why not take the 6km-round walking trail from Coalmine Beach to Pioneer Park.
Sandy Beach
Located on the Nornalup Inlet, Sandy Beach provides a safe swimming spot for younger family members and is home to a fantastic hiking trail too.
The easy 6km round trail passes over swampland, boardwalk, and beach and is suitable for all fitness levels. Or, if you're up for more of a challenge, the pristine shores of Sandy Beach are also the starting point of your 1.5km hike up to the iconic Rest Point.
Natural beauty spots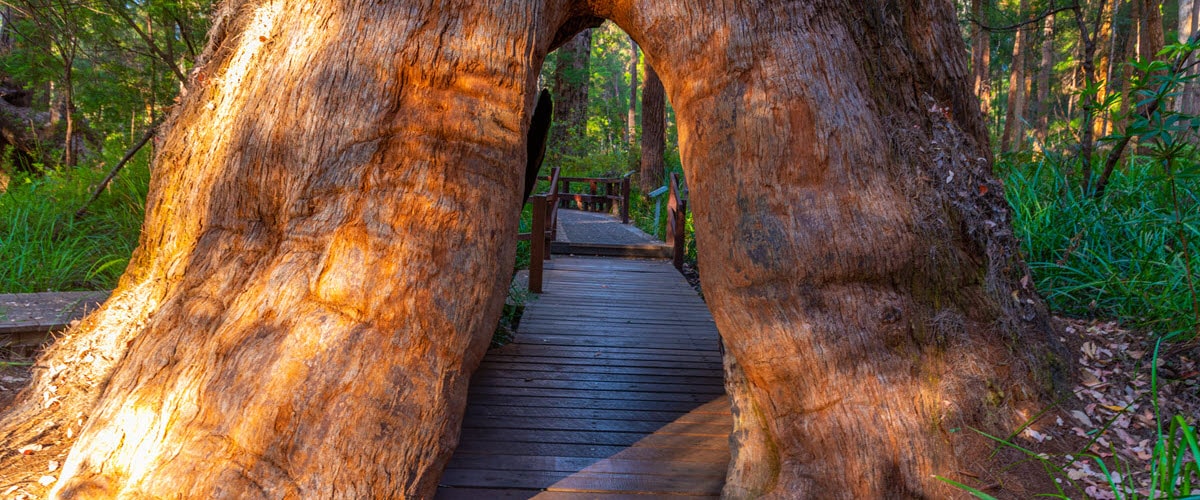 Circular Pool
A striking, swirling natural beauty in the Frankland River, Circular Pool froths with raging torrents in the winter but makes for an idyllic swimming spot in the summer. Explore the different rock formations, see what birdlife you can spot, or laze under the mini waterfall and enjoy the view.
Giant Tingle Tree
Standing proud at 24 metres tall, the Giant Tingle Tree is the longest-living and largest-girthed eucalypt in the world. It's truly a sight to behold. You'll find this ancient tree about 3km past Hilltop Lookout.
Once there, take the 800m circular walk to admire it in all its glory.
Walpole-Nornalup National Park camping and accommodation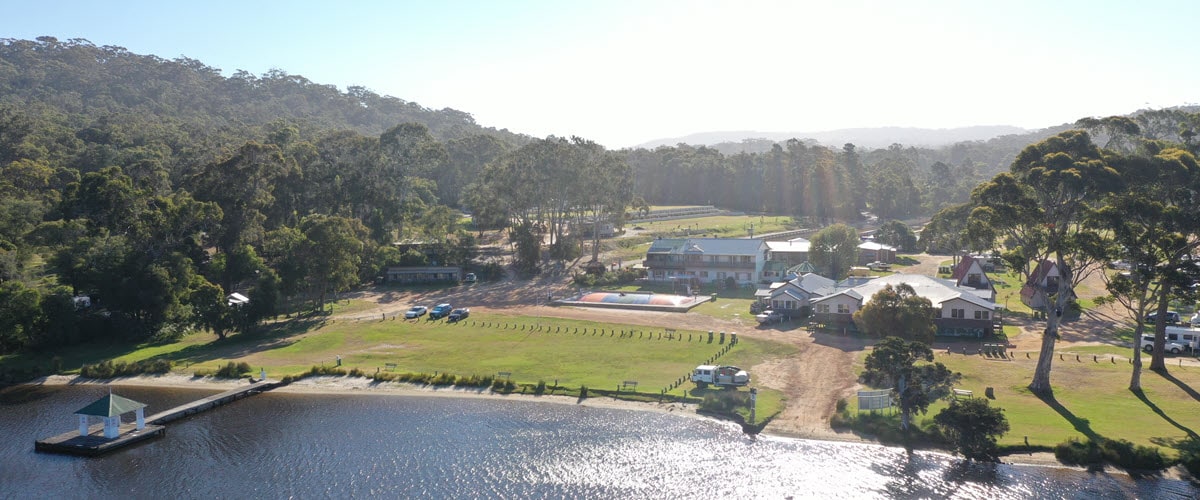 This South-West Australia region offers a diverse range of quality Walpole accommodation to meet every taste and budget. You can opt for family-friendly caravans in lush forest settings and self-contained riverbank retreats ideal for a little extra privacy.
Or, why not set up camp under the cool shade of the peppermint trees - all available at Walpole Rest Point Caravan Park.
Only 4km from the popular inlet of Walpole, Walpole Rest Point Caravan Park occupies a prime waterfront location right in the middle of Walpole-Nornalup National Park. It's also the ideal central location when planning our your Walpole experience itinerary.
Here, you'll find a range of Walpole-Nornalup National Park camping and caravan facilities guaranteed to suit every kind of budget and holiday, from 'bush' style sites and pet-friendly Walpole camping sites to fully self-contained cabins and units ideal for families and groups.
It's the perfect place to base yourself during your WA break.