If you love photography, Western Australia is a travel photographer's paradise. This state offers some of the most amazing and inspiring scenery in the world.
Whether you're a professional travel photographer or simply want to take some memorable family snaps, you'll find that there are a number of popular photography spots in WA.
In fact, some of these locations have become so famous for their beauty and allure that they attract photographers from around the world! So if you're looking to take impressive travel images for Instagram or simply want to take in the view, here is our list of the top 20 travel photo spots in WA.
1. Lucky Bay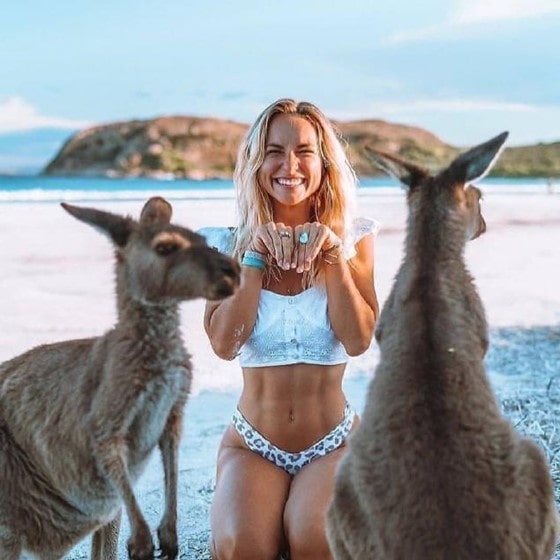 Image credit: @sydneyfacile
This secluded bay in Esperance is well known for its white-sand beaches and crystal-clear waters. Lucky Bay is a must-see spot for any travel photographer visiting Western Australia.
But browse the #luckybay tag on Instagram, and you'll soon see this isn't just another beach. Lucky Bay is known for its resident kangaroos, which can be found hopping around the coastline.
While the kangaroos are very friendly and will happily pose for photos, you shouldn't pet or feed them. It's best to visit at dawn or dusk when you have the best chance for a kangaroo encounter. During the heat of the day, you'll find that they like to retreat into the shade of the bushland behind the beach.
Once you've met the kangaroos, there's plenty to see and do in Esperance, so make sure you stay a few days at Esperance Bay Holiday Park.
2. Pinnacles National Park
Image credit: @gera_salvarinas
The Pinnacles are an incredible natural formation of limestone spires located in Nambung National Park. This park is a popular spot for landscape photography, and it's easy to see why — the eerie landscape makes for some stunning images.
The naturally occurring limestone structures look like something out of a science fiction film and vary from small piles to huge towers several metres high. It's certainly not your average landscape!
To get the best images, visit the Pinnacles during the early morning or late afternoon when the light is at its best. And be sure to take a wander through the park — there are plenty of trails that will lead you to some amazing viewpoints.
Jurien Bay makes an ideal base for exploring the Pinnacles. At the coastal Jurien Bay Tourist Park, you can relax and unwind and visit the Pinnacles as many times as you need to get that perfect shot!
3. South Perth Foreshore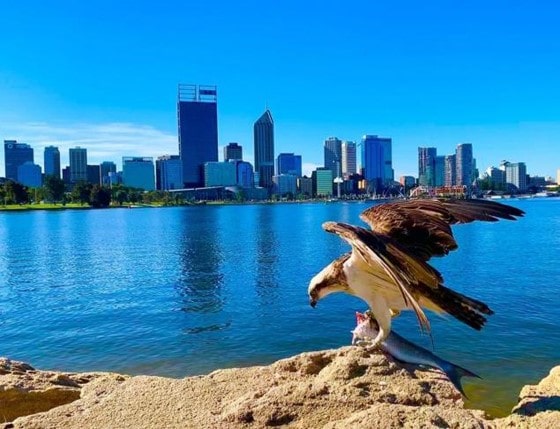 Image credit: @matt_ricci1982
If you're looking to take some impressive cityscapes, the South Perth Esplanade is the perfect spot for viewing the city skyline. The area is popular with locals and tourists alike, and it's a great place to relax in the sun while you take some photos.
The best time for photography at South Perth Foreshore is during magic hour (dusk) and early evening when the city lights are on display. You can capture impressive silhouettes of passing boats and the lights reflecting off the Swan River.
Make sure to bring a tripod if you're planning to shoot at night — it'll help to keep your photos sharp.
4. Bluff Knoll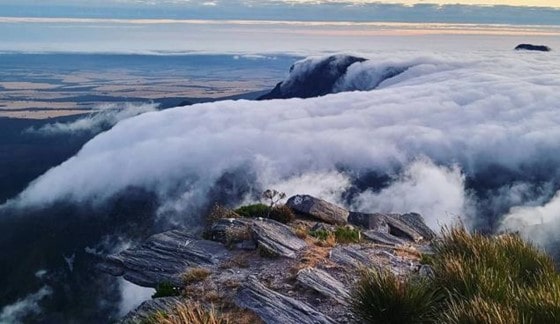 Image credit: @smilingadventurer
This peak in the Stirling Ranges is a popular spot for hikers and landscape photographers. The view from the summit is simply breathtaking and makes for some beautiful images.
You'll need to hike a 7km trail to reach the summit. From here, you can enjoy some of the best views in all of Western Australia. Sunrise and sunset are the best times to hike to beat the heat and when the light is best for photography.
In addition to the summit, there are some other great photography spots along the trail. You might even be lucky enough to see a cloud waterfall — a natural phenomenon that causes clouds to cascade down the mountainside in a waterfall-like effect.
5. Cable Beach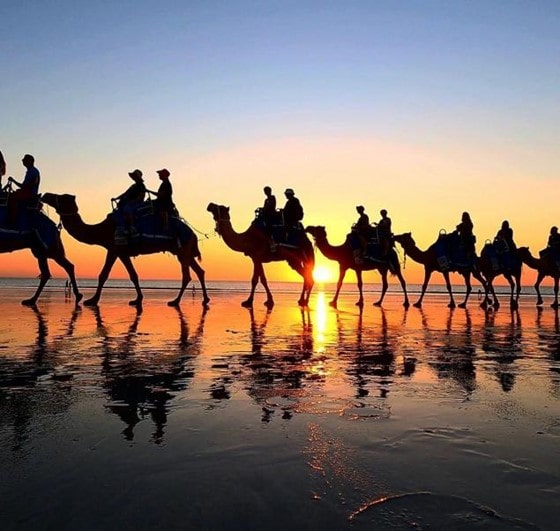 Image credit: @sarahandzane
This world-famous beach in Broome is known for its stunning sunsets and crystal-clear water. But what makes it unique is the "camel train" that rides along the beach each evening.
If you're looking to capture a beautiful and unusual sunset shot, Cable Beach is definitely the place to go, although the scenes are more reminiscent of the Middle East than Australia!
The beach is also a great place for family photos — the turquoise water and white sand make for a perfect backdrop.
Broome makes an excellent base for exploring the Kimberley region, and Broome Caravan Park is located just 5km from Cable Beach.
6. Wave Rock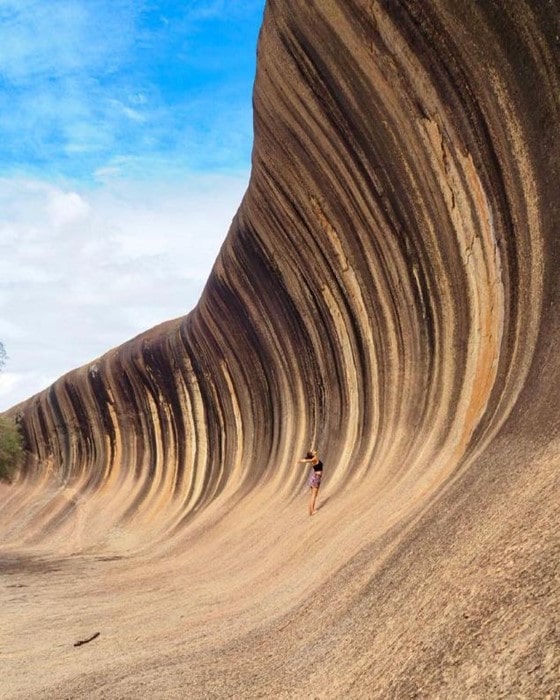 Image credit: @sabsii_i
One of the most unique and iconic sites in Western Australia, Wave Rock is a huge rock formation with an incredible natural wave-like shape. It's located in Hyden near Esperance, and it's definitely worth making the detour to visit on your next road trip through WA.
Dawn and dusk are the most popular times to visit Wave Rock, as the rocks glow a beautiful orange and pink hue. But the spot is also popular with astrophotographers, who come to capture the stars shining over the rock formation.
There are a few other great road trip photography opportunities in Hyden, including Hippo's Yawn and the scrap iron sculptures that are dotted around the roadsides in the area.
7. Crawley Edge Boat House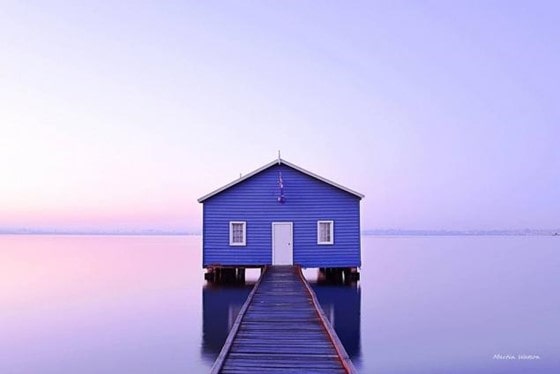 Image credit: @martininseoul
This 1930s boatshed in Perth has become one of the most iconic photo spots in the city. It's located on the Swan River in Crawley, between Kings Park and the Botanic Gardens.
The boatshed is best captured at sunrise when the pastel tones of the sky reflecting in the river perfectly complement the moody blue of the building. The iconic composition is straight down the wooden jetty, but make sure to check out the #blueboathouse tag on Instagram for some other ideas.
8. Yeagarup Dunes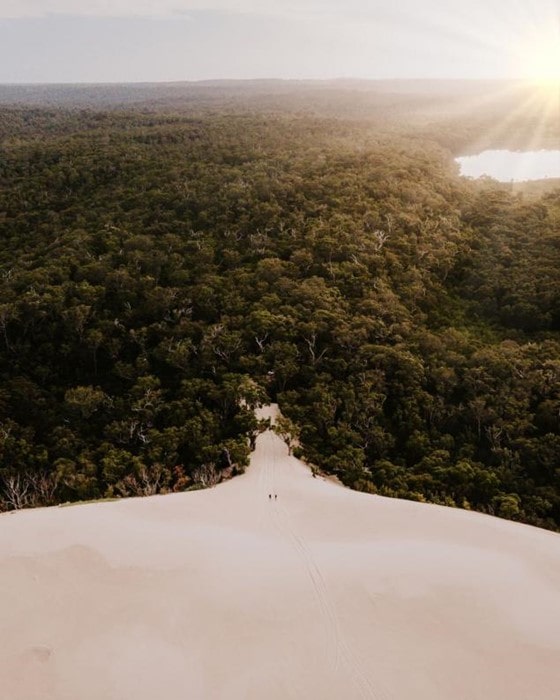 Image credit: @theroad_islife
This 10km long stretch of golden sand is an Instagrammer's dream. Located close to Pemberton, the dunes are a photographers' paradise and great for spectacular desert backdrops.
Yeagarup Dunes are a particularly popular spot with drone photographers and videographers. The natural beauty and isolation of the location can make for some visually impressive shots.
You'll need a 4WD to access the dunes, so make sure to factor that into your road trip plans. You can book a guided tour if you don't feel up to driving on your own.
9. Middleton Beach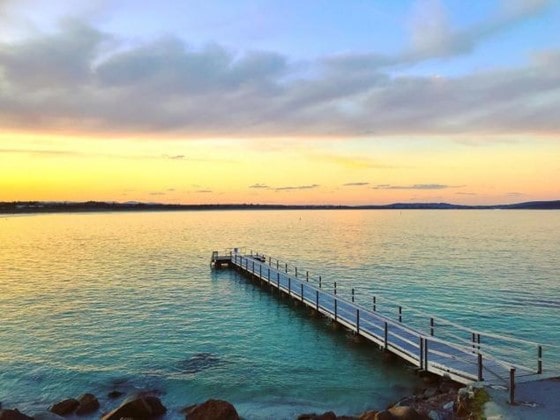 Image credit: @thispapercutlife
Middleton Beach in Albany is one of the most popular beaches in all of WA, and it's easy to see why. The long, sweeping beach is perfect for a swim or a picnic, and the views are simply stunning.
The historic jetty features in most pictures of the beach and looks particularly beautiful at sunset.
If you're looking for a postcard-perfect photo of the Australian coastline, Middleton Beach is definitely the place to go for travel photography.
10. Rottnest Island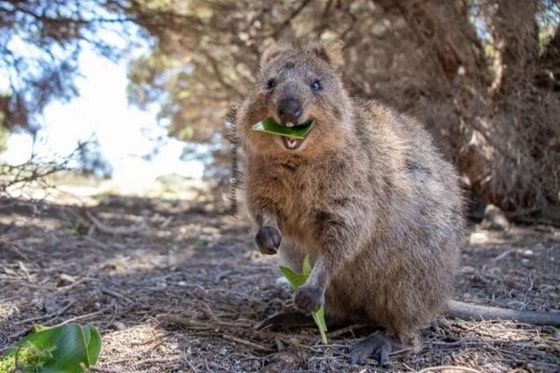 Image credit: @as.happy.as.a.quokka
Rottnest Island is one of WA's most popular tourist destinations and is a favourite of families and solo travellers alike. The white sand and turquoise water are obvious attractions, but if you're travelling with your camera, there are plenty of other reasons to visit too.
The island is home to some very cheeky quokkas — an undeniably cute species of marsupial that is found only on a few islands in WA. There is a reason they are the star of countless travel photos.
The island is also a great place to go whale watching in season, and there are some great photo opportunities off the coastline.
11. Cathedral Gorge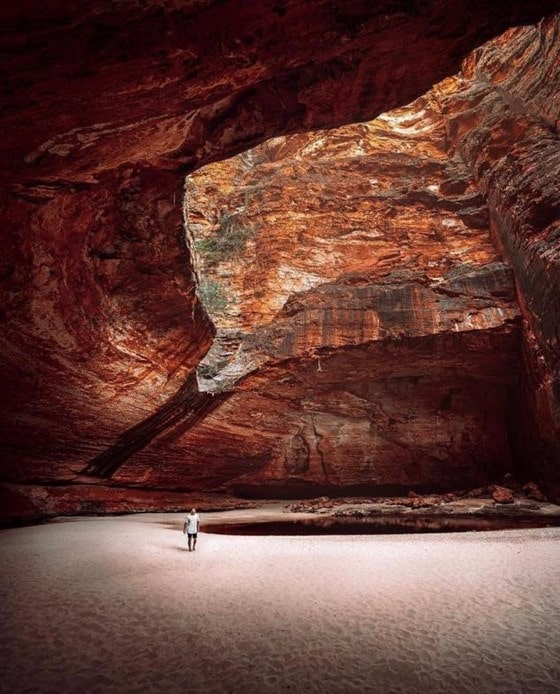 Image credit: @hike_australia
If you're looking for an awe-inspiring landscape to photograph, Cathedral Gorge is definitely worth a visit. The gorge is located in the Bungle Bungle range in Purnululu National Park and is a spectacular (though remote) spot.
The gorge features towering sandstone walls that have been eroded over time into wild shapes — including 'the organ', which looks like an incredible natural pipe organ when photographed from the right angle.
Access the gorge via a 2km long hiking trail. To get to the Bungles, you'll need to drive for 2-3 hours in a 4WD. Private helicopter flights are also available if you have the budget and want to get some stunning aerial shots.
12. Elephant Rocks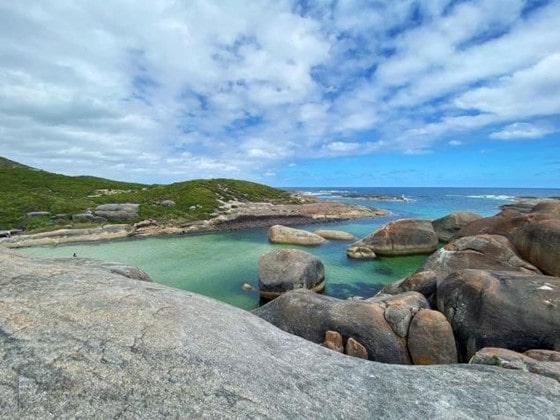 Image credit: @travelwiththetremains
Elephant Rocks is a unique landscape of round, pinkish-grey rocks that resemble a herd of elephants paddling in the waters of William Bay, Denmark, on the South West Coast of Western Australia. It's just a 40-minute drive from the Walpole Rest Point Caravan Park and makes a nice travel photography day trip if you're exploring the Walpole wilderness.
It's best to visit during low tide when you can walk out to the rocks and explore them up close. The rocks look particularly beautiful at sunset when the pinkish tones are accentuated by the orange and red of the sky.
You can also visit Elephant Cove, which is accessible only at low tide. The cove has some giant boulders that are great for climbing and posing on, but be careful of the waves — they can get pretty big!
13. Margaret River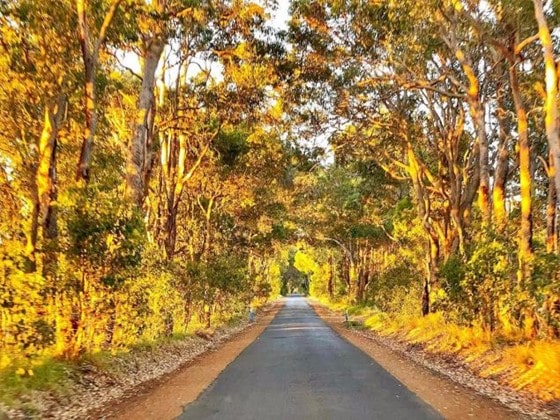 Image credit: @lostdia
Margaret River is one of the most picturesque places in Western Australia, and it's no wonder that it's a popular spot for road trips and a must-do for any travel photographer. The region is famous for its world-class Margaret River wineries, stunning coastline, and lush forests.
There are plenty of great photo opportunities in Margaret River. The most popular spots are probably the leading lines of the Boranup Forest with its majestic Karri trees, the Cape Leeuwin Lighthouse, and the rugged coastline.
Summerstar has two caravan parks in Margaret River, Riverview Tourist Park and Margaret River Tourist Park, so it's easy to stay and explore the great outdoors for a few days.
14. Kalbarri Skywalk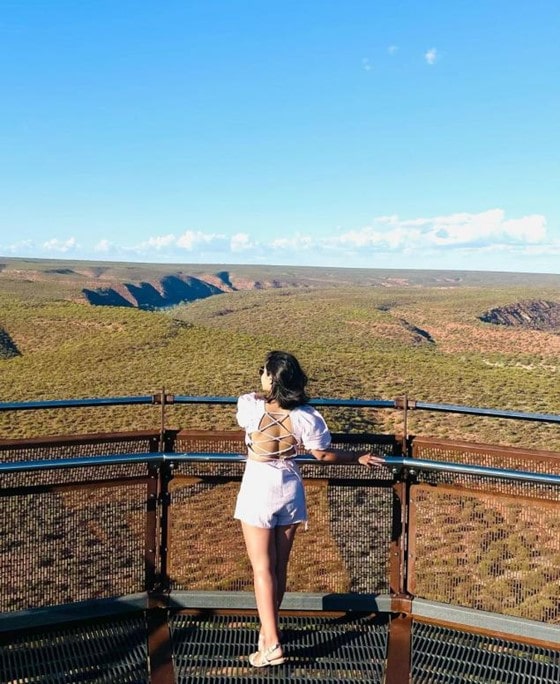 Image credit: @rutujagaikwad.93
Kalbarri National Park is a beautiful location to see (or photograph) the sunrise or sunset, and there's no better way to do it than on the Kalbarri Skywalk.
The wheelchair-accessible platform juts out from a cliff face 100m above ground level, offering spectacular views across the Murchison River Gorge.
The skywalk is one of the most popular selfie spots in the country, so expect to see a few people taking photos here. It's open from 6 a.m. to 6 p.m. daily, and you can buy tickets at the park entrance.
It's worth spending a few days in the National Park, and Kalbarri Red Bluff Tourist Park makes an ideal base for your adventures.
15. Nature's Window
Image credit: @thegirlsgoglobal
While you're in the Kalbarri National Park, make sure to visit Nature's Window — a natural archway formed from sandstone that has eroded over time.
The archway is a popular destination for photographers as it naturally frames the landscape behind it, which includes a stunning vista of the Murchison River.
The best time to visit Nature's Window is around sunset, when the low light makes for some great photos, with incredible views of the archway and surrounding hills against a red sky.
However, don't linger too long as you'll need to hike a kilometre from the car park there and back.
16. Busselton Jetty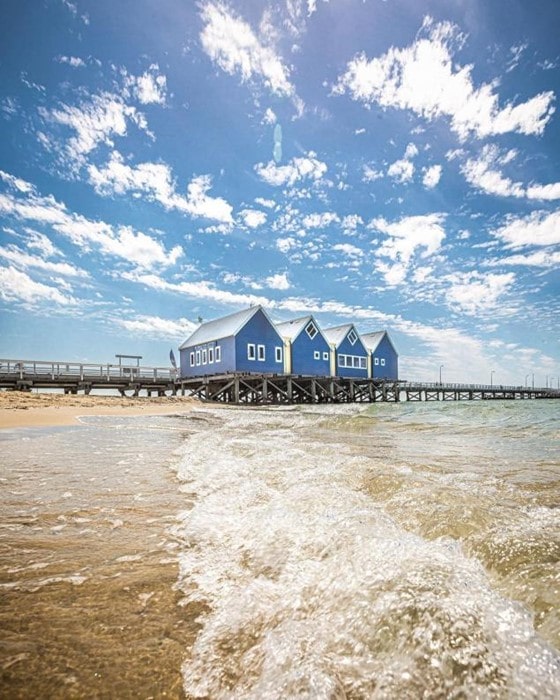 Image credit: @stumckay
At 1.8km long, Busselton Jetty is the longest wooden jetty in the southern hemisphere. It extends out into the waters of Geographe Bay and is the perfect place to set up your tripod and take photos of the sunset, sunrise, or simply the bay itself.
For more photos, the jetty also hosts an underwater observatory, which descends 8m under the surface of the ocean to offer unmatched views of the coral and sea life below. This is the perfect place to practise your underwater photography skills without getting your feet wet!
17. Ningaloo Reef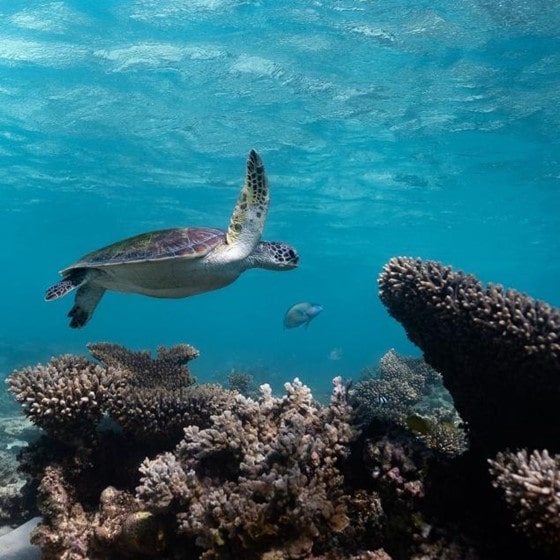 Image credit: @maxence.photography
The Ningaloo Reef is a UNESCO World Heritage Site located on the North West Coast, near the town of Exmouth.
The reef stretches for 260km and is home to an incredible variety of marine life, including whale sharks, manta rays, dolphins, and turtles.
It's no wonder that the Ningaloo Reef is a popular spot for travel photographers, and there are plenty of opportunities to capture some amazing photos here. So whether you're snorkelling in the reef or taking a scenic flight over it, make sure to keep your camera at the ready!
18. Kings Park
Image credit: @thecycopath
It may not be quite as spectacular as some of the other locations on this list, but Kings Park is still a beautiful spot to take photos.
Located in Perth, the capital of Western Australia, it's right on the Swan River and offers some gorgeous views across to the Perth city centre.
The park comprises over 400 hectares of land, making it one of the largest inner-city parks in the world.
If you're not up for a big road trip, there are plenty of photo opportunities here, whether you're admiring the view from the park's many lookout points or capturing some macro shots of the plants and flowers in the Botanic gardens.
19. Cottesloe Beach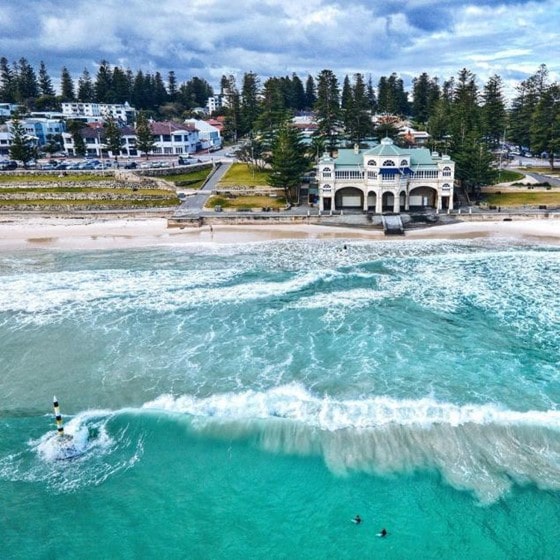 Image credit: @juliet.romeo.kilo
For a road trip closer to home, Cottesloe Beach is one of Perth's prettiest beaches and is made all the more Instagrammable by the Indiana Tea House that sits on its shores.
There were plans to demolish the fading but photogenic building. However, after public outcry, the tea house will instead be renovated into an upmarket restaurant and boutique hotel.
If you want to get some snaps of this Perth icon before it changes forever, we advise heading to Cottesloe Beach as soon as you can!
20. Fremantle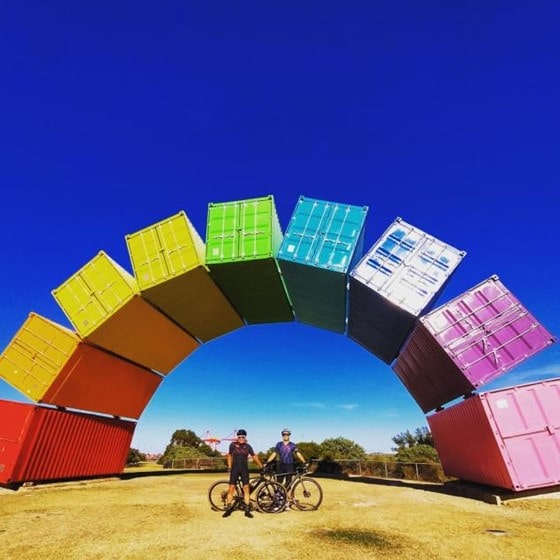 Image credit: @thecroc
The picturesque city of Fremantle is well known for its colonial architecture, charming streetscapes, and lively markets. It's also a portrait photographer's dream, with dozens of eye-catching backdrops to choose from.
If you're looking to take some photos in Fremantle, we recommend heading to the Esplanade Reserve, with its pretty park and Ferris wheel. Monument Hill is another good spot with its palm trees and vantage points over the city.
For a colourful snap that's sure to get you lots of likes on Instagram, visit the container rainbow sculpture made from recycled shipping containers. It's located on the south bank of the Swan River, near the Jetty Bar.
Ready for some unique travel photography
Western Australia is a beautiful place to take pictures, and the places we've mentioned here should give you plenty of ideas for your next travel photography adventure. From bustling cityscapes to serene beaches, this list has something for everyone.
Be sure to add a few of these locations to your travel itinerary, bring your travel photography gear and capture some amazing photos while you're there.