Creamy white sands that wonderfully contrasts with turquoise waters, fiery red cliffs, and beautifully painted skies during sunsets are what lure locals and tourists alike to Cable Beach in Western Australia.
Located in the beach holiday town of Broome in the Kimberley region, the miles-long stretch of white sand got its name from the telegraph cable laid in 1889 between Broome and Java, connecting Australia's northwest portion to the world.
If a beach holiday in Western Australia is on your staycation or vacation list this year, then Broome is a must-see location with its world-renowned beaches. With warm weather nearly all year round and plenty of activities for all ages, you are bound to have a great time with family and friends in this paradise.
While the wide and long sandy expanse can get a bit crowded during the peak months of May to October, you can always find a secluded spot where you can pause and admire nature's details around you.
6 Amazing experiences at Cable Beach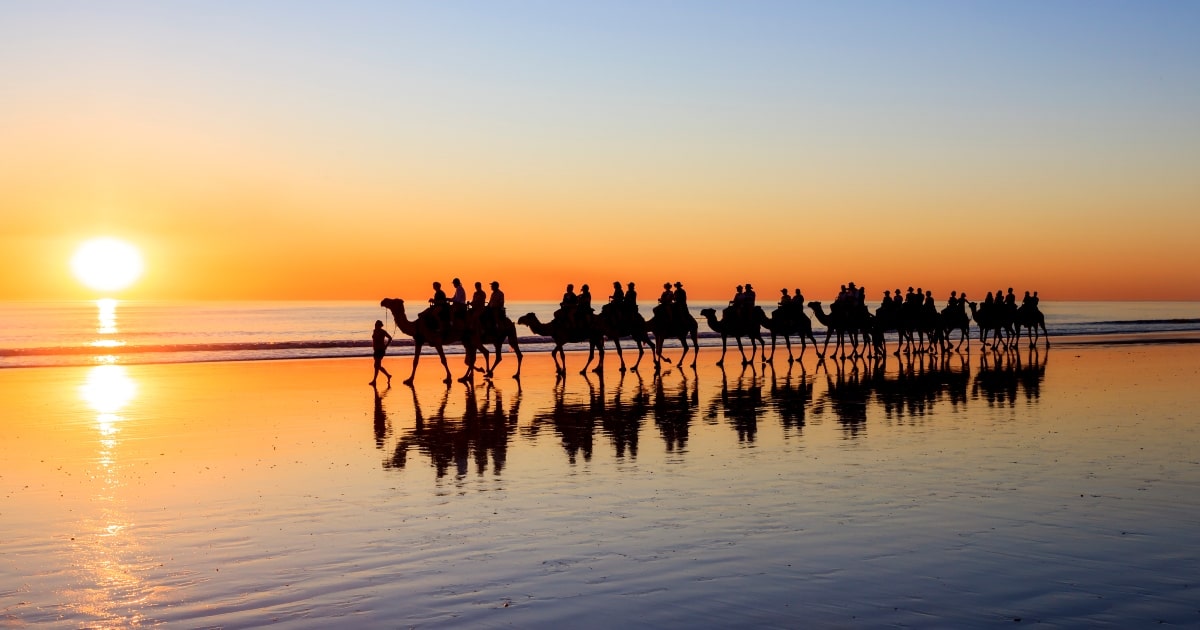 Cable Beach Broome delivers a good deal of things to do during the day and night. Whether you want a place to just chill out on the sand or keep yourself busy the entire day, here are some fun and memorable activities you must try:
1. Watch stunning Broome sunsets
Broome is particularly world-famous for its stunning sunsets, and the top destination to watch the sun go down is none other than Cable Beach. Here, you are presented with uninterrupted views of the sky and the landscape changing colours as the sun gently lowers to the Indian Ocean.
Position yourself at a beachfront bar, on a patch of grass at the foreshore park, or astride a camel. If you want a less crowded spot, head to Minyirr Park or Gantheaume Point.
But, if you prefer a location that is quiet, head to Coconut Well. In this village, you can find a remote area of the famous beach. There are no crowds, just you and the beautiful Broome sunset.
2. Worship the sun and sea
Cable Beach Broome is a mecca for beach lovers and water adventure seekers. Want to get away from the southern winter?
Then Broome is perfect to visit from July till September as this is the optimal Cable Beach swimming season with waters cleared from all the jellyfish that appear during Broomes wet seasons. You can also choose from many other popular Broome experiences and water activities such as kayaking, paddle boarding, fishing, cruising, whale watching, tubing, and surfing.
However, if you would rather worship the sun from the comforts of a sun lounger, with a good read or a fruit drink in hand, there are lounge chairs and umbrellas available for hire.
Otherwise, spread out a towel over the beach's white sand and lay while watching the water kiss the shoreline or take a book with you to read while soaking up the sun.
3. Ride a camel down Cable Beach
Explore the white sand wonderland in all its splendour atop a camel. One of the most sought-after experiences to do at Cable Beach, camel tours operate at different times of day to suit your mood.
Tours typically run in the morning, afternoon, and sunset. Of course, riding a camel into the sunset is the best way to wind down a fantastic day. The art show created by the last rays of the sun is a view you can keep in your memory forever.
This is both a great solo activity or to do as a couple or you can get a group together and ride down the beach in a camel train. After all, what is Cable Beach known for if not camel rides?
4. Identify dinosaur footprints at Gantheaume Point
At the southern section of Cable Beach is Gantheaume Point, where fossilised dinosaur footprints can be found.
The tracks made by dinosaurs, which wandered along the coast of Kimberley millions of years ago, are visible during low tide. Try identifying the different dinosaur species by joining a hovercraft tour to the area.
Since Gantheaume Point boasts ochre cliffs that glow when hit by sunlight, you might as well savour the vista while partaking in nibbles and bubbles. The tour is tide-dependent though, so keep that in mind when planning your itinerary.
5. Take a leisurely beach stroll
Cable Bay Broome is beautiful no matter what time of day. On early mornings when most people are still asleep, the Broome beach provides access to the perfect escape for a tranquil, leisurely stroll.
Take in the length of the beach, fringed by clear waters on one side and red sand dunes and cliffs on the other. Hear the waves crash, feel the gentle wind blow, as you walk feeling more relaxed than ever.
6. Be awed by the Staircase to the Moon
Although this is not a Cable Beach activity, the Staircase to the Moon is a spectacular experience that you shouldn't miss.
This natural occurrence seen during certain months of the year happens when the rising moon creates an illusion on the exposed tidal flats resembling a stairway to the sky. You can witness this event at Town Beach, which is just a few minutes away from Cable Beach.
Dining and stay options in Broome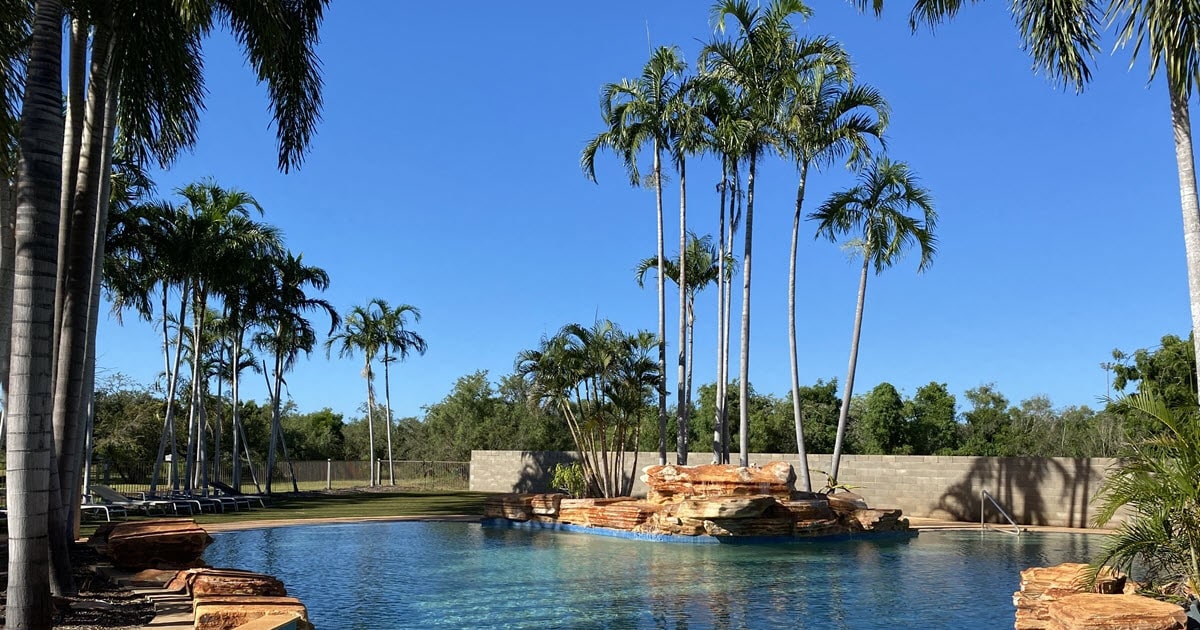 There is a myriad of restaurants, bars, and cafes spread throughout Cable Bay Broome, with some of the best located along Cable Beach. For beachfront dining, Zanders at Cable Beach, Cichitte Club, and Bali Hai Cafe serves up dishes with global influences. There's also The Aarli, Little Indian Restaurant, and The Green Mango Cafe.
If you prefer sleeping in a tent or if you're travelling in a caravan, Broome Caravan Park has campsites that will take care of all your needs. It also offers park homes and chalets for a more comfortable stay.
How to get to Cable Beach
Cable Beach, Australia is easily accessible by air, with several local flights serving the town of Broome. Direct flights from Perth and Darwin are available year-round, while straight flights from Melbourne, Sydney, and Brisbane depend on the season.
From Broome airport to Cable Beach, you can take a bus, taxi, shuttle, or town car. You can also hire a car or walk — whatever takes your fancy.
Before you fly to Broome, you may want to familiarise yourself with all its key attractions. A map of Cable Beach, Broome would come in handy if you want to plan your visit well in advance. The map of cable beach shows the whole area stretching towards Gantheaume Point and provides a little background information on some of the key spots to check out.
Cable Beach is one of those holiday hotspots you should visit at least once in your life so you get to experience firsthand why it ranks among the world's best travel destinations.