Broome is the ultimate beach holiday town, boasting some of the most famous beaches in all of Western Australia. With its months of warm tropical weather and unique peninsula location, Broome is a perfect choice for your next beach getaway.
Closer to Darwin than it is to Perth, it goes without saying Broome is remote, but it has a great township of about 15,000 and is one of Australia's most popular coastal holiday destinations. Broome's international airport is connected to most Australian Capital cities and is about a 24-hour drive from Perth.
On the long list of things to see and do in Broome, we reckon it's the beaches that make Broome special. And it's not just all about famous Cable Beach either.
From easy to access spots near the town centre to sprawling coastal beaches that you'll likely have all to yourself, Broome has it all when it comes to unmissable beaches. Take in the spectacular landscapes, enjoy water sports, stretch your legs or laze away a few relaxing hours, and find out why Broome has got a reputation for WA's best oceanside sunsets.
Here is our handy guide to the best beaches and beach experiences in and around Broome, Western Australia.
Broome's 8 best beaches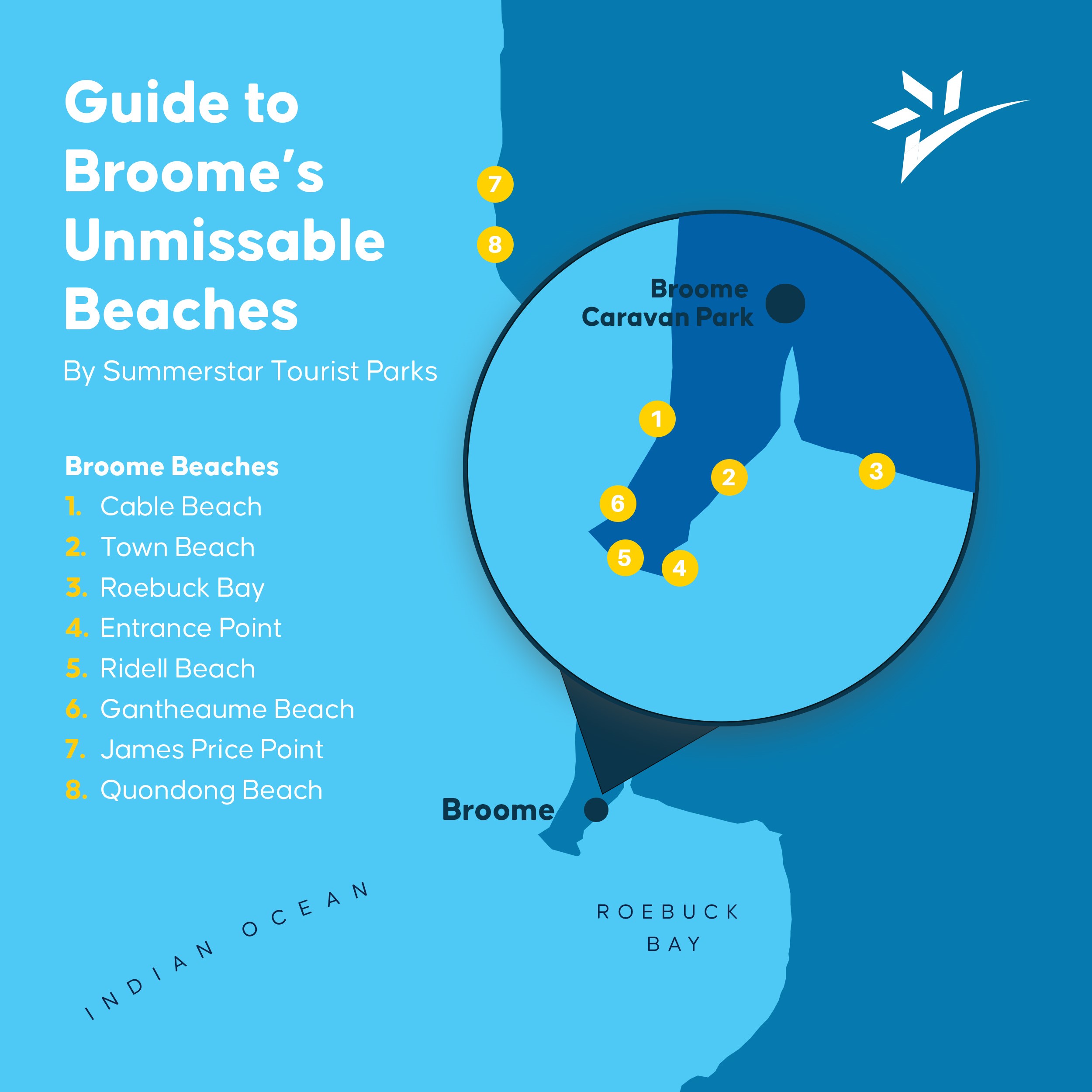 Cable Beach
Town Beach
Roebuck Bay
Entrance Point
Riddell Beach
Gantheaume Beach
James Price Point
Quondong Beach
Follow our interactive Broom beaches map
1. Cable Beach
Cable Beach Road
5 min drive from Broome Caravan Park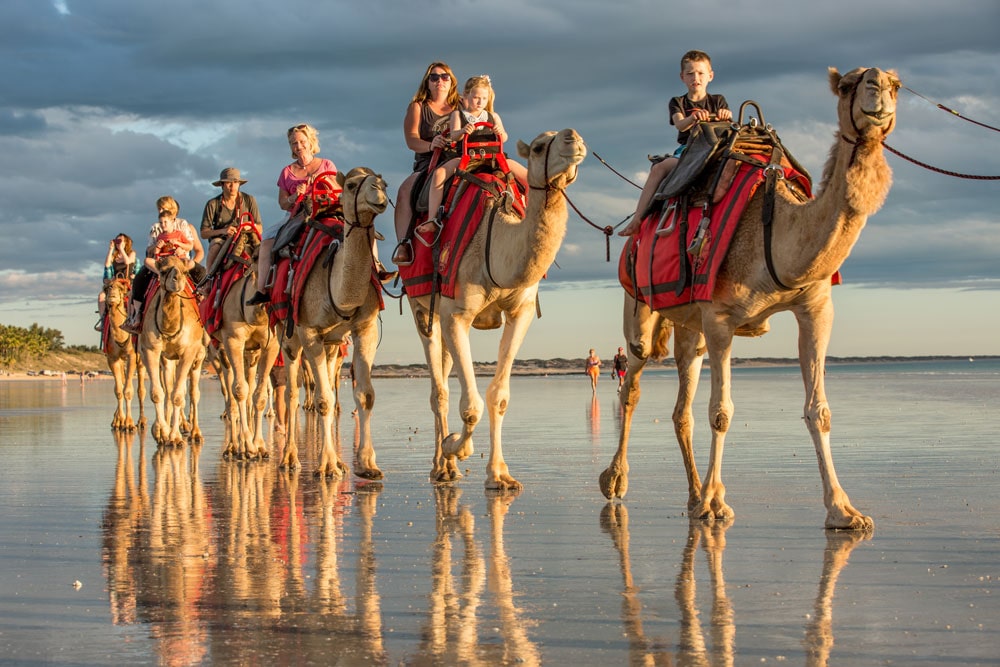 Camel rides up Broome's famous Cable Beach. Image credit: Tourism Western Australia
Cable Beach is Broome's, if not WA's, most famous beach. Named after the telegraph cable laid under the sea from Broome to Indonesia in 1889, the 22km long, wide, flat white sandy Cable Beach offers something for everyone.
Try your hand at fishing, kayaking, surfing (it's a great spot to learn) and if you're feeling adventurous there's the bucket-list-worthy camel ride experience. Book a camel ride with a local operator, pack the camera and find out for yourself why this beach is so famous.
You can take your 4WD up the beach (north of the rocks only) too. Cable Beach is also home to one of Australia's most famous nudist beaches, north of the rocky point to the right of the 4WD beach access point.
There's a lifeguard patrolled area for a refreshing dip, and why not pack a picnic or grab a bite at one of the great nearby waterfront cafes and restaurants? To really get into holiday mode you could always just relax under an umbrella on a beach lounge (which you can hire from the Beach Hut Broome).
After all, you are on holiday!
We can't recommend highly enough a stroll up this famous beach and don't forget the camera - especially when seeking Broome sunsets. Over 22km of walking trails such as Nagula, Lurujarri and Minyirr meander through the sand dunes and along the foreshore, past the Broome suburbs and all the way along the coast.
Toilets, showers and change facilities are available to visitors, located by the car park and main entrance at Cable Beach Road West.
Facilities:
Cafes/restaurants
Parking
Picnic areas
Bathroom facilities
2. Town Beach
Robinson St, Broome
10 min drive from Broome Caravan Park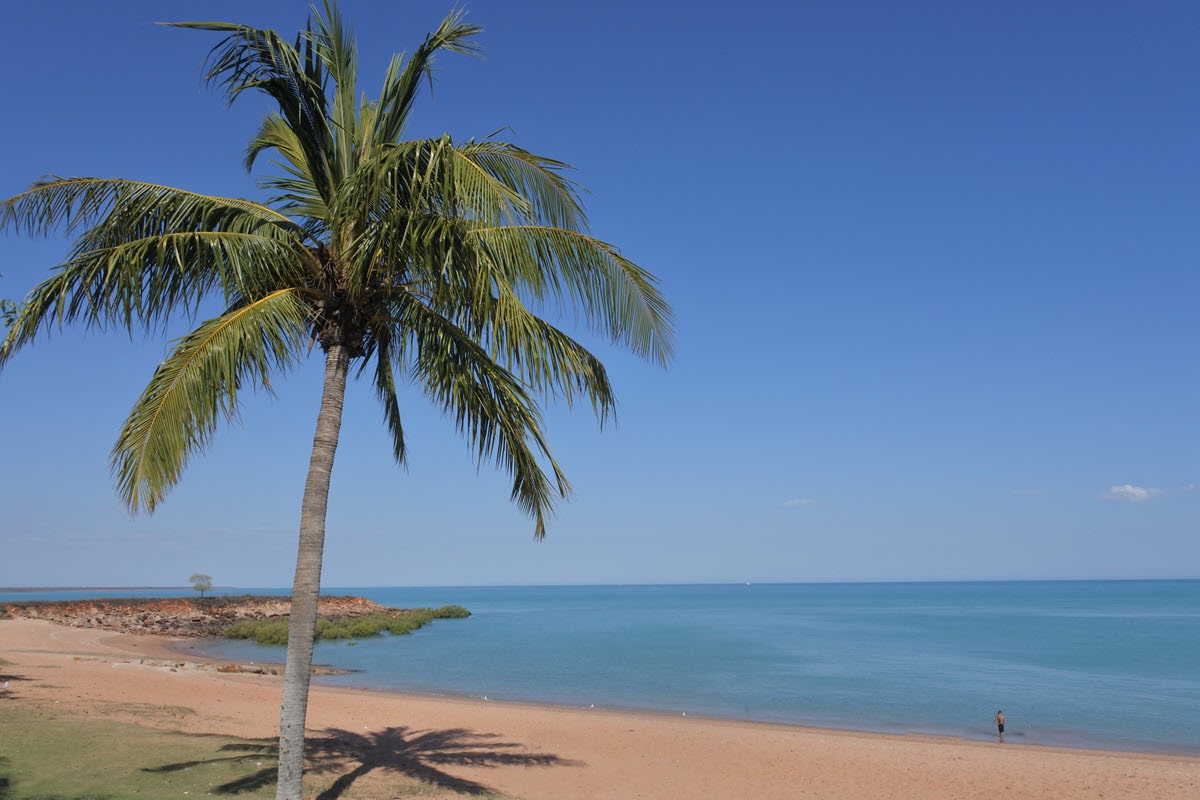 All to yourself. Town Beach, Broome, WA.
Close to town and overlooking beautiful Roebuck Bay, east-facing Town Beach is easily accessible from anywhere in Broome, and a family-friendly option thanks to the calm aqua waters and lovely pink sand. The best swimming is at high tide.
Town Beach is home to the well-known Staircase to the Moon natural attraction, a phenomenon occurring on certain days of the year when the rising moon creates reflections on the mudflats resembling steps to the sky.
Like much of Broome and the Kimberly region, Town Beach is very tidal, and if you don't mind getting a little bit wet you can take a very low tide walk to see the remnants of Catalina flying boats from World War II. Check with the Broome Visitor Centre for accurate times of when the shifting tide reveals this piece of history.
There is also a bustling Night Market on Thursday nights at certain times throughout the year.
Facilities:
Cafe
Playground
Bathroom facilities
BBQs
Parking
3. Roebuck Bay
Port Drive, Minyirr
10 min drive from Broome Caravan Park
Roebuck Bay Marine Park is Australia's newest Marine Park and is bound in the north by the town of Broome, and in the south by Bush Point and Sandy Point.
One of Broome's largest attractions, the area is brimming with a diverse range of marine and plant life, and it's a beautifully picturesque scene of contrasts between the impossibly blue waters, green mangroves and vast orange or red sands of the beaches and tidal mudflats surrounding the bay.
Prevalent on Instagram, Roebuck Bay is iconic, postcard-worthy Broome at its best.
Around the bay, there are many great spots for bird-watchers to view migratory birds, such as the Broome Bird Observatory. You'll also be spotting marine life playing and frolicking, such as the Australian snubfin dolphin. Get the most out of your visit by booking an enjoyable tour with a local marine life expert or fishing charter.
Facilities:
4. Entrance Point
Kabbarli Road
15 min drive from Broome Caravan Park
Sometimes this rather scenic area can get a little bit busy, but it's easy to understand why it's so popular with its dog-friendly beach, unique and photogenic rock formations, and proximity to the Broome township.
The beach at Entrance Point is popular for weddings and of course boaties and fishers thanks to the Fishing Club, two boat ramps and plenty of parking.
We highly recommend this spot for sunrise and sunset viewing too!
Facilities:
5. Riddell Beach
Car Park 3, Kavite Road (unsealed)
15 min drive from Broome Caravan Park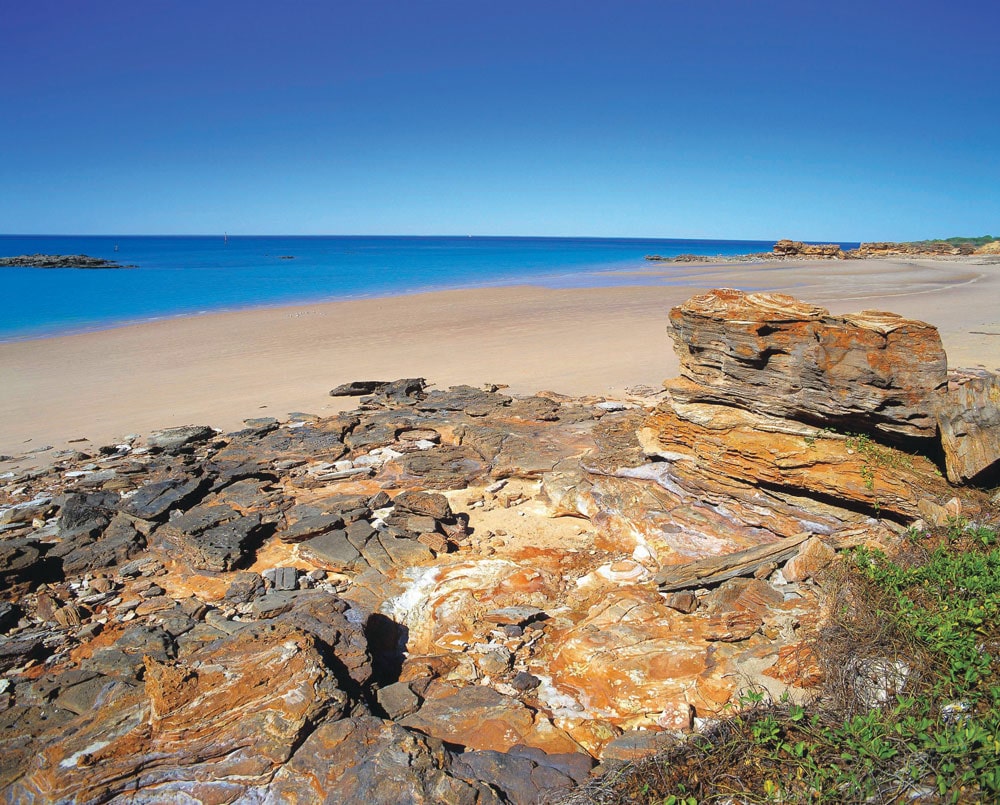 Ridell Beach, Broome. Image credit: Tourism Western Australia.
Secluded and undeveloped, Riddell Beach is nestled between scenic eroded red bluffs and the pristine white sandy fringed turquoise ocean. While it's a favourite with locals, they wisely keep it a bit secret - so it's never overly busy or overcrowded.
Only about 8km out of Broome, it's very accessible. Take a quiet dip in the calm waters or stroll the perfect 400m beach and take in the intricate and unusual rock formations, keep an eye out for the scurrying hermit crabs. Follow the trail along the red sandstone cliffs to Gantheaume Point for great views and spekky sunsets.
Facilities:
6. Gantheaume Beach
Lurujarri Walk off Gantheaume Point Road
10 min drive from Broome Caravan Park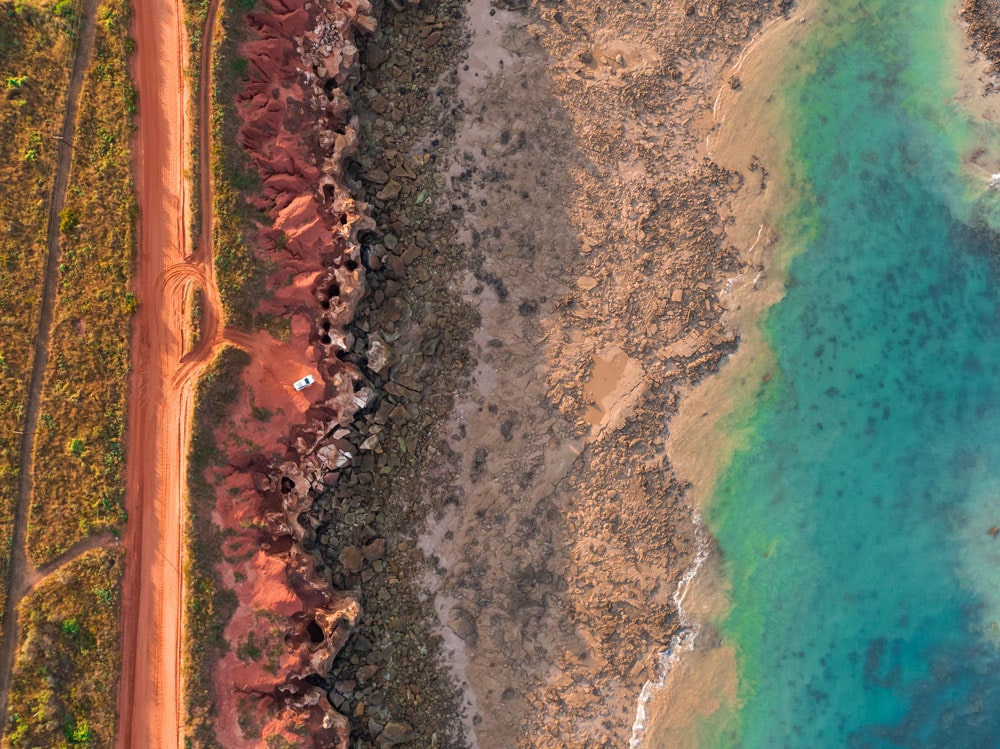 Aerial view of the red sands and turquoise waters off Gantheaume Beach, Broome. Image credit: Tourism Western Australia.
Right at the southern end of Cable Beach is a beautiful stretch of white sand to the north east of the adjacent, very popular, red rock Gantheaume Point (complete with lighthouse and visible dinosaur footprints and plant fossils - look for the informative signs by the path, or ask at the Visitor Centre). This area is stunning and you'll find plenty of Instagram inspiration.
Gantheaume Beach is a departure point for lots of great aquatic Broome experiences like kayak tours, fishing charters, whale watching tours and cruises.
There is 4WD access to the beach in the designated area, be sure to heed all signage.
Facilities:
7. James Price Point
Manari Road, Kimbolton (not sealed the whole way)
65 min drive from Broome Caravan Park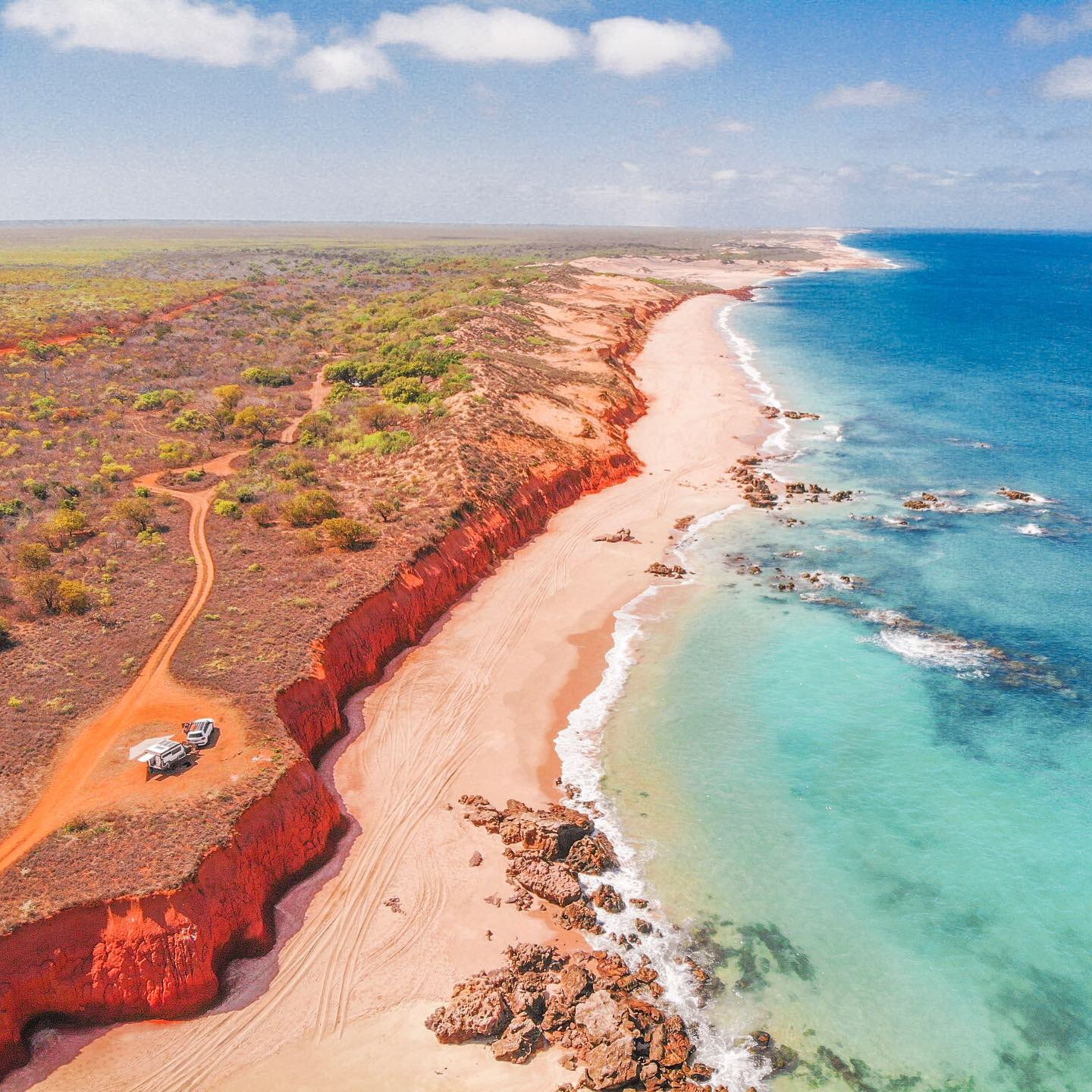 James Price Point. Image reference: Zone RV
A little further afield, James Price Point is a real gem.
It's a gorgeous headland 52 kilometres north of Broome along the Dampier Peninsula and well worth the drive to see firsthand the colour contrasts of the iconic red cliffs clashing with the white sands and enticing blue ocean.
You only have to search James Price Point on Instagram to see just what we mean - it's incredible. You'll be scrolling for hours.
There are some wonderful rock pools to explore at the ends of the beach, with lots of marine life to witness. Keep an eye out for whales, dolphins, manta rays and turtles.
Those with 4WD experience can drive on the beach but be aware of the large tides.
No facilities.
8. Quondong Beach
Quondong Point Road
45 min drive from Broome Caravan Park
Just south of James Price Point, off Quondong Point Road is another secluded piece of coastal paradise. It's a remarkable spot thanks to the stark contrast of the red pindan cliffs and the white sandy beach.
There are fun rock pools to check out and offshore the reef is full of interesting marine life and corals. Be aware of the tides if you do venture out. In August you can often witness migrating humpbacks from the beach.
The road into Quondong Beach is unsealed and can be quite corrugated so take it easy and you should be fine, and it can get closed off in the height of wet season or during big storms. There aren't any facilities so bring in, and take back out, everything you need with you. You'll definitely enjoy exploring this vast beach and the surrounding area, taking in the cool breeze while fishing, swimming, snorkelling or just relaxing.
No facilities.
More unmissable Broome beaches to visit
Keen for more unmissable beaches? If you venture a little further afield from Broome there are more fantastic beaches, each unique and offering its own unmissable highlights. From long sandy beaches that stretch beyond what the eye can see, to some of the best diving spots and snorkelling in WA, these Broome beaches will impress:
Drop into Broome Visitor Centre
We always recommend calling into the very helpful Broome Visitor Centre during your visit.
Knowledgeable locals will help you with everything you need to know about discovering Broome and the many nearby beaches and coastal attractions. They will be able to help you out with where to go to hire any gear you may need and inform you of any restrictions or warnings at the beaches in terms of fishing and four-wheel driving.
You can get town maps, book tours and stock up on mementoes as a reminder of your visit to Broome too.
Book a beach holiday in Broome
Book the ultimate beach holiday in Broome and explore a different amazing beach every day, capped off with a lounge poolside at Broome Caravan Park. Choose between our range of park homes, chalets and camping sites which all include access to our park swimming pool, lap pool and Wi-Fi.
Easily accessible to all of Broome's best beaches, you'll want to book a few nights stay to enjoy everything Broome has to offer.
Book Broome accommodation today!