The tourist town of Broome can be found on the northern coast of Western Australia. Built on the pearling industry, Broome has since become a popular place for visitors, thanks to its beautiful beaches, spectacular landscape and friendly vibe. It's also a great base for exploring the wild and beautiful Kimberley region.
If you love fresh, local food, the great outdoors and exploring the area's rich cultural heritage, you'll be sure to enjoy an unforgettable trip to this unique spot.
Sounds like your kind of place? Then check out our Broome travel guide, capturing a whole range of activities and experiences to help you make the most of this charming coastal town.
Things to do in Broome:
Broome weather
Find the best season to book a trip to Broome.
| | | |
| --- | --- | --- |
| Summer | Dec, Jan, Feb | 26°C - 34°C |
| Autumn | Mar, Apr, May | 18°C - 34°C |
| Winter | Jun, Jul, Aug | 13°C - 30°C |
| Spring | Sep, Oct, Nov | 22°C - 34°C |
Broome activities map
Broome art galleries and culture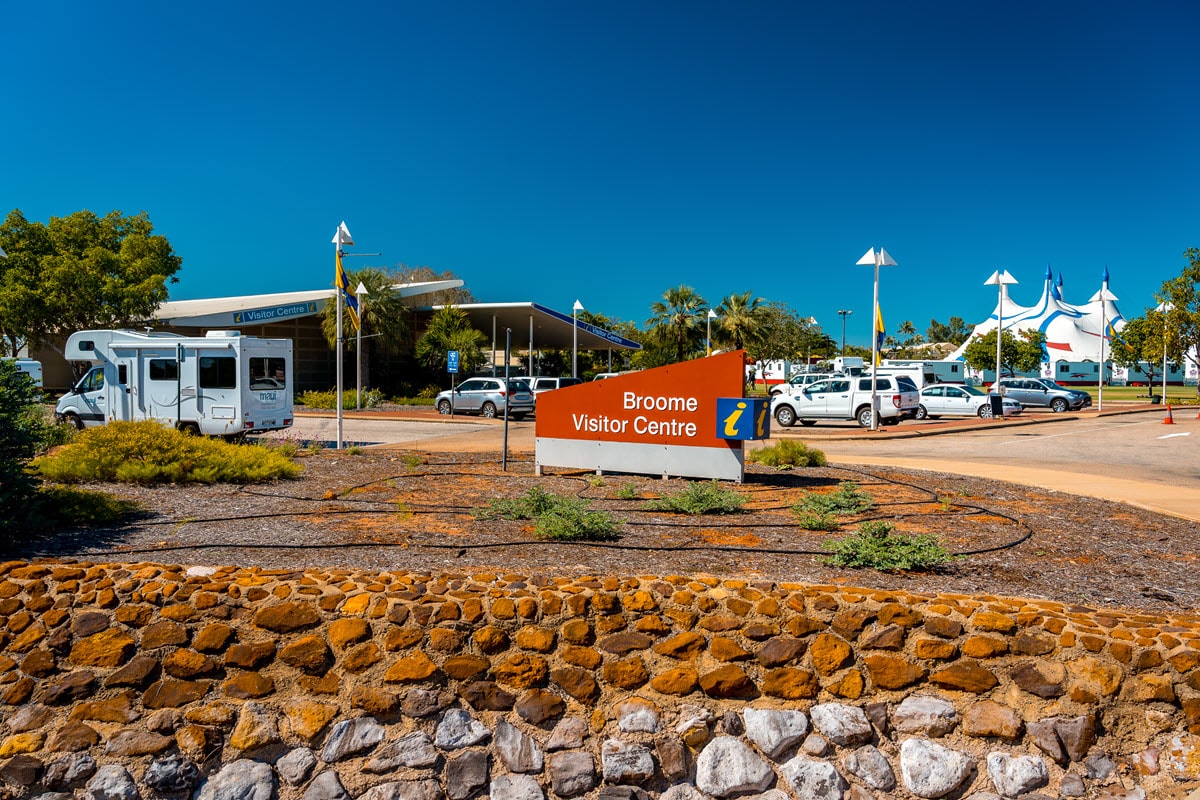 The street sign showing Broome Visitor Centre in the north west of Western Australia.
Our Broome travel guide starts with a look at the wealth of art galleries and cultural activities available in the town, drawing from its rich history and diverse population. Browse artworks, find out about the town's history or explore the older parts of town to get a feel of this energetic community.
1. Art galleries in Broome
Broome boasts several art galleries with works of art for sale depicting the local landscape. You'll find vibrant works by local artist James Down at Broome Gallery, where you can have a custom-made piece painted for you, indigenous art at Short St Gallery and stunning photographs capturing local scenes at Yane Sotiroski Photography Gallery.
2. Broome Historical Museum
Visit the Broome Historical Museum at Robinson Street to understand the history of the town and surrounding areas. Immerse yourself in the town's pearling history, the role of the local Aboriginal people, the Yawuru, and find out about the impact of World War II on the area. You can even research your family history if you have a connection with pearling or Broome itself.
3. SSJG Heritage Centre
This unique heritage centre was built in 1926 in the traditional Japanese 'Shinkabe' style for the Sisters of St John of God, who gave spiritual support to the town's first inhabitants. You can find the Kimberley photographic collection here, depicting the pioneering and multicultural past of the town.
4. Vibrant Chinatown in Broome
Chinatown sprung up from simple tin sheds to house workers in the pearling industry during the boom of the late 19th century. Today, you can wander among the old-style buildings, shops and galleries and sit and soak up the atmosphere at one of the many cafés.
Broome beaches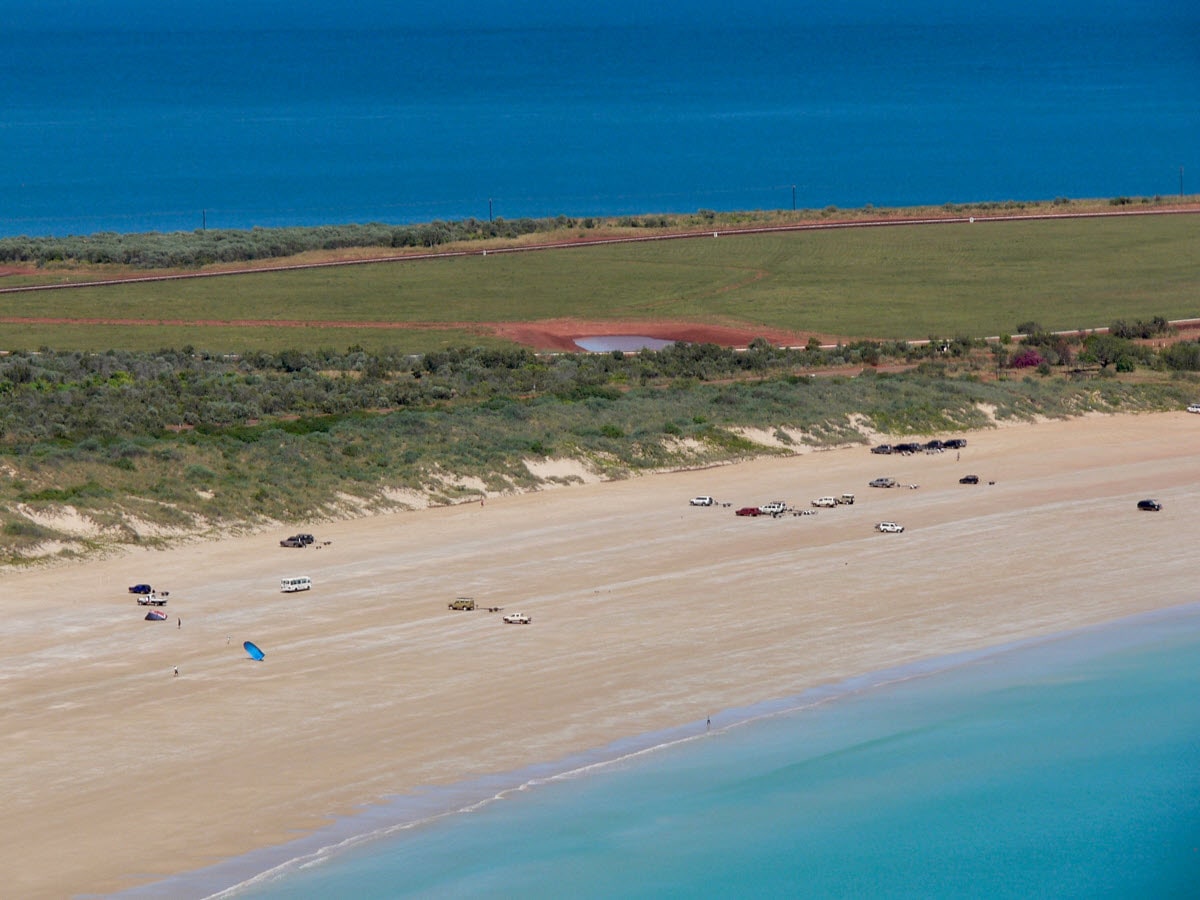 Aerial view over the beach in Broome with many 4WDs heading off road.
If you're looking for things to do in Broome, the first thing you'll want to do is head to one of the unmissable Broome beaches. Broome boasts a number of stunning and characterful beaches where you can enjoy water sports, take in the spectacular landscape or just spend a few quiet hours in the great outdoors.
5. Cable Beach
Enjoy 22 kilometres of pristine sand on iconic Cable Beach, so-called as a reference to the telegraph cable laid under the sea in this location from Australia to Indonesia back in 1889. Nowadays, you can enjoy beach life, sunsets and a camel ride on the sand – the perfect way to take in the view.
6. Roebuck Bay
Visit Roebuck Bay, just a few minutes' drive from Cable Beach on the eastern side of the peninsula and close to town. Enjoy the spectacular surrounding landscape and the ocean's ever-changing shades of blue.
7. Town Beach
This gorgeous beach overlooks the azure waters of Roebuck Bay. Combine your love of the outdoors with a passion for history by visiting Broome Pioneer Cemetery, located near town beach, where some of the earliest settlers in Broome were buried. You can also take a walk at low tide on specific dates to see the remnants of flying boats from World War II.
8. Reddell Beach
The secluded Reddell Beach is just a few minutes' walk from the red sandstone cliffs of Gantheaume Point. It's perfect if you want some peaceful time simply taking in the beauty of nature or a quiet dip in the turquoise waters.
Broome outdoor experiences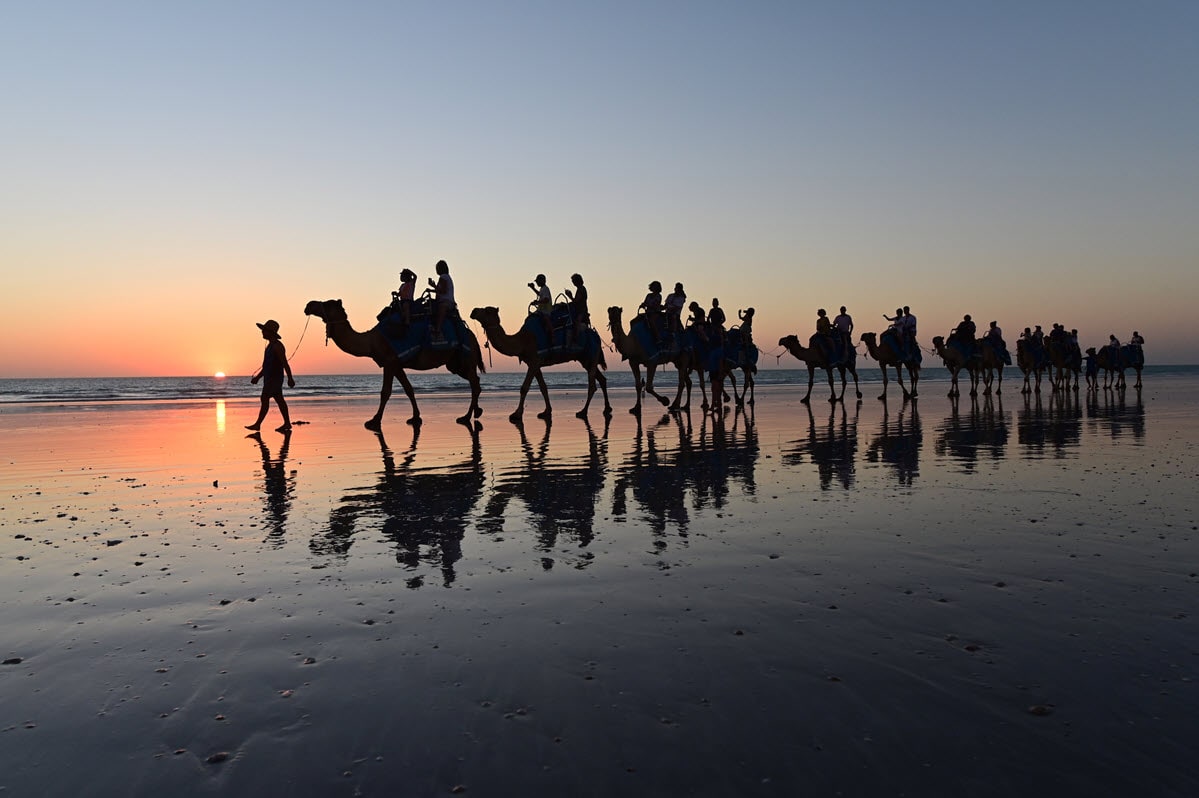 Tourists enjoying a beach camel ride down Cable Beach in Broome, Western Australia.
Broome enjoys a tropical climate, which makes it the ideal place for exploring the great outdoors during the dry season (April to November). With so many outdoor experiences to try, you won't know where to start!
9. Camel ride on Cable Beach
No trip to Broome is complete without a camel ride on the beach – it's up there as one of the iconic things to do in Western Australia! Even better if you time your ride at sunset to appreciate the full beauty of the beach from your lofty viewpoint.
10. Moonlight experience
Immerse yourself in the natural wonder of the 'Staircase to the Moon' experience. Every full moon, its light reflects off the mudflats at Roebuck Bay, making them appear as a set of stairs leading up to the heavens. Or enjoy the experience from the Town Beach Reserve, where you can buy local food and crafts and enjoy live music at the Staircase Markets.
11. Walk in the footsteps of dinosaurs
Follow the Dinosaur Coast from Broome northwards to Cape Leveque on the Dampier Peninsula. You'll see fossilised tracks made by dinosaurs over 130 million years ago, and you'll enjoy the rugged beauty of the coastline. You can have fun identifying as many different types of dinosaur tracks as you can and really get a sense of the size of these magnificent beasts.
12. Explore the Mangrove Swamps of Roebuck Bay
Explore the mangrove swamps of nearby Roebuck Bay by boat, where 11 mangrove species are found. This important habitat accommodates many different types of wildlife, including turtles, dolphins and all kinds of fish and other aquatic life. At low tide, you'll be able to spot mudskippers and crabs and get a snapshot of its rich diversity.
Broome tours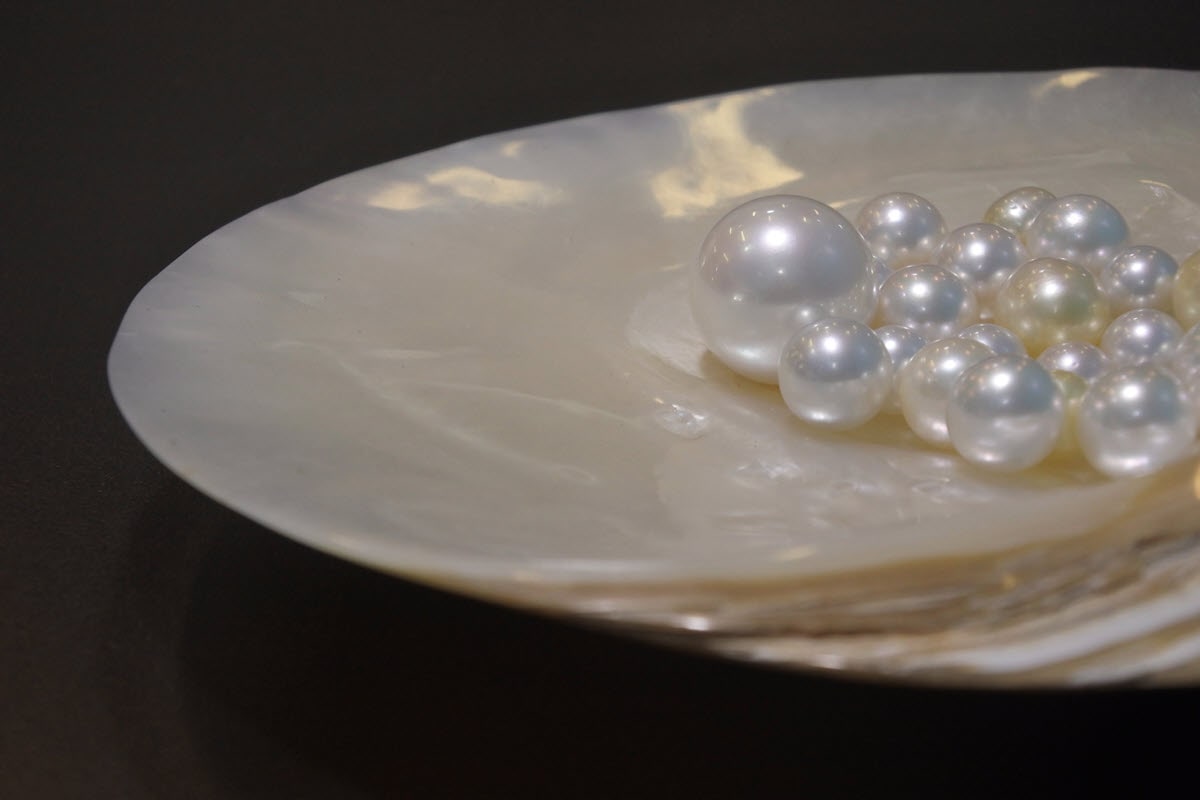 An assortment of pearls in a shell, a common sight in Broome, Western Australia.
As well as being a place of stunning natural beauty, Broome is rich in culture and heritage. Learn about the history of pearling and how the industry operates today, take a boat tour to observe the wildlife, or find out how Broome and the surrounding area's landscape is meaningful to the indigenous Yawuru people.
13. Willie Creek Pearl Farm Tour
Broome was built on the pearling industry, so why not visit Willie Creek Pearl Farm? Here, you can learn how pearls are farmed today. Find out about oysters and the beautiful pearls they create and enjoy a boat ride on the turquoise waters of Willie Creek.
14. Cruise Boat Tour
Depart on a cruise boat tour of the Kimberley from Broome. Take in spectacular waterfalls, red cliffs and giant boab trees – all from the comfort of a luxury cruise boat. Look out for the hundreds of species of birds that make their home here, and see if you can spot a dolphin or whale for an unforgettable experience.
15. Yawuru Walking Tour
Experience Broome through the eyes of the Yawuru, the area's traditional owners of the lands and waters, on a walking tour with Narlijia Experiences. Learn about the history of the town and the meaning the surrounding landscape holds for the Yawuru people.
16. Broome Whale Watching Tour
See these majestic sea creatures from a comfortable catamaran in a once-in-a-lifetime experience. Be amazed as these curious animals swim right up alongside the vessel. Broome is a habitat for thousands of humpback whales, and you'll learn all about the animals and the essential role they play in the ecosystem.
Broome attractions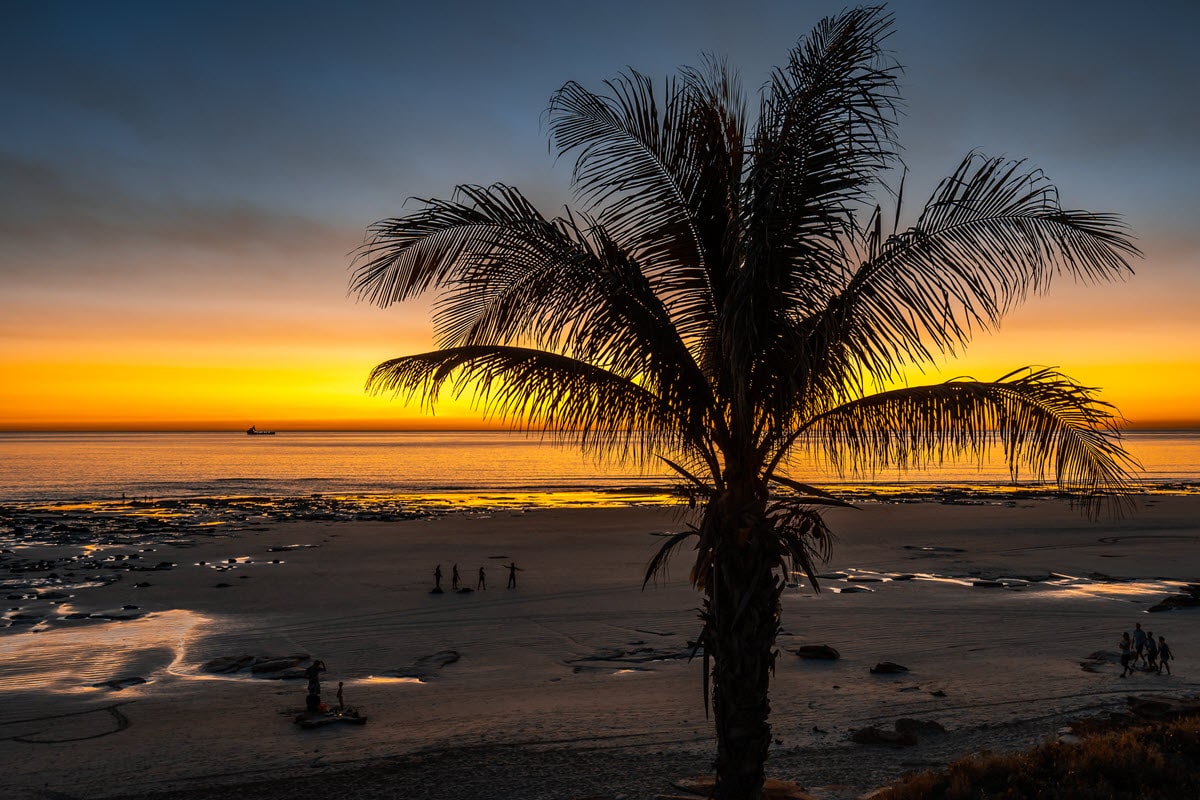 Watching the sun set in Broome over the beach with palm trees in sight.
No Broome travel guide is complete without a look at its diverse attractions to suit all age groups and tastes. You'll find everything you need to know at the visitor centre, so make it your first stop. If you love a vibrant atmosphere, check out the thriving street markets. Or retreat to the Buddha Sanctuary for some moments of calm.
17. Broome Visitor Centre
The Broome Visitor Centre is a great place to start your exploration of this attractive town. Knowledgeable local consultants will tell you everything you need to know about discovering Broome and the Kimberley. You can get town maps, book tours and buy mementoes as a reminder of your visit here.
18. Courthouse Markets
Browse dozens of stalls selling fashion, jewellery and craft items and enjoy fresh, local food and live entertainment while you shop. The markets are held in the stunning Broome Courthouse gardens, making this an experience for shoppers and nature lovers alike.
19. The Buddha Sanctuary
The 3-metre-high crystal Buddha statue alone makes a visit to this community space worthwhile! Here, you can take part in yoga or meditation classes or just sit and soak in the peaceful atmosphere.
Broome cafés, bars and restaurants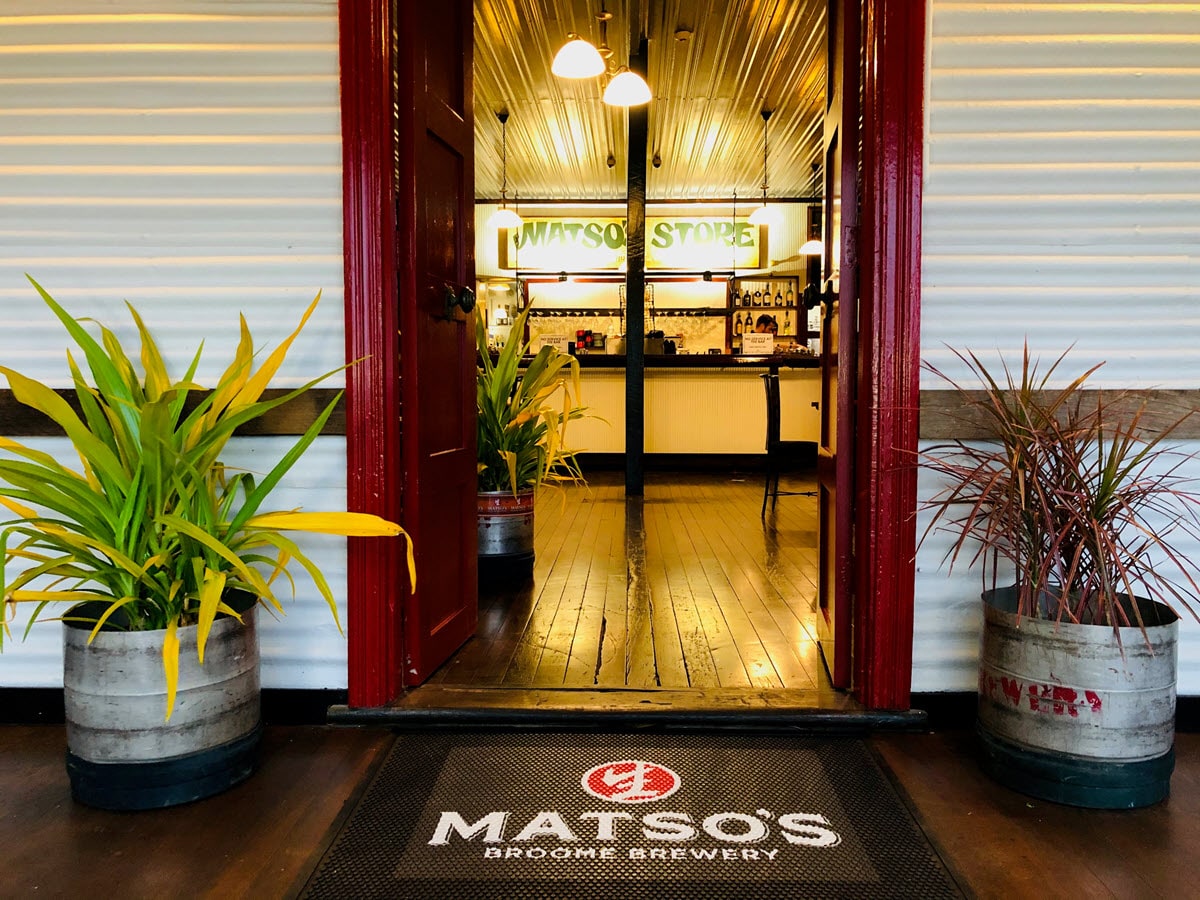 The entrance to Matso's Brewery in Broome, Western Australia.
One of the top things to do in Broome is sample the culinary delights the town has to offer. Broome is positively thronging with cafés, bars and restaurants that make the most of the area's fresh seafood and other produce. Enjoy locally brewed beer, seafood in a beach setting or a quick bite at a local café – it's your choice.
20. Matso's Broome Brewery
Matso's holds the title of Australia's most remote brewery, offering a range of imaginatively flavoured beer and local and international food in a relaxed atmosphere. Enjoy live music in the courtyard on weekend afternoons or sample authentic Indian cuisine in Matso's Curry Hut.
21. Green Mango Café
The Green Mango Café is the perfect spot for a relaxed breakfast or light meal. They offer healthy, vegetarian and vegan options. You can also grab a coffee and slice of cake and watch the world go by.
22. Tides Bar And Garden Restaurant
You'll love the view of the ocean from the Tides Bar and Garden Restaurant, set in the tranquil gardens of the Mangrove Hotel. Enjoy a selection of small plates or tuck into a juicy beef burger or crispy battered king threadfin fish as you listen to the waves lapping against the shore.
Broome sports and recreation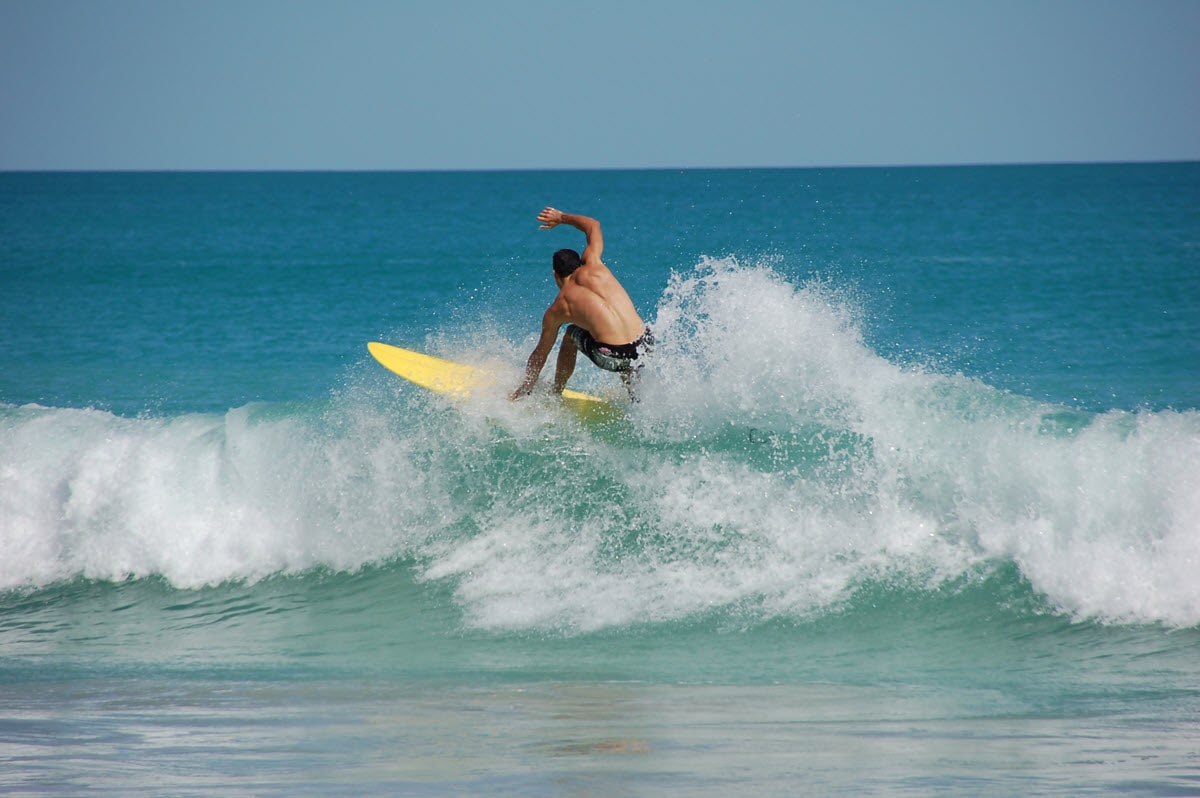 Broome is the perfect holiday destinations for surfers, swimmers and snorkellers.
If you're looking for sporty things to do in Broome, you'll be spoiled for choice! View the spectacular landscape from the air, indulge in as many water sports as you desire or take an alternative tour of the area on a Harley Davidson trike.
23. Get a bird's-eye view with an air adventure
To appreciate the extent of the diverse beauty of Broome and nearby areas, take an aerial tour with Fly Broome. From the air, you'll enjoy the vivid red of the sandstone cliffs, vast expanses of turquoise waters and rugged and ever-changing landscapes.
24. Ultimate Watersports at Cable Beach
Enjoy a whole range of water sports from Cable Beach, including stand-up paddle-boarding, kayaking, wakeboarding, water skiing and more. Fulfil your lust for adventure at the same time as lapping up the stunning views from this iconic beach.
25. Broome Trike Tours
If you fancy something a little different, take a Harley Davidson trike tour with a knowledgeable local guide. It's one of the most exhilarating ways to explore the coastline, scenery and wildlife of Broome.
Broome wildlife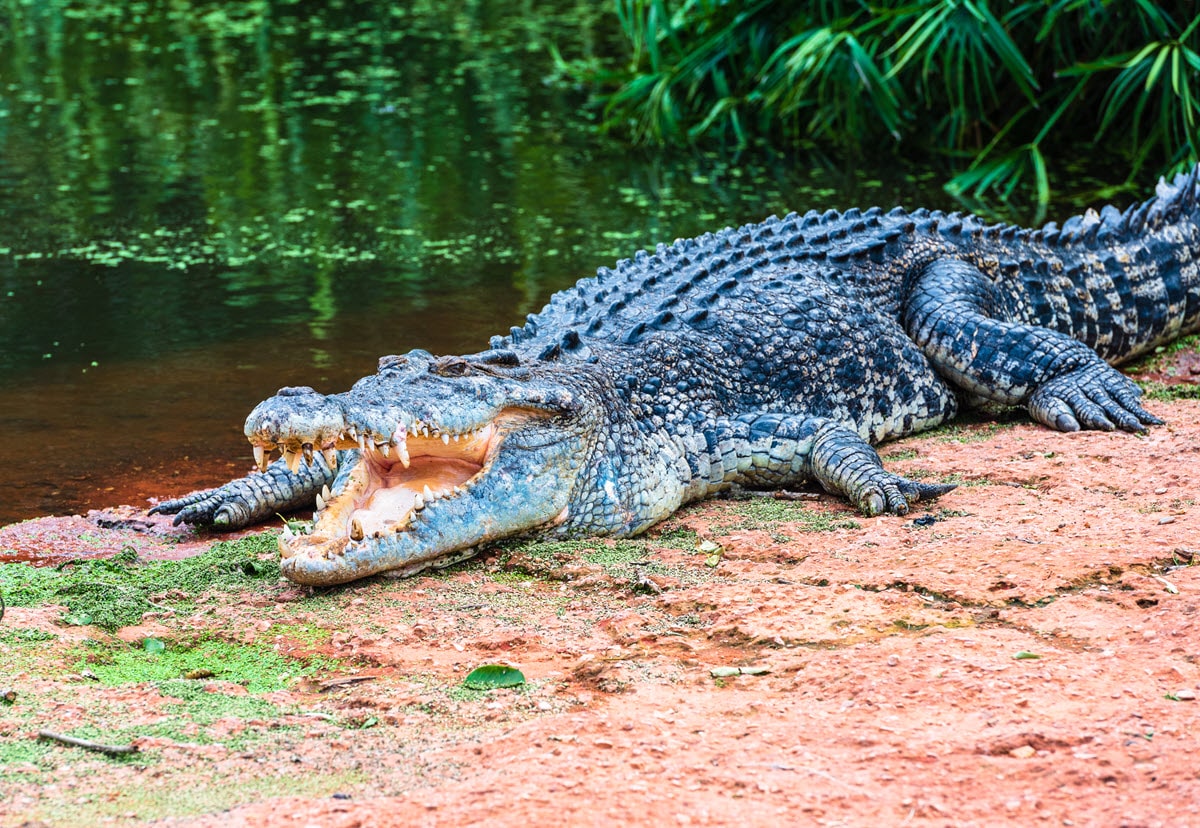 A crocodile enjoying the warm weather at Malcolm Douglas Crocodile Park and Animal Refuge.
Broome and the surrounding areas are teeming with aquatic and land-based wildlife and many species of birds that can only be observed here. You can also get up close and personal with that iconic creature, the crocodile, in the Malcolm Douglas Crocodile Park.
26. On the trail of Snubfin Dolphins
Take a boat trip to spot the rare snubfin dolphin. This cute aquatic creature is named for its short fin and has a distinctive rounded head. Broome is home to the largest known community of snubfin dolphins in the world, so get your binoculars at the ready!
27. Malcolm Douglas Crocodile Park and Animal Refuge
Get close up to these fascinating creatures at this wildlife park, just 15 minutes' drive outside Broome. Learn about one of Australia's most feared animals and handle a baby croc to make this experience even more memorable. Your knowledgeable tour guide will tell you everything you need to know about crocs on this fascinating visit.
28. Broome Bird Observatory
Visit the Broome Bird Observatory on the shores of Roebuck Bay, just a short distance from Broome itself. It's the perfect place to see the hundreds of species of birds that make their home in the Broome area, including a number that are hard to come by anywhere else in Australia. These include the vibrantly-coloured Yellow Chat and the Common Redshank.
With these many activities on offer, with something for all age ranges and tastes, it won't be long before you're heading to this wild and beautiful part of Western Australia!