Somewhat isolated, ruggedly beautiful and culturally diverse, Broome is located 1,681 kilometres north of Perth, in the Kimberley region of Western Australia.
Famous for its Cable Beach, the 'Staircase to the Moon' and other local attractions, Broome is also known for housing several galleries showcasing some of the most unique Aboriginal art in the country.
Aside from this, Broome is popular for being a coastal town with a rich pearling history.
If you're going on a holiday to Western Australia, or just looking for things to do in Broome, make sure you add a pearl farm tour to your bucket list.
A short history of the pearling industry in Broome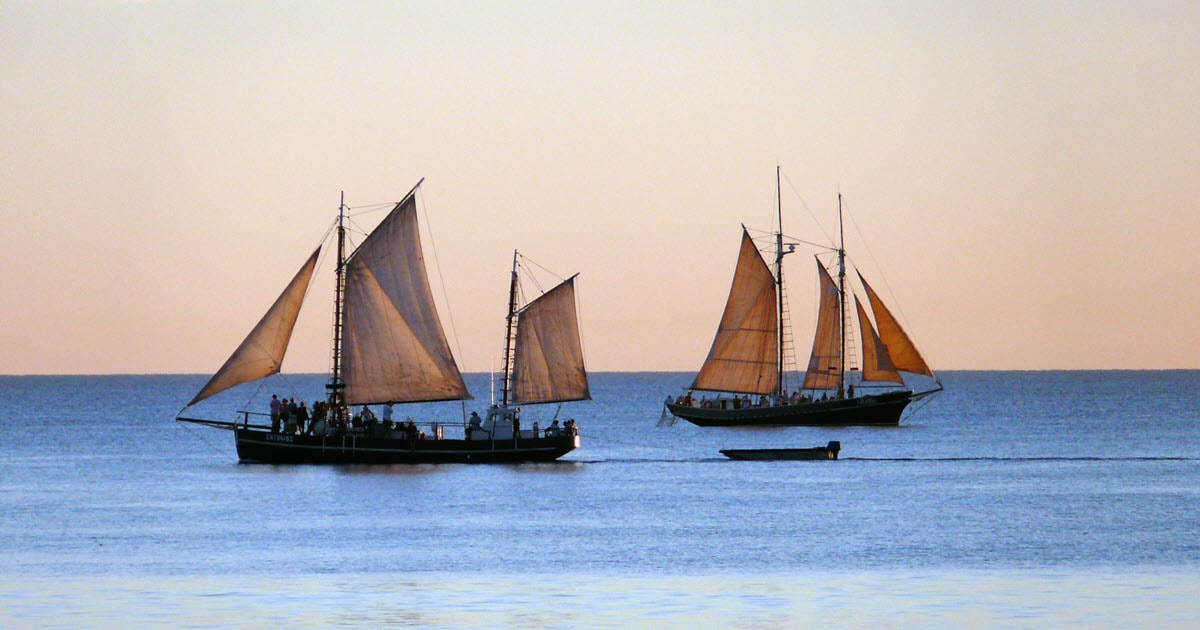 Pearl luggers off Cable Beach in Broome as the sun sets over the water.
Broome's pearling history dates back as far as the 1880s after pearls and their shells were 'discovered' at Nickol Bay in Western Australia's Pilbara region back in 1861.
To augment their income, European settlers like John Withnell, a pastoralist, collected as much as 6 tonnes of pearl shells every day near the mouth of the De Grey River. When news about the rich supply of pearl shells in the area spread, Broome and its abundant shell beds at Eighty Mile Beach became the centre of attention by the early 1880s.
The size of the Broome pearl oyster, Pinctada maxima, was critical to the pearling industry's prosperity since it supplied mother-of-pearl for cutlery handles, buttons, and buckles, as well as an inlay for furniture. Natural pearls were incredibly uncommon and precious, so when they were discovered, they were stored in a secured box on the lugger.
Although the pearling industry in Broome benefited the local economy, diving in the Kimberley waters was risky. The crew, mainly comprising Aboriginal skin divers (who wore no diving apparatus or protection), had to face the risk of developing beriberi, ear and chest infections, as well as meeting crocodiles and sharks and experiencing the bends and cyclones.
Broome supplied 80 per cent of the world's pearl shell by 1914, and the industry employed over 400 luggers and 3,500 workers. Pearl shell was worth £400 a tonne during the peak of the pearling industry in Broome.
The diverse population of Chinese, Japanese, Sri Lankans, West Australians (primarily Aborigines), Torres Strait Islanders, Filipinos, Malaysians, and other people from across Asia provided the much-needed labour in the pearling industry.
Only British subjects were allowed to possess pearl luggers under the WA Pearling Act of 1913, resulting in a rigid class system. The Japanese worked primarily as divers, the Malaysians and other migrants as deckhands and crew, and so on.
Sadly, there were many casualties from both the group of Aboriginal skin divers and other pearl diving nationalities, as evidenced in the Japanese and Chinese cemeteries in Broome.
Of course, the Broome we know today has completely broken away from its sordid past. However, pearl farming in Broome remains a vital part of the economy and is an important feature in local tours.
Local pearl farm tours in Broome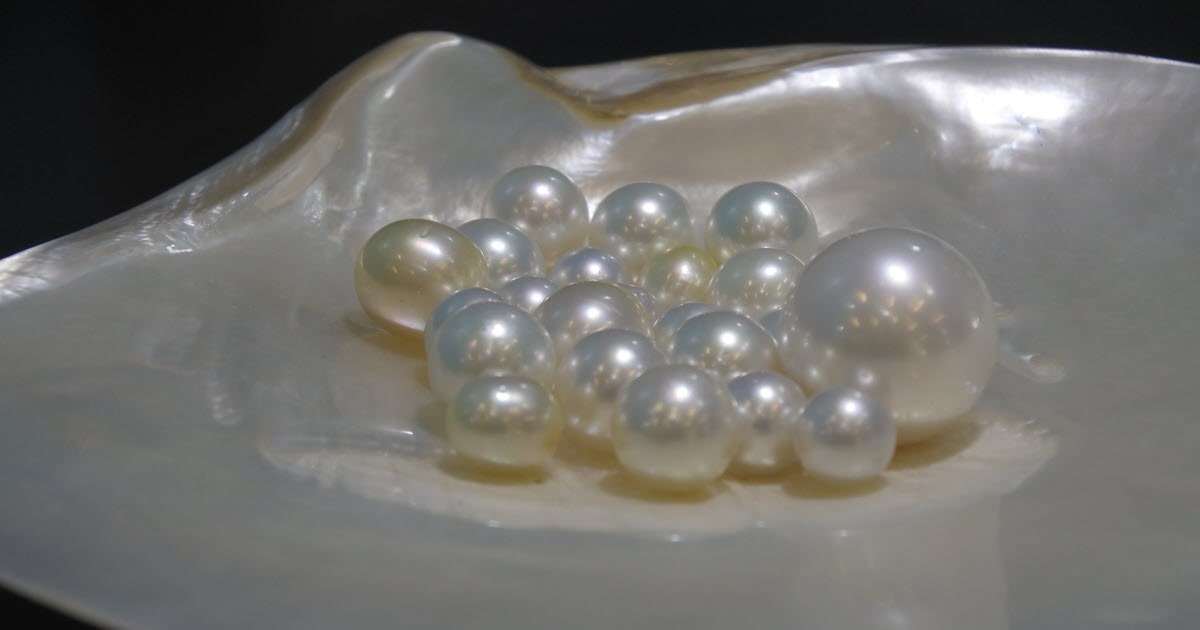 White pearls in a shell can be seen on a pearl farm tour in Broome, WA.
A trip here won't be complete without learning about the rich pearling heritage of Broome and other parts of the Kimberley region.
Find out more about the centuries-old pearling industry producing exquisite pearls in Broome by going to these places.
Willie Creek
The Willie Creek Pearl Farm, which is easily accessible 38 kilometres out of Broome, offers excursions that demonstrate how a pearl is produced on this side of the world.
While the original company started out as a tour bus service, they eventually expanded to pearling, which has enabled them to offer unique pearling experiences to tourists.
Here, you'll learn everything there is to know about the pearling industry. You can also get right in on the action by taking a leisurely cruise on the waters of Willie Creek or a scenic helicopter trip over the area. Before you head off, take a look at their stunning pearl jewellery.
Paspaley South Sea pearls
Known for their Paspaley South Sea pearls, Paspaley is Australia's biggest and oldest pearling company. It was established in the 1930s by Nicholas Paspalis (Paspaley) Snr in Cossack when the demand for mother-of-pearl shells was still high. By the 1950s, the demand for pearl shells dropped, as plastic took over as the material of choice in making buttons.
The company then turned its attention to pearl cultivation of South Sea pearls – which also became the centrepiece of the Australian pearling industry during that time. Today, Paspaley is a major global player in the cultured pearls category and produces fine jewellery with cultured pearls.
Cygnet Bay Pearl Farm
Dean Brown found the remote, unspoiled beauty of Cygnet Bay and the unique Pinctada maxima pearl shell while exploring the pristine Kimberley coastline in a wooden lugger in 1946.
Brown's pearling dream came true when he established the first Australian-owned and operated South Sea pearl farm in the Dampier Peninsula north of Broome.
You may visit Cygnet Bay Pearl Farm for a pearl farm tour, a sea safari along the breathtaking coastline, or to purchase pearls directly from the farm at their showroom.
Accommodation in Broome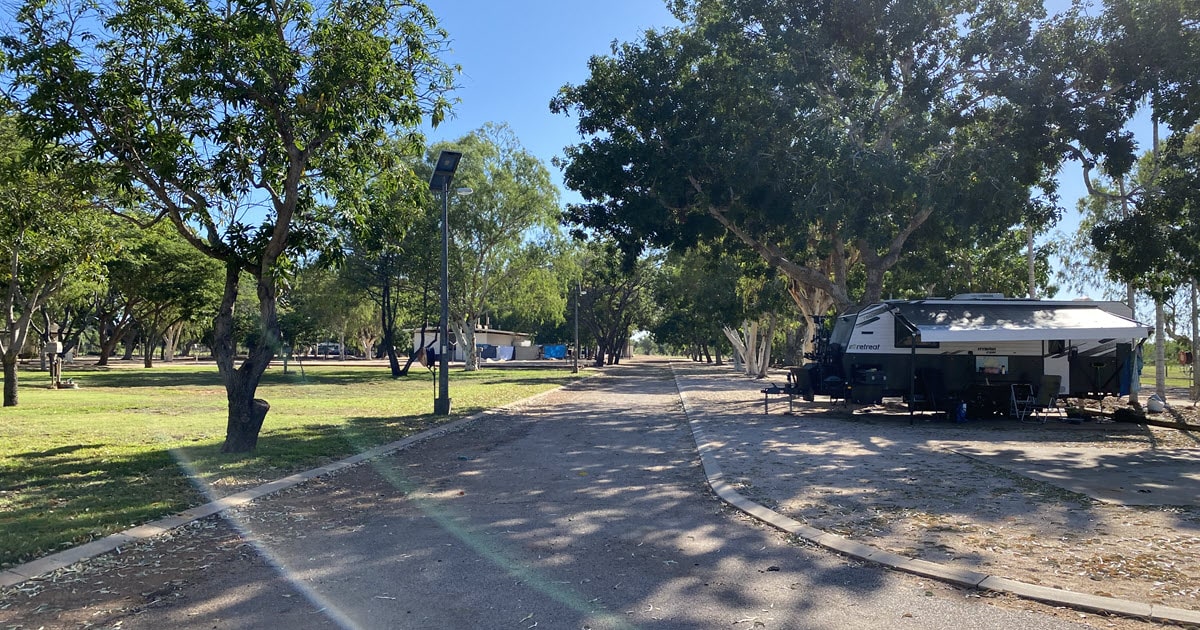 Book your stay at Broome Caravan Park, the perfect location to relax after pearling in Broome.
It's ideal to allocate more than a day for exploring Broome and appreciating all it has to offer. If you're ever headed this way, you may book your spot at the Broome Caravan Park.
Broome Caravan Park is a family-run establishment featuring tranquil and relaxing spaces for caravan travellers. Nestled amongst big stands of mature trees along Wattle Drive at the entrance of Broome, the WA caravan park offers plenty of space for individual caravans and features a swimming pool and other modern amenities.
It is located 5 kilometres away from Chinatown and 6 kilometres from Cable Beach.
With your place secure in the caravan park, you can focus your attention on learning about pearl diving in Broome and exploring the other town attractions.
Find the perfect pearl in Broome
Broome WA is like a world away – which is precisely why it's a must on your Australian tour bucket list.
To make the most of your time there, go on one of the pearl tours Broome is known for after securing your spot at the Broome Caravan Park.
Have fun!