A coastal holiday town in Western Australia, Broome is popular not only for its amazing beaches but also for its breathtaking sunsets that serve as dramatic backdrops for many Instagram-worthy posts.
If you happen to be in Broome, and if watching the sun slowly fade into the horizon is how you like to cap off your day, here is a list of amazing sunset spots, Broome experiences and Broome accommodation options to indulge your sunset viewing pleasure.
Sunset-seeking spots in Broome, Western Australia
If you find yourself chasing sunsets in Broome, then you are in luck! There are so many different spots and hidden getaways where you can enjoy the sunset as it goes down over the ocean.
Broome really is one of the most amazing destinations to watch a sunset.
If you're in Broome for a few days, try a few of the spots mentioned below with your loved one, family members, friends or relax on an amazing Broome beach by yourself.
Cable Beach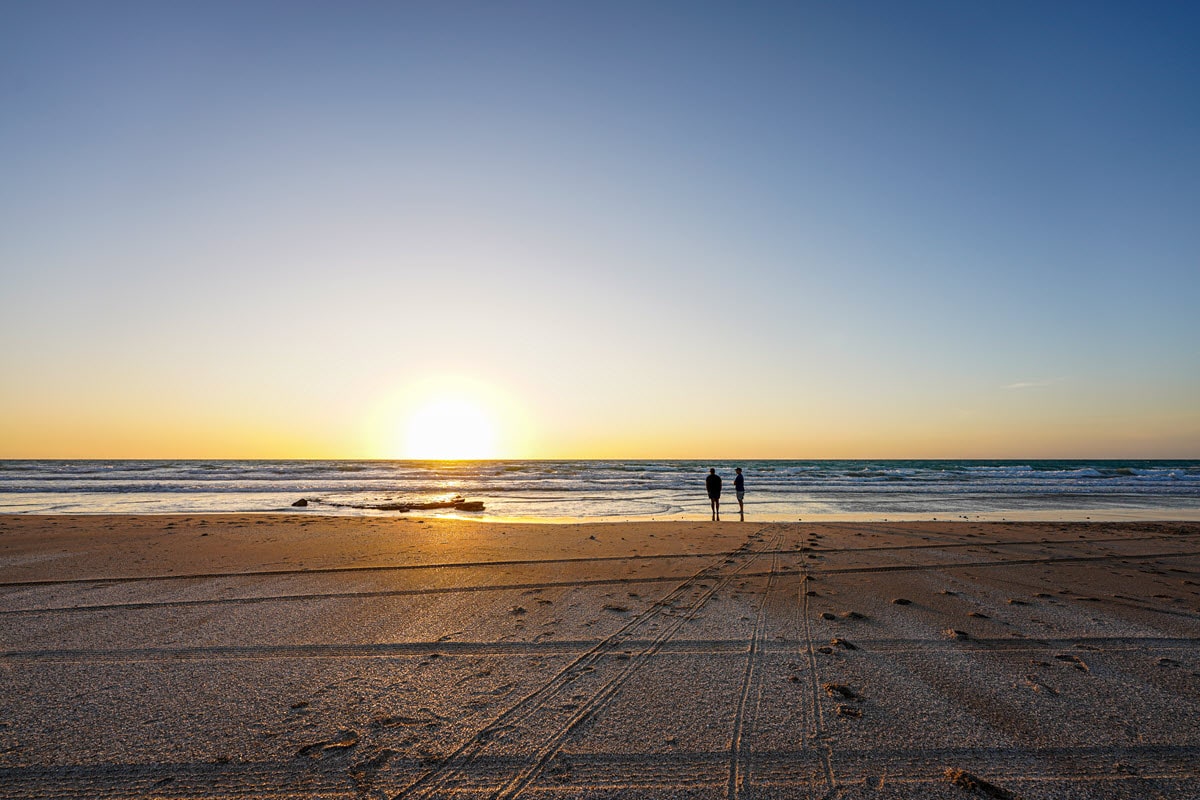 Cable Beach at 22-kilometre-long is perhaps the most famous among the many sunset locations in Broome. Its vast white sand meets the clear, turquoise water of the Indian Ocean. The dunes, and red cliffs of Cable Beach – some jutting out into the water – make for spectacular photo opportunities any time of day.
But it is the fading sun, which transforms the entire landscape into a riot of colours, that easily lures visitors and tourists alike to the area.
You can admire the Broome sunset while picnicking at the grassy foreshore park or sipping on a cocktail at Zanders beachfront bar.
You can also head north of the rocks to enjoy the view while perched atop a camel. Or if you feel like capturing a silhouette shot of a procession of camels, take your trusty camera and watch tourists travel down the coast.
Coconut Well
If you want an "exclusive" view (minus the crowds) of a beautiful Broome sunset, then take a guided tour to Coconut Well.
In this tiny residential village minutes away from Broome township. Here you will find a remote section of Cable Beach where you can gaze at the sky's changing hues undisturbed.
If by chance you are visiting family in the area, you may be in luck as their property boasts uninterrupted views of the sun going down.
Entrance Point
Can't get enough of the amazing sunsets in Broome? At Entrance Point, you can traipse through the many rugged rock formations and onto the beach as the sun dips below the horizon.
This vast expanse of sand and rocks located near Broome Port is a sought-after destination for Broome sunset weddings and wedding photography for obvious reasons.
Gantheaume Point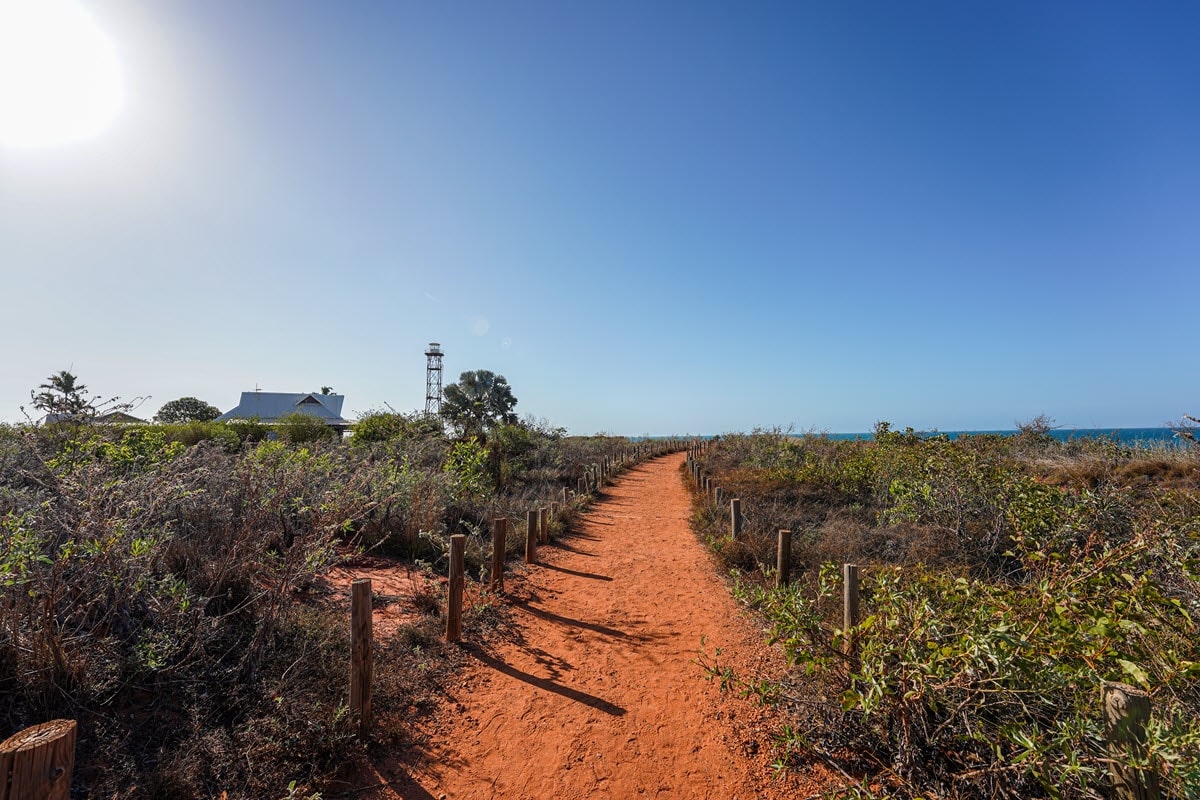 A short distance away from Broome's town centre, Gantheaume Point is where locals and tourists converge for whale watching tours, fishing charters, kayak tours, and cruises.
This is also the go-to place for people who love to spend their time swimming, meeting friends, and, of course, watching the sunset over the Indian Ocean.
To witness the red cliffs glow like fire and the water below shimmer like diamonds as they are bathed by the last rays of the sun, take the open route beyond the beach access ramp.
On low tides, you may be able to see the preserved dinosaur footprints at the bottom of the cliff face.
Minyirr Park
What better way to end the day than seeing the sky shift colours all while you are tackling local walking/hiking trails and being surrounded by lush vegetation? Minyirr Park can be accessed adjacent to Cable Beach's southern portion.
Nestled behind the red sand dunes, this culture and conservation reserve is another vantage point for Broome sunset viewing. Position yourself on the trail staircases to get the best vista.
Whilst Minyirr Park is the ideal spot for sunsets, we also recommend visiting during daylight hours to soak up some sun early morning.
Town Beach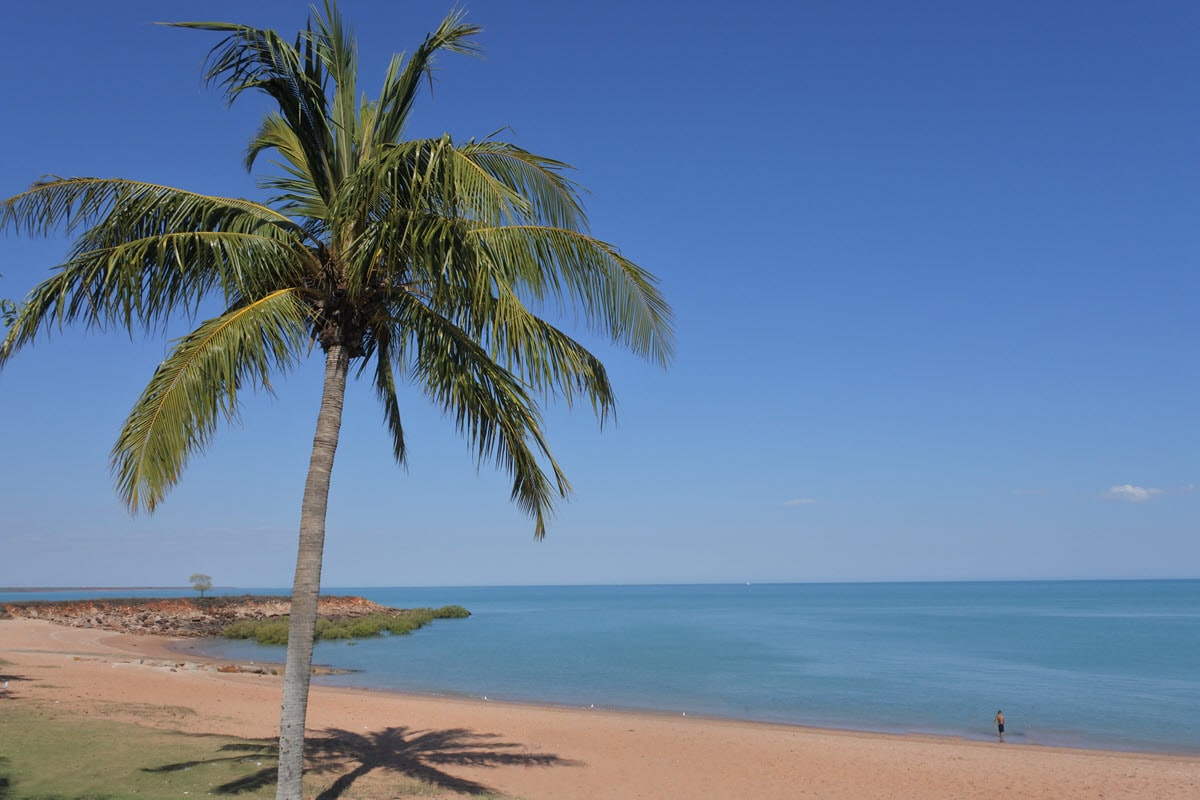 This is a popular destination for sunset seekers who also want to marvel at the Staircase to the Moon natural attraction. The phenomenon occurs on certain days of the year, wherein the rising moon creates reflections on the mudflats resembling steps to the sky.
Complementing this event is the Thursday Night Market showcasing food and handmade trinkets, which you can buy as a gift for family and friends.
Spread a blanket on the grass or lounge in a waterfront cafe as you await nature's double treat.
Sunset Activities in Broome
If you want to get the most out of your Broome experience, there are tons of activities that you can do whilst watching the orange light dance over the water in front of you. While we have a full list of things to do in Broome, we've listed a few of our favourite sunset activities below.
Small bar walking tour
If you are looking for a walking tour with a twist, this is perfect for you. The small bar walking tour by Salty Plum Social takes travellers to either Chinatown or Cable Beach, dropping by three small bars in between for canapés and drinks.
The tour not only affords you a front-row seat to a great sunset, but it also provides you with snippets of history and local lore on either precinct. It is also a fun way to meet new friends.
Boat cruise
Watch the Broome sky explode into amazing colours onboard a boat as it sails along Cable Beach or Roebuck Bay. You can take the fun a notch higher by riding the boom net.
Bonus: a chance to see whales, dolphins, or turtles.
Ride camels along the beach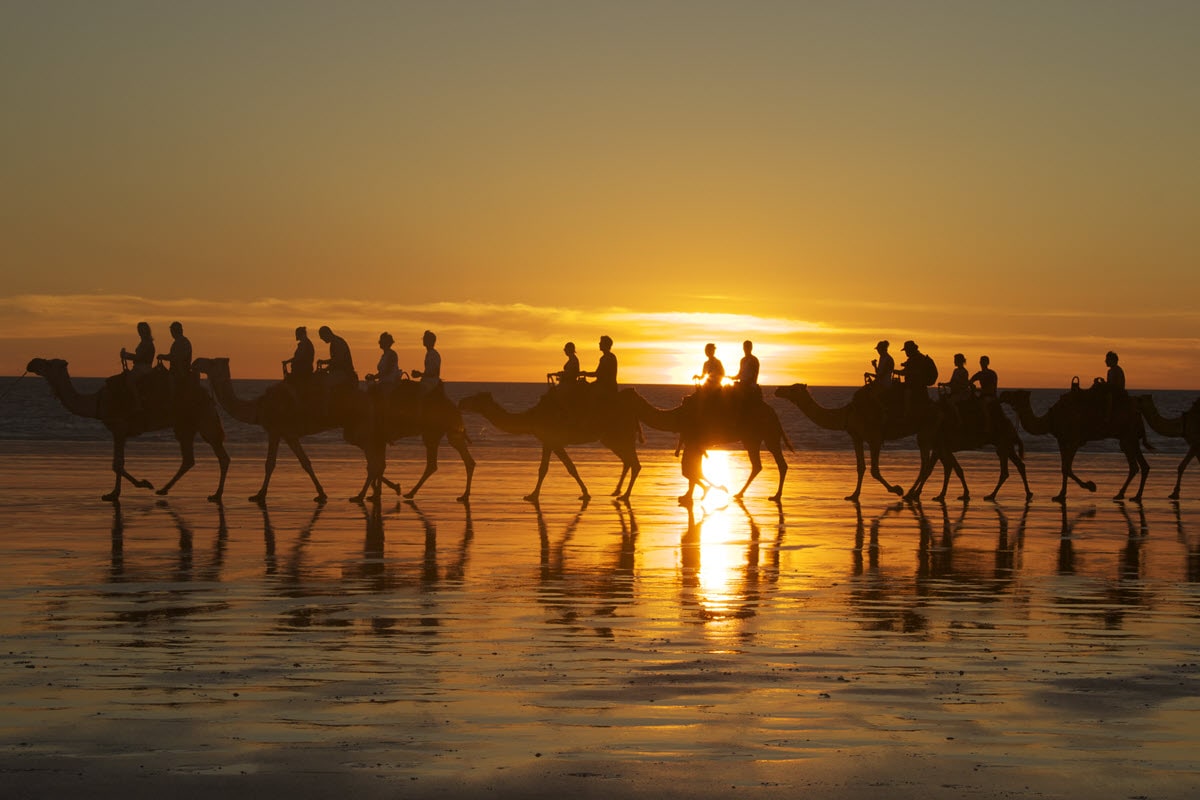 Experience a sunset camel ride tour along Broome's Cable Beach with a local camel tour operator. The experience of riding camels along the beach while the sun sets in the background is iconic to Broome.
While you can always explore the famous beach on a leisurely stroll on foot, soaking up the beauty of the scenery from another perspective is a different kind of high. After all, camels are synonymous with Cable Beach.
Broome hovercraft tour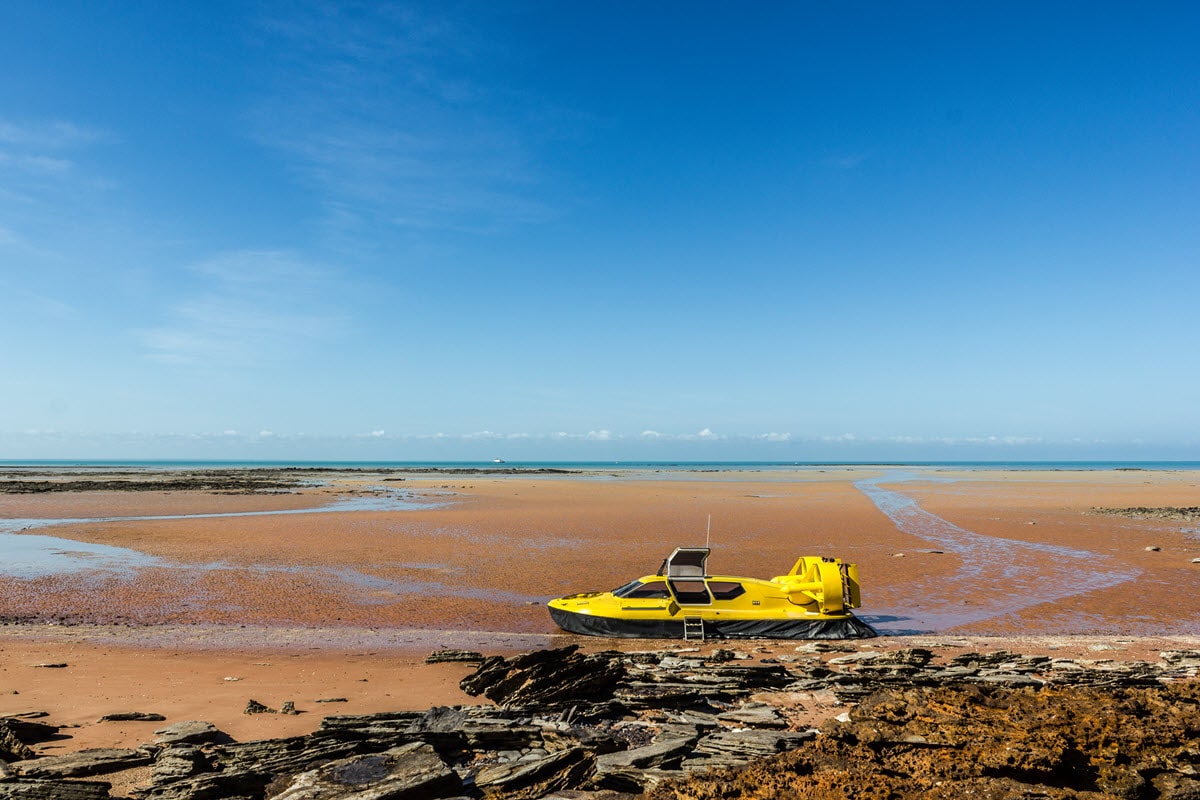 Broome Hovercraft gives you a glimpse of Broome's wildlife and ochre cliffs and takes you across the tidal floor to see the ancient dinosaur footprints, which is the highlight of the tour.
It then concludes with a glass of wine and some food. Keep in mind that the tour is tide-dependent and may not be available at all times.
Trike tour
Unusual rock formations, gorgeous Broome sunsets, interesting history, and scenic places – all these are within easy reach of travellers if you book a trike tour around Broome.
You get to choose your sunset locations, too!
Stay options in Broome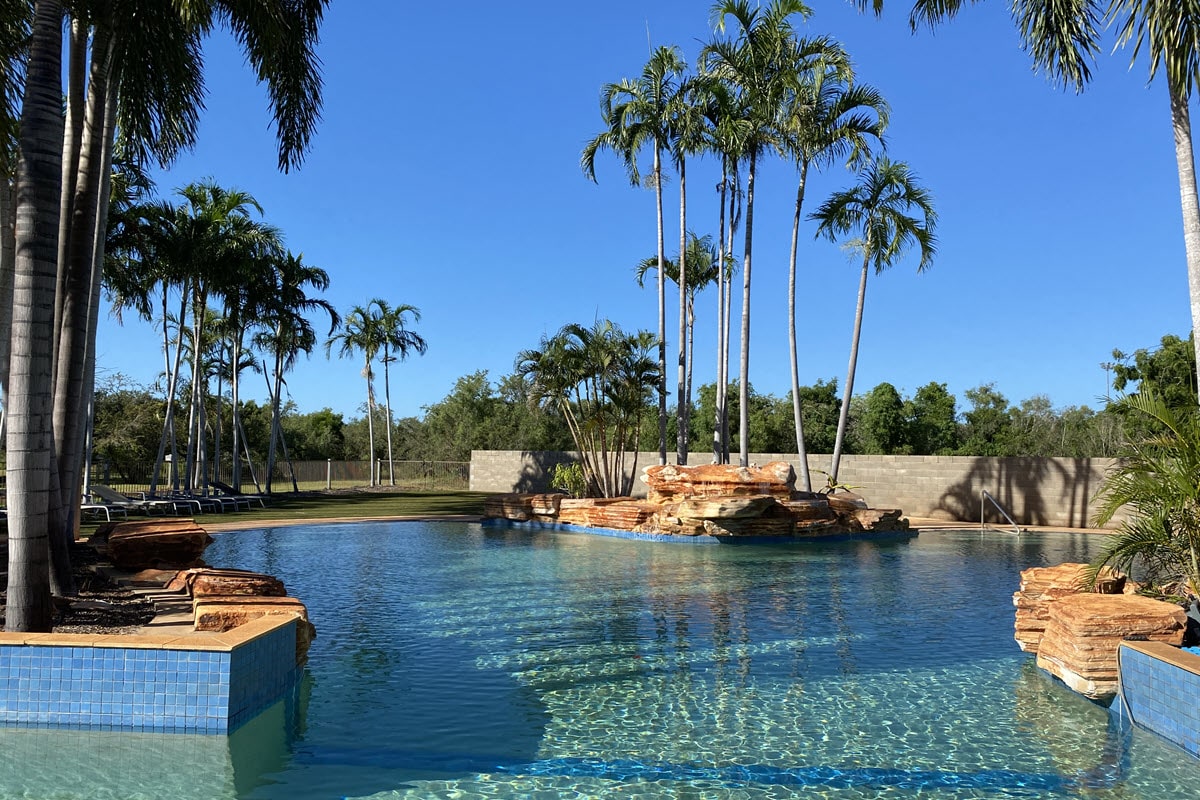 After a day of exploring amazing Broome sunset spots, unique WA attractions and more, relax poolside at Broome Caravan Park.
Choose between our range of park homes, chalets and camping sites which all include access to our park swimming pool, lap pool and Wi-Fi hotspot.
Broome is beautiful any time of day, but it is when its landscape turns amber that it is the most magical. So if you're visiting the Kimberley region, be sure to book a few nights stay to enjoy a few of the endless Broome sunset locations.