Beach holidays in Western Australia not only mean waterside fun and adventure; they also take you a step closer to nature.
There's something inherently relaxing about being close to the ocean and seeing the waves gently crashing against the beach. While there, you can breathe in the fresh sea breeze and enjoy the calming scenery.
And if you're lucky, you might even have the chance to see whales, dolphins, seals, sharks and other sea animals while swimming, snorkelling or diving.
It's no wonder both pricey and cheap holidays by the beach get snatched up in minutes by beach-loving Aussies!
If you're planning your beach holiday adventure in Western Australia then follow our list of destinations. Here, you'll find everything you need to know about the best beaches in the area and how to make the most of your beach holidays on this side of Australia.
We even have a range of beachside caravan parks so you're only ever a quick walk to the closest beach.
Best beach holidays in Broome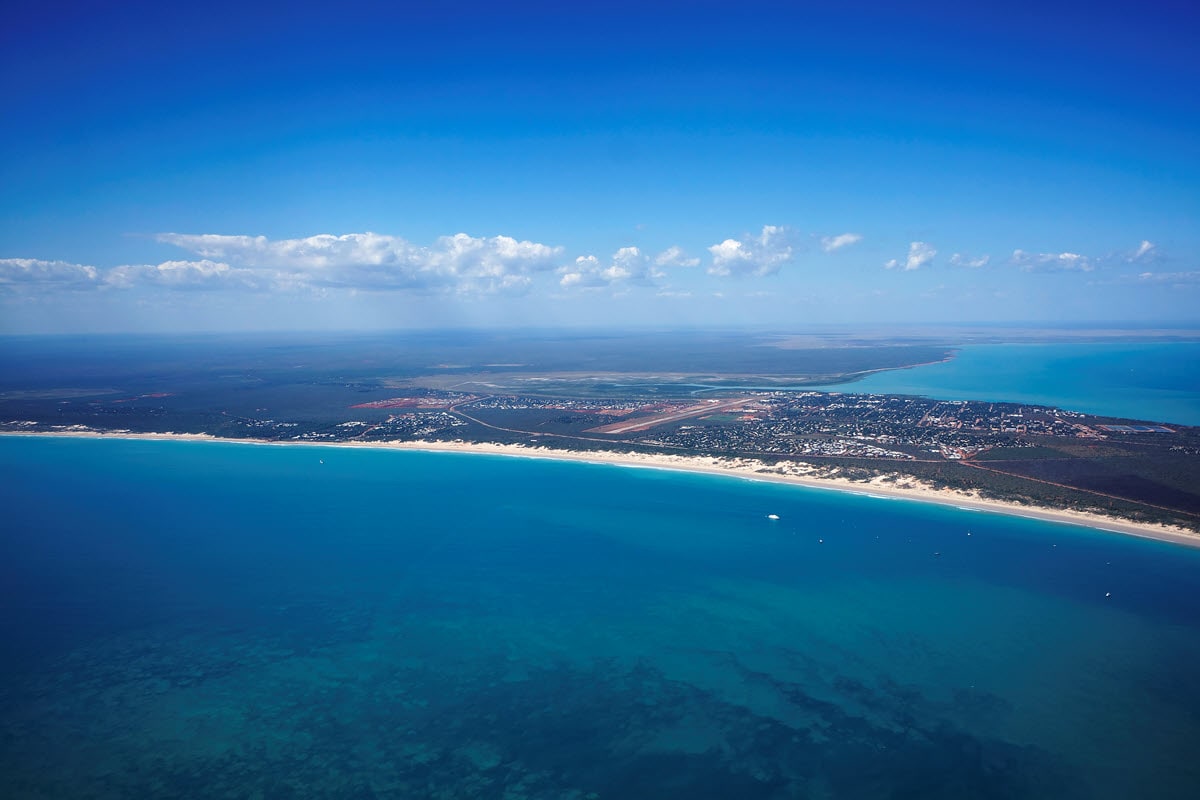 Aerial view over the town in Broome and Cable Beach on a clear day.
Broome is a naturally stunning and culturally diverse town in Western Australia's Kimberley area, and it lies 1,681 kilometres north of Perth.
Once you've parked or checked in at Broome Caravan Park, you can head to Broome's best beaches.
Cable Beach
This is a popular sunset lovers' spot and one of the most well-known beaches in Broome.
Cable Beach has a patrolled swimming area, and it features rental umbrellas and sun loungers. Here, you can swim, surf, ride a catamaran, sip on a cocktail as you people-watch, or have your sunset photo whilst riding a camel! Cable Beach surf lifesavers guard the place throughout the dry season.
If there are any reports of crocodile sightings in the area, the beach is closed to ensure people's safety. Make sure you speak to our friendly park staff at Broome Caravan Park for the latest updates.
Roebuck Bay
As one of the most beautiful natural attractions in Broome, Roebuck Bay offers amazing views at any time of day. At low tide, the milky turquoise waters recede to reveal the striking mud flats, giving the impression that you can go on a never-ending stroll along the bay.
Here, you can also witness the breathtaking Staircase to the Moon optical illusion – which only occurs two to three days every month on average – from March to October.
You can head to Town Beach at Roebuck Bay if you intend to go swimming. And if you're lucky, you might even see bottlenose dolphins, dugongs and green turtles in the area.
Reddell Beach
If you enjoy quiet seclusion, then head to this hidden gem in Broome. Its remote location makes it less accessible, but it's popular among tourists who appreciate its tranquil, untouched quality, miniature pindan cliffs, and bizarre rock formations.
Although there are no facilities or surf lifesaving patrollers, you can swim here. However, it can get fairly rough at low tide so be sure to travel with a group.
Besides these beaches and the fascinating wilderness in the area, Broome is also well known for its galleries featuring some of the best examples of Aboriginal art.
Broome is also renowned for its lengthy history of pearling. So, if you're visiting this part of Western Australia on holiday, take one of the well-known pearl farm tours Broome is famous for.
Beaches to enjoy on holiday in Geraldton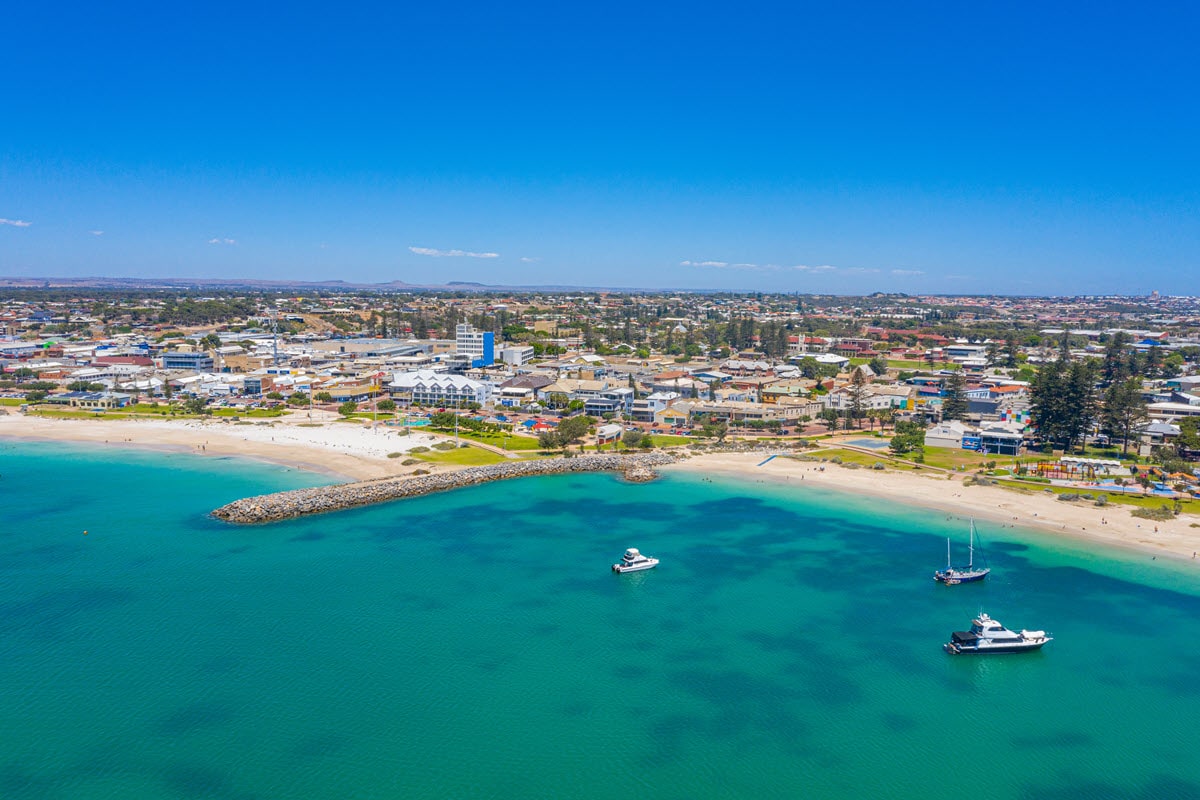 A beautiful clear blue sky over the Geraldton Foreshore in Western Australia.
Geraldton is a great destination for weekend vacations for families and couples.
While at Geraldton, you can visit the breath-taking Abrolhos Islands, Greenough Wildlife Park, Pink Hutt Lagoon, Ellendale Pool, and Yamaji trails. Here, you can swim, surf, savour seafood and other cuisines, go on a scenic flight or fishing, and see remnants of shipwrecks.
During your beach vacation, be sure to visit these locations after checking in at Geraldton Belair Gardens Caravan Park.
Geraldton Foreshore
In the centre of the city, the picturesque Geraldton Foreshore is a sight to behold. You can lounge on one of the pontoons, get ice cream or a snack from one of the cafes, explore the Esplanade or go biking if you're not swimming yet.
Tarcoola Beach
Enjoy the sun, sand and sea at Tarcoola Beach, located south of Geraldton's downtown area.
On a typical day, you may see people walking, running, or setting up on the beach to take advantage of the weather. Most beachgoers are sure to enjoy Tarcoola Beach's ideal balance of quiet and easy-going waves.
Pages Beach
One of the nicest areas to take a swim and cast a line is Pages Beach. It's a lovely place to take the kids, and if the weather is good, you might even see some dolphins!
Many horse owners also bring their steeds down to swim in this lovely area of Geraldton.
Must-visit beaches at Jurien Bay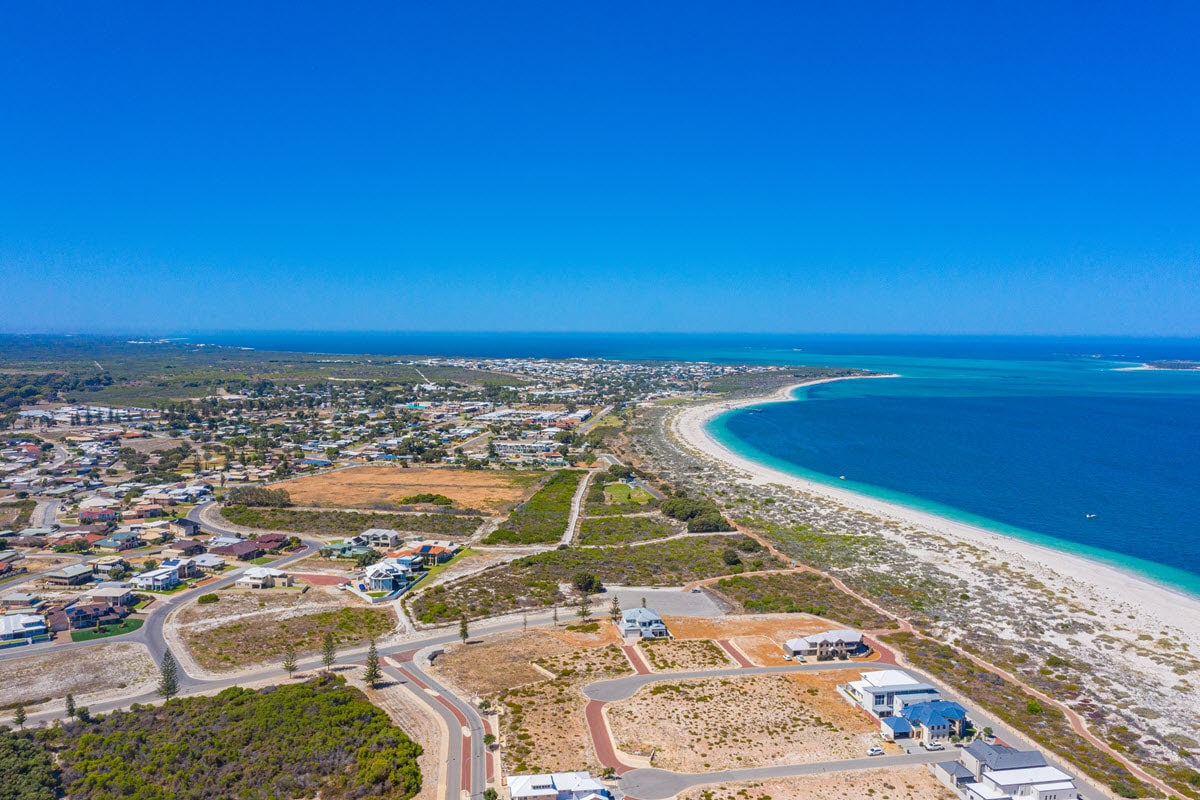 Jurien Bay is a must-visit beach holiday destination in Western Australia.
Jurien Bay is a well-liked vacation and fishing spot — the perfect getaway for couples and young families.
You and your loved one can take a moonlit stroll from Jurien Bay Tourist Park to the beach in just a few short steps. Or you may choose to relax in your lounge chair and take in the stunning sunset with the water shimmering like diamonds in the foreground.
Here are some must-visit beaches in Jurien Bay.
Boullanger Island
This is a worthwhile place to visit for diehard snorkelers. The western side of the island has a seagrass meadow just 1 kilometre offshore. Near the main beach and jetty, there are also several coral bommies.
Jurien Bay Marine Park
The park comprises many of the islands and stretches south from Green Head to the southern limit of Nambung National Park.
Jurien Bay Marine Park is a popular destination for fishing, diving, snorkelling, and swimming. It's also home to sizable colonies of endangered Australian sea lions, seals, seagulls, western rock lobsters, and an enormous diversity of fish.
Whales pass through the marine park during their annual migration along Australia's western coast.
Busselton's best beaches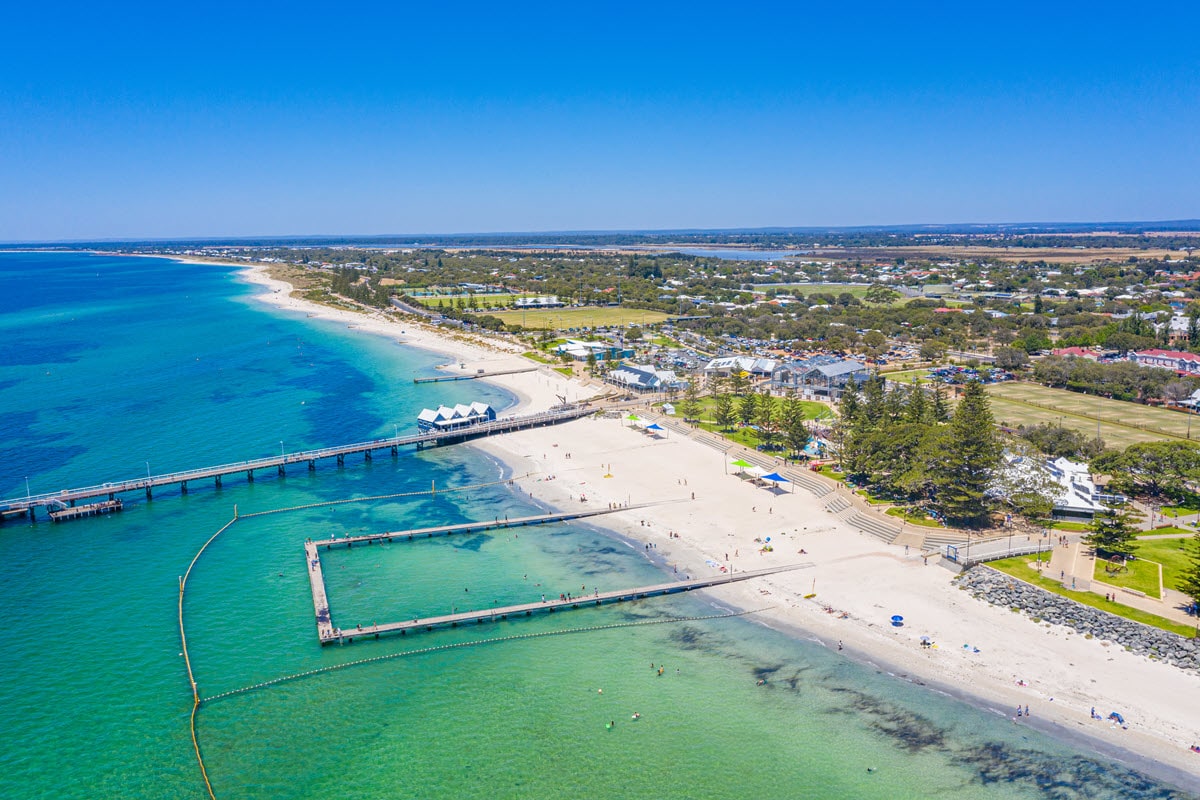 Busselton's iconic jetty and endless beaches in WA's south west.
Busselton is a charming coastal community in the southwest of Western Australia, renowned for the Busselton Jetty and a well-liked retreat for nature enthusiasts.
The city is a popular vacation spot well-loved for its stunning beaches, incredible wildlife encounters, family-friendly attractions, romantic settings for couples, and many other attractions.
All checked in at Lazy Days Caravan Park? Then it's time to hit these popular beaches in the area.
Busselton Foreshore
From the Busselton Jetty, a few hundred metres to the west along the shore of Geographe Bay, concrete walkways follow the length of the Busselton foreshore. Here, kids and adults alike can go on strolls along the foreshore from one end to the other.
The covered seats and raised limestone borders provide an endless choice of spots to sit and take in the amazing surroundings and the wonderful weather.
The sand is easily accessible via stairs and ramps. There are plenty of green open spaces, well-lit walking trails, kids' play areas, barbecues, picnic areas, and covered seating. You can also go swimming in the area around the Busselton Jetty.
Busselton Beaches
We couldn't just mention one of the many beaches up the Busselton coastline.
From Dunsborough to the Wonnerup Estuary and the Busselton Marina in the east, the Busselton beaches run the length of Geographe Bay. The waters here are ideal for swimming and paddling since they are calmer on the southern side than the Indian Ocean to the west.
No matter where you are in Busselton, head north and you're sure to find a calm and clean beach the whole family can enjoy.
Famous beaches in the Margaret River region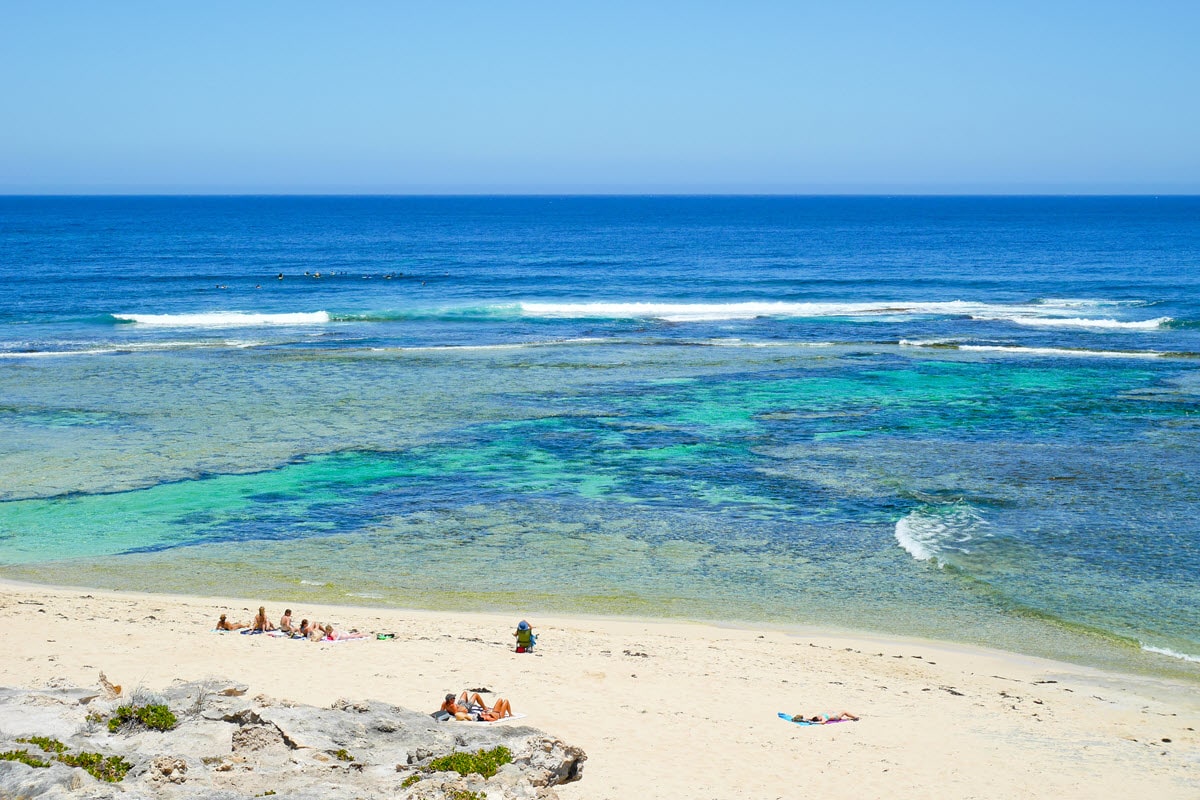 The ever-popular Surfers Point beach in the Margaret River region of WA.
Margaret River has a wide range of leisure options for everyone. Here, you can take a river cruise, drive through a scenic forest, explore the area's vineyards and breweries, and partake in one of the many other things to do in Margaret River.
But when you're on a beach holiday, it's a must to visit these Margaret River beaches during your stay at Margaret River Tourist Park.
Surfers Point
Chasing the best surf spots in Margaret River?
If you've booked a beach holiday in Margaret River, Surfers Point is one for the more experienced surfers with waves occasionally reaching 20-25 feet. Surfers Point is used to host the annual Margaret River Pro, so be sure to book your beach holiday around the same time of the event if that interests you.
For experienced swimmers and snorkelers, you'll still have a great time visiting Surfers Point during your visit.
Redgate Beach
Only a 15-minute drive separates Redgate Beach from the town of Margaret River.
Redgate Beach sees a steady stream of surfers drawn there by the large waves along the shoreline. This stunning and enormous golden beach, however, is sufficiently hidden away to make it relatively quiet compared to other beaches in the area, despite being so close to the town of Margaret River.
If you're searching for a quiet place to unwind, Redgate beach is the place to be.
Gnarabup Beach
Just 10 minutes away from Margaret River, Gnarabup beach is a haven for local surfers and swimmers. Young families also love visiting Gnarabup beach because of its little jetty and floating dock out at sea.
This beach is ideal for breakfast because of the superb restaurant on the shoreline serving great food and overlooking the ocean.
Yallingup Beach
One of the most well-known beaches in the area, Yallingup Beach is a favourite spot for people who want to really enjoy the water. It's a surfing hotspot that draws in both windsurfers and kite surfers.
You can snorkel here and see the marine life in the reef on days when the sea is calm.
Hit the southern coastline in Esperance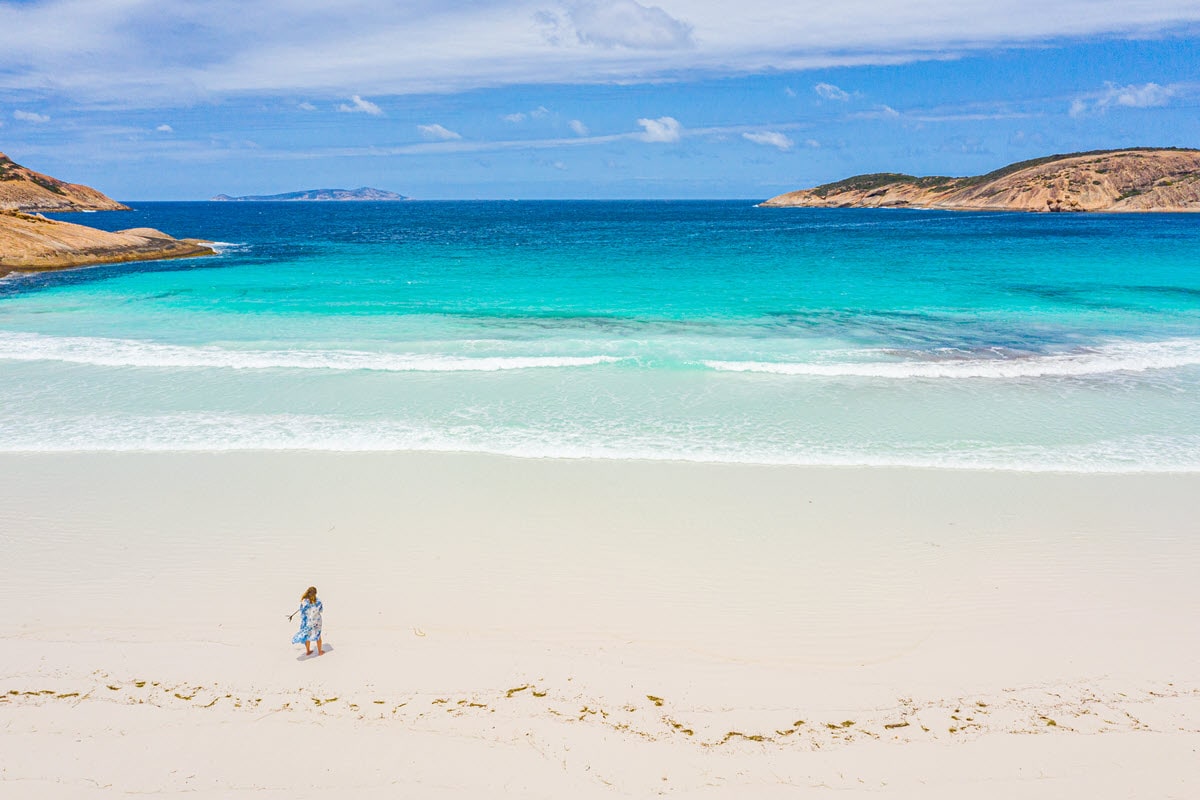 Enjoy the stunning clear blue water with a beach holiday in Esperance at Hellfire Bay.
The town of Esperance in Western Australia is a great choice if you're keen to see pristine natural beauty. It's well-known for its expansive bushland, dunes, and numerous white sand beaches.
After getting settled at Esperance Bay Holiday Park, head to some of these fabulous beaches in Esperance.
Twilight Beach
Beginner snorkelers should head to Twilight Beach's shallow, protected bay. The water is clear, allowing for good visibility, and there are a few species of small fish in the area.
While you'll typically be surrounded by other snorkelers if you stay in the shallow area, be on the lookout for surfers and paddle boarders.
Hellfire Bay
The rather secluded Hellfire Bay is located in Cape Le Grand National Park. It's surrounded by rocky headlands and, despite its moniker, is a stunning beach with crystal-clear water and powder-soft white sand.
Here, you can enjoy some family time in the shaded picnic area with tables and grills after swimming in the beach's shallow waters.
Rossiter Bay
One of Esperance's quietest, undeveloped beaches is Rossiter Bay. This place is ideal for swimming, bushwalking, and birdwatching, and its colourful coastline offers a wealth of photo opportunities.
Aside from being home to Australian wildlife, lovely floral thickets and an abundance of wildflowers thrive in Rossiter Bay.