You've heard about Margs being a world-class surf spot. And Instagram is chocka with spectacular beach shots and drone photography from this beautiful region.
But where exactly are the best spots? Where do the locals go? Of the dozens and dozens of named surf spots, how do you choose?
We've put together a list of the best surf spots in the Margaret River region to help you discover some of the best surf breaks in Australia, if not the world.
Whatever your level of surfing ability, the Margaret River region offers plenty of diverse surf spots - from gentle beach breaks, challenging open ocean big wave spots to world-class reef breaks.
In between all of our listed best surf sports, there are numerous other breaks to explore, all offering something different depending on the prevailing conditions.
Many sport clear turquoise water and squeaky sand, or the ability to swing to humbling ferocity in the winter months when the winds howl and the swell heaves from the southern ocean.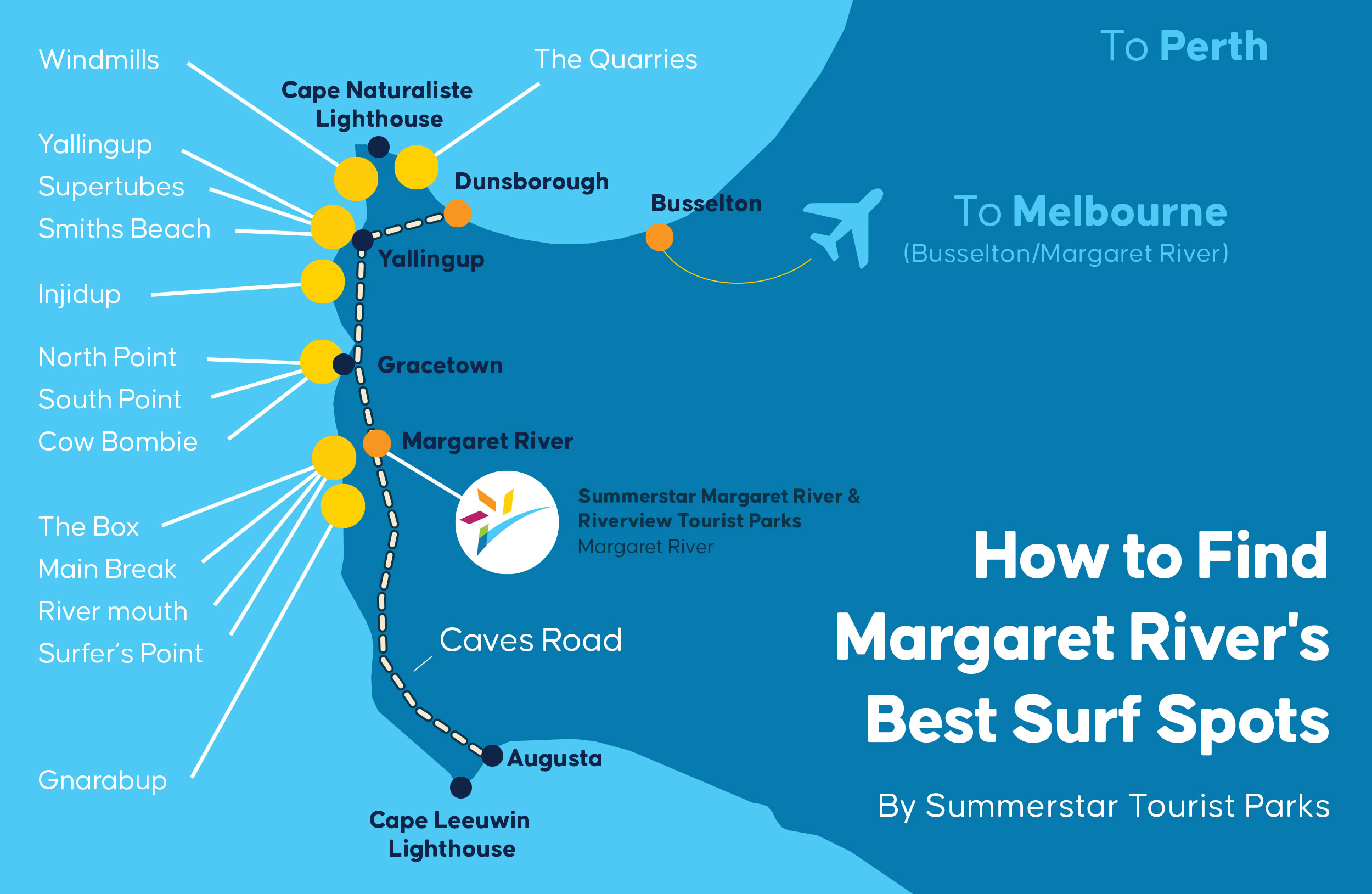 The surfing culture of the region is well embedded in the communities up and down the cape, and it's what makes this region such a special surfing place, and a brilliant region to explore with the boards-in-tow.
Plus, when it's flat (not that often), you can find many other things to do in Margaret River.
Margaret River surf spots map
Margaret River surfing region - The Capes
The area known as the Margaret River surfing area is quite a large region.
Within this broader region many of the best breaks, many truly world-class, are in what's known as 'The Capes' - between Cape Naturaliste to Cape Leeuwin, with the vibrant tourism and gourmet attractions of Margaret River and all its amenities and accommodation, at its heart.
Known for being littered with rocky ledges and pointbreaks, the Margaret River Capes area is famously subject to the Roaring Forties swells.
The scenic Caves Road skirts the coastline, wandering through forests, gentle hills and around vineyards that overlook the ocean with postcard views speckled along overlooking surf spot after surf spot.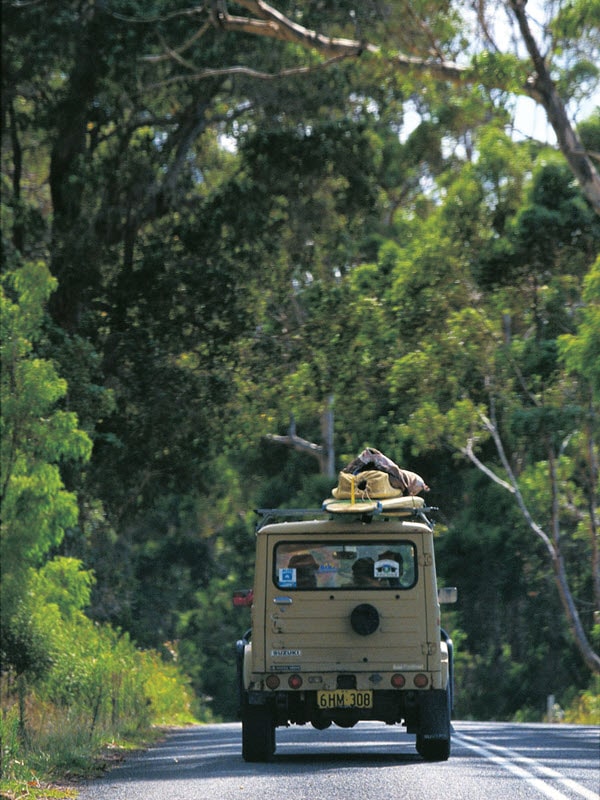 Driving up Caves Road near Margaret River. Image credit: Tourism Western Australia.
Our favourite Margaret River surf spots
Margaret River Mouth
Surf skill: beginner & improving surfers
Location: Rivermouth Road / Rivermouth Carpark, Prevelly
Try the river mouth beaches nestled in the bay for all-round beginner/improver fun.
The river is usually dammed by the beach, although it can break through at either end. The beach itself is protected by reefs.
You can even take a surf lesson with a local Margaret River Surf School.
The river mouth is known as one of the most consistent breaks in the region and you can usually catch a ride there - it's best when the swell is from the south, southwest. It just so happens some of the best breaks lay within cooee of Margaret River town, and so the breaks can tend to get a little busy on good days.
This is iconic Margs surfing at its best, however.
Beach Lifeguards patrol the Margaret River mouth each summer, from the beginning of the December WA school holidays and usually continue through until Anzac Day or the end of the April school holidays.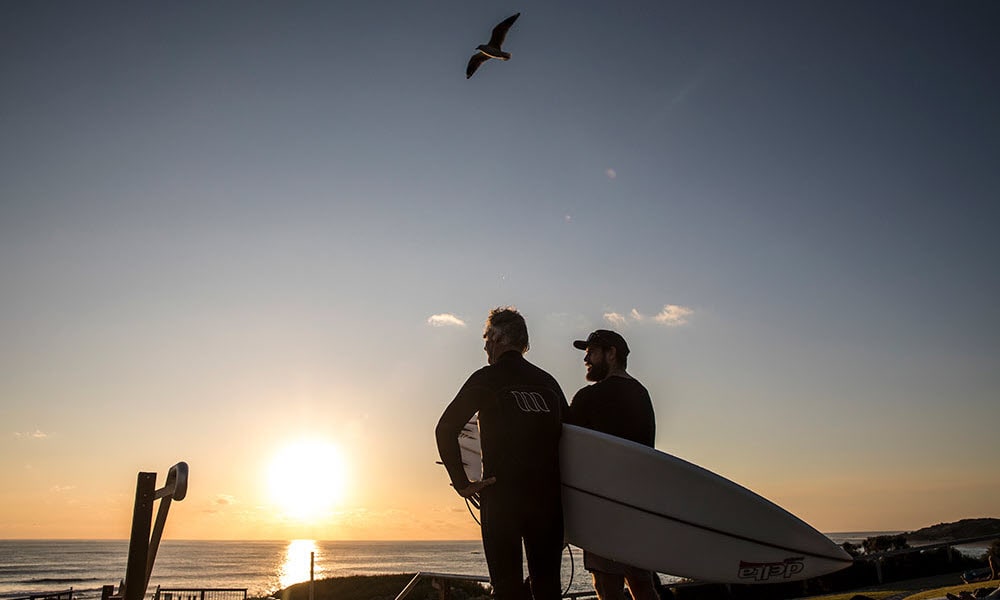 Surfers Point, Margaret River. Image credit: Tourism Western Australia
Main break at Surfer's Point and the Margaret River Pro
Surf skill: intermediate, advanced & professional surfers
Location: Surfers Point Road, Prevelly WA
Just south of the river mouth, with beginnings as an almost mythical spot only known to locals, to hosting the annual Margaret River Pro on the World Surfing League circuit.
Waves at the more exposed Main Break at Surfers Point can reach 20-25 feet and are considered suitable only for experienced surfers.
It's about power surfing here and it's this and the surrounding points that have Margaret River surf region firmly on the international touring pro's radar.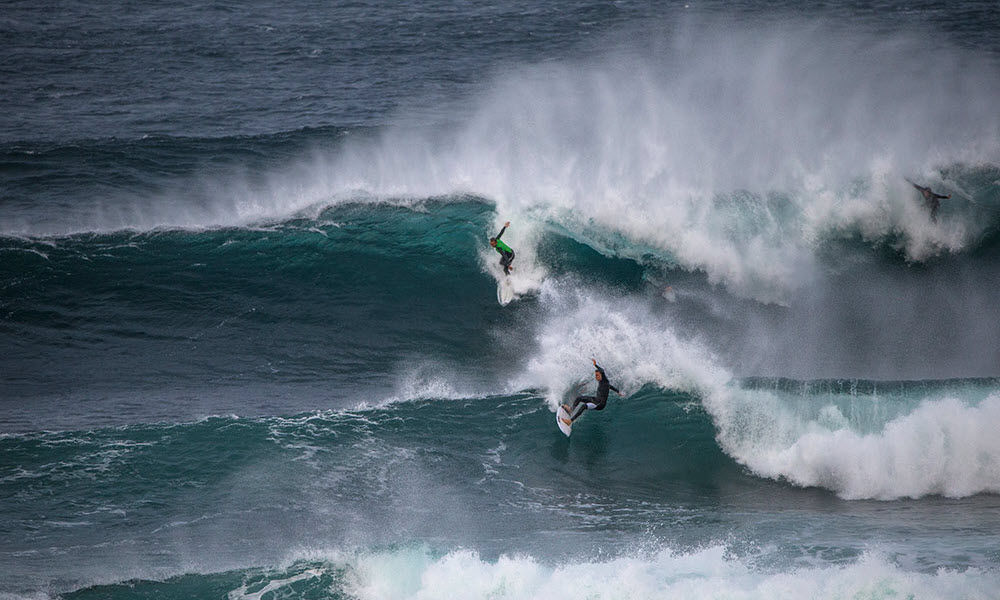 Surfing Margaret River. Image credit: Tourism Western Australia
The feather in the Margaret River region's surf cap - the monstrous swells here can be a spectacular sight to behold. Only 10kms outside Margaret River and viewable from the lawns and car park, the spot itself is an epic spot for a picnic or fish and chips under the sunset.
Plus June through December it's a prime whale-watching spot.
When the Margaret River Pro is on, usually held over 12 days in March or April, the carnival-like atmosphere in the entire area is a fun time and will inspire you to hone your surf skills.
Beware though - these pros make it look easy!
Before paddling out try a few of the many slightly tamer breaks in the region first - would be our advice. The event is free for spectators and is such an infectious celebration of the deep surf culture roots of the region.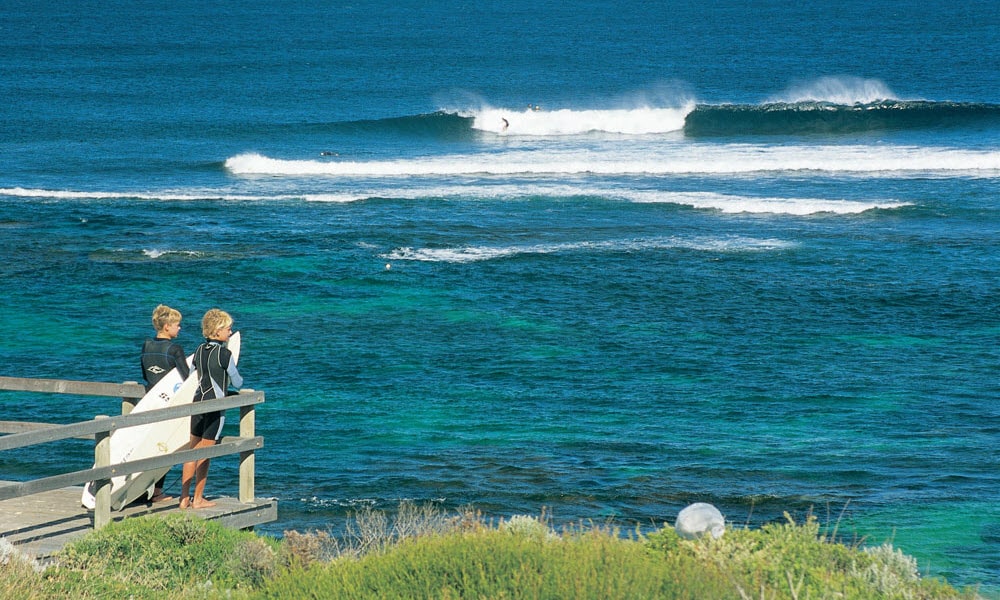 Surfers Point, Margaret River. Image credit: Tourism Western Australia
The Box
Surf skill: advanced & professional surfers
Location: Surfers Point Road, Prevelly WA
Nearby, The Box off Cape Mentelle is another famous spot, a household name in the pro-surfing world. Located just across the bay from Surfers Point, north of the mouth to Margaret River, its best viewed with a pair of binoculars.
This extremely shallow reef break is a heavy right-hander and again is only for experienced surfers.
It's at its best with a southwest swell and a crisp easterly offshore.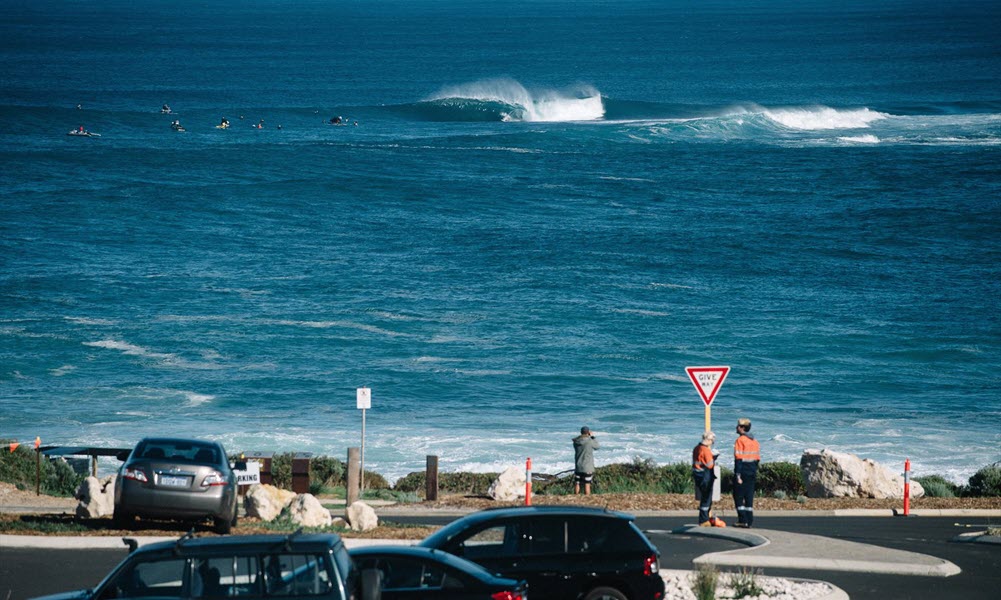 The Box, Margaret River. Image credit: margaretriver.com
Smiths Point, Smiths Beach & Supertubes (Supers)
Surf skill: beginner & improving surfers (Smiths Beach), advanced & professional surfers (Supers)
Location: Canal Rocks Road, Yallingup, WA
Smiths Beach is 40 mins north, just outside Yallingup and near where Caves road takes a left to head south.
Smiths is known for having a little more sense of isolation than its oft-crowded neighbours. When the swell comes in it can be a different story mind you, but the squeaky white sand makes for a beautiful beach walk if the surf is a little intimidating.
When it goes off, it goes off and surfers can expect something pretty special, and there's no wonder Smiths is a site for local surf and bodyboarding comps, and the pros are spotted here regularly.
The wave known as Supertubes itself is about 50m out on a shallow and sharp reef. The left-hander is a pretty short and heavy barrel but is aesthetically pleasing. The right-hander is longer but closes out more often. You've been warned.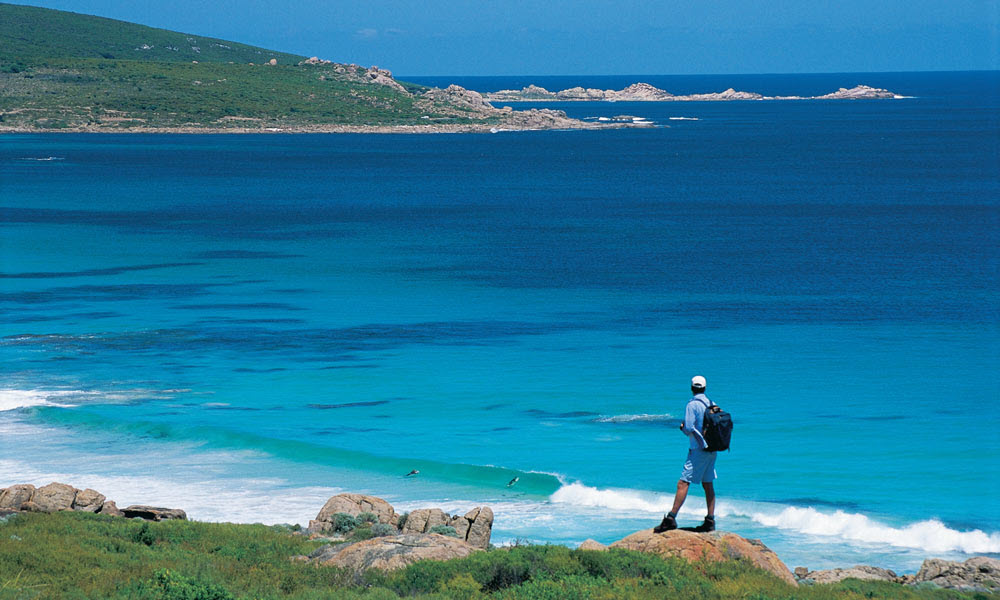 Hiking past Smiths Beach on the Cape to Cape track. Image credit: Tourism Western Australia
Gnarabup Beach
Surf skill: intermediate, advanced & professional surfers
Location: Wallcliffe Road, Prevelly
One of the longest, at 1.6kms of soft sand, and best swimming beaches in Margaret River (home to Margaret River SLSC) the walk along the trail up to Surfers Point and the Margaret River mouth is recommended too for beautiful views of the ocean, cliffs and surrounding vegetation and wildflowers in spring.
Only 10mins outside Margaret River, Gnarabup offers pro-level surfing out past the breakers, at 'Boat Ramp' to the south and 'The Bombie' to the north.
Cowaramup Bombora (Cow Bombie by locals)
Surf skill: advanced & professional surfers
Location: Offshore, Gracetown
Cow Bombie to the locals, is an epic big wave open-ocean surf area, 2kms off the coast from Gracetown, just north of Margaret River. It's a world-renowned big wave surf spot when the southerly swell is pounding it produces some of Australia's largest waves - reaching 20-40ft!
When it's going off you'll spot crazies towing in here.
The spot made global headlines in 2007 when local Damon Eastaugh won the Big Wave Award after riding a wave estimated to be more than 50 feet.
It doesn't always break, it needs the swell from the Southern Ocean to be just right (and BIG) but it's certainly one of the most famous breaks in the region, if not the country.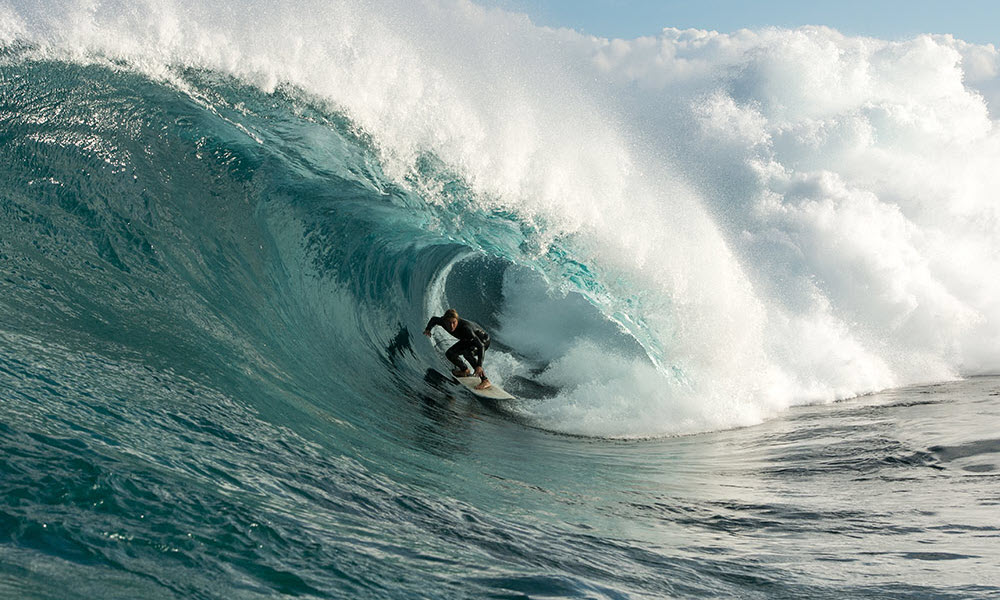 Grabbing some shade, Margaret River. Image credit: Tourism Western Australia
Yallingup Beach - Main Break & others
Surf skill: beginner, improving & intermediate surfers
Location: Yallingup Beach Road, Yallingup
One of the more postcard-perfect spots in WA and a burgeoning modern-day surf town, the population of Yallingup has exploded in the last decade or so, increasing even more in the summer tourist months.
It's a bonafide surfer community, so there will be crowds, but it's so iconic and so good, our list would be embarrassingly incomplete without it.
It is a spectacle to behold when it's breaking and will hold up in most conditions, but it's really special with an offshore breeze. The sheltered reef provides a haven for learning and family swimming at most times too.
There are a couple of other reliable breaks along the beach, so scoping something out here to meet your skill level shouldn't be a problem. Be aware of the rip and heed advice from the Surf Lifesavers and locals.
The Quarries/Boneyards
Surf skill: intermediate surfers
Location: Bunker Bay Road, Naturaliste
Up at the tip of the Cape, The Quarries is a sheltered and rocky reef break with fairly consistent surf, tending to be at its best in winter. It's a left-hander and is great when the swell is wrapping around from the west southwest and winds from the southwest.
Windmills, Cape Naturaliste
Surf skill: intermediate surfers
Location: Cape Naturaliste Rd or Sugarloaf Rd, Cape Naturaliste
Situated a little bit of a trek down a dirt road, off Cape Naturaliste or Sugarloaf Roads, Windmills and a couple of breaks surrounding it are worth the effort to get to. Most of them are sandy-bottomed and don't need huge swells to get good, and rank up there as some of the best beaches for surfing in the Margaret River area in summertime.
North Point (Northies) Gracetown
Surf skill: advanced & professional surfers
Location: Cowaramup Bay, Gracetown
Just outside the famously laid back surf village of Gracetown, which is 15 mins north of Margaret River town, North Point is a contingency location for the Margaret River Pro, and with its different aspect sometimes breaks perfect when Main Break isn't at its prime.
It's one of the most coveted breaks in Margaret River and makes for a particularly spectacular photo with the cliffs and eucalyptus in the background.
The Doctor winds will come through in the middle of the day, like most spots on our list you'll benefit from getting up early, and will be generally at its best and most pleasant in Spring (September to November) or March, April May when early winter swells come in.
As it's such a perfect spot, evidenced by the number of pros who have houses nearby, it can get busy, and hard and fast, and could be overwhelming for us mere mortals.
Try Hazards, in the middle of the bay, or the lefthander at South Point on the other side of the bay for something a little more accessible if you're not quite pro.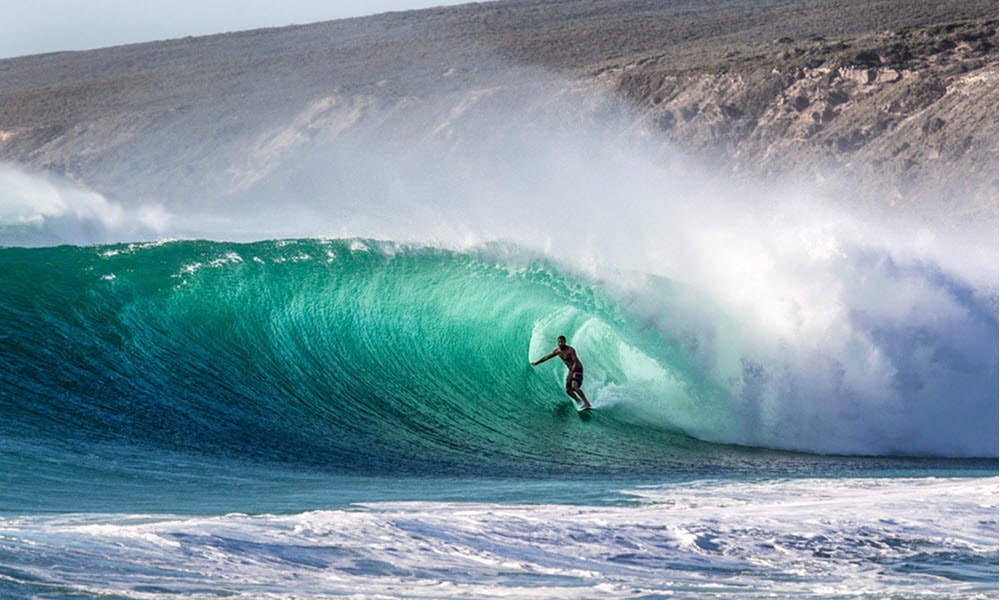 North Point, Gracetown. Image credit: Surfer Galaxy
Injidup Beach
Surf skill: beginner & improving surfers
Location: Cape Clairault Rd, Yallingup WA
Extremely picturesque thanks to the surrounding rock formations, turquoise waters and naturally forming spa pools, Injidup is a chill holiday surf town vibe.
The lookout near the car park is a great spot to check out what it's doing and to see the sun go down.
The beach itself needs a good westerly swell to get good, as it's fairly protected from southerly winds and swells by the point, so it is a great spot for groms and beginners, even in summer months. The offshore reef is more exposed and will offer more of a challenge, and the Injidup Point, about a 20-minute walk along the beach, effectively turns offshore when the winds are southerly, and so is worth the walk.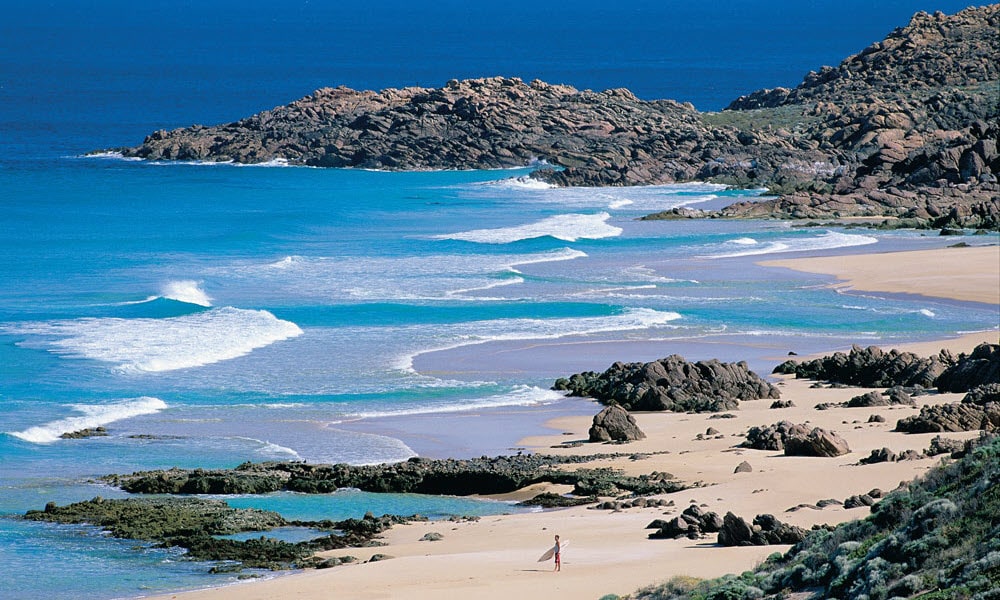 Injidup Beach. Image credit: Tourism Western Australia
Additional notable Margaret River beaches:
Redgate Beach
Contos Beach
Boranup Beach
South Point Beach
Moses Rock Beach
This post is intended as a rough guide to what you can expect from these surf spots. Surf conditions in Margaret River can rapidly change. Take care, do your homework, check-in with locals, and adventure at your own risk.
Looking for comfortable and affordable Margaret River accommodation?
Book your stay at Margaret River Tourist Park or Riverview Tourist Park for the perfect central location.