World renown for some of the best wineries, breweries and local food in the world, Margaret River is an absolute dream for foodies. Just a few hours drive south from Perth, Margaret River also boasts some of the best surfing spots and fishing and swimming beaches in the state. Take a tour of the local area before warming up back at your holiday accommodation.
So, are you looking for things to do in Margaret River?
Summerstar has put together the ultimate Margaret River travel guide for visitors staying at Margaret River Tourist Park or Riverview Tourist Park. Better yet, you can book your accommodation and experiences in Margaret River right here on the Summerstar website – it doesn't get much easier than that!
Find things to do in Margaret River below.
Things to do in Margaret River
Margaret River weather
Find the best season to book a trip from Perth to Margaret River.
| | | |
| --- | --- | --- |
| Summer | Dec, Jan, Feb | 12°C - 27°C |
| Autumn | Mar, Apr, May | 10°C - 26°C |
| Winter | Jun, Jul, Aug | 8°C - 17°C |
| Spring | Sep, Oct, Nov | 9°C - 23°C |
Margaret River activities map
Margaret River wineries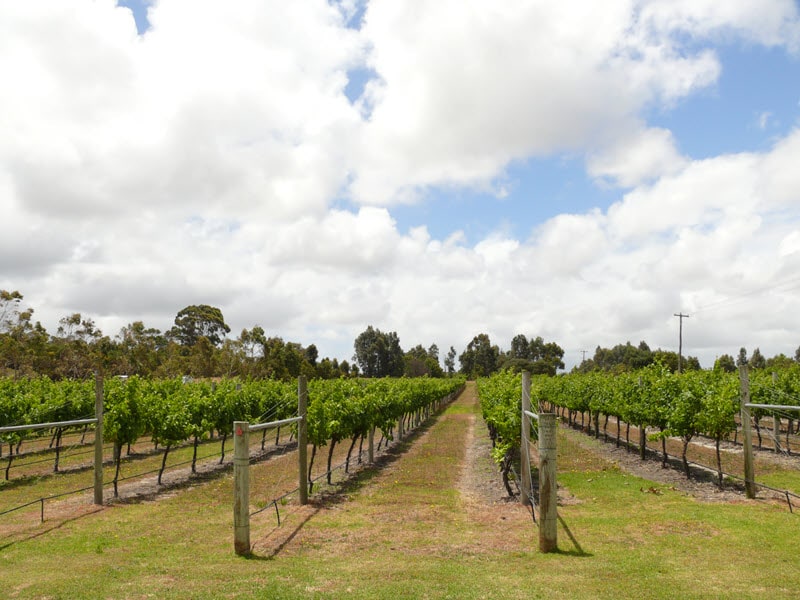 Margaret River is well known for it's vast award-winning wineries.
Whether looking for a delicious warm red in winter or sweet and cold white in summer, Margaret River's wine region is one of the best in the world. With countless award-winning wineries featuring world renown wines, explore Margaret River in style at one of the South West's best wineries.
1. Cape Mentelle
A Margaret River icon established in 1970. As one of Margaret River's 'founding five' wineries, Cape Mentelle pioneered many of the region's renowned wine styles and today is a benchmark for the quality of the region's wines.
2. Edwards Wines
Edwards Wines sits on 200 acres in the dress circle of Margaret River, boasting some of the best soils in not only the region or the country but the world.
3. Leeuwin Estate
Leeuwin Estate, family-owned and operated, is one of the founding wineries of the now famous Margaret River district and consistently produces wines that rank with the world's finest.
4. Knotting Hill Estate
Knotting Hill Estate is a true labour of love, owned and operated by the Gould family since 1997. Their passion and dedication are unparalleled but their philosophy is simple: they love to sell quality wines to happy customers.
5. Voyager Estate
Voyager Estate is in the premium winegrowing region of Margaret River, Western Australia. We craft wines of elegance and finesse that are true to the individuality of their special site.
Margaret River restaurants, bars and cafes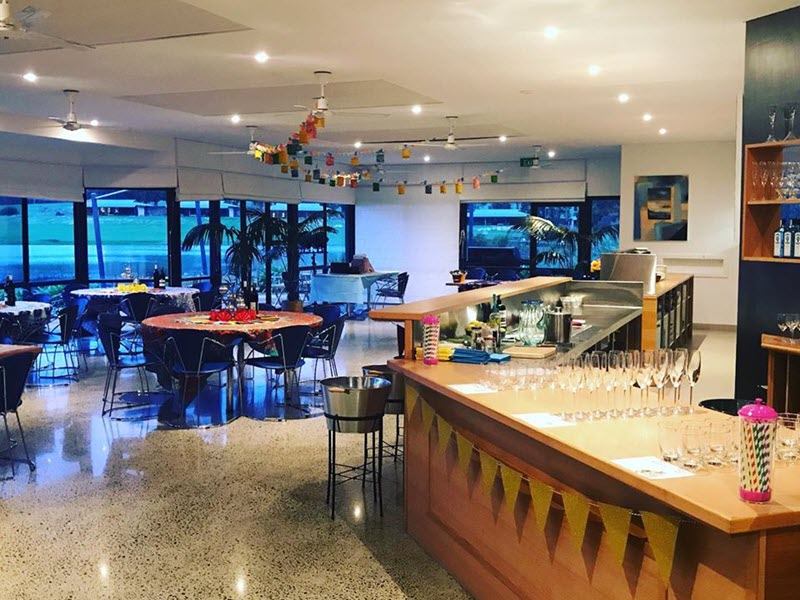 Take the family to enjoy some local culinary delights in Margaret River.
Stop in for breakfast, lunch or dinner and sample the very best produce in the South West of Western Australia. The regions local restaurants and cafés love to use fresh local produce so the taste shines through. If you're planning a road trip down the south west of Australia, you need to try a few of these local restaurants.
6. Margaret River Berry Farm & Cafe
The Berry Farm oozes character with its delightful garden setting, wide verandah and timber floors, inviting visitors to enjoy relaxed dining amongst cottage gardens brimming with birdlife. Stop in for a quick snack and coffee, or stay longer with a delicious main meal.
7. Blue Ginger
Blue Ginger Cafe is an eclectic, relaxed space populated by locals and tourists alike. With a range of fine foods and delicious coffee, Blue Ginger stands out as a food enthusiasts dream. Prefer to cook yourself? Stock up at their continental deli and grocer and create your favourite dish back at your Margaret River holiday unit or cottage.
8. Morries
Combine award-winning barman Billy Phillips mixing cocktails with the creative Head Chef Chris Mitchell, then add a touch of live jazz and you have a unique Margaret River dining experience. Find Morries at the top of Margaret Rivers main street, overlooking the park.
9. The Larder
The Larder is Margaret River's premier speciality gourmet retailer and is a not-to-be-missed destination for fine food lovers. With a range of take-home meals and hampers, stock in for a quick coffee before bringing back something special for your friends or family.
Margaret River breweries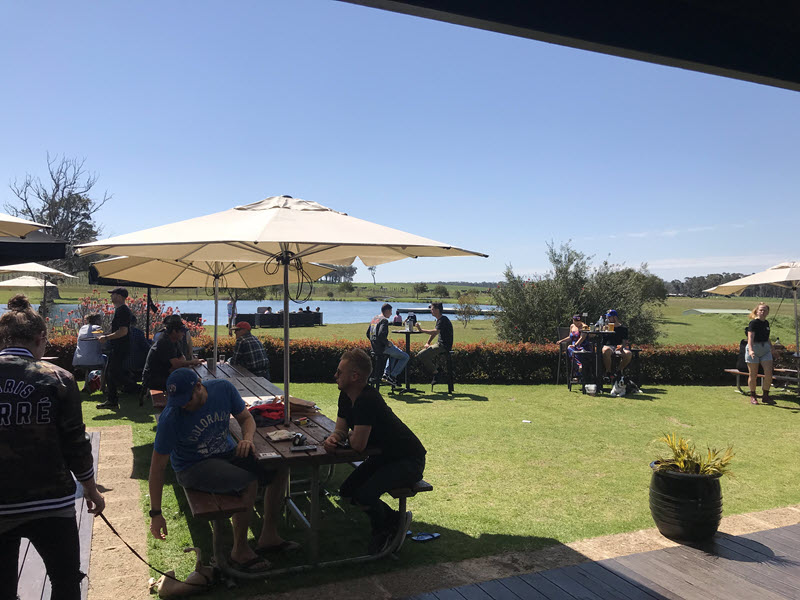 There are a wide range of breweries located in the south west, we recommend taking a brewery tour to make the most of your stay.
Are you a fan of beer paddles and sampling the latest and best tasting craft beer in Western Australia? Margaret River is home to an extensive list of local Margaret River breweries, large and small, producing unique one-off, seasonal and limited beers along with their full-range of delicious brews.
10. Bootleg Brewery
Nestled amongst the rustle of century-old trees yet close enough to the south-west coast to take in a salty infusion of the Margaret River coastline, Bootleg Brewery.
11. Cheeky Monkey
Born and brewed in Margaret River, Cheeky Monkey is producing Western Australia's freshest line up of craft beers and ciders. But it's not all about the beer, Cheeky Monkey is blessed with an idyllic location halfway between Margaret River and Dunsborough on Caves Road. It's a location that affords the kind of space that lets kids play free whilst you relax, kick back and enjoy a long lunch in Margaret River.
12. Colonial Brewery
Nestled amongst vineyards, quaint farms and bordering the Bramley National Park, Colonial Brewing Co is now a must-see destination known for its friendly service, great food, sublime views and award-winning Ale. With a large playground area, parents can relax and enjoy live entertainment on weekends.
Tasty bites are served from 11 am to 4 pm daily. We welcome you to what is becoming known as one of Australia's most exciting breweries located in the heart of the iconic Margaret River region.
13. Cowaramup Brewing Co
Cowaramup Brewing Company is a family-owned microbrewery situated in the world-renowned Margaret River Region in the South West of Western Australia.
14. Eagle Bay Brewery
Eagle Bay Brewing Co is a family-run, boutique operation with a passionate appetite to share our love of brewing, winemaking and local produce. Expect a new and vibrant experience for the whole family with a menu for the kids, great beer, wine, food, service and atmosphere.
Margaret River's local attractions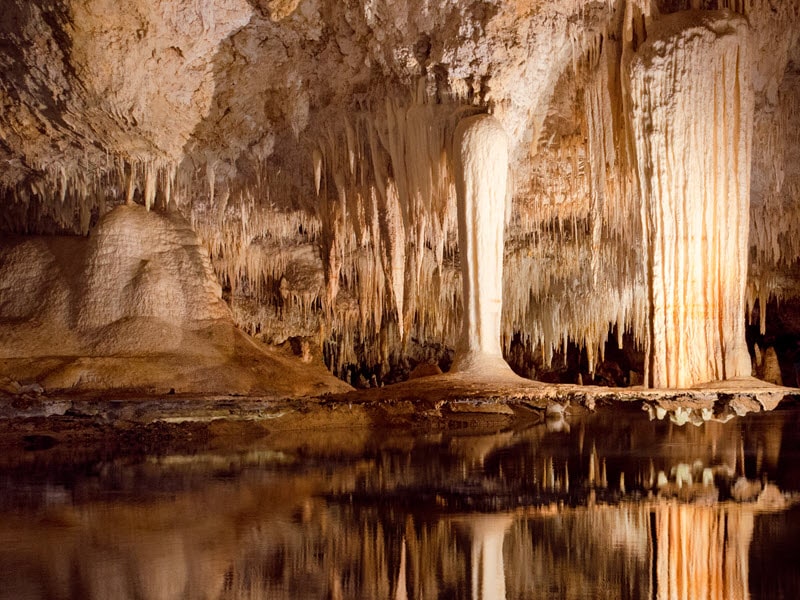 Explore the deep abyss with a tour below Margaret River in one of their many cave systems.
You can't miss out on the amazing and unique local attractions in Margaret River. From underground caves that were naturally formed many, many moons ago, to unique hedge mazes and gardens. There's so much to see and do in Margaret River you might want to make an itinerary before you start ticking off your list of things to do in WA.
15. Amaze'n Margaret River
Amaze'n is a completely unique destination for families and couples alike. Featuring a half-hectare giant hedge maze, 18-hole minigolf course and a huge five-hectare botanical garden.
16. Margaret River caves
Formed approximately 1 million years ago, a number of these complex and fragile Margaret River cave systems are open to the public. Go inside and be amazed by these massive labyrinths decorated intricately with limestone crystal formations.
17. Margaret River lighthouses
The Cape Naturaliste Lighthouse, near Dunsborough and Cape Leeuwin Lighthouse, near Augusta stand as guardians of the oceans, tall and dignified. Take a guided tour of each to delve into their history and enjoy sweeping views from their tops.
18. Margaret River Chocolate Company
Taste delicious chocolate at the Margaret River Chocolate Company and watch how its made through their viewing windows.
19. Simmo's Ice Cream Margaret River
Simmo's ice-cream is handmade using the freshest local produce; milk and cream is pasteurized on the premise, followed by a combination of a few secret ingredients and Simmo's imagination to create flavours that truly create a delicious dilemma!
From a list of about 100 different flavours, of which 60 are on display daily creating delicious dilemmas for many visitors as well as the adventure park, expanse of lawn and renovated astroturfed 18-hole goofy golf, Simmo's is on the 'must-do' list of many visiting the Margaret River Region.
20. Next Level Monkey Business
At Next Level Monkey Business, you'll have the opportunity to have a crack at a high ropes course, swinging amongst the tree tops.
21. Mountain biking trails
You'll be impressed with the many local Margaret River mountain biking trails in the region, with local continuing to add to the existing tracks and new tracks opening up. Or, if hiking is more your thing, check out some of the nearby Margaret River hiking trails perfect for beginners through to experts.
Margaret River Art galleries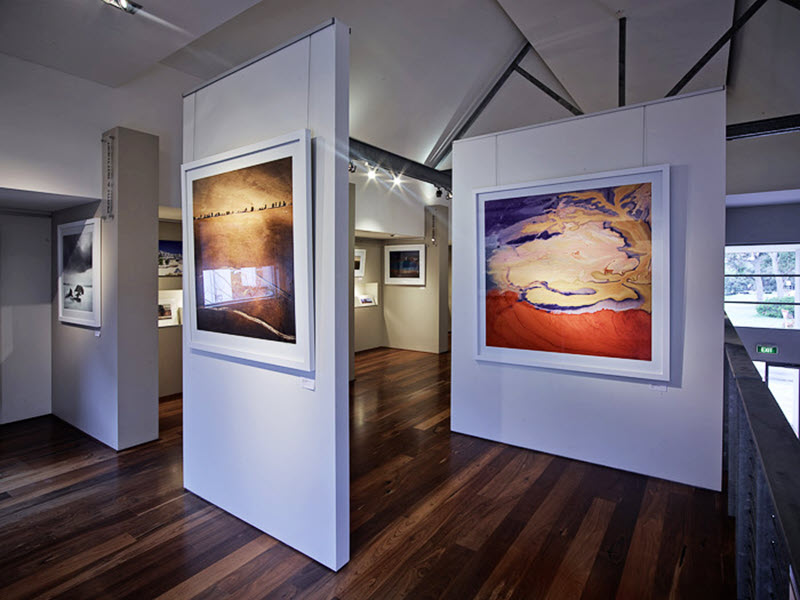 Stunning displays of art from local artists are always on display in Margaret River.
Check out local artists, jewellery makers and photographers in Western Australia's South West region. With so much inspiration all around them, including large forests and a long-rugged coastline, it's no surprise that Margaret River art galleries have so many amazing art pieces being created by locals.
22. Studio Bistro
The Studio Gallery and Bistro is a quaint institution in Yallingup, showcasing fine art and Australian artists of paintings, sculptures & jewellery.
23. Christian Fletcher
Christian Fletcher has been a professional photographer for 24 years and still retains all the passion and enthusiasm for taking a great photograph. At the core are three aspects of photography: capturing the beauty in landscapes, teaching his technical skills to others, and using his photography to reinforce the connections we all have with our natural environment.
24. Gunyulgup Galleries
Gunyulup Galleries, off Caves Road just south of Yallingup offers the opportunity for local, interstate and overseas visitors to view a diverse range of Western Australian art and design.
25. Jahroc Gallery
Jahroc Galleries is home to Jah-Roc Furniture which was established in 1987. Proud to be 100% made in Margaret River, Jarhoc Gallery specialises in custom made Jarrah Furniture and Marri Furniture. On request, they can also custom-make furniture using Sheoak, Blackbutt and other Australian timbers.
26. Payet Gallery
The purpose-built gallery and workshop are located just 6km South West of the Margaret River township. Visitors to the gallery can watch as Nicholas and Francois Payet design & make all the jewellery available at the gallery.
27. Sensei Pots
Ian Beniston is renowned for his lustrous copper red glazes and for producing decorative art pieces and sophisticated functional pottery, with a distinct oriental influence.
Margaret River tours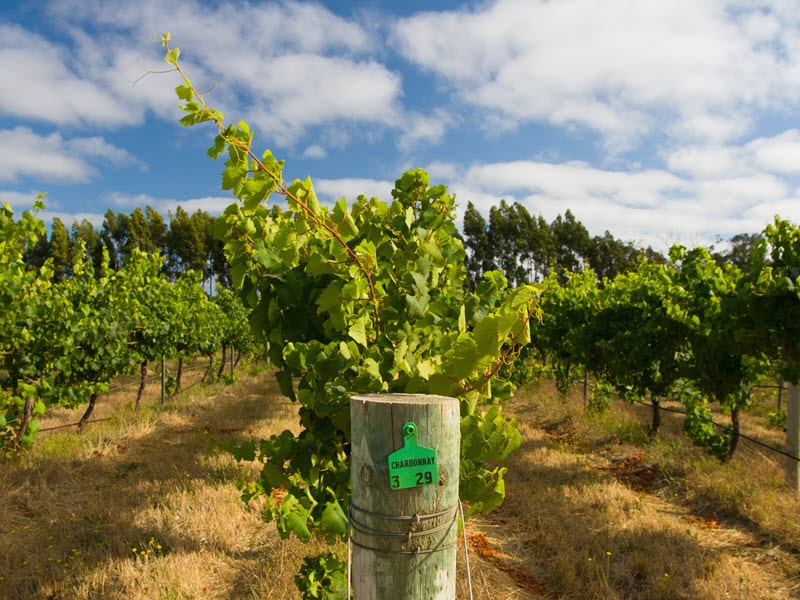 Leave the driving to someone else with a local Margaret River tour.
With an extensive list of attractions, locations and restaurants in the Margaret River region, it may take a few visits for you to fully experience the great South West. To help you make the most of your stay, book a Margaret River tour based on your preferences.
28. Cheers Tours Margaret River
Join Cheers Tours' experienced guides on a journey of indulgence where you will get to experience local wine, beer, venison, cheese and chocolate, all in the comfort of their modern air-conditioned buses. For those who would like to see what happens behind the scenes, you'll be shown the processes involved in winemaking, from the planting of the vines to the bottling of the wine and of course, the all-important tasting.
29. Bushtucker Tours Margaret River
Bushtucker Tours have been successfully operating fun and memorable tours for over 23 years and have achieved various accolades including State Merit Awards and Heritage and Culture Awards. A testament to the fantastic experience the tours provide.
30. Cape to Cape Explorer Tours
Cape to Cape Explorer Tours is an award-winning, Margaret River company that specialises in providing memorable experiences on Western Australia's premier coastal long-distance hike, the Cape to Cape Track. Choose from half-day, full-day and multi-day tours, or their memorable End-to-End Experiences, offered on various dates every autumn and spring.
31. Margies Big Day Out
With a range of tours to suit all tastes, Margie's Big Day Out is a great way to experience the best of what Margaret River has to offer! These bus and charter tours include a mixture of wine tastings, beer and cider tastings and you can even sample the local produce at our region's infamous cheese and chocolate factories.
32. Naturaliste Charters
Naturaliste Charters offer a 'Cetacean Explorer' for an exhilarating whale watching experience. View these majestic creatures up close and personal as they make their annual migration between the Antarctic and the pristine waters of Western Australia's South West coast.
33. Taste of The South Tours
Taste the South Tours is your host for your Margaret River experience. The team offer several tours to suit any group. Book a friendly and knowledgeable tour to award-winning wineries, microbreweries, attractions or culinary delights. Explore the best of the Margaret River Wine Region with Taste of the South Tours.
34. Wine For Dudes Margaret River
Wine For Dudes Wine Tours Margaret River is the most awarded tour company in the South West. Offering fun, relaxed and informative wine tours, go on a ride that will help you understand and enjoy the lifestyle of wine and its many rewards.
35. McLeods Tours
Choose your own adventure in Margaret River with McLeod Tours private wine tours with award-winning guides. Join McLeod Tours on their daily Eat + Drink + Explore full-day or half-day wine tour.