Western Australia is home to many beautiful and unique natural wonders (the Pinnacles Desert comes to mind), and the Margaret River region has four more to add to your must-see list.
The Margaret River region is well known for its abundance of caves, four of which are open to the public. From huge, still lakes and suspended crystals to straw stalactites and sinkholes, each cave offers a unique Margaret River experience.
Whether you're already a cave enthusiast or not, this guide will help you discover the best cave in Margaret River.
1. Mammoth Cave
More than 50,000 years ago, Australian Megafauna (giant animals) called this area home and you can still see remnants of them today in this cave.
Drive 15 minutes south of Margaret River Tourist Park, along Caves Road, and you'll reach Mammoth Cave, a show cave that was once home to thousands upon thousands of fossils and is now a unique educational experience you don't want to miss.
Tours are entirely self-guided so pick up an MP3 player at the Visitor's Centre and learn about the history of Mammoth Cave at your own pace. The first chamber of the cave is easily accessible by a well-kept boardwalk, though be prepared for some stairs and a quick jaunt through the forest to make it back to the car park.
Entry is from 9:00 am to 4:00 pm daily.
2. Lake Cave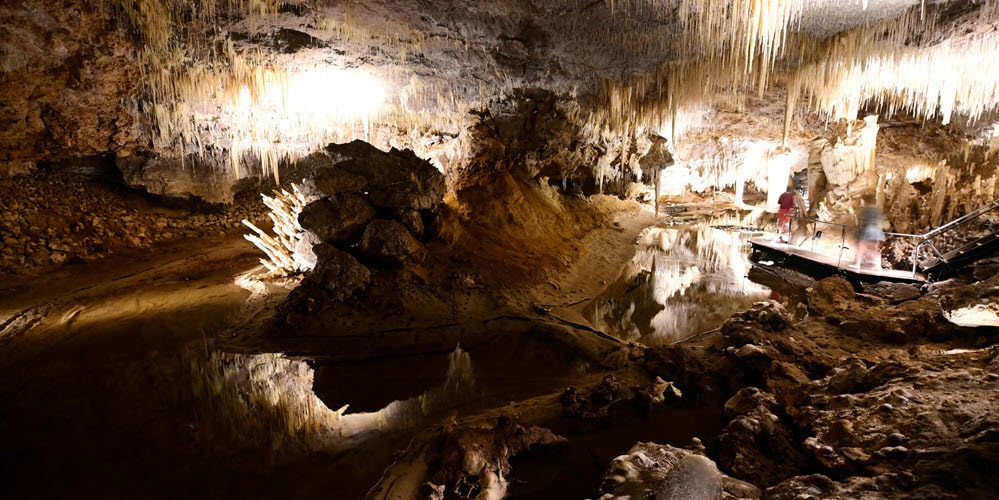 Lake Cave may be the smallest on the roster, but it packs a punch. Only 20 minutes south of Riverview Tourist Park in Margaret River, you won't want to miss this one!
After entering through a sinkhole in a sunken forest, 325 steps (don't worry, there are rest areas along the way) will lead you past some of the most spectacular cave formations in the area. Here you'll find a permanent lake resting serenely beneath the famous 'Suspended Table' formation, as well as other delicate crystal decorations which you can admire as you listen to the peaceful sound of dripping water.
Younger children may have a harder time keeping up on this guided tour, though older ones will love the educational aspect of it.
Operating hours are from 9:00 am to 5:00 pm, with tours running every 40 minutes beginning at 9:20 am.
3. Ngligi Cave
Only 10 minutes from Dunsborough, Ngligi Cave is one experience the whole family can enjoy, especially those with young kids!
You'll begin your semi-guided tour with a short introduction about the cave's history and Aboriginal legends that surround it; after that, feel free to make your way to the bottom at your own pace (keep an eye on those kids, though, there are some uneven steps along the way).
Admire the hundreds of crystal formations while you make your way down 36 metres. At the end of your journey, you'll find a crystal touch table and another cave guide who can answer any questions you may have.
Feeling extra adventurous? Book a tour that takes you off of the boardwalks and deep into the caves. Be prepared for some tight spaces and twisting routes, this one isn't for the kids.
Hours are from 9:00 am to 5:00 pm. Tours begin at 9:30 am and depart every half hour.
4. Jewel Cave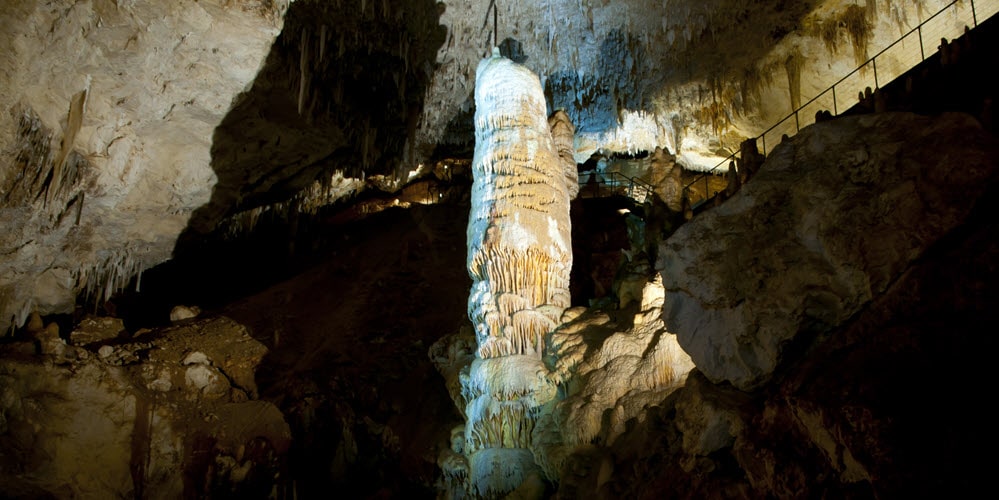 Older children and adults will be mesmerised by Jewel Cave, the largest show cave in Western Australia. Your guided tour will last approximately one hour, during which you'll see the longest straw stalactites in Australia, flowstone, cave coral, helictites and so much more.
While there aren't as many stairs as some other caves in the area, be prepared for a few tight spaces – but the beautiful crystal formations and the educated guides make it worth the squeeze!
You'll find this treasure by taking a 10-minute drive north of Augusta along Caves Road.
The centre operates from 9:00 am to 5:00 pm with tours departing every hour beginning at 9:30 am.
Experience Margaret River caves
With two great locations in the centre of Margaret River, Western Australia's renowned wine region, you'll find plenty of Margaret River accommodation and Riverview accommodation options for your weekend getaway to see some of the best caves in Margaret River.
Our caravan and camping parks are in the centre of it all: from award-winning Margaret River breweries and cheesemakers to awe-inspiring giant caves, they offer the perfect central hub for a variety of activities and experiences in Margaret River.
So, whether you're a foodie looking to try some local delicacies, an artist trying to take in the local talent or a surfer seeking the perfect wave, we can get you there!