Being far apart from the rest of Australia, Perth has been known to be one of the most isolated places in the world – to the point of being included in Wikipedia's 'Extreme Points On Earth' list.
However, Perth is far from being a lonely place, especially if you're fond of the great outdoors and waterside activities. If you're willing to make a few quick trips for your weekend getaways, there's plenty to explore near Perth - especially for couples seeking a quick romantic getaway.
Whether you want to spend some time with nature or simply go exploring a little way out of the city, make sure you include these last-minute weekend getaways Perth.
1. Drive from Perth to Dwellingup
Just an hour and a half drive away from Perth is the quaint little town of Dwellingup.
It's the ideal place for when you grab those spur-of-the-moment weekend getaway deals. It's close enough to visit by road from the city yet so beautifully rural as to make it seem like you're in a different world altogether when you get there.
Dwellingup has beautiful campground accommodation, as well as the wild Murray River for kayaking and fishing. It also features some interesting bush walk trails like Lane Poole where you'll get the chance to explore part of the 1000-kilometre Bibbulmun Track.
So, if you're ready for a natural break in Dwellingup, get your caravan in tow and pack up your camping gear as you head off on a spectacular weekend getaway south-east of Perth.
Also, allocate some time to explore the Dwellingup's pub and cider scene, where you're guaranteed to get fruity dessert wines and even some freshly pressed ciders at the Wine Tree Cidery.
2. Dunsborough and the Margaret River wine region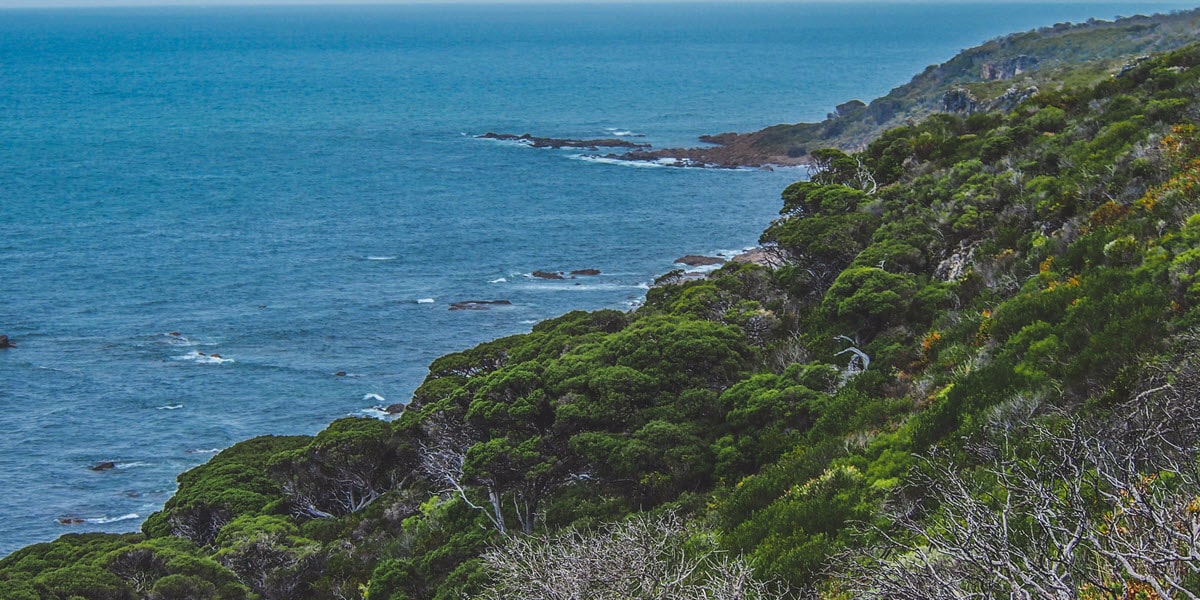 With stunning coastal views and a range of local attractions inland, you're sure to be impressed in the south west.
About a three to four-hour drive from Perth, Dunsborough is located in the famed Margaret River Wine Region.
Dunsborough is known for many things, including the gorgeously placid Geographe Bay, where you can indulge in plenty of water activities, like swimming, snorkelling, kayaking and diving right off the beach.
You can even play a round of golf in either of the two popular golf clubs there.
If you're not too keen about heading for the water, you also have the option to go cycling or walk and then hike along the beachfront until you reach the Leeuwin-Naturaliste National Park, also located along the beautiful bay. Here, you'll also find the Cape Naturaliste, Dunsborough's working lighthouse, as well as the starting point of the famous 123-kilometre-long Cape to Cape Walk Track, which ends at Cape Leeuwin.
Enjoy the lively night scene in Dunsborough and Margaret River by dropping past the many unique boutique shops, great cafes, breweries and pubs, restaurants and wineries. Make a romantic night of it (or two) and park your caravan in secure facilities inside the Margaret River region, before wine tasting and some of the many world-renown wineries.
And if you're staying for the whole weekend, make the most of this fabulous resort town, and bring your family, significant other or the whole gang for a well-rounded, adventuresome Dunsborough weekend holiday. Find local experiences and tours in Margaret River and surrounding towns to make the most of your romantic getaway.
3. Cervantes and Jurien Bay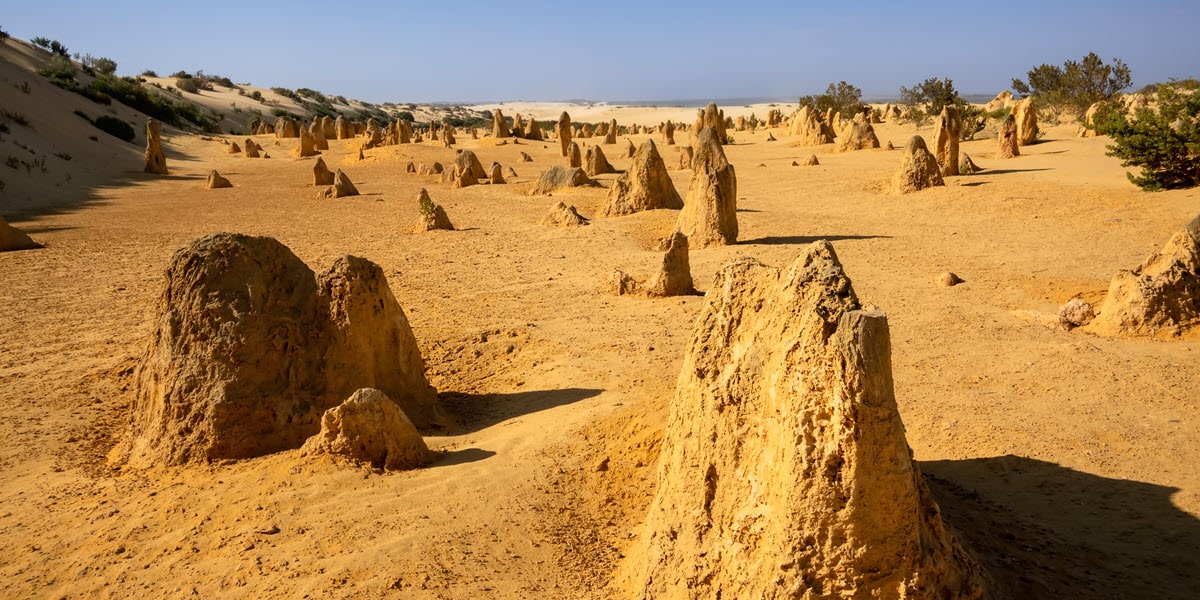 The unique Pinnacles Desert includes large limestone pillars throughout.
Travel to the coastal resort towns of Cervantes and neighbouring Jurien Bay to hit two birds with one stone on one of your WA weekend getaways from Perth.
Your Cervantes bucket list should include going to the Pinnacles Desert, which is part of the Nambung National Park. Here, you'll see thousands of strange yet awesome weathered limestone pillars, with some pinnacles reaching heights of up to 3.5 metres.
And who knows, you might even be fortunate enough to see some native West Australian wildlife, such as emu and kangaroos.
If you have time, travel to nearby Lake Thetis to see more strange formations called 'thrombolites'. From Lake Thetis, you can enjoy more of the seaside view by walking up to the different lookouts: Hansen Bay Lookout, Thirst Point Lookout and Lookout Point.
Or you can just head back to Cervantes and feast on some fresh catch (think lobsters!) or go for a dip at the beach. You could also drive straight to Jurien Bay after your sumptuous seafood feast.
In Jurien Bay, you can park your caravan and opt to stay for the night to have more time to enjoy the sights and the ocean views.
Here, you can start your morning with some sightseeing at Lesueur National Park. Rich in flora, Lesueur National Park features more than 900 plant species, coastal dunes, creeks and plenty of other natural sights.
If you have kids with you, a trip to the Jurien Bay Marine Park is guaranteed to elicit squeals of delight. This park is a wildlife habitat for various types of fish, Jurien Bay sea lions, seabirds and lobsters.
There are also several islands where you can go exploring, swimming, diving and fishing in Jurien Bay. You can also choose to stay put at Jurien Bay and enjoy all the water activities and Jurien Bay tours the area has on offer.
4. Visit Geraldton, Western Australia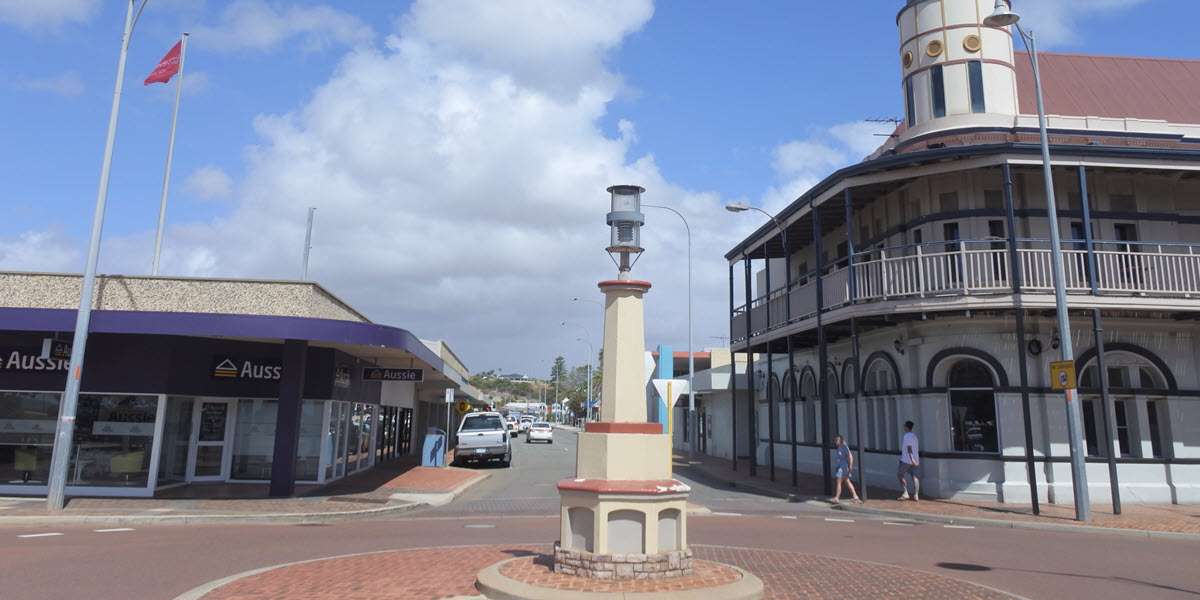 The small city centre in Geraldton is full of local small businesses, bars and restaurants.
A bit further out and away from Perth in country WA, Geraldton is one of the ideal destinations for weekend getaways for couples and families.
To best enjoy your Geraldton trip, make sure you've packed your caravan with everything you need for a beach-side escape, especially if you have kids in tow. Find a nice and secure caravan park and have a carefree time while experiencing Geraldton.
First, drop by the Esplanade and sit amongst the shaded grassy areas, have a picnic, people watch, read a book and relax. There's free Wi-Fi, too, if you happen to relax near the visitor's centre.
Take a stroll at the southern end in the pier and watch resident sea lions hanging out on the rocks at the port entrance.
Have time for some cultural and historical lessons?
Visit the Aboriginal Yamaji Art Centre where beautiful and colourful indigenous artwork is on display. You can even have a chat with the people here as they'll gladly share tidbits about the art and the centre itself.
Head to the Geraldton Museum where you're likely to spend a couple of hours.
Here you can take a break and learn about the region, the local wildlife and its rich maritime history. The museum features plenty of well-crafted interactive displays as well as a fascinating 3D film about the HMAS Sydney disaster. A dedicated shipwreck gallery houses the remains of some shipwrecks, including their stories, although most of the space is dedicated to the Batavia shipwreck.
You can then spend the rest of your stay at the West End and immerse yourself in Geraldton's street art, wine bars and cafes. Other places of interest you can include in your itinerary are Point Moore Lighthouse, Saint Francis Cathedral, Orana Cinema, Geraldton market and, of course, the beautiful beaches along the coast.
Plan your next weekend getaway in Perth
Plan your next nearby holiday location and accommodation with a stop at one of Summerstar's caravan parks in Western Australia for stress-free caravanning. From self-contained luxury holiday units, to clean and maintained camping site accommodation, Summerstar Tourist Park's 10+ West Australian parks and resorts are open year-round to ensure a comfortable stay.