A quick 2.5 hours drive north from Perth and you'll arrive in the beautiful coastal town of Jurien Bay. Well known for its unique pinnacles (large limestone pillars) and clean shimmering turquoise beaches, Jurien Bay is best enjoyed with some fish and chips, a deck chair and a spot down on the beach watching the sunset. Sometimes it's best just to take it easy and relax on holiday!
So, are you looking for things to do in Jurien Bay?
Summerstar has put together the ultimate Jurien Bay travel guide for visitors to the region. Better yet, you can book your Juiren Bay accommodation and experiences right here on the Summerstar website – it doesn't get much easier than that!
Find things to do in Jurien Bay below.
Things to do in Jurien Bay
Jurien Bay weather
Find the best season to book a trip to Jurien Bay.
| | | |
| --- | --- | --- |
| Summer | Dec, Jan, Feb | 16°C - 33°C |
| Autumn | Mar, Apr, May | 13°C - 31°C |
| Winter | Jun, Jul, Aug | 9°C - 21°C |
| Spring | Sep, Oct, Nov | 9°C - 27°C |
Jurien Bay activities map
Jurien Bay attractions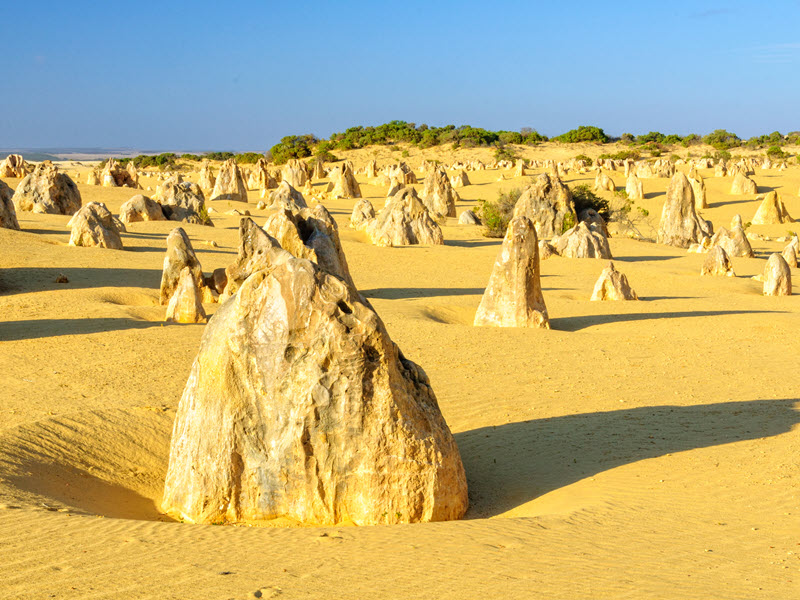 The unique pinnacle limestone structures are popular amongst tourists visiting Jurien Bay.
Make the most of your holiday in Jurien Bay by visiting the many unique local attractions. With a central location during your stay at Jurien Bay Tourist Park, most local sporting venues, national parks and shoreline attractions are in proximity.
1. The Pinnacles in Nambung National Park
When travellers plan to visit Jurien Bay, one must-see attraction on the itinerary is the Pinnacles in Nambung National Park. These huge limestone pillars rise from the sand to create a rugged and unique landscape that you'll remember for years to come. It's also a great hiking destination with the pinnacles desert stretching as far as the eye can see.
2. Lesueur National Park
Home to over 900 plant species, Lesueur National Park is full of coastal dunes, creek lines and lush WA wildflowers and greenery. With 122 species of native bird and 52 reptile species, your adventures through Lesueur National Park in Jurien Bay will allow you to sightsee wildlife in their native environment.
3. Jurien Bay Marine Park & offshore islands
The pristine Jurien Bay coastline is home to Jurien Bay Marine Park, home to large colonies of Australian Sea Lions, seabirds, lobsters and a large variety of fish. Offshore there are also several islands to explore by boat with fishing, swimming and diving allowed in most of the area.
4. Jurien Bay Bowls Club
Known as one of the friendliest bowling clubs around, Jurien Bowling Club welcomes new and returning visitors. Stop in and try your hand at lawn bowls and be sure to chat to the local's about must-see destinations in Jurien Bay.
5. Jurien Bay Country Golf Club
Want to try your hand at Golf? Jurien Bay Country Golf Club has an option to play either 9 or 18 holes for a very low cost. There's also a driving range available so you can practice before tackling the full golf course.
Jurien Bay water activities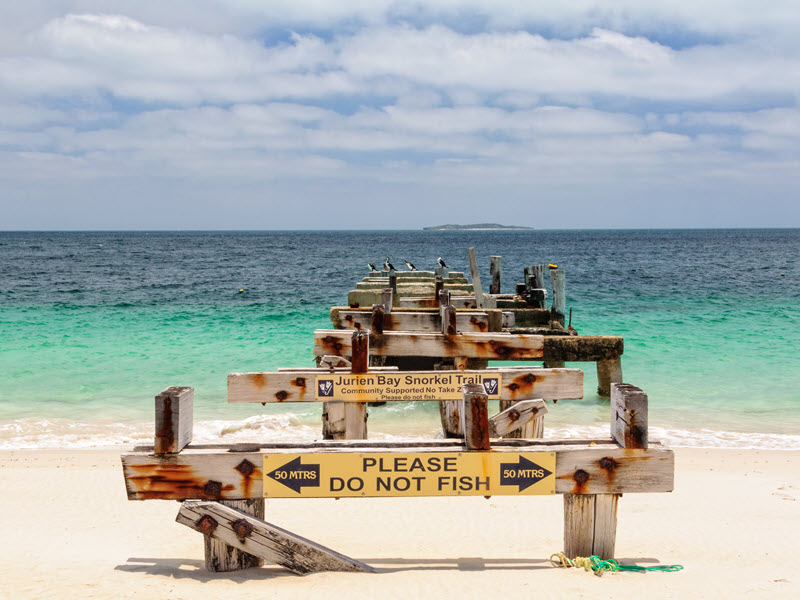 The clear cobalt blue water in Jurien Bay are perfect for fishing, swimming and surfing.
Being located on the Western Australian waterfront and part of the Coral Coast of WA, Jurien Bay is the perfect destination for water activities all year round. Whether you're planning to fish, swim, snorkel or dive, the pristine beaches and clear water make it a must-visit destination when looking for things to do in WA.
6. Jurien Bay fishing
Jurien Bay is a fisher's delight, including healthy quantities of local species including Yellowfin, Dhufish, King George Whiting and more. Enjoy some of the best beach fishing in the region, or dive below and catch a few local crayfish to cook up once you're back at Jurien Bay Tourist Park.
7. Swimming in Jurien Bay
Slip, slop and slap before heading down to the Jurien Bay shoreline for a swim. The calm beaches are relatively safe for amateur swimmers however they are not usually patrolled by a lifesaver. Be sure to swim in groups and take it in turns swimming in rough conditions. In certain areas of Jurien Bay, you can even go swimming with the local Jurien Bay sea lions.
Jurien Bay tours and experiences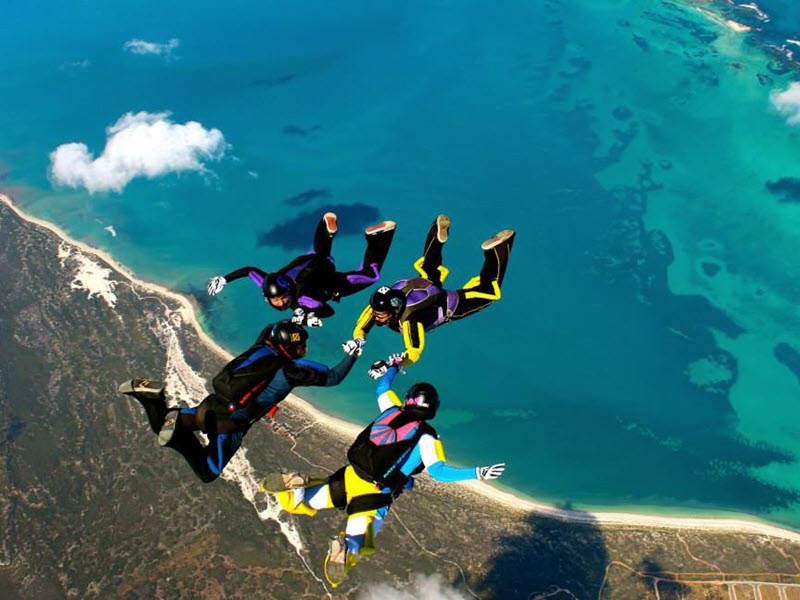 If you want a more exhilarating holiday then take to the sky's for skydiving over Jurien Bay.
Adventure up and down the coastline, or head inland and make the most of your time in Western Australia's Coral Coast. Want an even bigger rush? Take the plunge from above with a skydive experience.
8. Jurien Bay Adventure Tours
Experience Jurien Bay's must-see locations by booking a Jurien Bay Adventure Tour. Adventure to Mt Lesueur, see the pinnacles, go sandboarding down the slopes and more.
9. Skydive Jurien Bay
Are you a thrill-seeker? Take the plunge from above with Skydive Jurien Bay. Overlooking the amazing clear ocean and bright beaches of Jurien Bay, a skydive experience will give you a rush like no other.
Jurien Bay cafes, bars and restaurants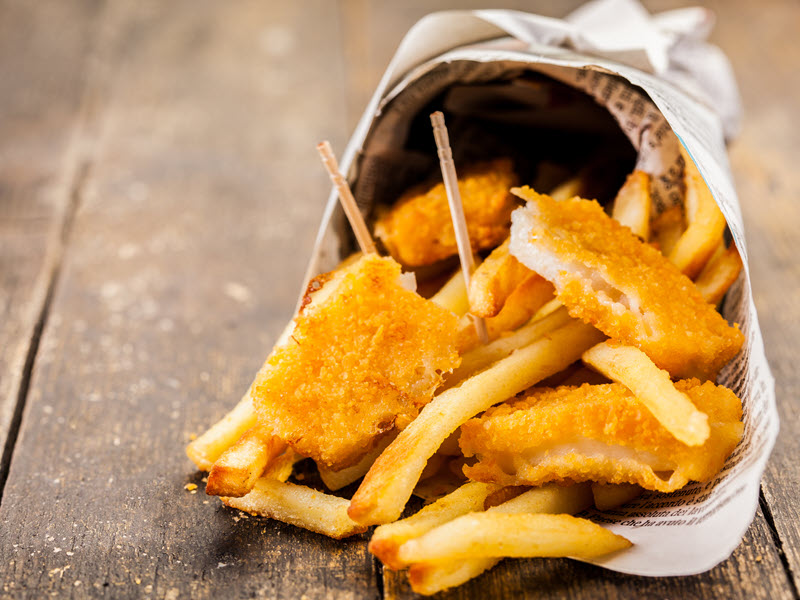 You'll feel like you're in paradise with fish and chips by the beach.
Home to a range of coffee shops, bars and delicious restaurants, Jurien Bay is the perfect stopover for breakfast, lunch and dinner. Get your fix with some delicious local fish and chips, or book a coffee catch up with new friends you're sure to make at Jurien Bay Tourist Park.
10. Sandpiper Tavern & Pizzeria
Sample some of the region's best pizza and food at Sandpiper Tavern & Pizzeria. Using delicious local ingredients, Sandpiper Tavern is sure to have you licking your lips after a delicious dinner with friends and family.
11. Family Affair Café
Stop in at Family Affair Café for breakfast or lunch, with delicious freshly made coffee and yummy treats. If you're visiting Jurien Bay in Summer, stop in for some delicious ice-cream to help you cool down.
12. Meraki Café
Meraki is a small family owned business a stone's throw from the Jurien Bay jetty and a short walk across the road from Jurien Bay Tourist Park. Serving up coffee roasted by Dimattina Coffee in Osborne Park, this is the perfect place to stop for your caffeine fix on your way out to adventure Jurien Bay.
13. Jurien Seafoods - Fish & Chips
Sample some of the best fish & Chips in town at Jurien Seafoods. Using fresh and local produce, grab some fish and chips before heading down to the beach to enjoy the sunset.