The Bibbulmun Track is one of the most popular long-distance walk trails in the world. Following the track gives you the opportunity to see most of Western Australia's breathtaking backcountry.
As one of the world's longest distance walk trails stretching 1,000 kilometres, starting from the northern terminus of Kalamunda in Perth all the way to Albany, the Bibbulmun Track's sheer length is not to be underestimated.
The Bibbulmun Track walk would technically take more than two months to finish at an average walking pace. However, you don't need to finish it in one go, with 49 campsites along the track.
If you want to get the most out of your Bibbulmun Track walk, use it as an opportunity to explore the South Coast of Western Australia.
If you have a Bibbulmun Track map on hand (also available online), you can refer to it and start planning your trip and choose a few stops you can make along the way. This way, you'll not only be able to walk the entirety of the trail bit by bit but also have a chance to rest, explore, and appreciate all that the South Coast region has to offer.
To help you out, here's a Bibbulmun Track itinerary that will take you to the best places in the South West, with 9 sections along the hiking track.
1. Kalamunda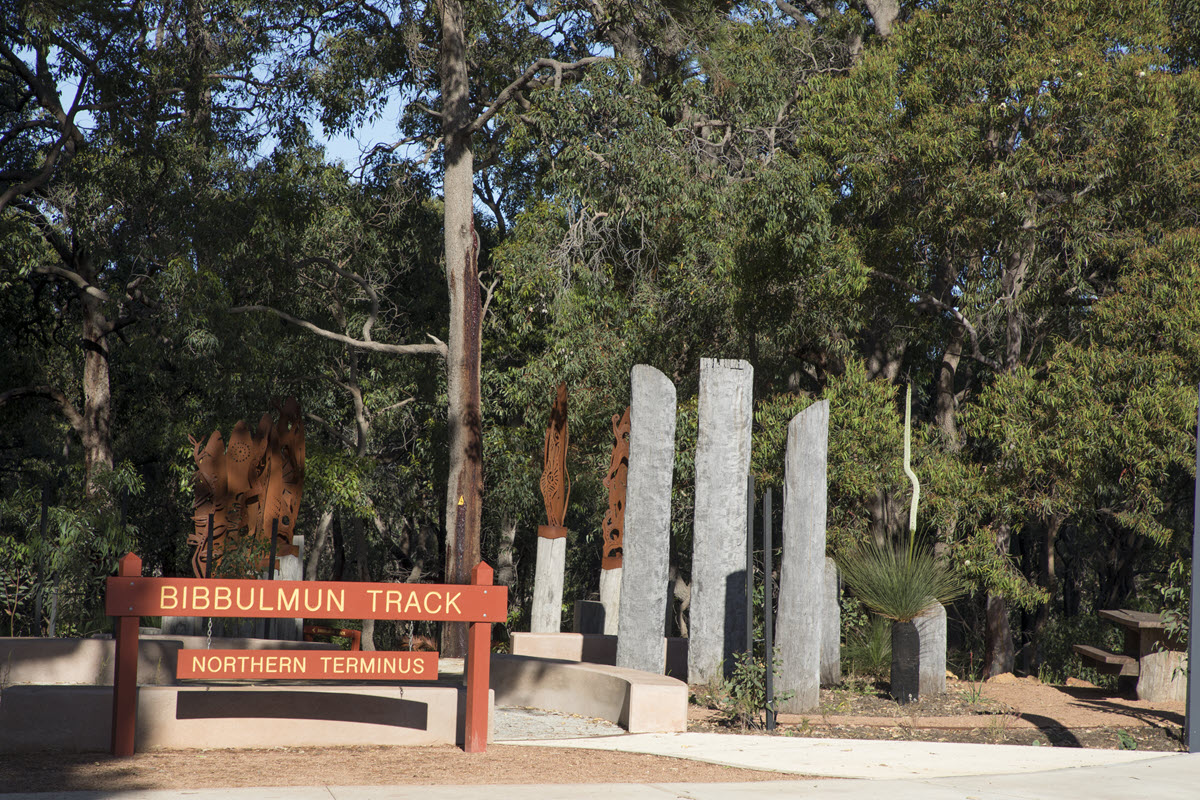 Bibbulmun Track Northern Terminus, Kalamunda. Image credit: Tourism Western Australia.
Before officially beginning your long journey on foot, visit the Perth Hills Visitor Centre. Here, you can get helpful information, Bibbulmun Track maps, and brochures on Kalamunda, including things to see and do.
You can do a little warm-up for the great long trail by following the Heritage Walk Trail, which immerses you in the history of Kalamunda. Then there's the Kalamunda History Village, which is actually the largest folk museum in Western Australia.
If you come early and plan to stay overnight, you'll have more time to appreciate the art, history, and cultural offerings of Kalamunda. Make sure you plan well for this part of your walk as there are 211 kilometres of track to cover between Kalamunda and your next stop.
One of the highlights on this track between the stops is Mount Cooke, with amazing 360-degree views over the hills and surrounding forest.
Arrange to have food drops between these two stops on the Bibbulmun Track if possible to ensure you don't run out of essential supplies.
2. Dwellingup
After your several-days-long walk from Kalamunda to Dwellingup, it's time to freshen up.
Dwellingup is famous for its fresh produce, so we recommend grabbing some fresh fruit you can take with you later when you go back to the trail.
Make a night of it here to enjoy the area's pub and cider scene. Sample a bottle of their fruity dessert wines or freshly pressed ciders. Or, you might want to pitch your tent on a camping site within the forest at Lane Poole Reserve. You can also go for a dip in the Murray River and have your fill of a 'normal' lunch or dinner before heading back to the Bibbulmun Track.
3. Collie
Drop by the Collie Visitor Centre to familiarise yourself with the area, grab some travel information about the area and choose which places you visit based on your timeline.
You can start with a proper meal after freshening up. Then you can lie down and relax on the grassy areas of Harris Dam or have a boat ride at Wellington Dam or Glen Mervyn Dam.
If more walking at the gorgeous Wellington National Park does not appeal to you, you can also rest up at a nearby pub, visit an art gallery or museum, or go shopping for small items at Collie's little shops.
You can have a picnic by one of the many lovely pools and lakes here, too, if you have time.
4. Balingup
With Balingup being the unofficial rest-stop for different Bibbulmun track tours, it's highly likely you'll be spending more than a day in this beautiful area.
Renowned for its robust agricultural economy, Balingup has splendid gardens (including the 60-hectare Golden Valley Tree Park), delightful arts and crafts products, and vintage shops.
If you've time for a country drive, explore the lovely Blackwood River Valley and sample some fresh produce on the Harvest Highway.
If you need a spot to relax between Balingup and your next stop in Pemberton on the Bibbulmun Track, we recommend a quick camping stop in the historic town of Donnelly River.
5. Pemberton
Gloucester National Park, near Pemberton. Image credit: Tourism Western Australia.
People usually associate Pemberton with its majestic karri forest. However, there's more to Pemberton than meets the eye — which you'll find out soon enough if you go to the Pemberton Visitor Centre and Pemberton Pioneer Museum.
Here, you might just decide to spend a day or two to rest a bit and do some proper exploring.
Since you'll be tired from all the walking and hiking, you might prefer canoeing or going on a leisurely drive to see all the fresh produce this region has to offer. You can also go for a swim at Big Brook Dam or Pemberton Pool. Or you can book a massage to soothe your tired muscles.
6. Northcliffe
Northcliffe is well-known for its warmth and hospitality, which is why it is a must-stop for Bibbulmun Track walkers.
Here, you can buy small amounts of food you can carry along your hike, such as 100-gram packets of nuts, dried fruit, cereals, and more.
If you camp the night, some accommodation providers even offer walkers complimentary breakfast eggs and Visitor Centre pickup.
In case you have time to spare to experience Pemberton, must-visit places include the Red Tree Gallery, Southern Forest Sculpture Park, Point D'Entrecasteaux, Lane Poole Falls, and Boorara Tree.
7. Walpole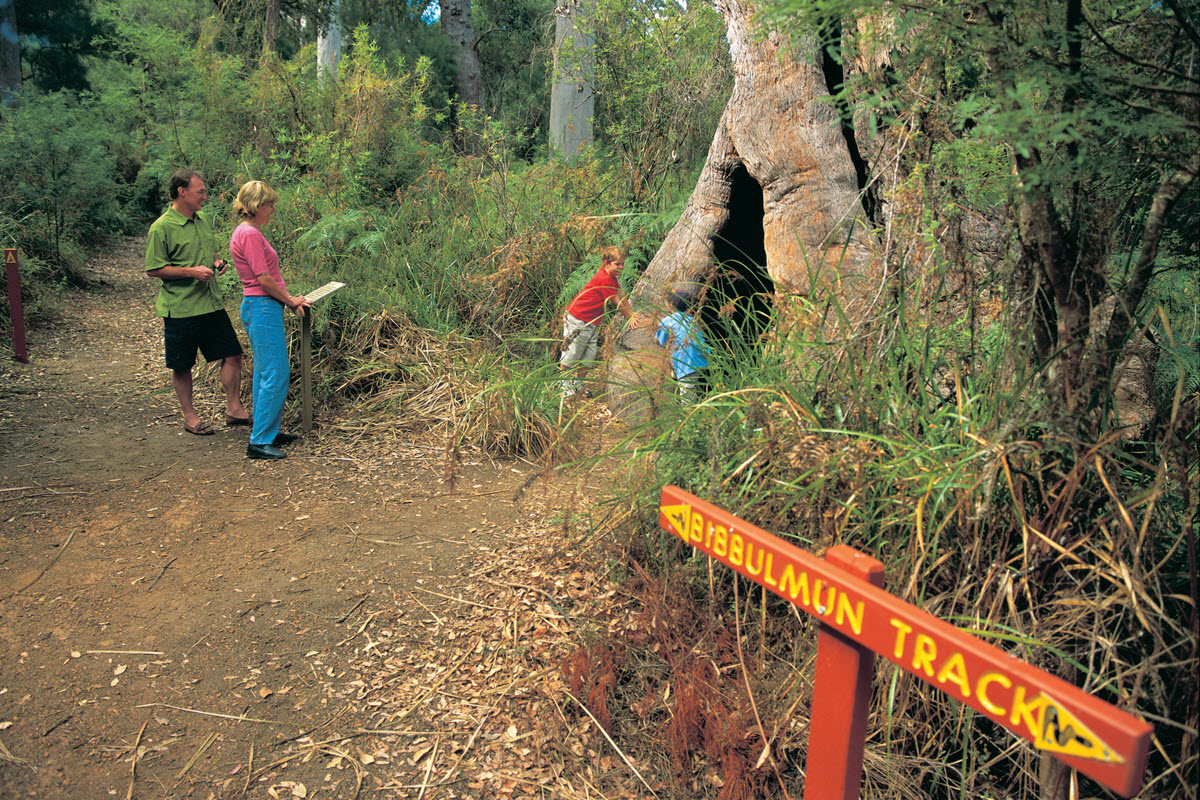 Bibbulmun Track in Walpole-Nornalup National Park. Image credit: Tourism Western Australia.
During your stop at the Bibbulmun Track in Walpole, book accommodation in Walpole as there's a lot to experience here. Walpole Rest Point Caravan Park has a range of accommodation options available, including holiday units, cabins and campsites.
Go on a Hilltop Road Giant Tingle Tree scenic drive and enjoy great views out across the Nornalup Inlet, and take a walk to the Giant Tingle Tree. You can continue your walk from the famous tree towards Circular Pool, where you'll be greeted with roaring flowing water.
If you don't mind hiking to a different scene, go for a walk from Conspicuous Cliff to Peaceful Bay. Or if you want an easy walking track near the town, you have the option to head to the Knolls.
You can also take a hiking day trip to Mount Frankland's granite peak and visit the tranquil Fernhook Falls. And, not to be forgotten are Walpole's beautiful beaches, art galleries, market, and lively culinary scene.
Whether you're planning to stay for a few days or the whole week, there's plenty of amazing things to do in Walpole.
8. Denmark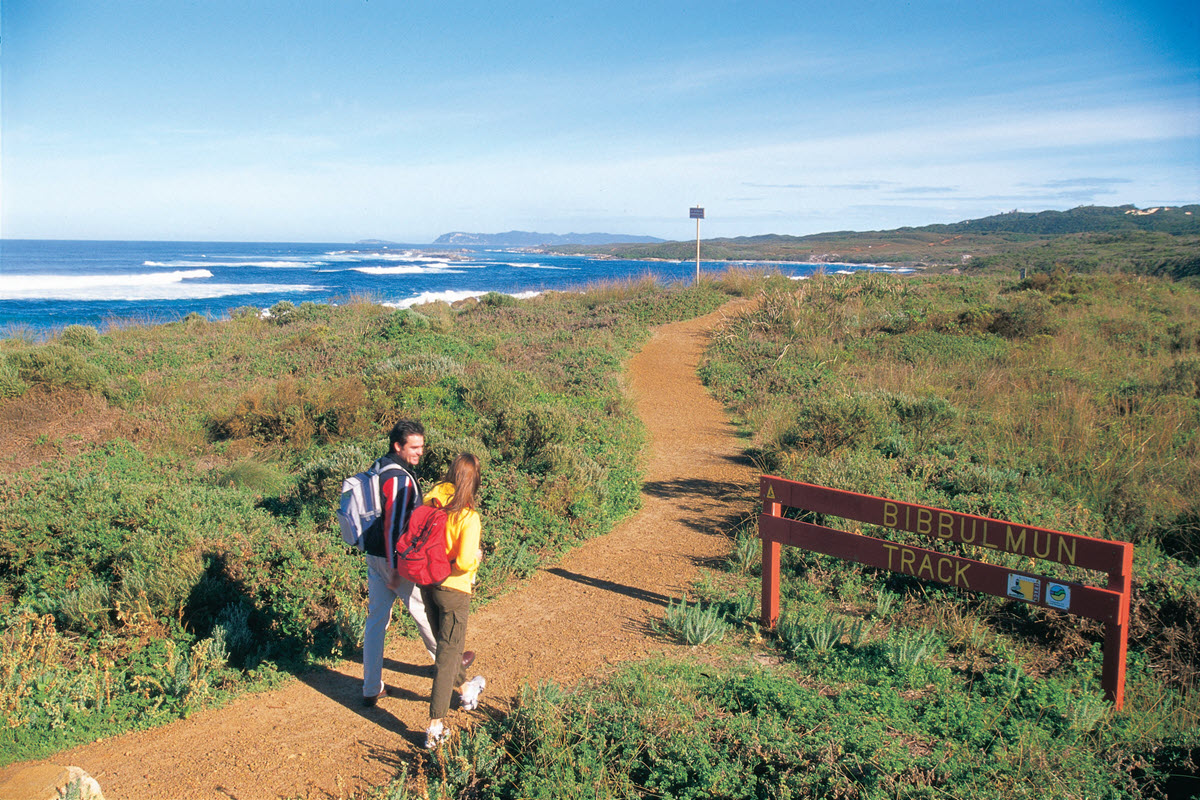 Bibbulmun Track near Denmark. Image credit: Tourism Western Australia.
A haven for people who seek a laid-back Western Australian country life in the southern corridor, Denmark is also known for giving off a hippie vibe. Here, you can enjoy the scenery at Greens Pool in William Bay National Park and perhaps even go for a quick dip after a day of hiking.
While at the Park, you can head toward Elephant Cove and spend some time enjoying the stunning views of the ocean before camping or staying in a more comfortable accommodation option near the town centre.
9. Albany
Albany on the South Coast of Western Australia is known for its maritime history, a city that promises a rich culinary scene, lots of fabulous natural scenery, and beautiful beaches.
While at this section of the track, you can shop for fresh produce, organic meats, and artisanal products. Sample their fresh oysters and mussels at Emu Point, swim or laze around the beach at Middleton Beach and Ellen Cove, or hike toward the Albany Wind Farm.
Other sights to see at this section on the Bibbulmun Track includes the Two Peoples Bay Nature Reserve, Torndirrup National Park, and the HMAS Perth II Dive Wreck.
About the Bibbulmun Track Foundation
Now that you know your options on your upcoming Bibbulmun Track walk, perhaps it's time you read up on the history of the Bibbulmun Track. It will not only help you gain a deeper understanding of its significance but also develop an appreciation for Australian bush life.
You can also learn more about the Bibbulmun Track Foundation. The Bibbulmun Track Foundation is a not-for-profit organisation that manages, supports and markets the Bibbulmun Track. To get involved with the Bibbulmun Track Foundation or to learn more, click here. The website also offers a wealth of information on navigation and the various sections of the walking track, making the planning of your adventure stress-free.
Ready to tackle the great long distance walk trails?
If you're planning to tackle the massive Bibbulmun Track, be sure to prepare for this great long distance walk track as it's length should not be underestimated. Travel in a group and keep friends and family updated on your location and sections you plan to visit as you make the long journey walking down the South-West corridor.
You'll likely spot a lot of native Australian wildlife while hiking along the Bibbulmun Track, but be sure not to approach or intrude. Enjoy viewing the native animals from a distance.