If you want a bird's-eye view of some of Australia's most incredible natural landmarks, visit the Tree Top Walk in Walpole, just a short drive from Walpole Rest Point Caravan Park. This is your chance to see Australia as you've never seen her before, right in the heart of the Valley of the Giants.
While you're there, check out some other things to do in Walpole. You could even take a local tour or eco-discovery adventure through the vast waterways. Book a weekend away with family, friends or even solo before relaxing overnight staying warm and comfortable in your Walpole accommodation holiday unit or camping site.
Grab some friends, pack your car and head off on a road trip from Perth to Walpole.
The Valley of the Giants Tree Top Walk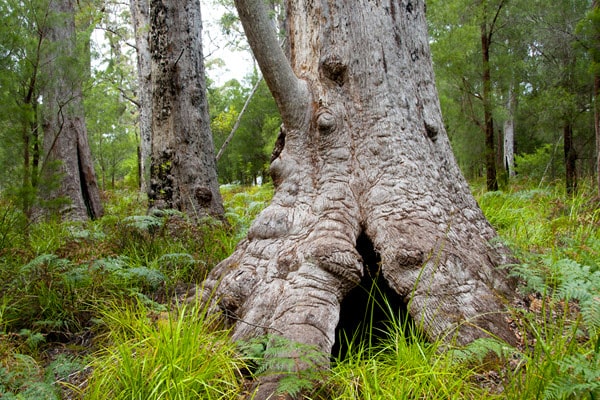 Situated in Australia's magnificent South West, the Valley of the Giants Tree Top Walk takes you through a labyrinth of stunning tingle trees. It's the first walk of its kind, and there's no better place to appreciate the sprawling, staggering beauty of the Rainbow Coast.
The Tree Top Walk takes you around 40 metres off the ground where you'll stand within touching distance of these ancient natural giants, some of the Valley's tingle trees have stood for over 400 years! It's a gentle, shaded walk, and you'll immediately notice how fresh and clean the air is in the Valley canopy. It's a safe walk for kids, too, making it the perfect outdoor adventure for the whole family.
Walpole Giant Tingle Tree
The real star of the Tree Top Walk in Walpole is the Giant Tingle Tree. The oldest living eucalypt on Earth, it's situated around 800 metres from the nearest car park and is surrounded by plenty of benches where you can sit and appreciate its full beauty. It's clearly signposted, so don't worry, you won't miss it!
Ancient Empire Walk
The fun doesn't stop when you reach the forest floor. Meander along the Ancient Empires Walk and you'll have the chance to walk right through the trunk of one of our oldest tingles!
Valley of the Giants travel information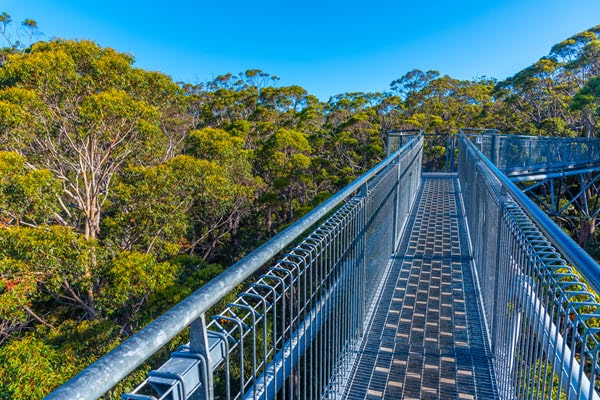 You'll find the Valley of the Giants Tree Top Walk in Tingledale, WA. It's around a 4.5 hours' drive from Perth and is open every day except Christmas Day. Give yourself at least a few hours to fully enjoy the experience and explore the beautiful natural surrounds.
You can visit between:
9am and 7pm from 26 December to 26 January (last ticket sale is at 6:15pm)
9am and 5pm the rest of the year (last ticket sale is at 4:15pm)
Admission is free for the Discovery Centre and the Ancient Empire Walk.
Tree top walk admission:
Free for kids age 5 years and under
$10.50 for kids age 6 to 15 years
$21.00 for ages 16 and up
$15.50 for concession cardholders
$52.50 for a family ticket (2 adults, 2 children)
Explore around the Walpole Tree Top Walk in Western Australia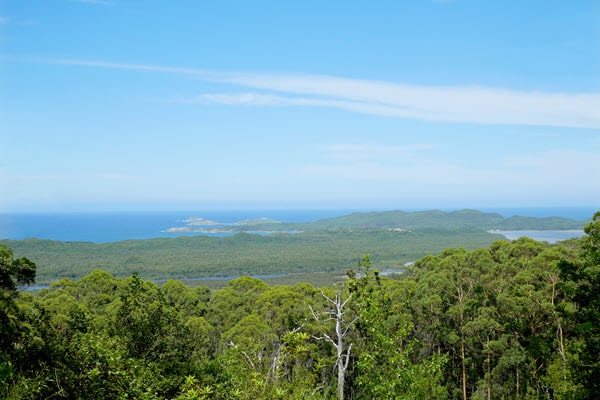 Take a moment to savor Australia's natural beauty and visit the Valley of the Giants Tree Top Walk on your next trip to Walpole. And once you've wandered through the forest canopy, here are some of our favourite nearby Walpole attractions, these are absolute must-sees!
Walpole's Circular Pool
The nearby circular pool is the perfect spot to relax and spend quality time with your family or loved ones beneath the majesty of the surrounding Australian wilderness.
Vineyards and breweries
Walpole boasts some of Australia's tastiest wine, and now's your chance to experience it yourself. Savour the beauty of Walpole at the Frankland Estate or Moombaki Wines.
Book your stay in Walpole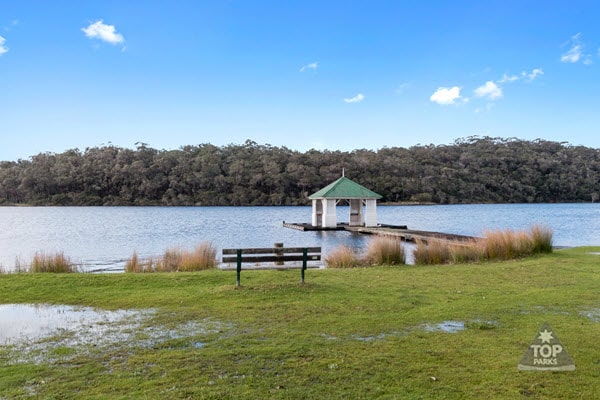 If you're looking for the best views of Walpole, look no further than Walpole Rest Point Caravan Park. Surrounded by the Walpole-Nornalup National Park, the caravan park is within easy distance of the Tree Top Walk and lush greenery home to many native Australian animals, so you're surrounded by some of Australia's most impressive natural scenery.
Are you the adventurous type? Then check out one of the local 4WD and hiking trails for a whole new driving experience.
From caravan sites to holiday units, there's Walpole accommodation available for every budget and holiday experience. Our friendly team can help you book excursions to the Tree Top Walk, vineyards, and other local landmarks.