Geraldton is rich in West Australian culture and history and has slowly become more and more popular as a must-visit tourist destination north of Perth. The welcoming town is located right on the beachfront and has a range of water and inland activities available for visitors year-round. It also makes for a great weekend holiday destination, only a short road trip from Perth to Geraldton.
So, are you looking for things to do in Geraldton?
Summerstar has put together the ultimate Geraldton travel guide for visitors to the region. Better yet, you can book your Geraldton accommodation and experiences right here on the Summerstar website – it doesn't get much easier than that!
Find things to do in Geraldton below.
Things to do in Geraldton
Geraldton weather
Find the best season to book a trip to Geraldton.
| | | |
| --- | --- | --- |
| Summer | Dec, Jan, Feb | 16°C - 33°C |
| Autumn | Mar, Apr, May | 13°C - 31°C |
| Winter | Jun, Jul, Aug | 9°C - 21°C |
| Spring | Sep, Oct, Nov | 9°C - 27°C |
Geraldton activities map
Geraldton's must-see destinations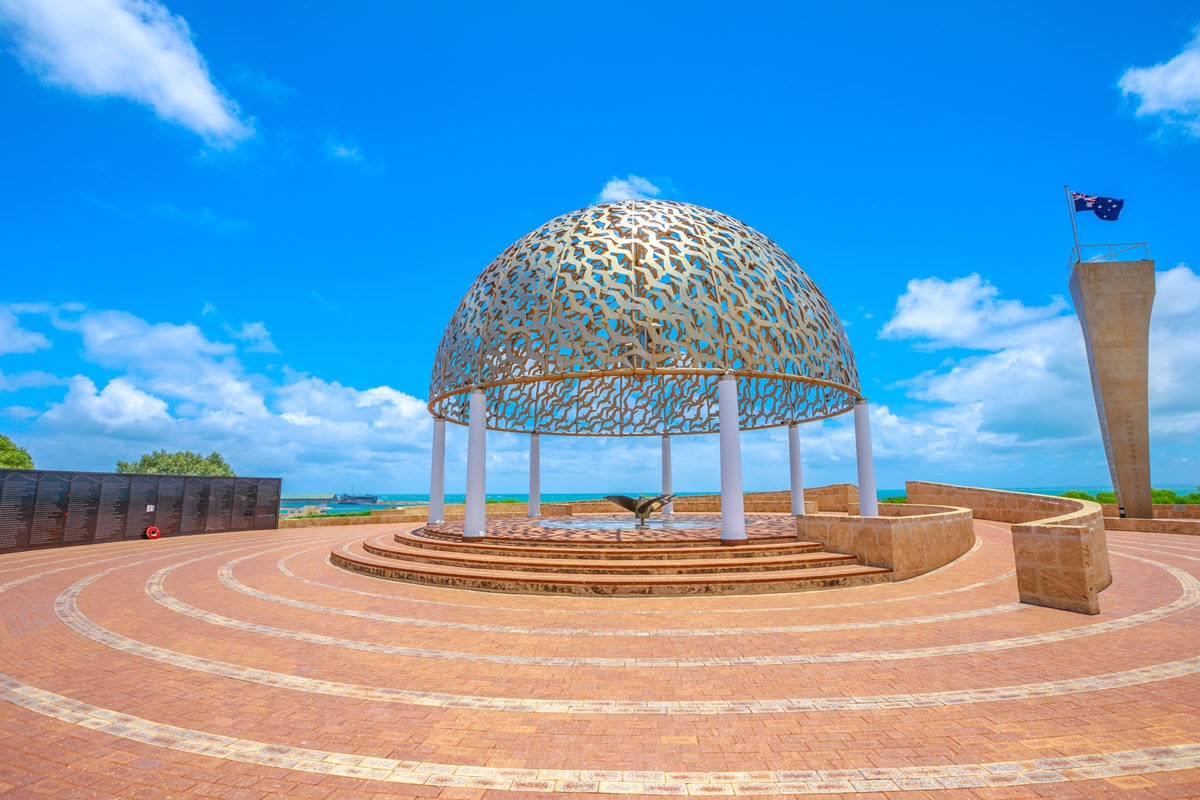 HMAS Sydney II Memorial in Geraldton on a clear sunny day.
The City of Greater Geraldton has a population over 41,000 and includes Greenough, Walkaway and Mullewa. From the coastline to inland there is a huge variety of things to see and do.
1. HMAS Sydney II Memorial Geraldton
The magnificent HMAS Sydney II memorial, completed in 2001, has become the country's premier site for honouring the 645 Australian sailors who were lost off the Western Australian coast during a World War II battle with German raider HSK Kormoran. The location of both wrecks remained a mystery for over 66 years until they were located in March 2008.
2. Abrolhos Islands
122 islands make up the pristine Houtman Abrolhos Islands. An archipelago with crystal blue waters and an abundance of sea life make a visit to the islands a must for all visitors to Geraldton.
3. Geraldton's Point Moore Lighthouse
A quick minute walk from the caravan park, the red and white candy stripes of Point Moore Lighthouse is a spectacular sight that stands out proudly amidst the Geraldton landscape. Standing 34 metres high it was the first all-steel tower built on the mainland of Australia, back in 1878. With its bold colours, the lighthouse has become an icon of the port town of Geraldton.
4. St Francis Xavier Cathedral Geraldton
The St Francis Xavier Cathedral was designed by Monsignor Hawes (Priest and Architect), who arrived in Geraldton as a parish priest in 1915 – the building is generally regarded as one of his finest works. The foundation stone was laid in 1916 and the building completed in 1938.
5. Western Australian Museum - Geraldton
Overlooking the Indian Ocean, the Museum of Geraldton celebrates the rich heritage of the land, sea and people of the Mid West region. Discover ancient landforms, Yamaji history and culture, and the region's unique natural landscapes and marine environment.
6. Geraldton art galleries & public art
Located in the heart of Geraldton and is housed in the former 1907 Town Hall, the Geraldton Regional Art Gallery opened as the first regional 'A' class venue on 6th August 1984 and in 1997 the building was listed on the State Register of Heritage Places in Western Australia.
7. Geraldton foreshore
Experience Geraldton's fantastic new play area with a giant playground and water park. The playground and water park sit in a grassed picnic area overlooking the beach and the port. The playground has three separate areas, catering to children of every age!
8. The Esplanade Geraldton
The new Esplanade located at the southern end of the Foreshore is a popular destination for tourists and Geraldton residents. The Esplanade offers views of the City, Port, Champion Bay and Moresby Ranges from a 360-degree viewing platform at its far end. The area also boasts barbecue facilities and landscaped walkways.
9. Geraldton Heritage Trails
The Geraldton Heritage Trails will give you an insight into the changes to the region over time, and all loop back to their starting point. The Geraldton Heritage Trails brochure is available at the Visitor Centre.
10. Victoria District Hospital, Old Gaol & Craft Centre
Built in 1858, Victoria District Hospital was operational until 1986 it is only exceeded by Fremantle as the longest-serving prison. It is now maintained by the Geraldton Crafts Association and houses an excellent gemstone display.
Geraldton tours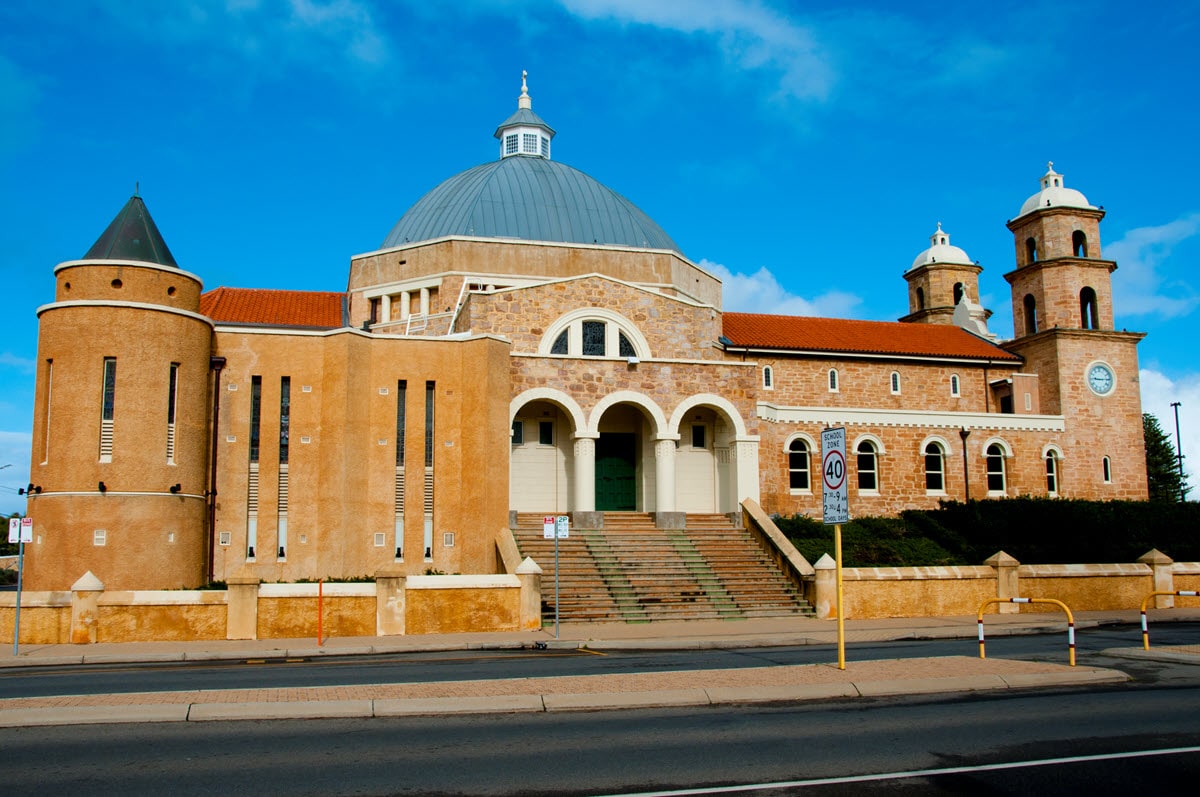 Take a tour of the St Francis Xavier Cathedral in Geraldton, Australia.
One of the best ways to explore Geraldton and the Mid-West is to go on a tour. Talk to our friendly staff at Geraldton Belair Gardens Caravan Park or the helpful staff at the Geraldton Visitor Centre and they will find the tour that is right for you.
11. HMAS Sydney II Memorial
The Geraldton Voluntary Tour Guides Association offers a daily tour of the memorial at 10:30 am, taking in the five elements steeped in symbolism. No booking is necessary for the tour, but should you require a group booking please contact the Geraldton Visitor Centre.
12. Victoria District Hospital, Old Gaol & Craft Centre
The Geraldton Voluntary Tour Guides run 40 minutes guided tours of the Bill Sewell complex (including the Old Gaol & Craft Centre) on Tuesday and Thursday at 2 pm, donations are welcome.
13. Western Australian Museum – Geraldton
Join one of the Museum's Visitor Services Officers as they take you through the highlights of the Shipwrecks Gallery and the incredible story of the Batavia. Daily at 11:30 am. The Geraldton WA Museum is suitable for all ages.
14. Tin Heads Geraldton
This very special collection of over 7000 decorative tins has been put together by dedicated collectors Margaret and Robert – affectionately called the Tin Heads of Waggrakine. The collection is open to the public every second Sunday of the month or by appointment and group bookings are welcome.
15. St Francis Xavier Cathedral
Guided walks through the St Francis Xavier Cathedral are available Mondays and Fridays at 10 am and Wednesdays at 4 pm. A $5 donation applies.
16. Geraldton live lobster factory
Geraldton Fishermen's Co-operative opens the doors to their impressive Brolos Brand 90 tonne capacity live lobster processing plant located on Fishermen's Wharf. Tour guides give tourists and locals alike a behind-the-scenes insight into this multi-million-dollar regional industry.
17. Sunset Cruises Geraldton
Running Fridays, Saturdays and Sundays fantastic Harbour Cruise out of Geraldton offers great food with the best sunset in the West on the 35 metre Eco Abrolhos.
18. Bureau of Meteorology - Geraldton
Ever wondered how meteorological experts predict the weather? Interested in seeing how the weather is recorded and measured then why not take of tour of the Geraldton Meteorological Office? Contact the visitors centre or caravan park staff for more details.
19. Tour the Abrolhos Islands
Fly over the historic Archipelago with your experienced pilot/tour guide showing you the history & attraction of all 3 island groups off the Geraldton coast.
Geraldton trails and wildflowers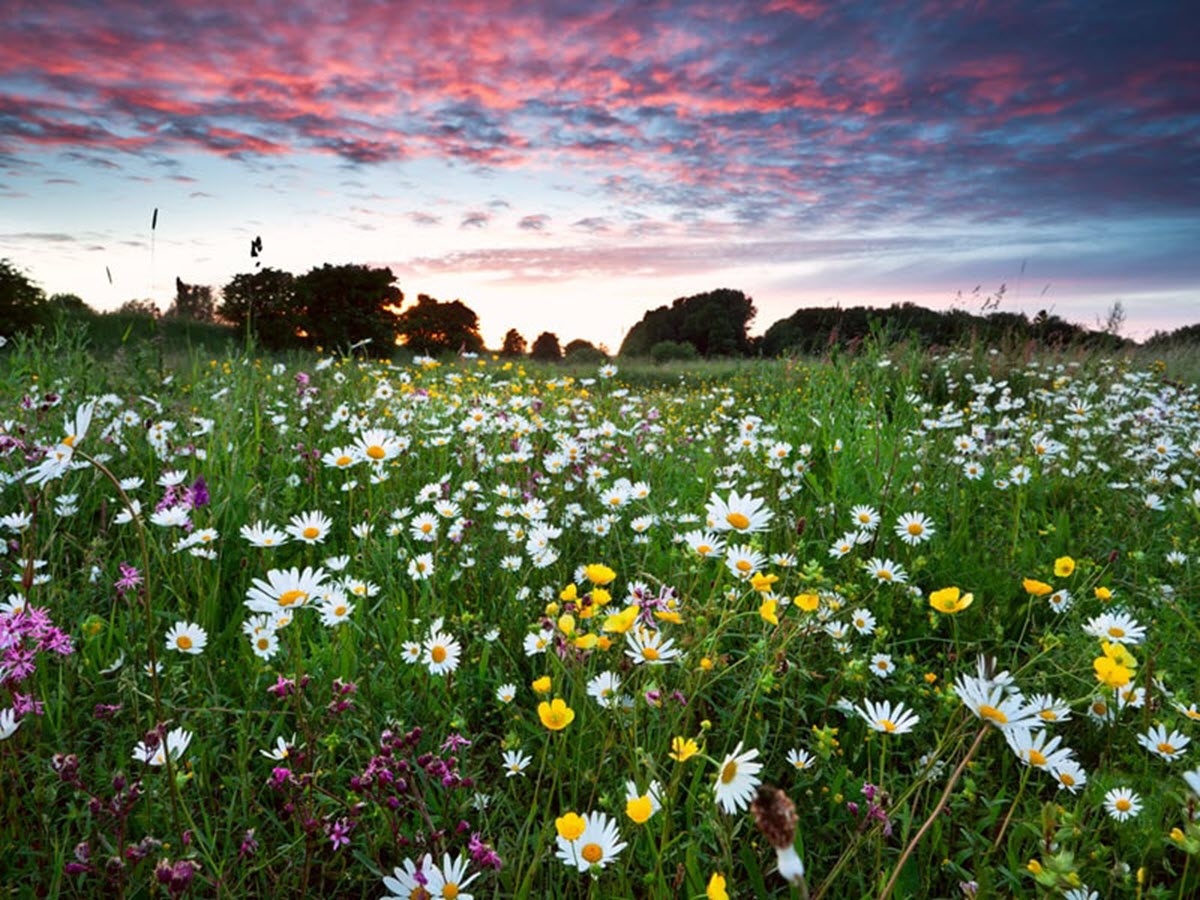 Windflowers in full bloom during the wildflower season in Western Australia.
There are more than 12,000 species of wildflowers in WA, making it the world's largest collection of wildflowers, 60% of Western Australian wildflowers are found nowhere else on Earth. With plenty of trails to explore in walking distance to Summerstar.
20. Geraldton Heritage Trails
The Geraldton Heritage Trails will give you an insight into the changes to the region over time, and all loop back to their starting point. The Geraldton Heritage Trails brochure is available at the Visitor Centre.
21. Chapman River Regional Park
In the heart of the City of Greater Geraldton, lies a place of significant value. Along the length of the Chapman River, detailed beauty of native flowering plants and birds is framed by sweeping vistas from the Moresby Range out across the Indian Ocean.
22. Greenough River nature walk trail
This scenic river meanders 250km through the countryside to meet the ocean at Cape Burney. Cape Burney is located 10km south of Geraldton, on the ocean and that is where the Greenough River meets the Indian Ocean. The river is a haven for an amazing range of birds, from the elegant egrets and herons to the majestic osprey and ubiquitous pelican.
23. Yamaji Drive Trail
The Yamaji Drive Trail map of Geraldton in Western Australia includes 14 indigenous sites that can be visited, all with interpretative signage. Sites include the Warglu Trail, Bootenal Spring, Ellendale Pool, Butterabby Graves, Woolya Reserve and Mass Rock.
24. Mullewa drives & walk trails
Mullewa is a small wheat-belt town, about an hour's drive out of Geraldton. It has several nature and cultural walk trails. One of the best for views and wildflowers is the 2.4km loop, the Mullewa Bushland Trail. It starts and finishes at the Mullewa Scenic Lookout.
25. Geraldton Visitor Centre Wildflower display
At certain times of the year, the Mid West is swathed with colour and beauty as the wildflowers start to bloom. The Mid West attracts large amounts of visitors for its unique flora and as part of the wildflower season, the City of Greater Geraldton has jumped on board to bring the flowers to you.
26. Mill Point Lookout
Seven kilometres east of the North West Coastal Highway is the Mill Point Lookout that offers spectacular views across the Chapman Valley to the east and Geraldton to the west. An abundance of wildflower species can be seen during the season including Damperia, Grevillea pinaster, Hibbertia and Melalueca. See the Visitors Centre for further details.
27. Coalseam Conservation Park
Located 100 kilometres south of Mullewa, Coalseam Conservation Park is renowned for its carpets of pink, white and yellow everlastings. Whole fields become blanketed in colour when these flowers are in bloom.
Geraldton water activities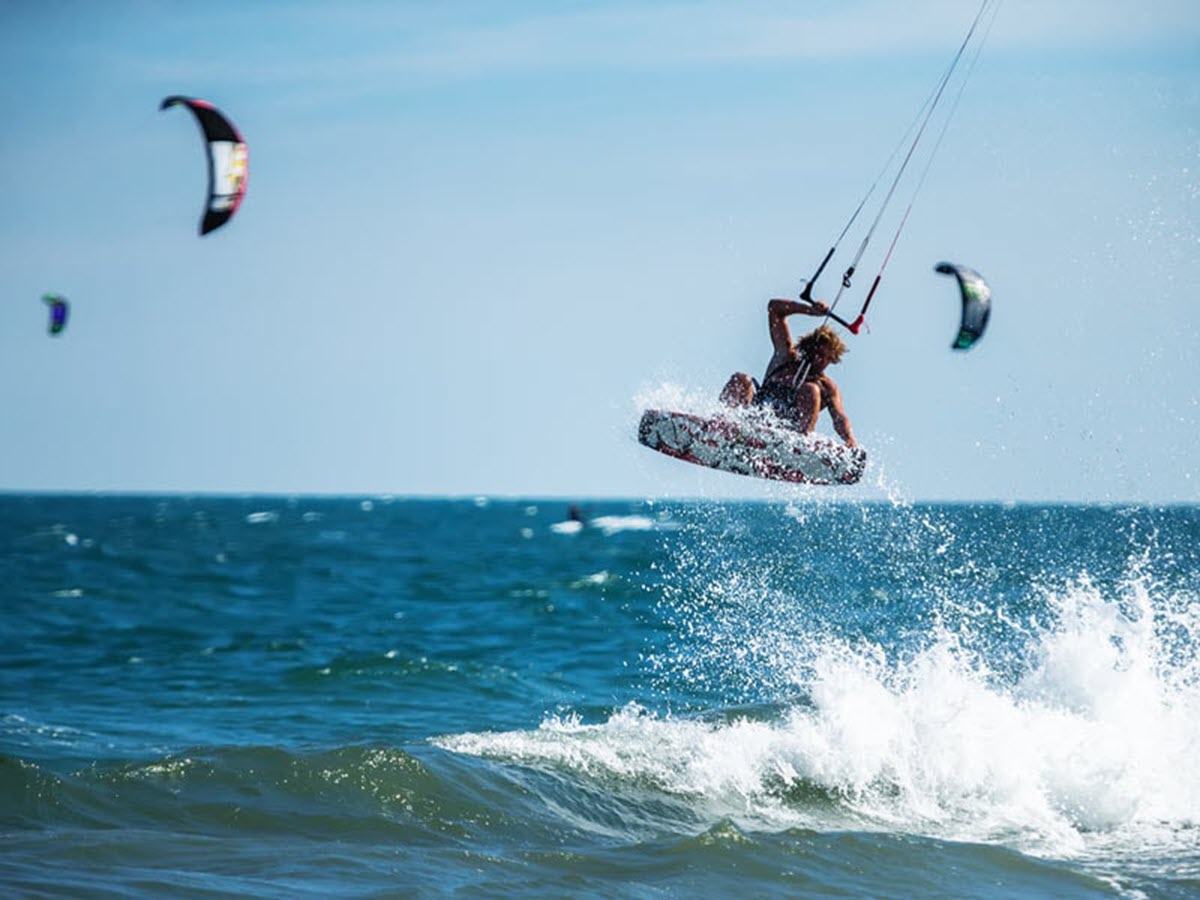 Hit the beach for some kite surfing, fishing or swimming whilst in Geraldton, Western Australia.
Geraldton Belair Gardens Caravan Park is located in the beautiful West End surrounded by protected beaches. Our closest beach, Pages Beach, is protected from the southerly winds and is a popular swimming and fishing location.
28. Surfing in Geraldton
The best surfing is between April to October when there is little wind and ideal swell conditions, while the warmer months between November to March provide the best wind conditions for the windsurfing and kiteboarding enthusiast.
29. Geraldton fishing options
Land-based fishing provides the ideal way to unwind and enjoy an amazing sunset. A very popular pastime with locals and tourists alike, there is a large variety of species which can be caught right off the shore. Boasting a wide variety of fishing locations, Geraldton offers both ocean and river fishing opportunities.
The Greenough Rivermouth is particularly popular for a variety of species, including; bream, mulloway, flathead, tailor and herring. To enjoy ocean land-based fishing, get down to Point Moore and Separation Point, both ideal locations to catch whiting and herring, whilst the Batavia Coast Marina and the Fishermen's Wharf are popular spots for bream.
30. Batavia Sea Safaris & Cruises
Batavia Sea Safaris is a family-owned and operated fishing business that prides itself on offering a unique, personalized and affordable service. With decades of experience in the fishing and tourism industries, the crew of Batavia Sea Safaris know how to work with the conditions to offer a pleasant and rewarding charter.
Let the crew take you to prime locations and taste the bounties that the Indian Ocean has to offer. Why not take a 3-hour cray fishing tour which includes sightseeing, snacks and refreshments?
31. Ultimate Water Sports - Geraldton
Ultimate Watersports cater to the abilities of everyone and offer lessons in a safe environment to get the best out of your experience! A large selection of water sports is included along with top-of-the-line equipment and professional instruction. Only Ultimate Water Sports includes such a range of motorized and non-motorized water sports in Western Australia.
Activities include Wakeboarding, Flyboard X, Jet Pack, Kneeboarding, Skurfing, Jet Skiing, Tubing, Waterskiing, Wakefoiling, Stand Up Paddle Boarding, Kayaking and Wakesurfing.
Geraldton art galleries, culture and entertainment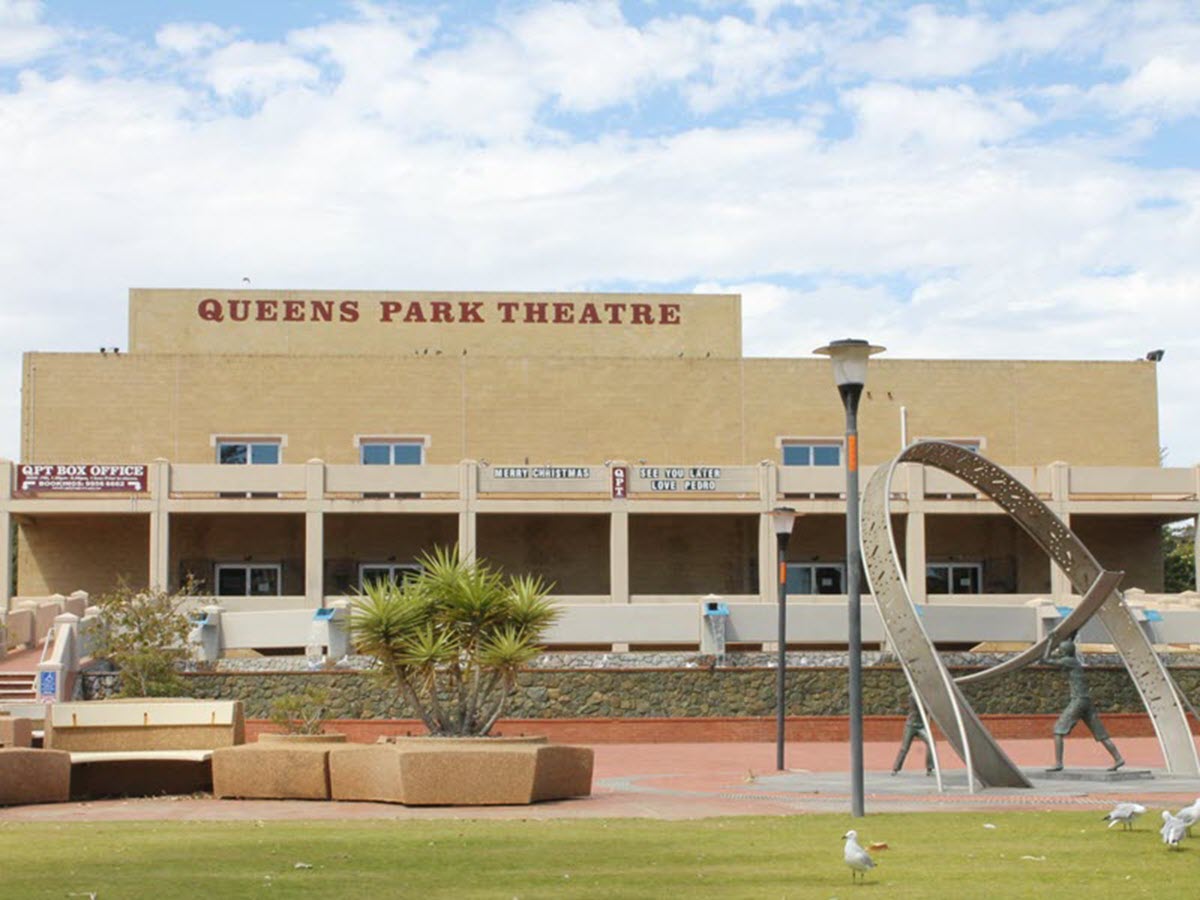 The Queens Park Theatre in Geraldton has national and international shows on year-round.
Geraldton has a thriving arts and culture scene that includes several galleries, the Queens Park Theatre and a vast collection of public art just around the corner from Summerstar Belair Gardens Caravan Park. If you're looking for a cultural adventure, add Geraldton to your list of things to do in Western Australia.
32. Geraldton Regional Art Gallery
Located in the heart of town in the old Town Hall, the Geraldton Regional Art Gallery opened its doors in August 1984. The Gallery, which is jointly funded and operated by the City and the Art Gallery of Western Australia, houses and cares for the City of Greater Geraldton Art Collection that comprises over 475 artworks, principally paintings and works on paper.
33. Yamaji Art Centre
Yamaji Art is an emerging Aboriginal art centre in Western Australia providing professional services for artists with a focus on sustaining cultural maintenance and art practice in a variety of mediums including painting, textiles, weaving, printmaking, design and performance.
34. Latitude Gallery
Latitude Gallery exhibits a remarkable array of talent from local, regional and international artists. Inspirational painters, sculptors, jewellers, textile and printing artists are involved with the Gallery which has become a real creative hub for the Mid-West region.
35. Queens Park Theatre
The Queens Park Theatre in Geraldton and the Mid Wests' premier entertainment venue, showcasing over 100 local, national and international performances.
Book your stay in Geraldton
Ready to head off on your adventure up north of Perth? Geraldton is full of history, culture and stunning beaches. Book your stay with Geraldton Belair Gardens Caravan Park today!