Published: Monday, 14 December 2020
Now that the holiday season is upon us, most everyone is gearing up for their family road trip or yearly holiday at their favourite caravan park. Now is the perfect to share some tips on parking and reversing a caravan safely.
Reversing a caravan is certainly one of the most challenging and tricky moves, especially for new caravan owners. While having a good sense of direction is always helpful, manoeuvring a large, heavy and ungainly vehicle could be difficult, especially when the left is right and right is left (more on this later).
While you're here, read up on caravan weights explained »
But if you want to enjoy all your caravan camping trips and intend to use your caravan for all your future out-of-town family holidays, you need to master these critical skills. By understanding, practising and mastering the proper way of reversing your caravan, you'll be ready to expertly tow your caravan anywhere in Australia.
Determine starting position before reversing your caravan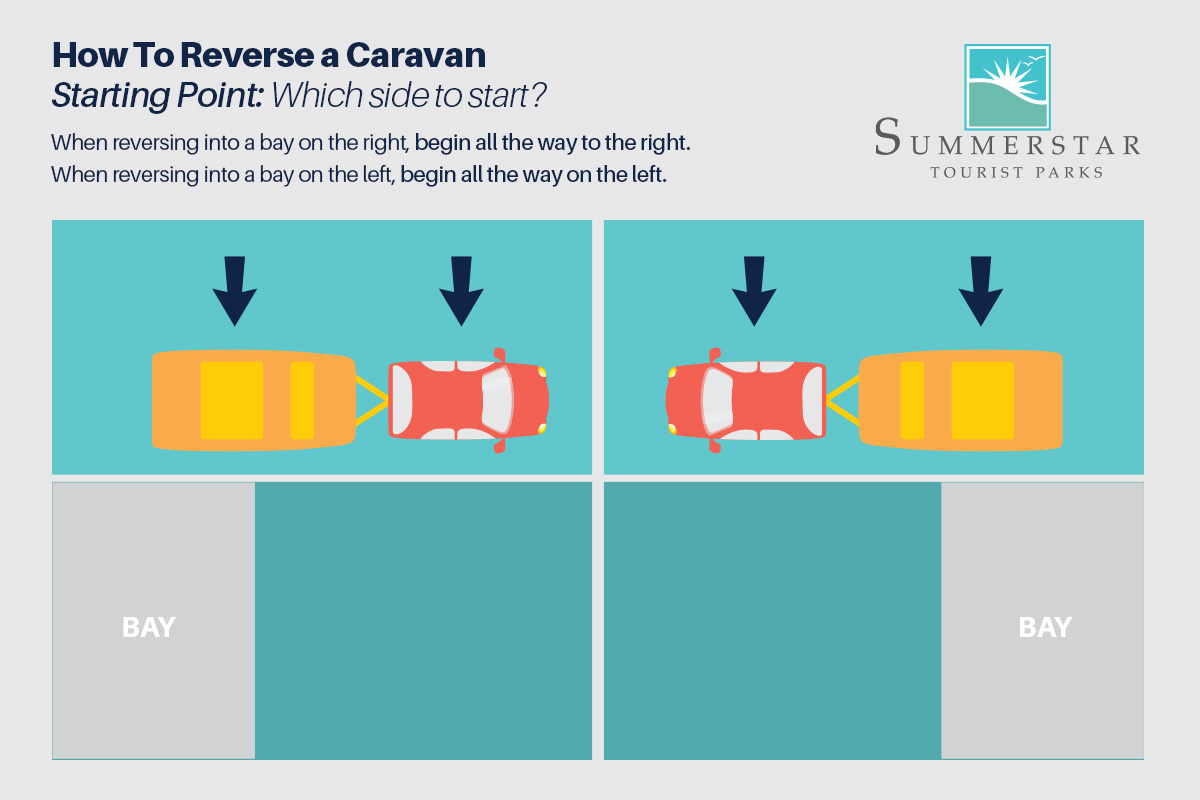 Your distance past the parking space is an important factor when you're about to start the caravan reversing manoeuvre. Your position relative to the bay is also important, so make a note of whether the caravan is on the left side or right side of the road.
If you are reversing back to the left onto the bay, the ideal position would be for your car and caravan to start as far away to the left-hand side of the road as possible. However, if you're reversing to the right, it would be best to start with your car and caravan as far away to the right-hand side of the road.
General reminders for reversing a caravan
A very basic but important rule to remember is that opposites rule.
What we mean by this is that whenever you are trying to reverse a caravan, you have to steer toward the opposite direction, so it's nothing like reversing just the car on its own.
This means that:
To get your caravan to turn to the left as you reverse, you have to rotate the steering wheel toward the right or with your right hand down.
Conversely, to get your caravan turning toward the right as you reverse, you must rotate the steering wheel toward the left or with your left hand down.
Remember to reverse the caravan very slowly to prevent oversteering.
You will have to apply a full steering lock and then slowly counter the steering direction to facilitate a slow reversing turn of your trailer.
In case you oversteer in one direction or you notice the caravan turning in a circle, the best thing to do is to stop. Then, move straight ahead until you can straighten the caravan completely behind your car if space permits.
It would help to have a guide standing in front of the car (someone other than the driver) facing you. Your guide's task is to keep an eye on the two rear corners of the caravan and to tell you if too much of it is on either side.
One other thing to remember is to make sure you have good towing mirrors, which can prove quite helpful especially if your caravan is wider than the car. Always keep your eyes on the rear corners of the caravan. As you manoeuvre your vehicle, the rear corners would be leading the way and turning in the opposite angle to your car because of the pivoting action caused by the coupling.
How to reverse a caravan – key steps
The most stressful aspect of towing a caravan is probably reversing. This becomes even more difficult if there's limited space in a caravan park and you know that all eyes are on you.
But by following the tips below, you will soon be able to successfully park your caravan into its bay to the admiration and applause of other holidaymakers in the caravan park.
Step 1: Caravan starting position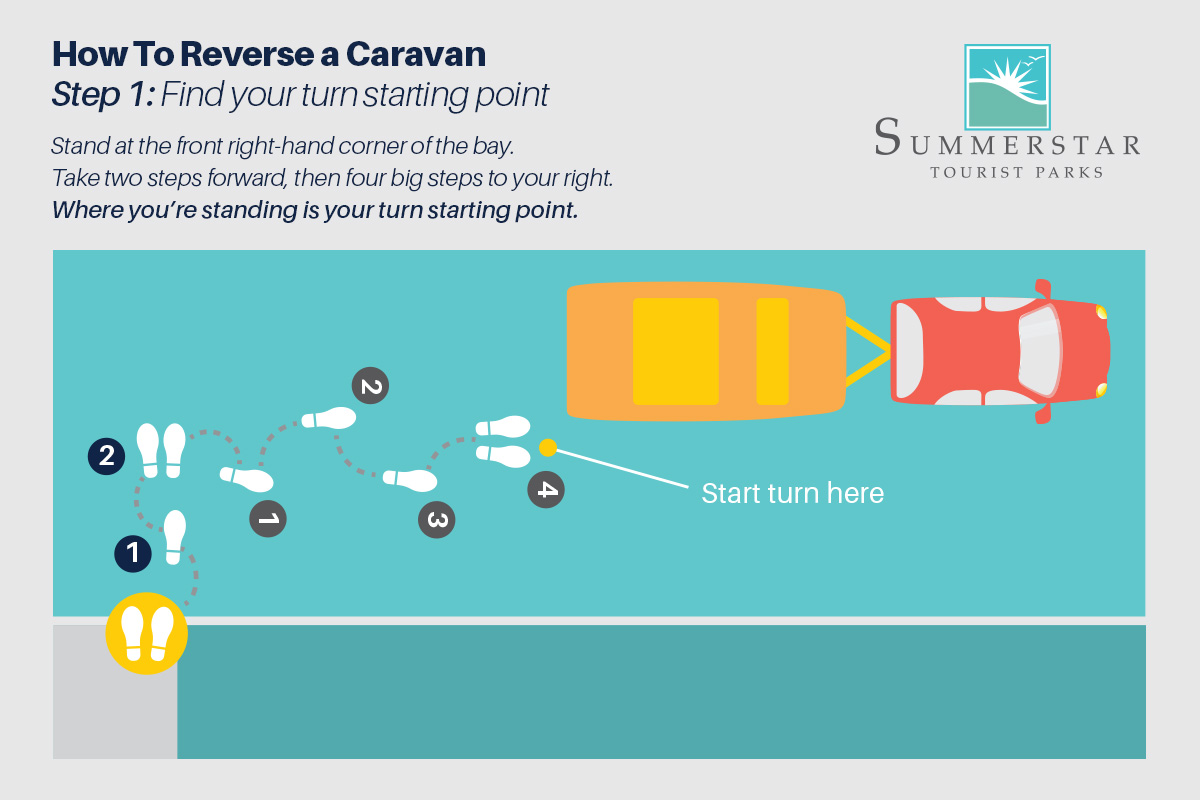 Before attempting to reverse right away, get out of your car and stand at the front right-hand corner of the bay. Then, take two steps forward and four large steps toward your right. Mark this area using a stick or any type of marker you'll be able to see whilst reversing your camper trailer or caravan.
Now, it's time to get back in your vehicle.
Reverse the right-hand side rear corner of the caravan up to the point you marked, whilst your palms are facing upward as you hold the steering wheel from the bottom.
You are now officially at your reverse turn starting point.
Step 2: Turn the steering wheel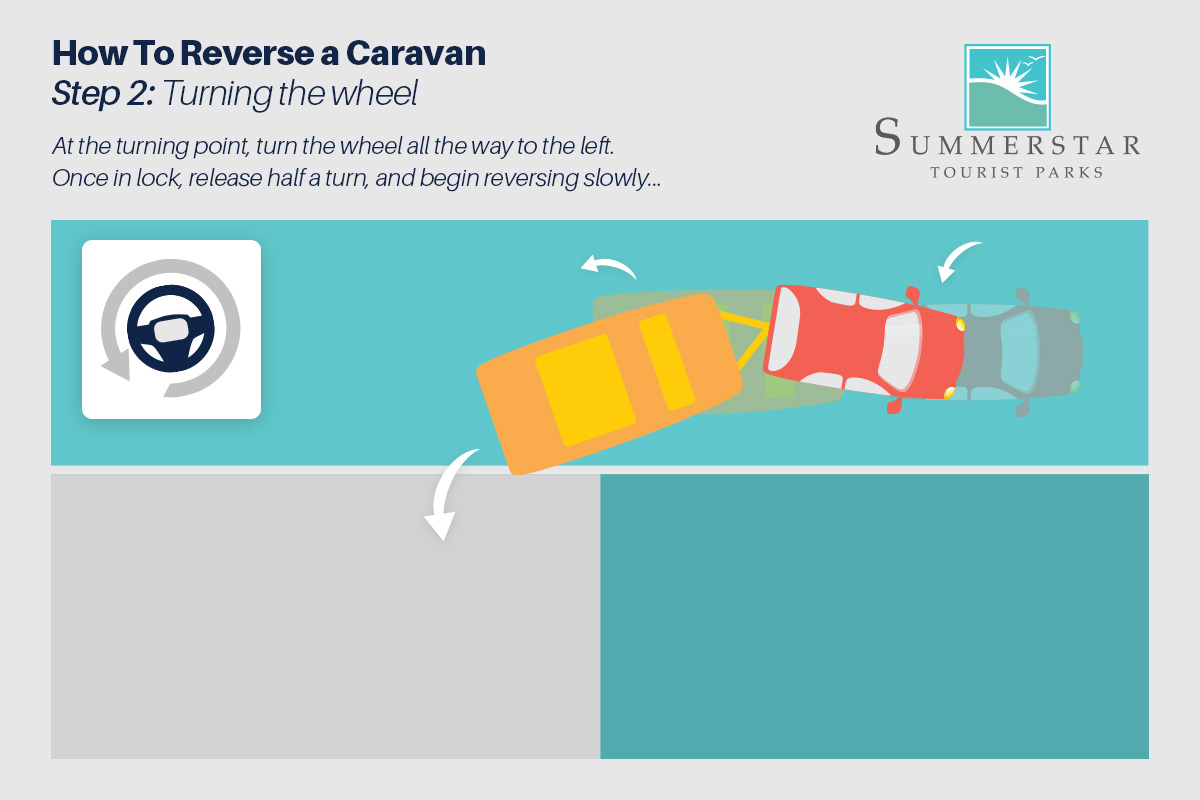 Once you're in position, the next thing you need to do is to turn the steering wheel all the way to the left. Slowly bring the steering wheel back half a turn before gradually reversing.
Check the rear ends of the caravan. If you're on track, the right-hand side of the caravan rear should be backing into the parking bay.
Step 3: Reverse your steering direction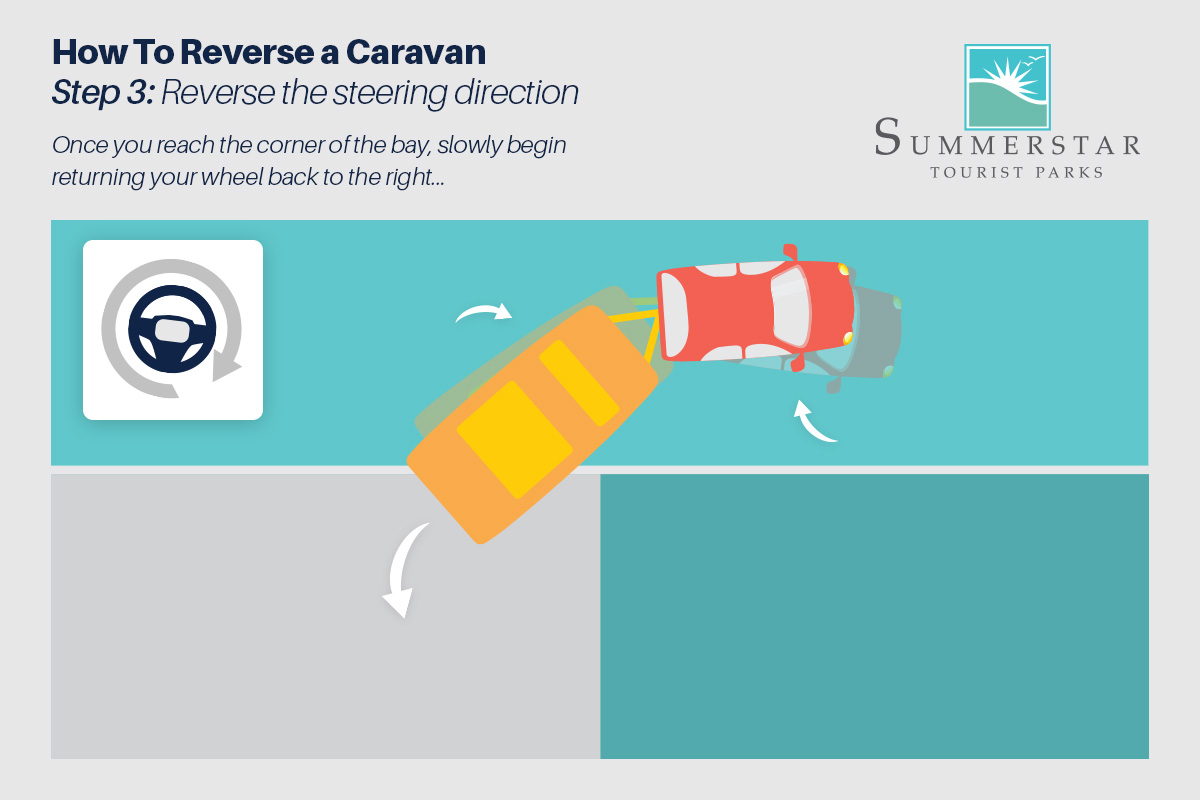 Once the caravan's right wheel reaches the right corner of the parking bay, make sure you turn the steering wheel slowly toward the right.
Shortly after starting to reverse, slowly reverse your steering direction to avoid jack-knifing. If you do jack-knife, come to a halt. Then drive forward, turn the wheel back to the centre and ensure you're aligned and straight so you're then able to reverse safely into the parking space.
Step 4: Park and apply caravan brakes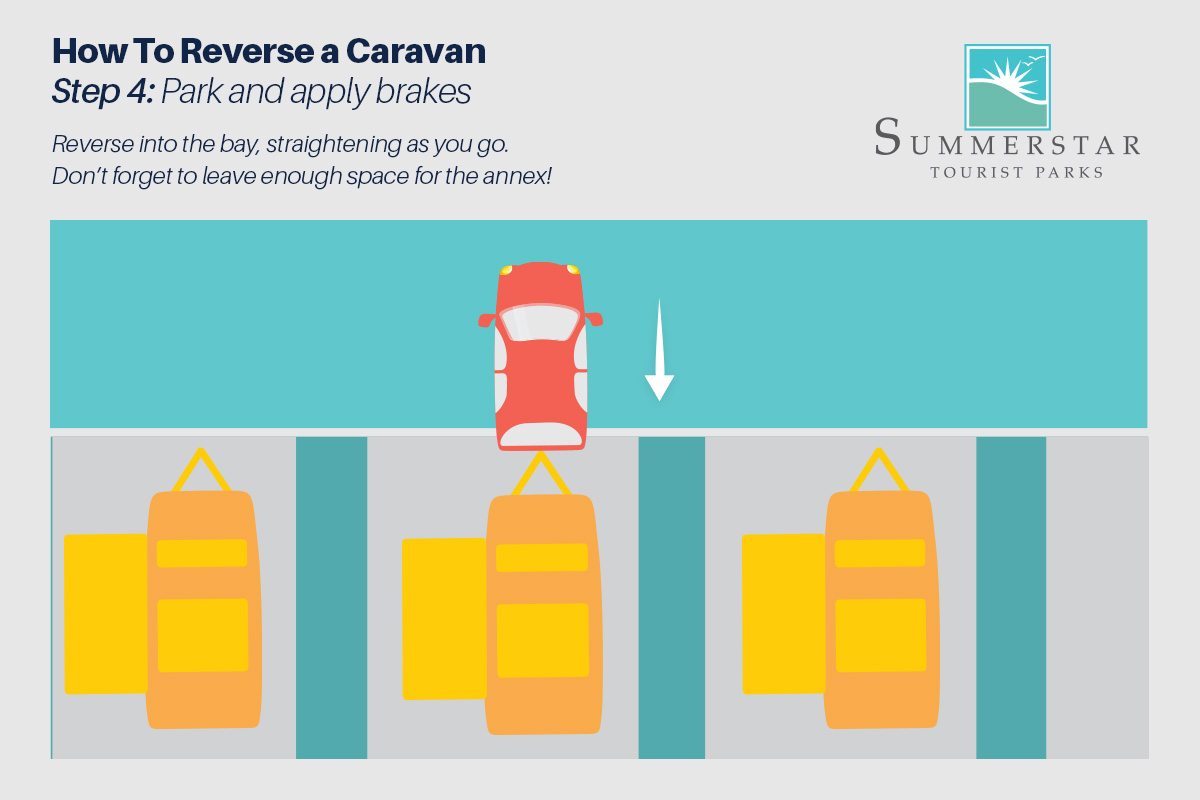 Before continuing with the reverse, ascertain how much space you have so you know how far back you can reverse; then back up slowly.
Make sure you have adequate space for your awning if you're setting up one and some wiggle room when you step outside your caravan.
After parking the caravan, activate the caravan handbrake.
Inspect and ensure the wheels are secure and immovable. Don't set up your caravan until you are absolutely certain that everything is stable and level.
And there we have it!
Practice makes perfect
Learning to reverse a caravan for the first time is truly tricky, just like reversing a caravan uphill or on an uneven surface. However, with the van parking tips above and continual practice, you're sure to get the hang of it.
To make reversing and parking your caravan easier, remember and practice these steps.
Read On...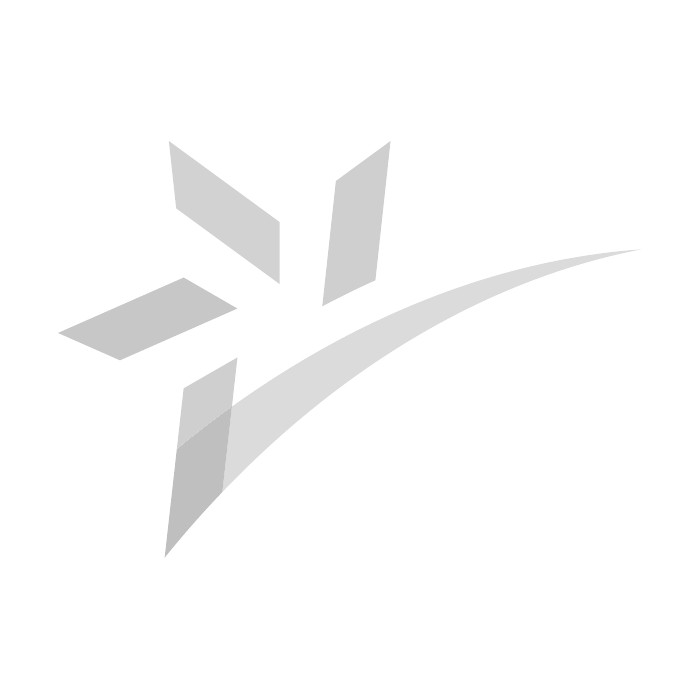 Finding parks with ensuite sites in Western Australia is easy with Summerstar. View our range of locations and what's included with your ensuite camping site.
Read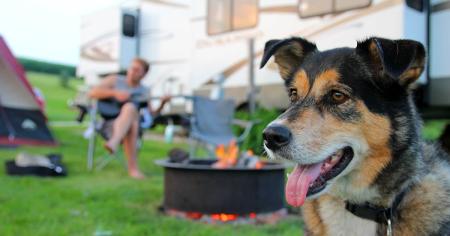 Don't want your four-legged pal missing out on the family holiday? Check out our dog-friendly camping guide for friendly advice and WA camping destinations.
Read