Embarking on a road trip along Western Australia's breathtaking Coral Coast is a road trip adventure you'll never forget. Starting north of the state's capital city, Perth, Australia's Coral Coast stretches from Cervantes to Exmouth and Ningaloo, covering all the incredible coastal towns in between. A road trip here is a venture through mesmerising landscapes, charming coastal towns, and a medley of activities.
Whether you enjoy snorkelling, fishing, diving, exploring, hiking through ancient gorges, spotting wildlife, or feasting on fresh produce, Australia's Coral Coast offers an unforgettable journey that will leave you spellbound.
It's time to buckle up because we're about to unveil the treasures of some of the Coral Coast's iconic towns - Jurien Bay, Geraldton, Horrocks Beach, Kalbarri, and Carnarvon - in this ultimate guide to Australia's Coral Coast.
Jurien Bay: Coastal Tranquility and Underwater Wonders
The journey begins in Jurien Bay, 218kms north of Perth, where the ocean's hues are as captivating as its serene ambiance. There's enough to do here to fill out three to four days worth of adventure, with just the right amount of relaxation.
Jurien Bay Tourist Park is a Coral Coast caravan park that is a gateway to tranquility, offering Coral Coast accommodation that puts you right by the water's edge. Here, you'll be able to wake up to the soothing sound of waves and embrace the beauty of a beach all to yourself.
Day 1 in Jurien Bay
Kick off your adventure with a visit to Jurien Bay Marine Park, a haven for marine life enthusiasts and divers. Snorkel in the crystal-clear waters, and you'll find yourself surrounded by vibrant coral reefs, curious sea lions, and schools of tropical fish – a testament to the region's incredible biodiversity.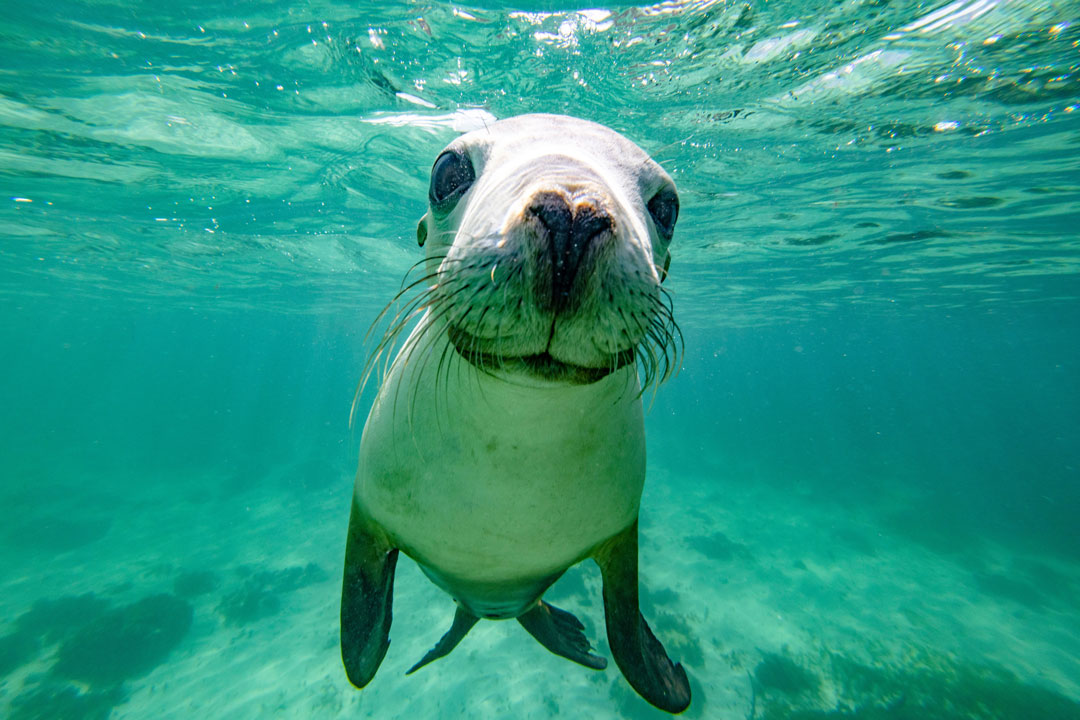 Turquoise Safaris. Photo Credit: Tourism Australia
For those that truly love the water, jump on board a day boat charter with Jurien Bay Oceanic or Turquoise Safaris for an opportunity to swim with sea lions. End the day watching the sunset over the ocean from the Jurien Bay Jetty, just 20m from Jurien Bay Tourist Park.
Day 2 in Jurien Bay
Start your day with a coffee from one of the many cafes within walking distance of Jurien Bay Tourist Park such as Jurien Bay Beach Cafe, Family Affair Cafe, or Meraki. Enjoy a walk along the Jurien Bay foreshore or try your hand at casting a line from the Jurien Bay Jetty.
Hire a bike and take a leisurely ride along the Turquoise Way Trail, a 14.5km sealed track that follows the coast from the Jurien Bay Marina to the Hill River Mouth (nearly halfway to Cervantes).
To finish the day, experience the thrill of skydiving with Skydive Jurien Bay, gliding through the sunset-kissed sky as you descend onto the soft, white sands of Jurien Bay beach. If you're not game enough, simply head to the beach to watch others as they float down onto the sand.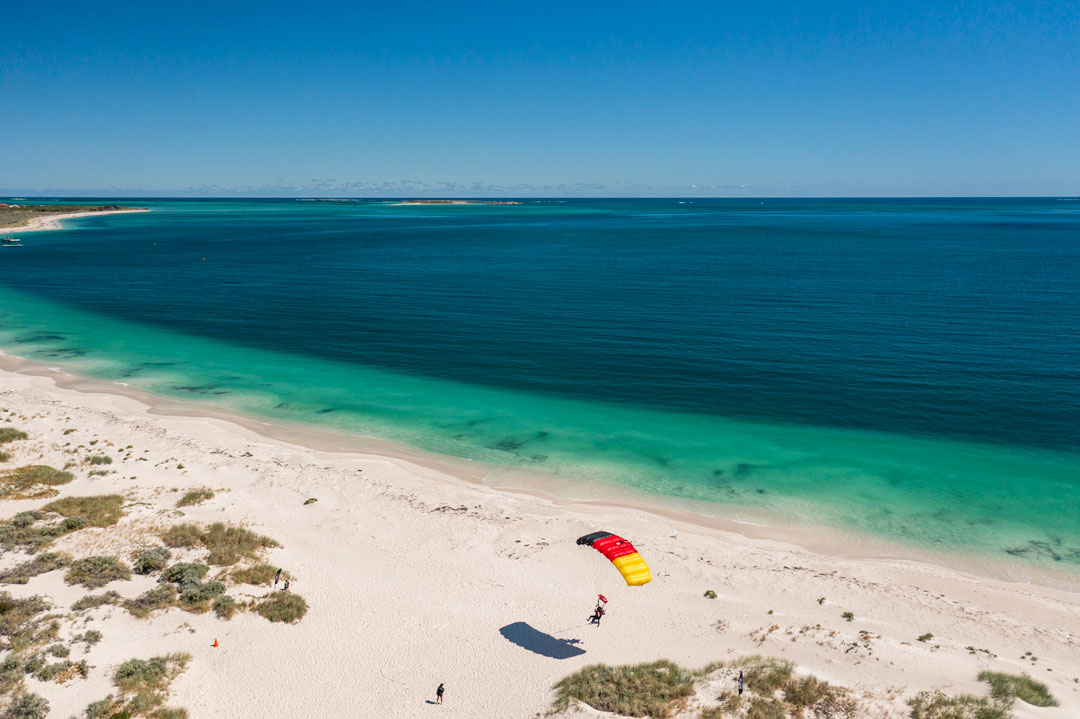 Jurien Bay Skydive. Photo Credit: Tourism Australia
Day 3 in Jurien Bay
Fishing enthusiasts won't want to miss a full day Fishing Charter Tour with one of the local operators Jurien Bay Oceanic or Legend Charters. These eight hour adventures scout the best spots to cast a line off this coastline. This is perhaps one of the best Coral Coast things to do for those who love fishing. Those looking for a shorter tour should jump on a Rock Lobster Catch & Keep 90-minute charter with Jurien Bay Oceanic.
Take an afternoon drive to Nambung National Park, roughly a 30-min drive towards Cervantes, where you'll find The Pinnacles. Drive onto the sand (2WD friendly) and immerse yourself in this incredible natural wonderland. Photographers will relish in both a sunset visit and a nighttime visit on a clear night, with magical colours or an abundance of stars creating the perfect photo ops.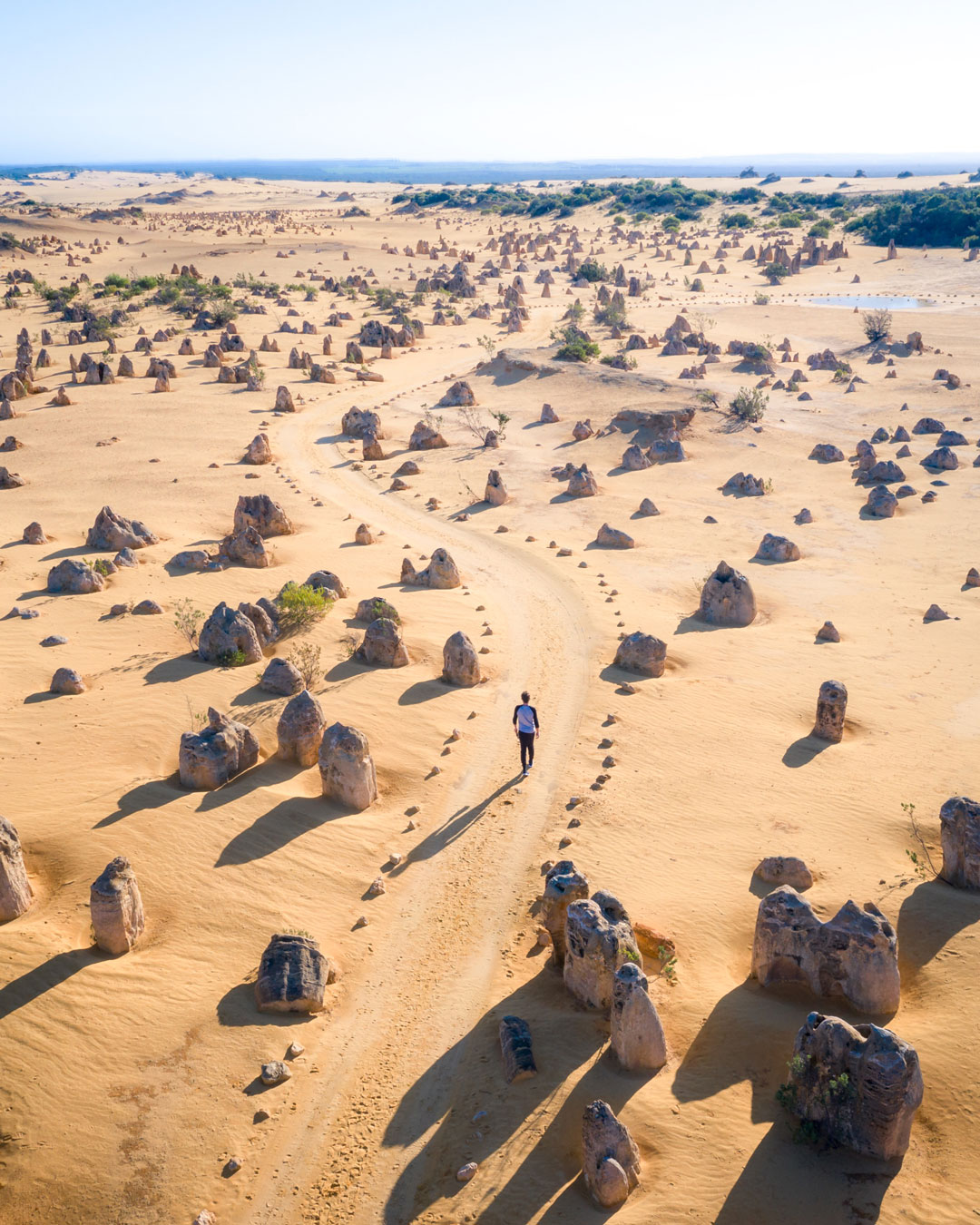 The Pinnacles, Nambung National Park. Photo Credit: Tourism Western Australia
Day 4 in Jurien Bay
Today, head out to Lesueur National Park to explore this biodiverse wilderness. Just a 22-min drive outside of Jurien Bay will bring you to this adventure playground. Embark on one of the hiking trails here, such as the Loop Walk Trail or Yued Ponar Trail, or enjoy a picnic at one of the serene picnic areas.
If hiking isn't your thing, no worries, take a drive along the Drive Trail, a one-way 18.5km loop through the best bits of the National Park to give you a glimpse at the beautiful landscape here. Different wildflowers and natives are in bloom year-round, so there's always something vibrant to witness. Keep your eyes peeled for native wildlife here too, such as emus, echidnas and kangaroos.
Finish the day with a feast at the Sandpiper Tavern & Pizzeria, just opposite Jurien Bay Tourist Park.
Day 5 in Jurien Bay
Head a little further north today on a day trip to Sandy Cape. Roughly 13kms north of Jurien Bay, this charming beach offers a small and secluded bay, perfect for swimming, snorkelling and fishing. The pristine white sand dunes found here are ideal for sandboarding fun. Join Jurien Bay Adventure Tours to experience the thrill of sandboarding here and on the "Mega Mountain". The company also offers 4WD adventure tours for those less confident in four wheel driving themselves.
Experienced 4WDers can explore North Head, where WWII Remains can be visited. Respect this military heritage by parking at the designated site and walking the last 300 metres to witness well-preserved remains of a WWII radar installation, with two intact shelters, original foundations and an underground tank.
For those really keen on 4WDing, embark on the difficult track to Drovers Cave National Park, where you'll get to explore the limestone caves and what was once a natural stockyard for drovers coming to the markets in Perth.
Geraldton: Coastal Heritage and Vibrant Arts
Heading north, Geraldton beckons with its mix of history and creativity. Just over a 2hr-drive from Jurien Bay will land you in the heart of this heritage-rich town. Spend at least three days here to explore it all. Geraldton is the perfect Coral Coast camping spot!
Set up camp at Geraldton Belair Gardens Caravan Park, where you'll be nestled beside a pristine beach without sacrificing comfort.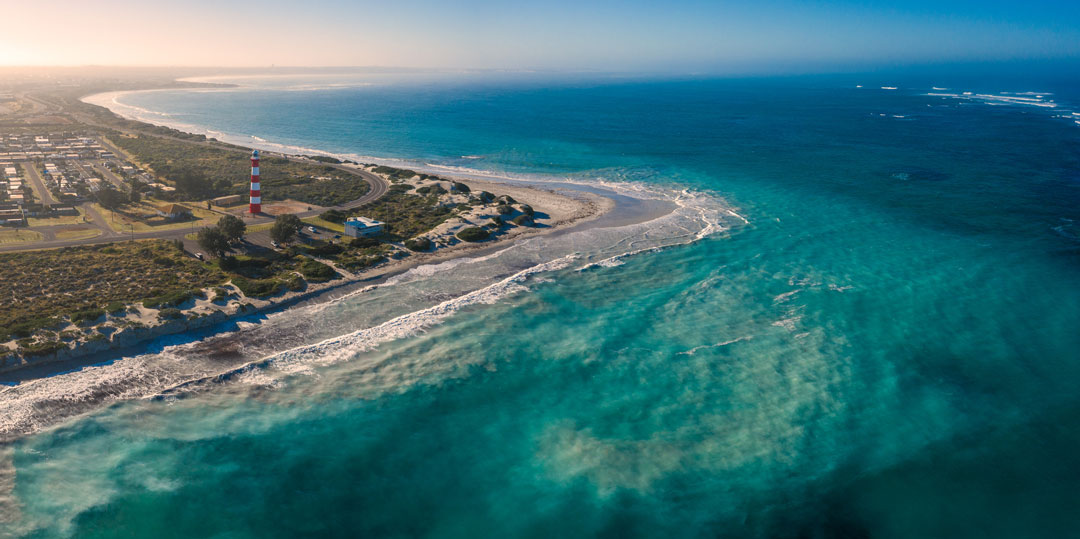 Geraldton Coastline. Photo Credit: Tourism Western Australia
Day 1 in Geraldton
Start your adventure in the bustling main centre of Geraldton, where art enthusiasts will delight in the vibrant street art and galleries that dot the city, including 100% Aboriginal owned business Yamaji Art which showcases incredible Indigenous artwork.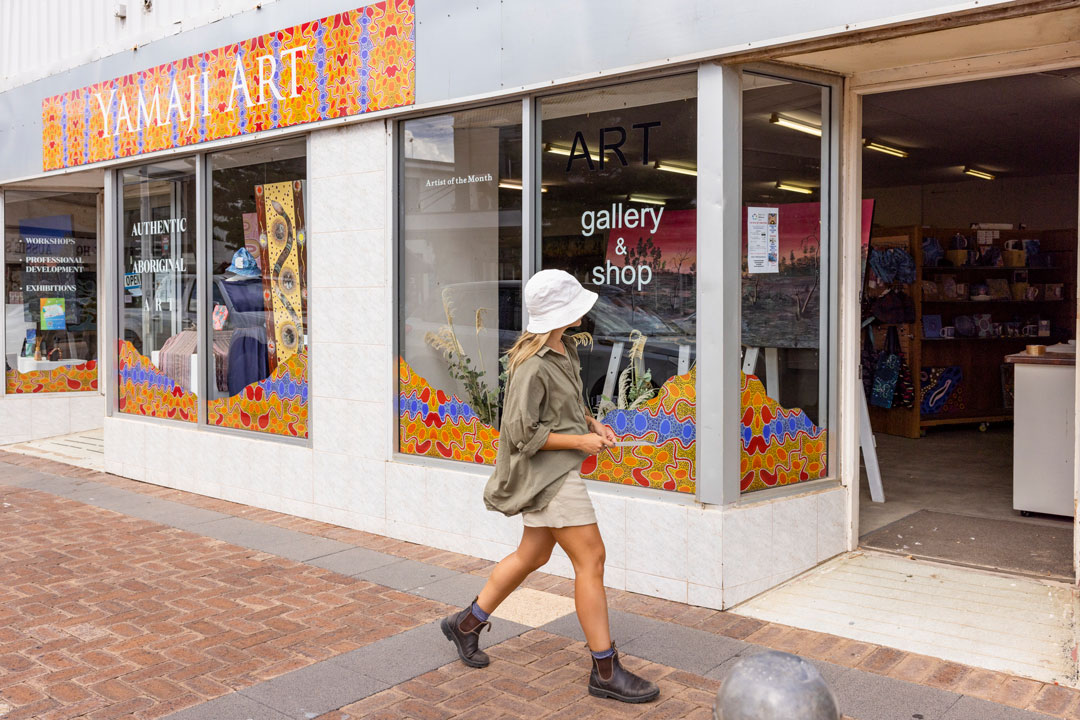 Yamaji Art Centre Geraldton. Photo Credit: Tourism Australia
Relax with a coffee and breakfast or brunch from one of the groovy cafes on Marine Terrace - there's plenty to choose from! If you're after a quick takeaway, don't miss The Jaffle Shack on the foreshore near Forest Street, which serves up the most mouth-watering traditional and extravagant jaffle toasties going around.
Next stop, Museum of Geraldton! Here, you'll discover artifacts from shipwrecks, Indigenous heritage, and maritime stories that shaped Geraldton's identity, and gain a deeper appreciation for the coastal way of life.
Continue the historic journey with a visit to the HMAS Sydney II Memorial, which will provide sweeping views of Geraldton and the coast, as well as an emotional tribute to the sailors who lost their lives during World War II.
Nearby, the St. Francis Xavier Cathedral is a chance to marvel at stunning architecture. The heritage-listed building stands as a testament to Geraldton's rich history, with the cathedral's intricate details and serene ambiance making it a must-visit.
Rest your legs awhile at one of the bars or restaurants back on Marine Terrace, where the views of the sparkling ocean will take your breath away. For families, the water park playground on the foreshore will keep the kiddos entertained.
Day 2 in Geraldton
A visit to Geraldton without a beach day would be remiss! Directly opposite Belair Gardens Caravan Park you'll find Pages Beach, a beautiful sheltered beach perfect for a swim or a spot of fishing. Alternatively, head to Town Beach, offering family-friendly ambience with a protected bay, playground, BBQ facilities and more.
Don't miss a visit to the iconic Point Moore Lighthouse, located just 1km from Belair Gardens Caravan Park. The red and white striped lighthouse is an unmissable landmark that makes for a picture-perfect photo.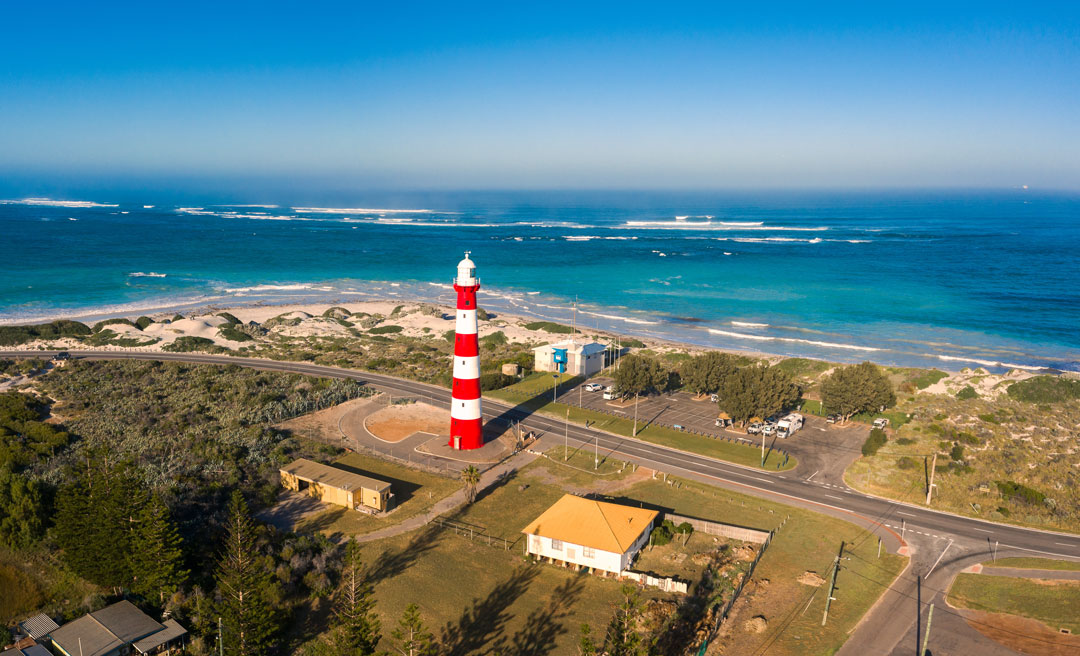 Point Moore Lighthouse in Geraldton. Photo Credit: Tourism Western Australia
For those more adventurous, have a go at 'Jetpacking' with Ultimate Watersports. These jet packs propel you metres above the bay - don't worry, it's safe! - providing an adrenalin-pumping adventure. If you'd rather lay low, they also have kayaks, SUPs or foil boards available for hire so you can enjoy being on the water at your own pace.
Day 3 in Geraldton
Spend today exploring the Abrolhos Islands. Nestled in the pristine waters of the Indian Ocean, the Abrolhos Islands form a cluster of over 120 islands, making up a breathtaking marine wonderland. Known for their stunning coral reefs and vibrant marine life, this remote archipelago is a haven for snorkeling, diving, and fishing enthusiasts.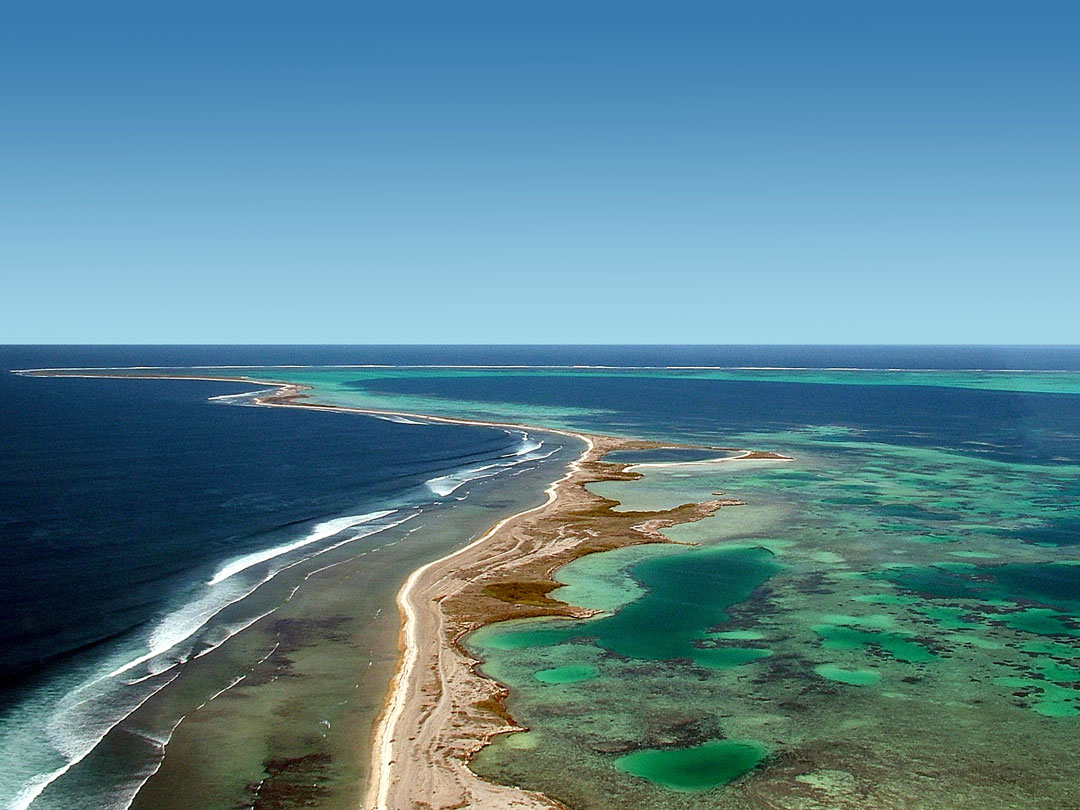 Abrolhos Islands. Photo Credit: Tourism Western Australia
Embark on an unforgettable day trip with Eco Abrolhos Cruises or Abrolhos Islands Charters to explore the crystal-clear waters surrounding the Abrolhos Islands - they unveil a world of underwater treasures. Strap on your snorkel or dive gear and dive into a vibrant realm of coral reefs, technicolor fish, and intricate marine life.
Divers will be intrigued by the historical shipwrecks. As you explore the underwater realm, you might stumble upon remnants of ships from centuries past, including the famous Batavia wreck. The combination of shipwrecks and thriving coral reefs creates a unique underwater landscape that beckons both history buffs and divers alike. For the fishing inclined, join Offshore Charters for a day fishing tour or crayfishing tour.
Horrocks Beach: Secluded Paradise and Coastal Charm
Next stop, Horrocks Beach! A hidden gem along the Coral Coast, Horrocks Beach offers a true escape from the world's hustle and bustle. Imagine waking up to the soft sound of waves lapping the shore at the Horrocks Beach Caravan Park – it's the epitome of coastal relaxation.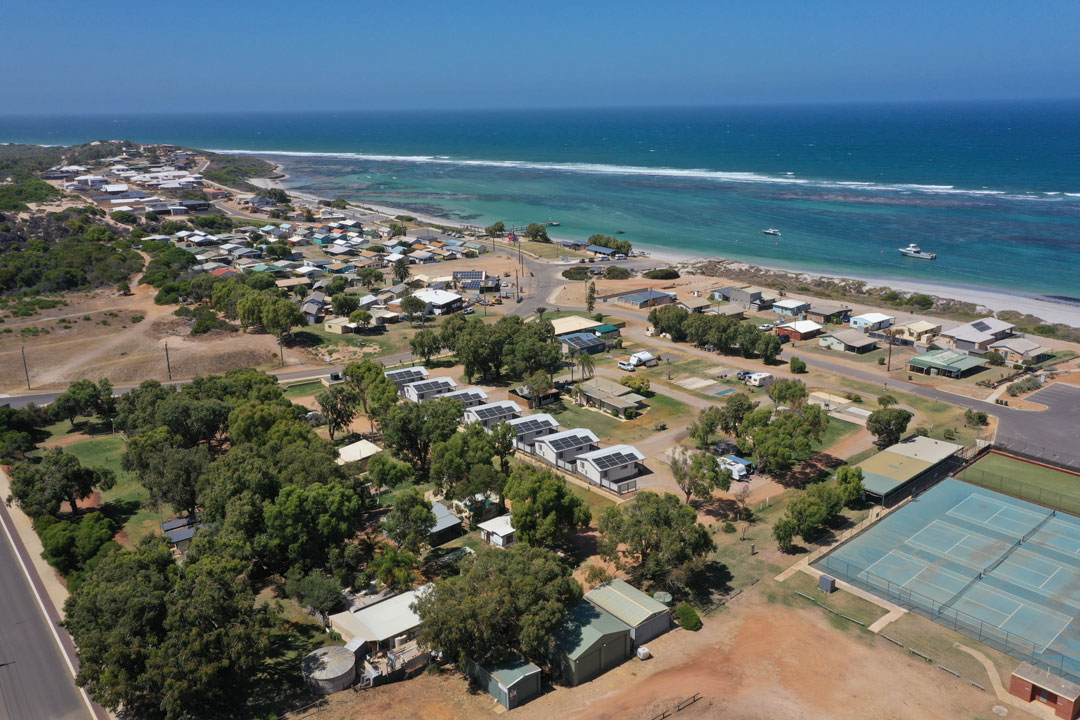 Horrocks Beach Caravan Park
Spend your days at this Coral Coast caravan park however many you wish - strolling along the pristine white sands, fishing off the jetty, or simply relishing the serenity. Horrocks Beach is a place where time seems to slow down, inviting you to unwind and connect with nature.
For the 4WD enthusiasts, enjoy a day trip to Little Bay, just a few kilometres north of Horrocks. You'll need to let down your tyres for this one, and follow the 4WD track to a sparkling-water bay protected by massive sand dunes. This makes for a great spot for birdwatching, beach fishing or sandboarding, while the kiddos will enjoy splashing in the calm shallows.
On your way in or out of Horrocks Beach, don't miss Northampton and a taste of the (quite famous) vanilla slice from The Shearing Shed cafe.
Kalbarri: Majestic Gorges and Adventurous Thrills
From the tranquil embrace of Horrocks Beach, our Coral Coast road trip takes an adventurous turn towards Kalbarri, roughly 93kms (or a 1hr-drive) further north.
Make sure you take the route past Hutt Lagoon, a must-see on your Coral Coast road trip. Hutt Lagoon is a pink salt lake just outside of Port Gregory. A road side viewing stop allows sweeping views of the incredible expanse of water in all hues of pink.
Continue on towards Kalbarri, where our very own Kalbarri Red Bluff Tourist Park welcomes you with Coral Coast accommodation that's both comfortable and conveniently located, with incredible sweeping views of the ocean and Red Bluff cliffs.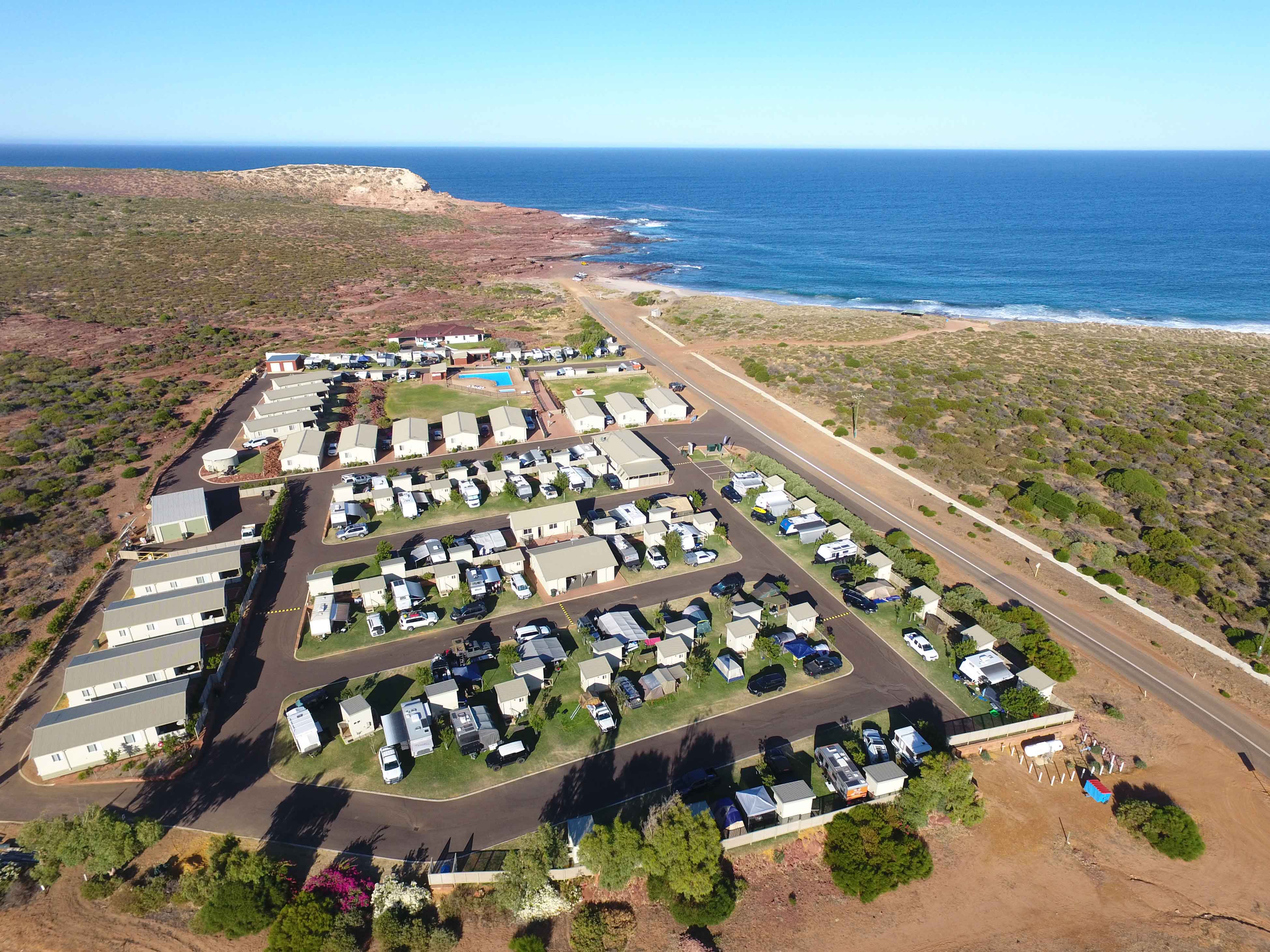 Kalbarri Red Bluff Tourist Park
Day 1 in Kalbarri
Start your day early to experience a sunrise from the Kalbarri Skywalk located in Kalbarri National Park, a 42km or 37-min drive from Kalbarri Red Bluff Tourist Park.
Ed note: If driving at dawn and dusk, be alert and look out for local wildlife.
Kalbarri National Park is a true highlight, with its dramatic gorges, soaring cliffs, and vibrant wildflowers (August to October). You'll probably want to do at least one or two day trips to explore the whole park, or let D'Guy Charters take the wheel and show you the most epic spots.
After standing on top of the gorges overlooking the Murchison River and soaking up the vast views from Kalbarri Skywalk, drive to the nearby trail head for Nature's Window. A short hike will land you at this iconic spot. Marvel at the actual Nature's Window, a natural rock formation that frames even more breathtaking views of the Murchison River.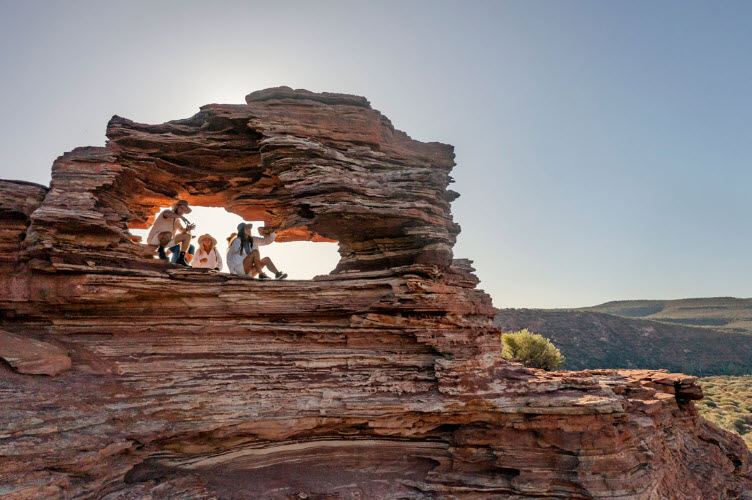 Nature's Window with D'Guy Charters, Kalbarri National Park. Photo Credit: Tourism Australia
For hiking enthusiasts, embark on the epic hike known as Z Bend Gorge – an experience that showcases nature's grandeur at every turn.
Spend the rest of the day relaxing at Kalbarri Red Bluff Tourist Park, soothing your muscles in the swimming pool overlooking Red Bluff, or in the spa bath in one of the Premium Spa Holiday Units.
Day 2 in Kalbarri
Head to the Kalbarri Foreshore for 8.45am Pelican Feeding, which happens here almost every morning. Run by volunteers, it's a good idea to savour your gold coins to make a donation to help cover the cost of fish.
Enjoy a breakfast or brunch with excellent coffee at the nearby The Pelican Cafe. Pick up some treats from the Red Bluff Bakery Cafe, known fondly to the locals as "The Bluff" and head out to explore the other side of Kalbarri National Park today, which includes the incredible coastal cliffs near Kalbarri Red Bluff Tourist Park. Do some scenic lookout hopping for some of the most breathtaking views you'll ever encounter. Head to Red Bluff or Pot Alley for panoramic ocean vistas that stretch as far as the eye can see, stopping via Mushroom Rock and Rainbow Valley on the way.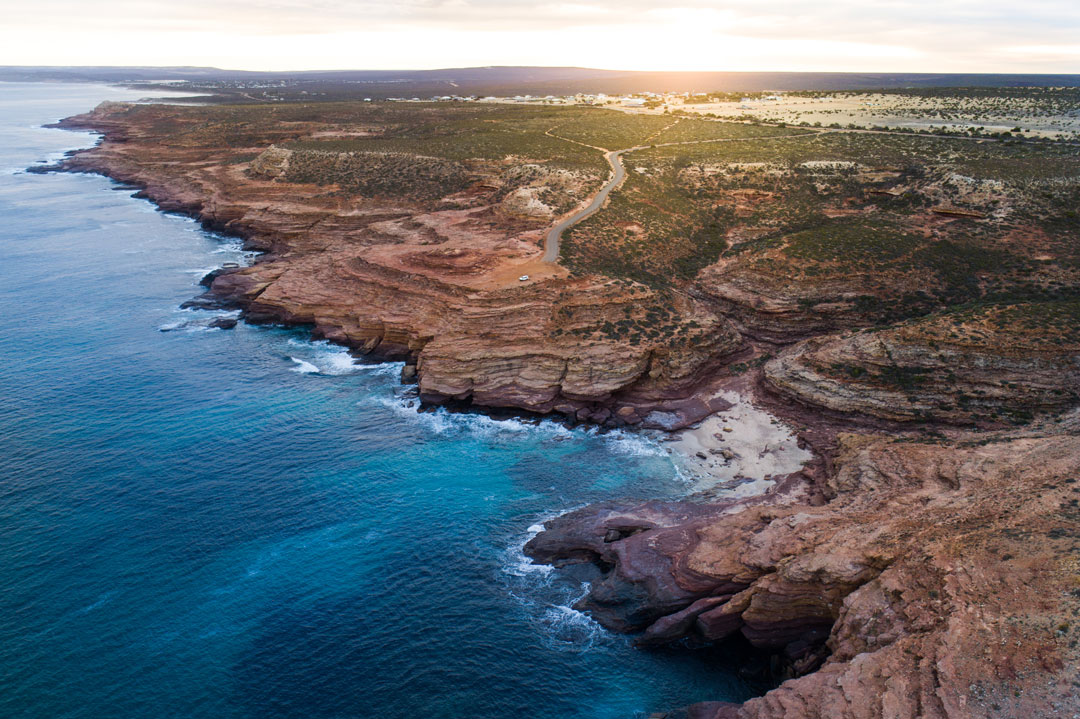 Kalbarri Coastline. Photo Credit: Tourism Western Australia
Continue on, hitting up Eagle Gorge Lookout, Island Rock Lookout and Natural Bridge before making your way to Wagoe Beach, where you can join Kalbarri Wagoe Beach Quad Bike Tours' fully guided self-drive Quad Bike & Beach Buggy Tour for an adrenalin-fueled adventure on this reef fishing hotspot.
Dine at Upstairs Cafe tonight in Kalbarri town with sunset views of the Kalbarri Foreshore.
Day 3 in Kalbarri
Take to the water with a Murchison River cruise. Drift along the serene river, surrounded by towering cliffs and lush vegetation, while learning about the region's history and wildlife.
Spend the rest of the day relaxing, perhaps with a beach day. Kalbarri's beaches are not just for admiring – they're for enjoying too. Swim, surf, or simply relax on the golden sands of Chinaman's Beach or Blue Holes Beach. Surfers will enjoy a crack at Jacques Point, known as 'Jakes' to the local surfers. This popular left hand surf break is great for experienced surfers, though more advanced surfers will love the big swell days.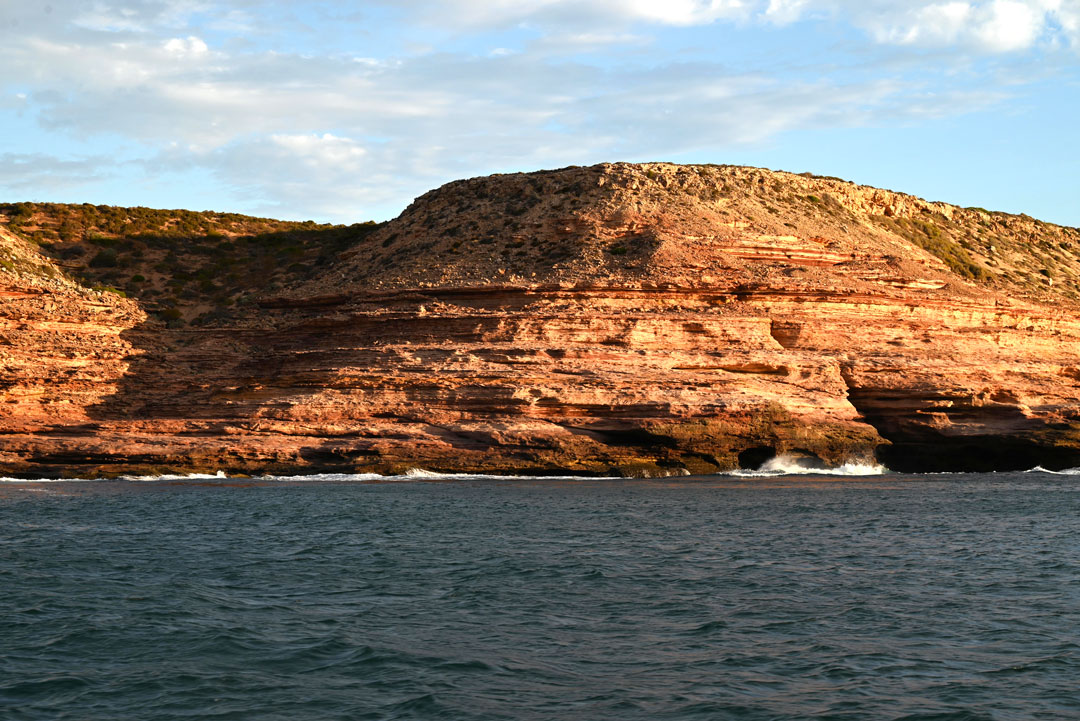 Coastal Cliffs from Kalbarri Rock Lobster Tours & Charter Sunset Cruise
To round out the day, join a Sunset Cruise with either Kalbarri Rock Lobster Tours & Charter or Reef Walker Ocean Discovery and witness the incredible coastal cliffs of Kalbarri from this unique vantage point, while the golden glow of the sunset casts them in breathtakingly beautiful light.
Day 4 in Kalbarri
Spend a day out on the water today on a fishing charter, whale watching tour or rock lobster fishing charter, depending on the season. Both Kalbarri Rock Lobster Tours & Charter and Reef Walker Ocean Discovery offer these experiences.
Cruises not for you? Join a scenic flight to see the incredible coastline, cliffs, gorges, or pink lake from above. Kalbarri Scenic Flights have plenty of tours to choose from, all of which will leave you awestruck.
This evening, kick back and relax with a locally brewed beer and hearty meal at Finlay's Kalbarri.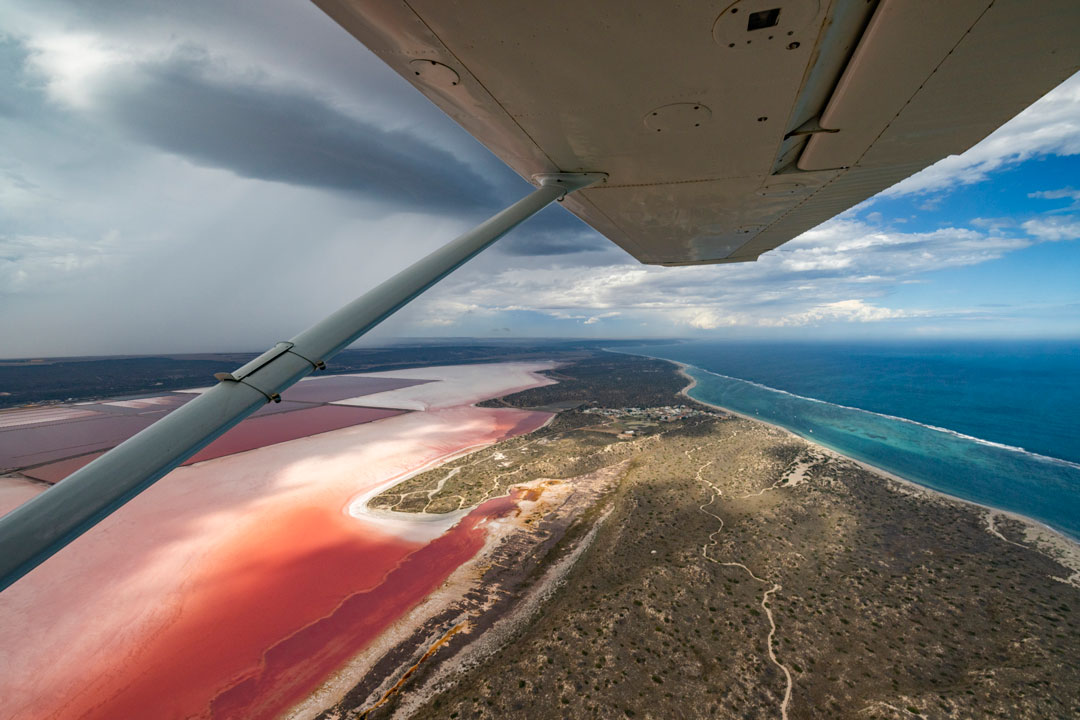 Hutt Lagoon, near Kalbarri with Kalbarri Scenic Flights. Photo Credit: Tourism Western Australia
Carnarvon: Tropical Oasis and Culinary Delights
As you reach the final stretch of the journey, Carnarvon welcomes you with open arms. Located over 440kms north of Kalbarri, this is the longest stretch of the Coral Coast road trip you'll take in one hit.
Settle in at Capricorn Holiday Park, a Coal Coast caravan park just outside of town, and prepare to explore a tropical oasis unlike any other. Carnarvon and surrounds fascinates with its distinct charm, abundant plantations, and delectable fresh produce.
Day 1 in Carnarvon
Grab a coffee from one of the cafes in the cappuccino strip, or on the foreshore at Carnarvon Fascine. Stroll the fascine beside the working port and soak up the sunshine before heading towards the Northern Fruit Loop Trail, a drive past the region's impressive plantations and farm gates.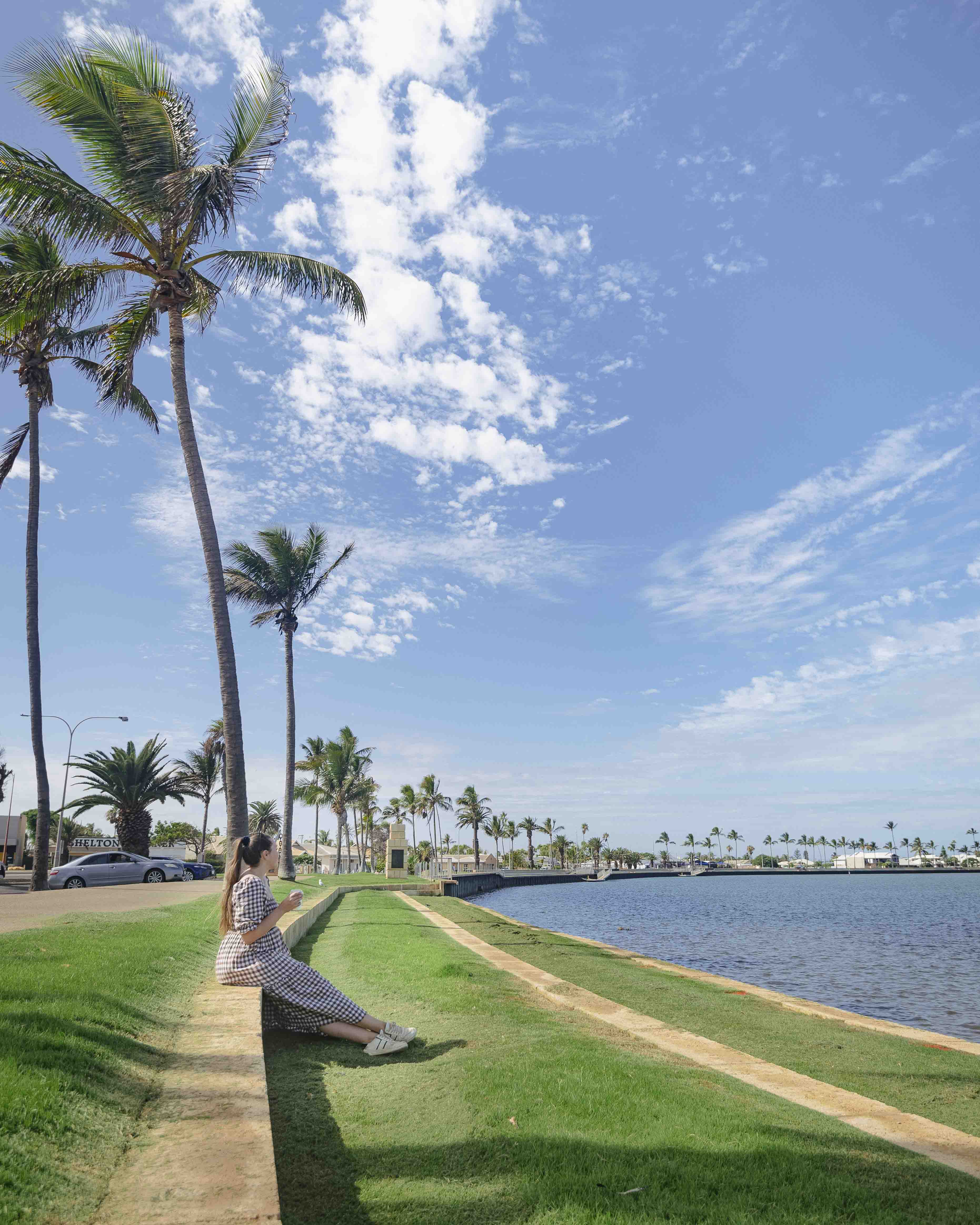 Carnarvon Fascine. Photo Credit: Annabel Claire Photography @_annabelclaire_ on Instagram.
When it comes to satisfying your taste buds, Carnarvon's locally grown fruit, seafood, and tropical treats are a culinary adventure in themselves. Taste some of the deliciousness at Bumbak's, known for award-winning preserves and icecreams as well as dried fruit, thirst-quenching smoothies and more - but, pro tip - bring cash!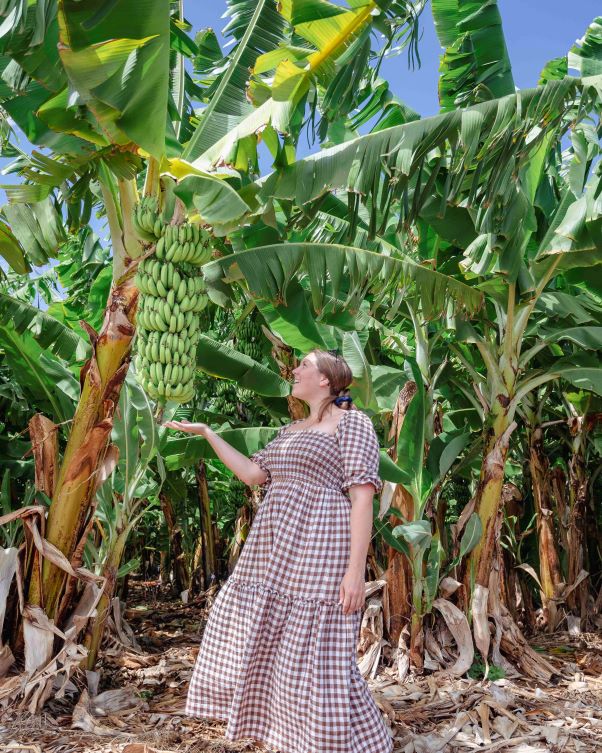 Northern Fruit Loop Drive Trail Banana Plantation, Carnarvon. Photo Credit: Annabel Claire Photography @_annabelclaire_ on Instagram.
If you're visiting between May to October, Don't miss the chance to sample the best of Carnarvon's harvest at the Gascoyne Growers Market, a farmers market every Saturday morning in the town centre.
Day 2 in Carnarvon
Time for a day trip! Take a drive further north today and explore the coastline at Point Quobba, roughly 75kms north of Carnarvon - a 50-min or so journey on a bitumen road.
Here, you'll experience the Blowholes, where the oceans' swell forces water through sea caves and results in a mighty display of water jets, best visited when high tide is surging in. You'll also find a lagoon just south of here known as the 'Aquarium', which is calm and abundant with coral, perfect for snorkelling. The white sandy beach here makes for a perfect family picnic spot, or a day-long laze.
Day 3 in Carnarvon
Today, let Coral Coast Helicopters take you on an adventure of a lifetime. Operating year-round, this is the perfect way to spend a day, especially during the off season from October to March, where you'll get to experience stretches of remote coastline all to yourself. Choose from their selection of scenic flights or adventure tours, either of which will offer a memorable time.
Scenic flights range from 5mins to 2.5hrs in length, allowing you to choose the best option for you. Adventure tours are aplenty, ranging from crayfish, spear-fishing and fishing adventures, to visiting secluded spots like Golden Cliffs, Neptunes Cave, Steep Point, Stromatolites and even Shark Bay. Staying at an affordable accommodation option like Capricorn Holiday Park means more of your travel budget can be spent on epic adventures like these!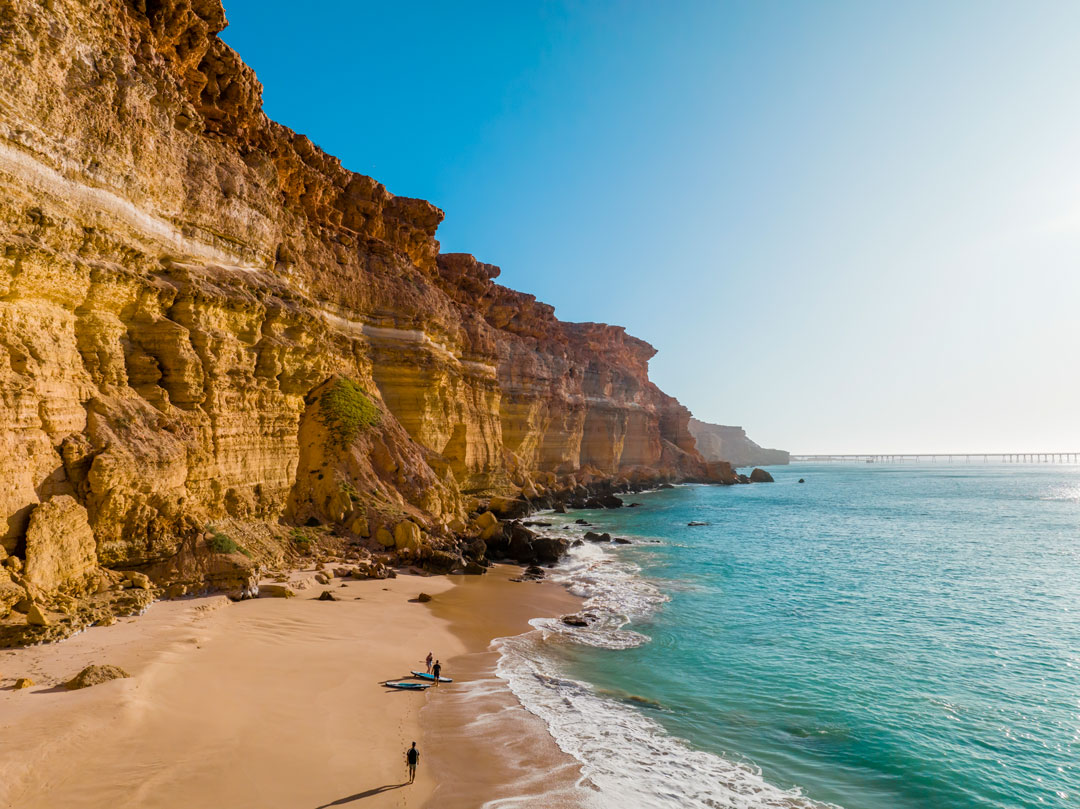 Coral Coast Helicopters, Carnarvon. Photo Credit: Tourism Australia
Day 4 in Carnarvon
This morning, enjoy a scenic drive to the One Mile Jetty, where you can relish stunning ocean vistas and cast a line nearby for some of the region's finest fishing. Explore the interpretive centre and cafe, nestled next to railway history.
Spend the afternoon uncovering the secrets of the Carnarvon Space and Technology Museum, which played a vital role in the Apollo moon missions.Visitors can spend hours here, immersed in the interactive displays and all the history and memorabilia from these iconic moments in time.
Let the adventure continue
Your road trip doesn't have to end here - continue on towards the incredible Ningaloo Reef and Exmouth, and up to Eighty Mile Beach and Broome!
From the untouched tranquility of Jurien Bay to the awe-inspiring gorges of Kalbarri, the Coral Coast paints an unforgettable tapestry of coastal wonders. As you venture along the Coral Coast Highway, you'll find yourself immersed in the beauty of nature, the warmth of coastal communities, and a sense of freedom that only a road trip can provide.
So, pack your sense of adventure, your curiosity for new experiences, and hit the road to explore the mesmerizing Coral Coast. With its Coral Coast accommodation, camping spots, and an array of activities, this journey promises memories that will linger long after the journey's end. Get ready to embrace the magic of the Coral Coast – your road trip of a lifetime awaits!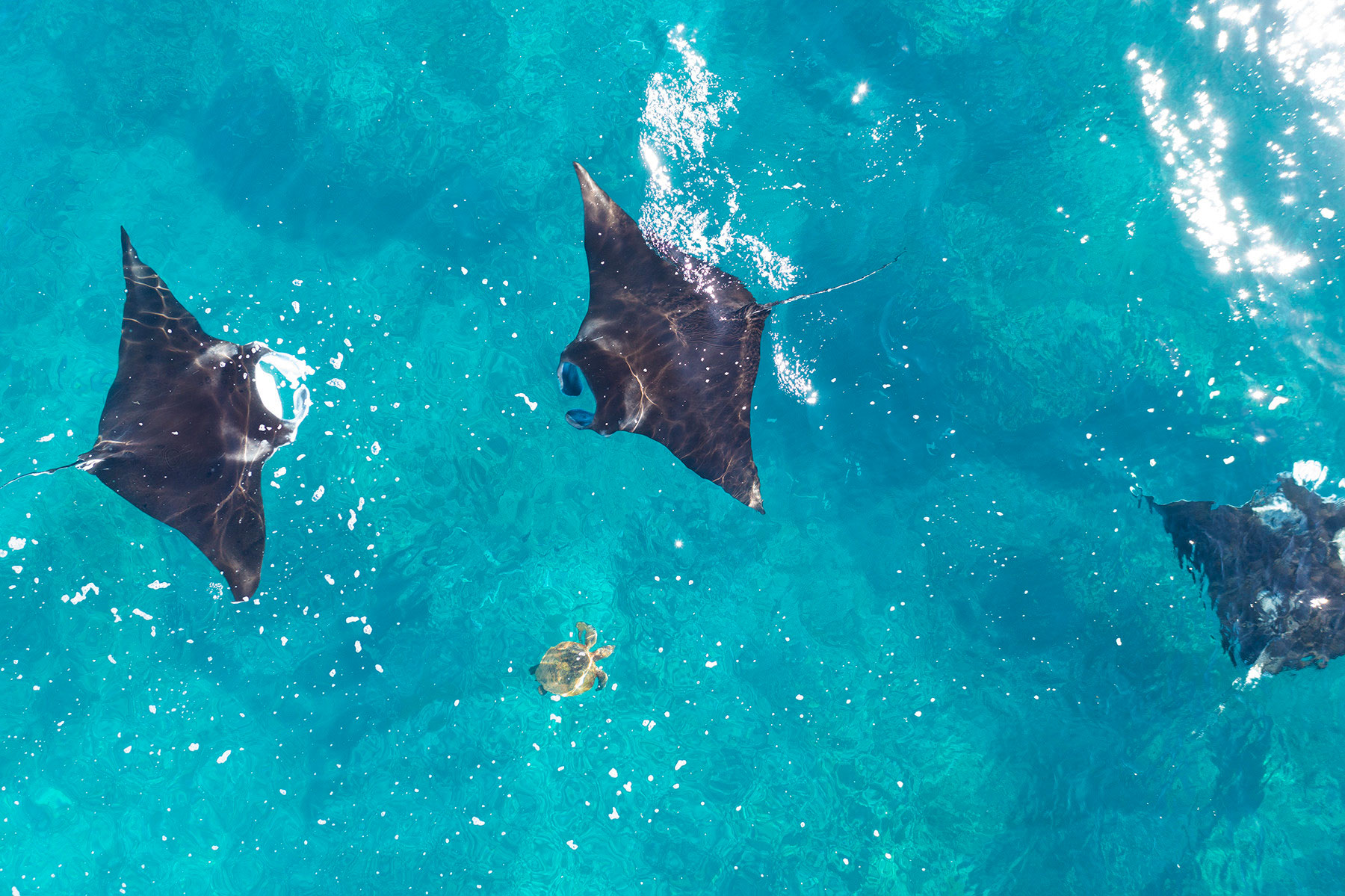 Coral Bay. Photo Credit: Tourism Western Australia
Book your trip
Summerstar Tourist Parks has affordable, family-friendly accommodation options dotted all along the Coral Coast to help you have a memorable holiday with those who matter most. Book your stays at Jurien Bay Tourist Park, Geraldton Belair Gardens Caravan Park, Horrocks Beach Caravan Park, Kalbarri Red Bluff Tourist Park and Capricorn Holiday Park in Carnarvon.
For those wanting to spend a little longer exploring, you can use the code 7PAY6 for seven nights for the price of six when booking directly on our website.
Travelling Australia With Kids members receive two nights free for two children, while G'Day Parks members save 10% off their bookings with us. Not a TAWK or G'day Parks Rewards Member? No worries, you can still take advantage of our DIRECT5 discount code for 5% off your booking when you book directly on our website. What are you waiting for? Book your Coral Coast adventure today!