Busselton is a vibrant city located on the southwest tip of Western Australia. This spectacular part of the world is known for its amazing coastline, with local beaches attracting scores of humpback whales and human visitors from across Australia.
Along with stunning natural attractions, diverse wildlife, and friendly locals, Busselton is becoming famous for its great eating and drinking venues. From traditional pubs to trendy Busselton brewery venues, the watering holes of Busselton are among the best in the country.
The many wonders of Busselton
Busselton is packed with natural and cultural delights. The biggest attraction in town is the heritage-listed 19th-century Busselton Jetty at the Busselton Foreshore, stretching almost 2km as the longest timber jetty in the southern hemisphere.
Less than half an hour northeast, spectacular tuart trees and two species of possum are the main attractions of Tuart Forest National Park - the largest remaining pure forest of Tuart trees in the world. Whether you're in town briefly to visit these attractions or to enjoy an extended Margaret River road trip down south, exploring WA is enough to make anyone thirsty.
Some pubs in Busselton have been around for over 100 years, including many housed in heritage buildings. Other venues present a new and trendy face, and some even make their own beer - cheers to that!
Whether you're looking for great food, live music, or delicious craft beers, the following Busselton breweries, bars and pubs are among the very best.
The Fire Station Specialty Beer & Wine Bar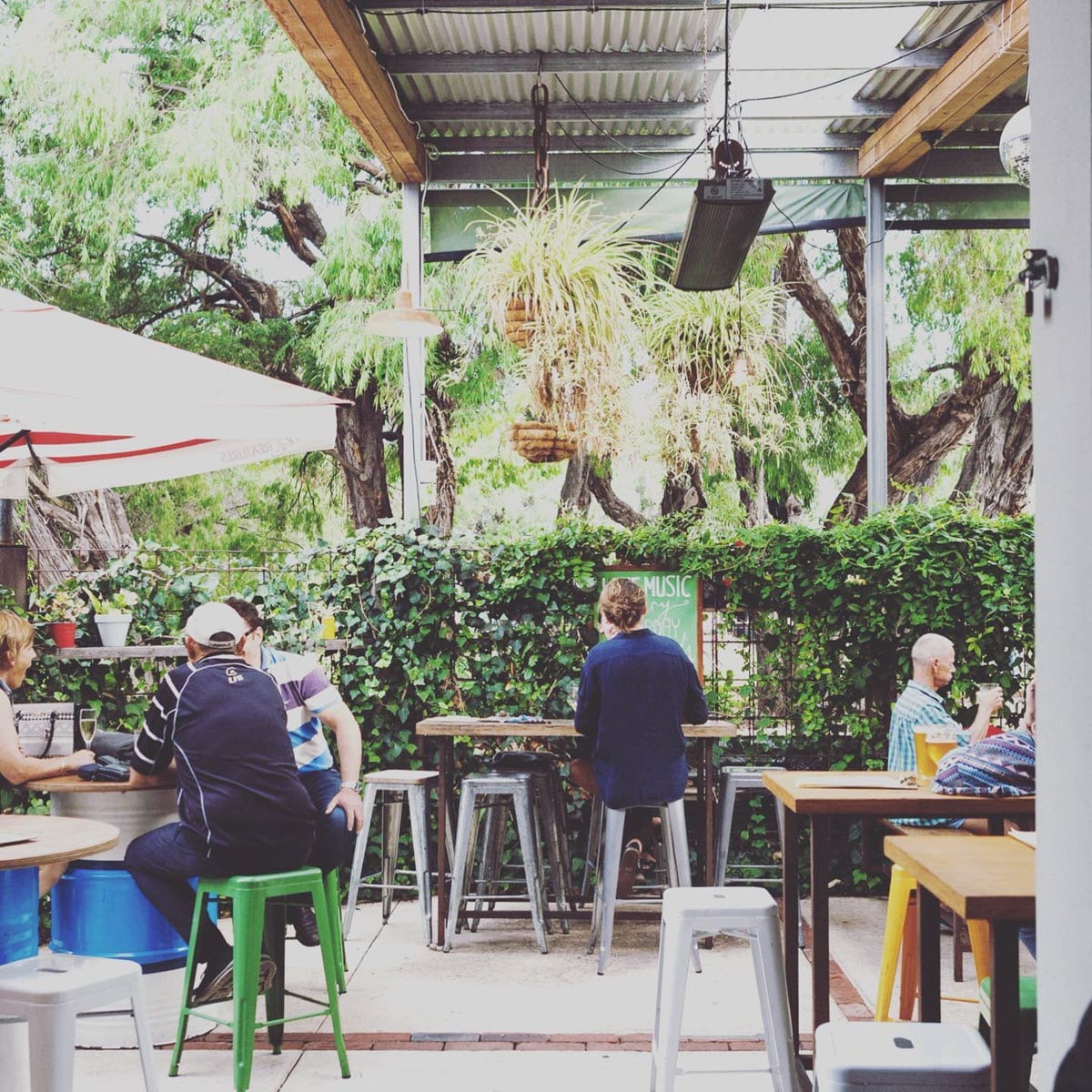 Locals make the most of the relaxed atmosphere and cold beers at The Fire Station Busselton.
Address: 68 Queen St, Busselton WA 6280
Phone: (08) 9752 3113
Built in 1936 and acting as a working fire station until 1990, this fantastic spot has been reclaimed as a small bar to support local beer, wine, and food producers.
The functionalist inter-war architecture of the building works great as a hospitality venue, and during the weekends, things can heat up nicely. Whether you're looking for chicken ribs, fish tacos, or tasty craft beers, The Fire Station is sure to satisfy you.
Along with beautiful decor and a warm welcoming atmosphere, guests also enjoy a great selection of gin, cider, and ginger beer.
Rocky Ridge Brewing Co TapHouse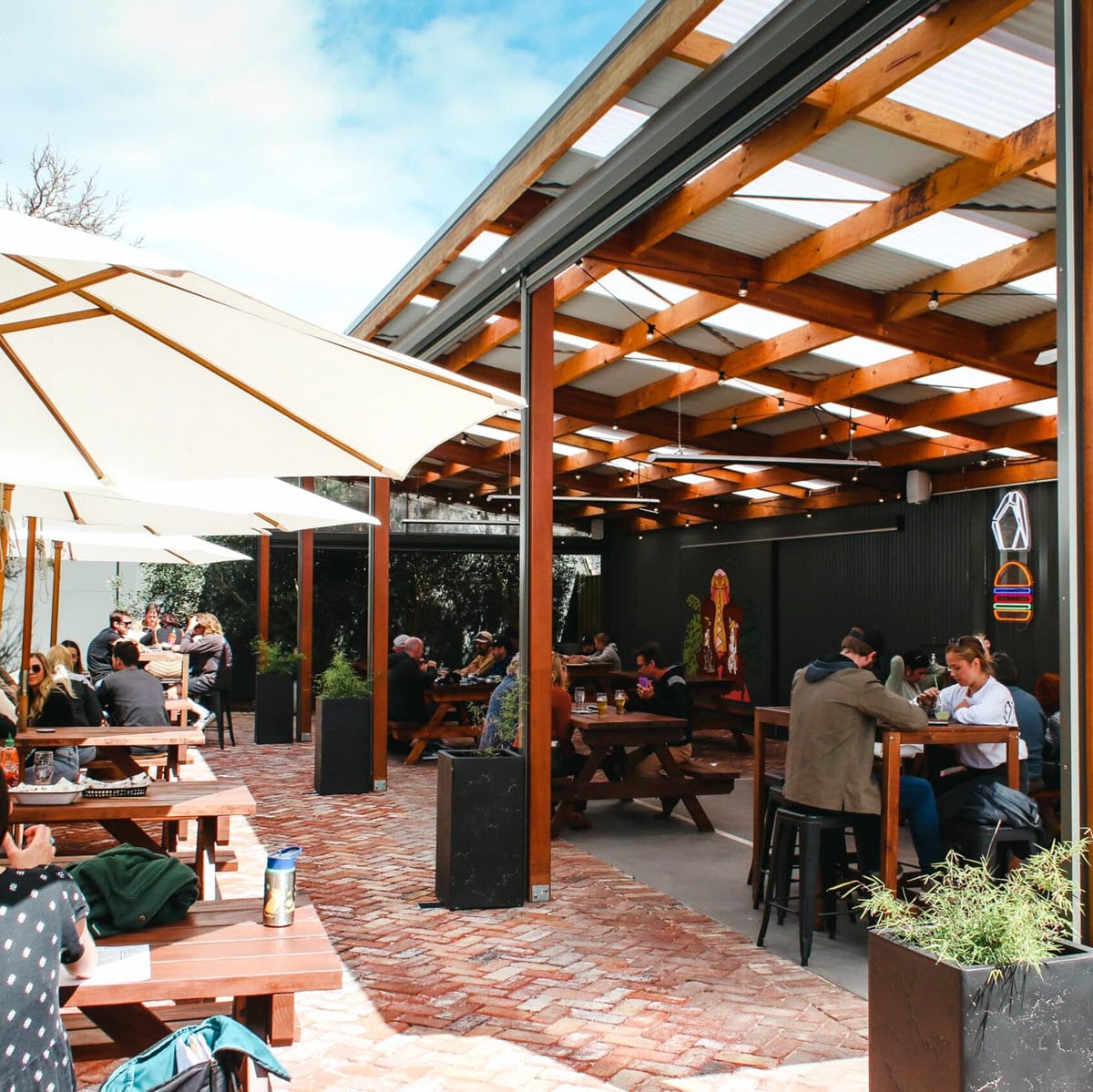 Enjoy the sunset over Busselton beach at Rocky Ridge TapHouse.
Address: 10 Marine Terrace, Busselton WA 6280
Phone: (08) 9717 6664
From weekend adventures to long summer afternoons, Rocky Ridge is the perfect spot for craft beer tasting. Situated one block back from the Busselton Jetty, this venue certainly matches Busselton's relaxed and friendly vibe.
Set in their refurbished 1930s family home, you can relax on "the lawn" with mates, or enjoy the one-of-a-kind tasting room with 25 thirst-quenching brews. Rocky Ridge Brewing Co.'s TapHouse is the perfect place for conversation, relaxation, and delicious craft beverages.
The Ship Inn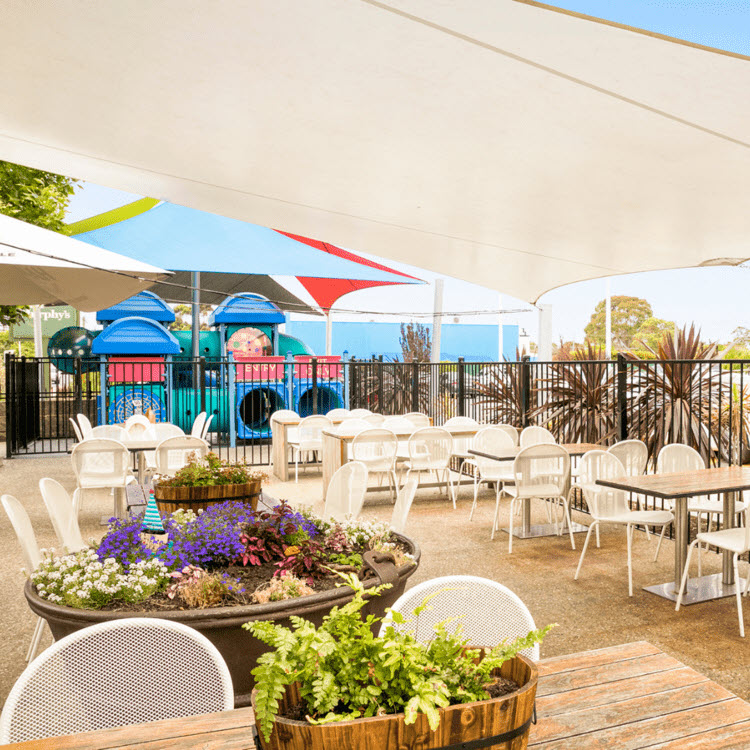 Make the most of your adventure in the heart of Busselton at The Ship Inn.
Address: 8 Albert St, Busselton WA 6280
Phone: (08) 9752 3611
Dating back to the early 1840s, The Ship Inn is one of Busselton's long-standing institutions. Located in the heart of Albert Street, this iconic destination is a favourite with both locals and visitors.
Despite its long history, The Ship Inn is a modern and well-equipped venue, with guests enjoying multiple dining areas, a fantastic beer garden, a comfortable lounge area, and a sports bar.
Shelter Brewing Co.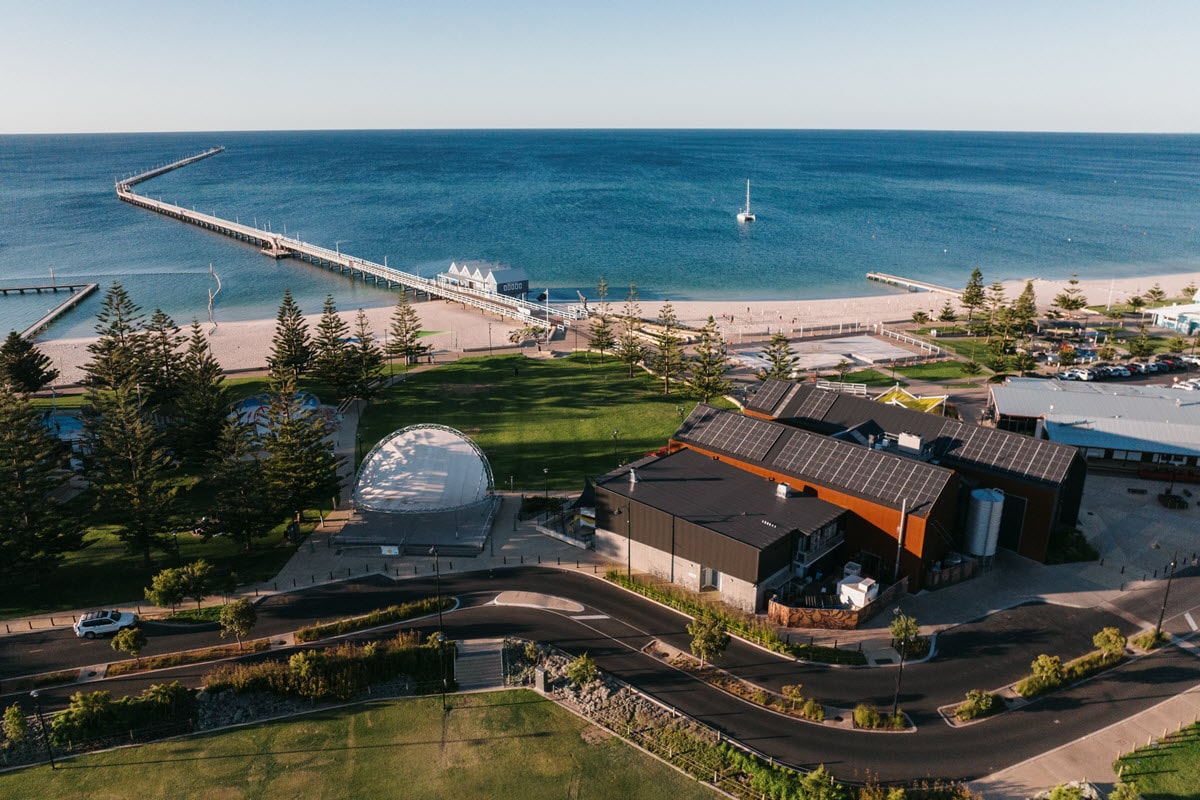 Check out Shelter Brewing Co., Busselton's newest craft brewery.
Address: 11 Foreshore Parade, Busselton WA 6280
Phone: (08) 9754 4444
Just a stone's throw from the beach, this much-loved local spot is inspired by the calm blue waters, white sandy beaches, and famous jetty of Busselton. Designed as a new-style bar and brewery combo, Shelter Brewing Co. offers a relaxed and welcoming atmosphere to everyone who enters.
If you want to watch the bay while tasting genuine Busselton brews in style and comfort, Shelter Busselton is pretty much impossible to beat. Cold beers, delicious food and a friendly local atmosphere - what's not to love?
Tonic By The Bay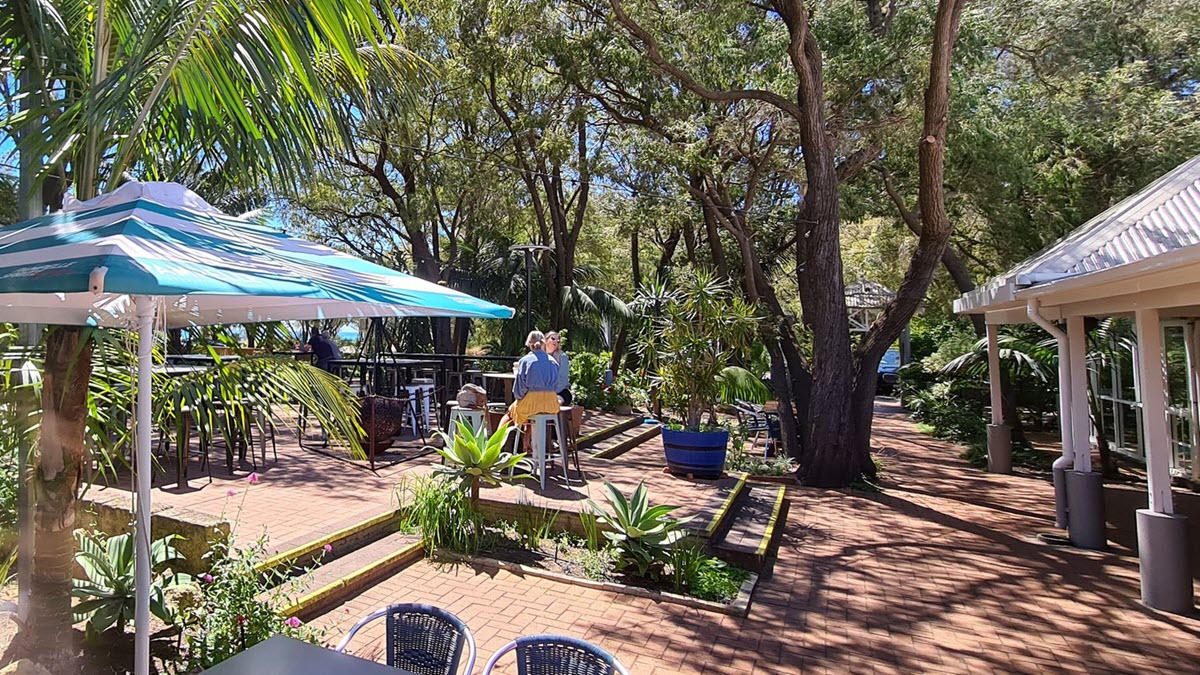 Beachside beers and eats at Tonic By The Bay in South West WA.
Address: 11 Holgate Rd, Broadwater WA 6280
Phone: (08) 9751 3008
Located just a brisk 15-minute walk from Busselton Lazy Days Caravan Park, Tonic By The Bay is a quaint beer garden and bar overlooking the Busselton shoreline. Surrounded by lush greenery which creates a calming natural atmosphere, this unique bar will have you feeling like you've escaped to an island retreat with ice-cold beers and locally sourced food.
Need a quick coffee hit after a night out enjoying one of the many Busselton breweries, pubs and bars in this list? You're in luck! Tonic By The Bay is also open daily from 8am so you can grab a coffee before heading off on your next Busselton adventure.
Need some inspo? Read our list of things to do in Busselton.
Albies Bar & Bistro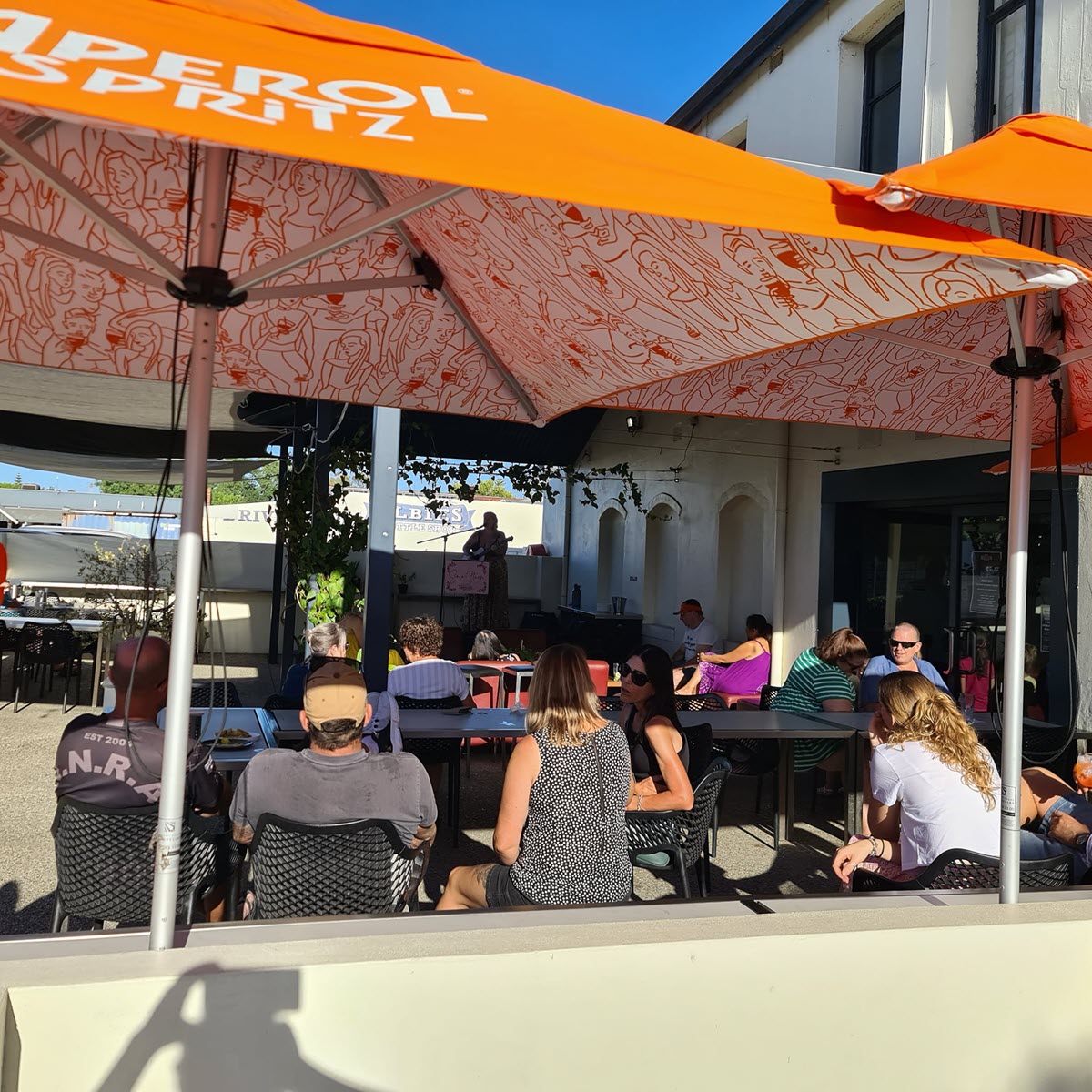 Enjoy some awesome live music from local bands at Albies Bar & Bistro in Busselton, WA.
Address: 117 Queen St, Busselton WA 6280
Phone: (08) 9752 1166
Located in Queen Street in the heart of Busselton, Albies Bar & Bistro is a classic Aussie venue with more. Formally known as The Commercial Hotel, this traditional hotel-style pub is popular with Busselton residents and visitors from across Australia.
Along with friendly locals and the famous Albies restaurant menu, you'll also find pub trivia nights, a great street-side deck, and some of Australia's favourite beer on tap.
The Vasse Tavern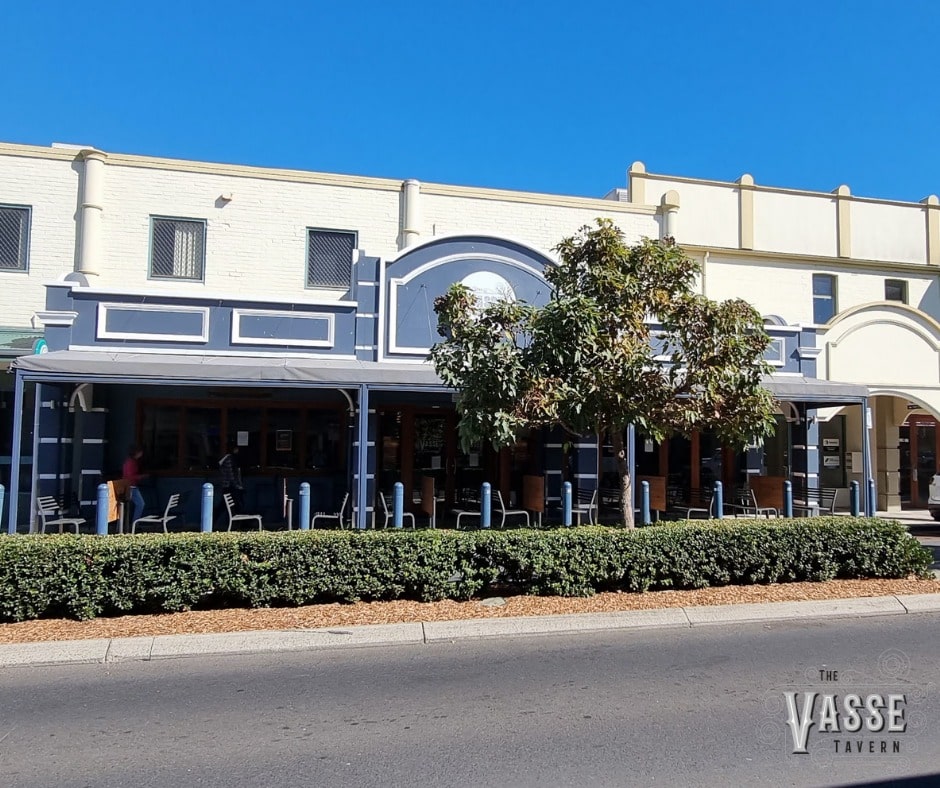 Enjoy some good vibes and even better beer at The Vasse Tavern, Busselton.
Address: 44 Queen St, Busselton WA 6280
Phone: (08) 9788 6314
This vibrant traditional pub on Queen Street has been a major Busselton attraction for many decades. The Vasse Tavern is steeped in history, as the latest incarnation of the original 1906 Vasse Hotel.
Along with great food and 16 beers on tap, you can expect some of the best local wine from the South West region. Live bands are also commonly on show at The Vasse Tavern making it the ideal location for music buffs.
Hally's Bar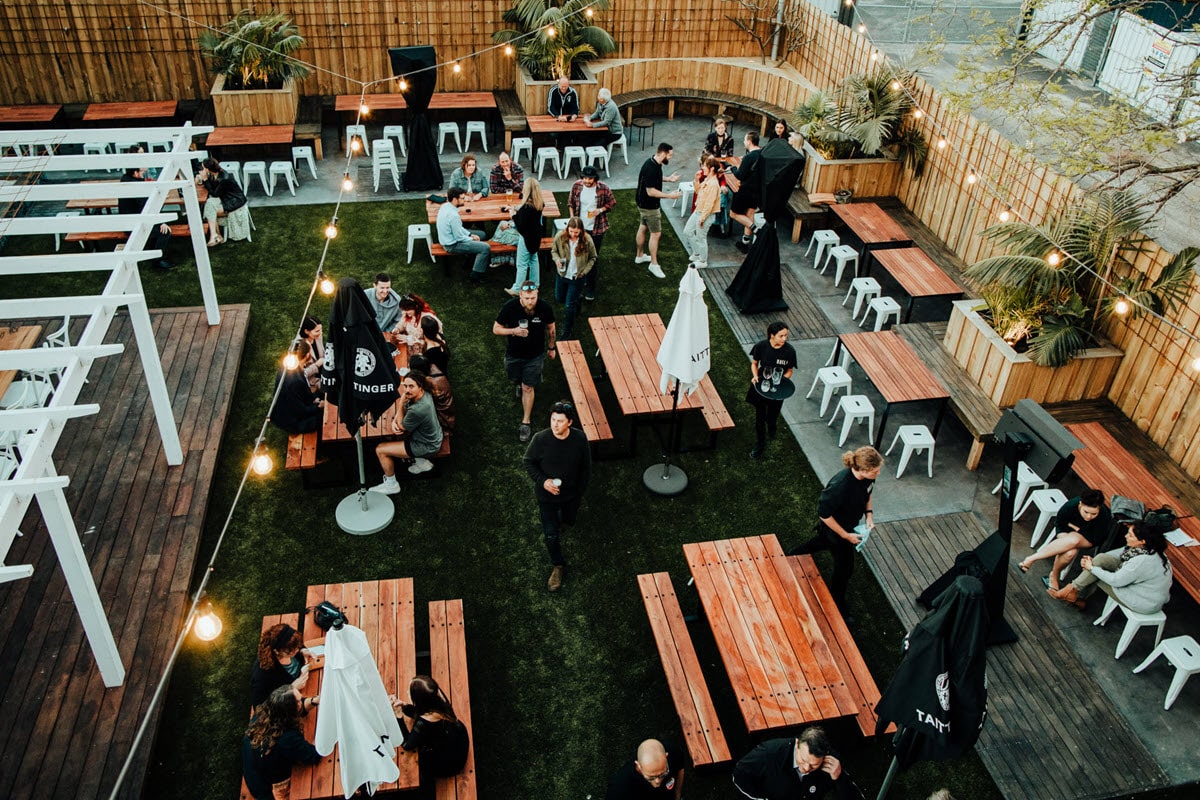 Enjoy the beer garden and rooftop bar at Hally's in Busselton, WA.
Address: 45 Albert St, Busselton WA 6280
Phone: (08) 6234 1444
Hally's Bar follow a simple code; Eat, Drink, Repeat.
Featuring a relaxed and spacious beer garden and rooftop bar, Hally's Bar offers a wide selection of local craft beers, wines and can even shake up your favourite cocktail. Matched with the simple but delicious food, you're sure to be satisfied for a lunchtime visit.
If you're seeking a more party weekend vibe, Hally's is the place to go at night over the weekend. Busselton locals and travellers alike head along to meet, party and enjoy some of the best beer on tap in the southwest.
Cheeky Monkey HQ - Production Brewery and Tap House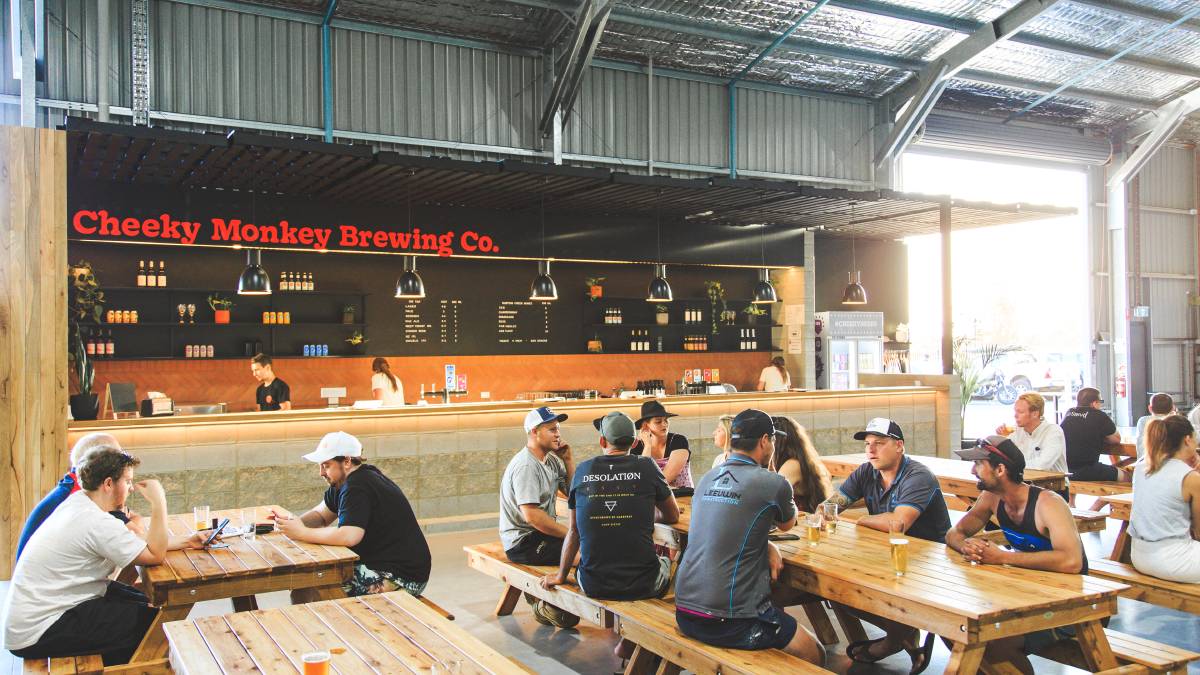 Bring your four-legged pal to Cheeky Monkey HQ in Vasse, WA. Image Credit: Busselton Mail.
Address: 44 Commerce Rd, Vasse WA 6280
Phone: (08) 9755 8433
If you enjoy the delights of pizza and craft beer without the hoards, the Cheeky Monkey HQ may become your new regular. This great spot is located in an industrial park in Vasse, which is a local suburb 10 km from the Busselton CBD. While technically not in the main Busselton town centre, we thought this one is a must-include on our list.
The Cheeky Monkey is operated by Cheeky Monkey Brewing, so there are fresh craft beers on tap, delicious local wines and a range of pizzas on offer if you're feeling peckish. If you're driving, Cheeky Monkey HQ also have a range of non-alcoholic beverages. In this relaxed venue, dogs are very much welcome on a lead. If you're looking for a local brewery in Busselton, this place is hard to beat.
Amelia Park Tavern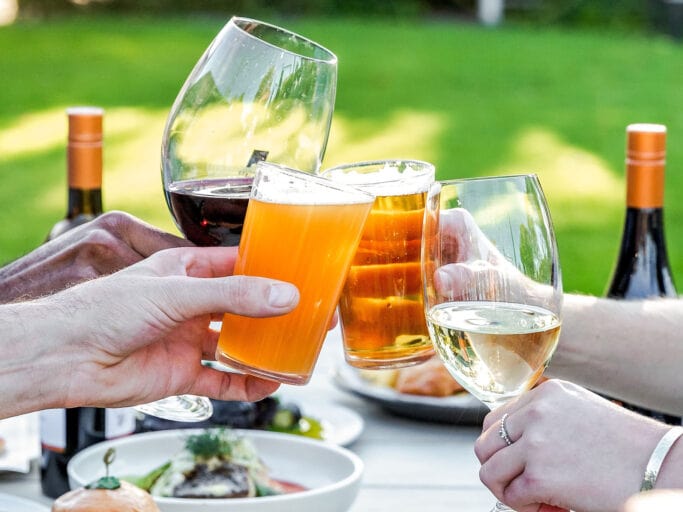 Enjoy your beer with a touch of class at Amelia Park Lodge in Abbey, WA.
Address: 5850 Bussell Hwy, Abbey WA 6280
Phone: (08) 9755 4431
This popular family-friendly tavern combines Aussie food and beer traditions with glamorous art deco styling. This place is a touch more upmarket than other pubs in Busselton, especially after its recent multi-million dollar renovation. Located just a quick stone's throw west of Busselton in Abbey, this tavern is the perfect date night location for local travellers.
With big architectural ceilings, a great sun-soaked beer garden, and fantastic styling inside and out, Amelia Park is a big hit with everyone. Along with great food and beer, you will also find a great selection of Australian and international wines and spirits.
Where to stay when you're exploring Busselton
The entrance at Busselton Lazy Days Caravan Park.
Whether you're in town overnight with friends or enjoying a long holiday with the family, there is a range of comfortable Busselton accommodation options. If you're looking for somewhere close and affordable to stay while you explore the local area, our very own Busselton Lazy Days Caravan Park is a fantastic choice.
This WA caravan park is a family-friendly getaway located right on the Bussell Highway in the heart of town. With affordable park home accommodation, fantastic on-site caravans, and pet-friendly camping sites, Busselton Lazy Days Caravan Park is the perfect place to rest your head after exploring the pubs and breweries of Busselton.