Busselton is well known as a superb beachside holiday town and has so much to offer. Looking for what to do in Busselton and the best attractions in Busselton? We have put together the ultimate Busselton travel guide to help you find the best places and things to see, do and eat.
Busselton sits on the edge of beautiful Geographe Bay. From snorkelling, fishing, whale watching and swimming in the crystalline waters of Geographe Bay, to exploring the bordering placid white sandy beaches and coastal trails, it's easy to instantly see why Busselton has the reputation as a vibrant beach town packed with things to do.
In downtown Busselton there are playgrounds, walking paths, cafes and bars along the fantastic extensively developed foreshore, not to mention the famous 19th-century Busselton Jetty and its iconic red train, one of the most iconic attractions in Busselton.
You can book your accommodation and experiences in Busselton with Lazy Days Caravan Park – it doesn't get much easier than that! Read on for things to do in Busselton, including many fun and free family activity ideas.
Things to do in Busselton:
Busselton weather
Find the best season to book a trip to the Busselton area.
| | | |
| --- | --- | --- |
| Summer | Dec, Jan, Feb | 13°C - 29°C |
| Autumn | Mar, Apr, May | 10°C - 27°C |
| Winter | Jun, Jul, Aug | 8°C - 18°C |
| Spring | Sep, Oct, Nov | 9°C - 24°C |
Busselton activities map:
Must-see local attractions in Busselton
Busselton is perhaps best known for the postcard-perfect 19th century Busselton Jetty, the longest wooden jetty in the Southern Hemisphere. The Jetty and Aquarium is a great Busselton day trip activity.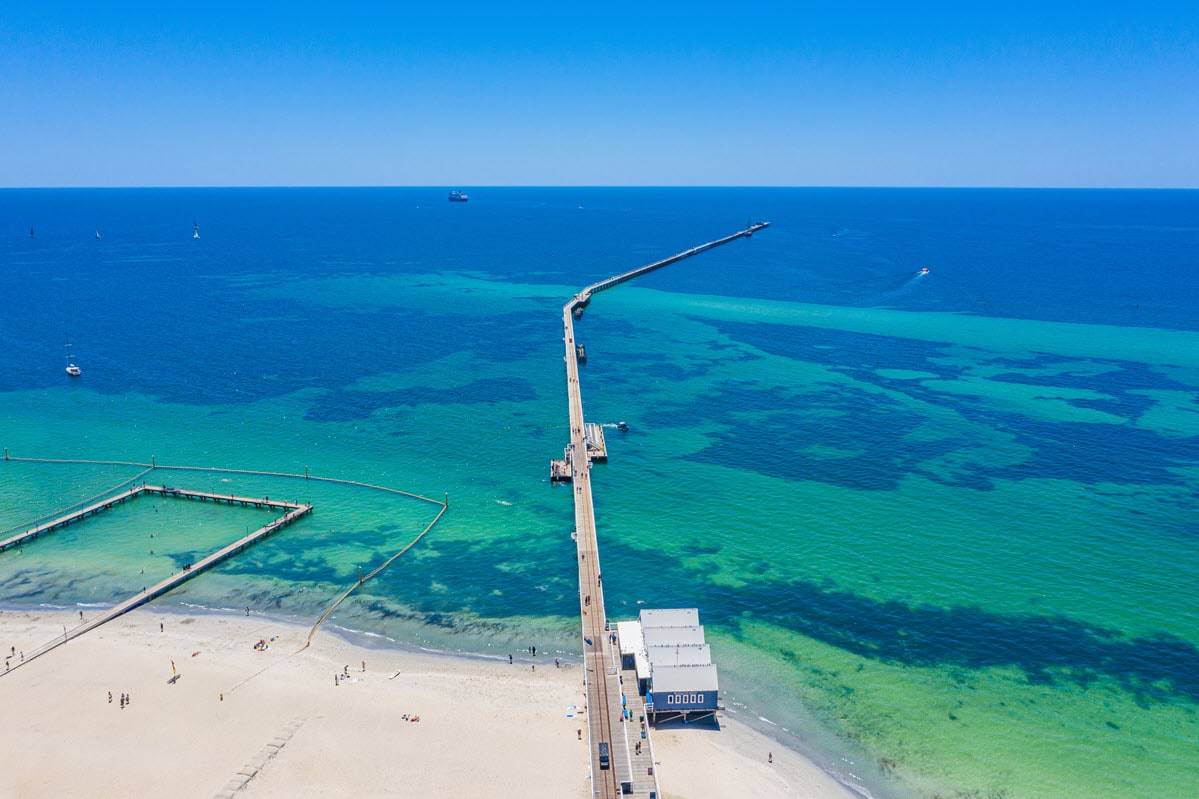 Coastal view down the length of Busselton Jetty with the clear ocean on display.
With the white sands of the beaches stretching into the distance on either side, iconic red train and brilliant blue water it's Instagrammable and a must-see attraction in Busselton.
1. Experience the Jetty Train
The historical Busselton Jetty is nearly 2km long, so the 90 seat electric Stocker Preston Express train is the perfect way to see this attraction.
The train departs on the hour, and it's recommended you arrive 15 minutes prior to departure. The return jetty train trip takes about 45 minutes. Bookings are recommended - make your Busselton Jetty Train booking here.
2. Discover the Underwater Observatory
Walk or catch the train to the end of the jetty where you will find the amazing Underwater Observatory. Here you can take a guided tour 8 metres below to view the coral on the seafloor and glimpse some of the 300 marine life species that call this part of Geographe Bay home. This is a great activity to do on a day trip from Busselton.
3. Diving at Busselton Jetty
The last 200 metres of the jetty is known to be one of the best diving spots in WA and has consistently been voted one of Australia's best shore dives. Tip: catch the train to save lugging all that gear!
4. Take an Undersea Walk Tour
The Busselton Jetty Undersea Walk tour takes you on a guided snorkel, scuba dive or SeaTREK® undersea walk under the famous 150-year-old jetty's pylons. This experience is definitely one of the diving highlights in the entire state and is great for all levels of experience, including absolute beginners and anyone over 12 years of age.
5. Swimming at Deep Sea Pool
Known as the Deep Sea Pool, Busselton's virtual shark net was installed 1.7km out on the Busselton Jetty. An electromagnetic field fixed to buoys emits low-frequency electrodes to deter sharks, creating a protected swim, snorkel and scuba dive area. A floating pontoon is installed in summer and exploring the colourful underwater world is a super fun family activity idea.
There are plans for an underwater sculpture project on the seafloor too.
Busselton tours
A guided Busselton tour is a great way to see and experience the beautiful and bountiful waters of Busselton and Geographe Bay. Booking a tour or activity with an experienced local operator is the perfect way to maximise your trip to Busso'.
6. Dive Busselton Jetty
Highly regarded Dive Busselton Jetty operate guided underwater helmet walks, swim, dive and snorkel tours in the protected area at the end of the historical 1.8km long Jetty.
7. Swan Dive Busselton
From their base at Port Geographe Marina, east of the centre of town, Swan Dive can help out with dive equipment rental, dive courses and diving tours to Busselton Jetty and the famous HMAS Swan Wreck, which is the largest sunken dive wreck in Australia and one of the best dive spots in WA.
8. South West Eco Discoveries
Take a Nocturnal Animal Tour with Busselton based South West Eco Discoveries. A fascinating 2 hour evening tour departing Busselton where you'll observe critically endangered Woylies (Brush-tailed Bettongs) and other bush animals.
Private tours and charters can also be arranged.
9. All Sea Charters
During the whale watching season, typically September to November, All Sea Charters run excellent twice daily whale watching tours to witness the annual Humpback & Southern Right Whale migration.
Geographe Bay is famous as a resting area for the southern migration of the Humpback Whale and the calving grounds of the Southern Right Whale.
10. Naturaliste Charters
The expert team at Naturaliste Charters conduct wonderful uncrowded twice daily whale watching tours where you learn all about the local marine life of the area. Tours leave from Busselton Beachfront or Port Geographe Marina during the whale watching season.
11. Margaret River Wine Tour
Busselton really is the gateway to the world-famous Margaret River wine region, and an organised tour with an expert local operator is a fantastic way of taking the stress out of planning an itinerary and avoiding drawing straws for the DD. Cape To Cape Wine Tours organise pickups from your Busselton accommodation and have lots of choices of vehicles. Why not spoil yourself and splurge on the luxurious limo tour of some of Margaret River's best wineries! This is one of the best day trips from Busselton.
Busselton beaches & parks
Busselton is blessed with unspoiled and calm white sandy beaches. With high visibility and clear blue water, Busselton's beaches are great for paddling, snorkelling, swimming and fishing, some of the most popular pastimes in Busselton.
The beaches in Busselton tend to have calmer and warmer waters and also boast nearby developed parklands, handy amenities and easy accessibility.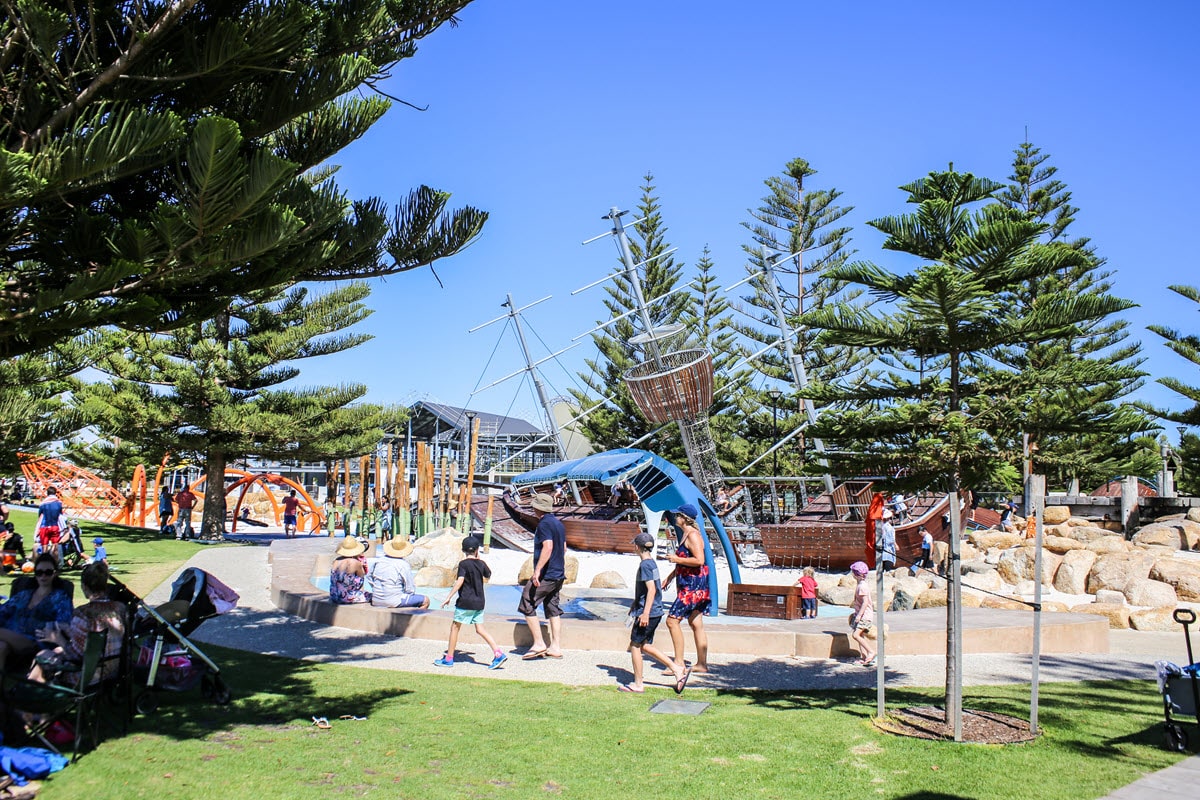 The Busselton Foreshore playground with families enjoying all the things to do in Busselton, Western Australia.
Busselton's sandy beaches stretch from east of the marina right to Dunsborough in the West. Closeby are the phenomenal beaches of Meelup, Eagle Bay and the vast South West Margaret River region - view our guide to the South West region's beaches here.
The weather is so good for so much of the year a day at the beach, or walking or cycling along the foreshore is a brilliant family activity or day out.
12. Busselton Foreshore
The Norfolk pine-lined Busselton beachfront is a fantastically developed greenspace that buffets Geographe Bay, Busselton Beach and the Busselton CBD. There are wonderful wide paved walking and cycling paths connecting east and west of the iconic Jetty.
A great activity to do is walk or ride along these trails taking in the vibe of the town and the beauty of Geographe Bay, stopping along the way at the various playgrounds and undercover seating and picnic areas. There are well-lit picnic and barbeque facilities spread around, water refill stations and good public toilets. High-quality dining options are right there within walking distance too.
The white sand of Busselton Beach is easily accessible by stairs and ramps along the foreshore
The Busselton Visitor Centre is located at the foot of the Jetty and is a great place to stop for maps, souvenirs, and even more information and inspiration on the many things to do in Busselton.
13. Pirate Ship Adventure Playground
Busselton Foreshore Parade, Busselton, Western Australia.
For travellers with children, the jewel of the Busselton foreshore is the superb ocean-themed playground, complete with a life-sized clipper ship, giant squid, scalable bird nest lookout and huge water spraying diving whale tail that is tipping the ship over.
There's so much to explore, this will keep little pirates occupied for hours. There are sections of this fantastic playground suitable for all ages, and some sections only suitable for older kids.
Public toilets, barbecues and picnic tables are located near the playground also.
14. Busselton Amphitheatre
Busselton Foreshore Parade, Busselton, Western Australia.
Right near the park is Busselton's new outdoor amphitheatre, where the Busselton Jazz Festival, Family Fun Day and other seasonal festivals and performances are held, especially during the warmer months. Many events are free entry. Check out the Busselton City Events Calendar online to see what's on.
15. Busselton Beach (Dog-Friendly)
Most of the Busselton beach west of the Jetty is off-leash, excluding the area near the jetty to the east of the beach access steps (dogs prohibited here), and a marked area between Margaret Street and King Street. This area is seasonal so read the signs.
16. Signal Park (Dog-Friendly)
Right out front of Rocky Ridge Brewing is Signal Park, a lovely green space with plenty of space for the dogs to run. Just behind the park is a children's playground and access to the beach at the Busselton Foreshore. Please note dogs are not allowed on the adjacent portion of the beach.
A fun and family-friendly activity idea are the Busselton Rotary Markets and Busselton Foreshore Markets - held on alternate Sunday mornings at Busselton's Signal Park.
For a full list of Busselton's dog exercise areas click here.
More amazing beaches along Geographe Bay:
Busselton bars, breweries & cellar doors
If you are thirsty or hungry then the Busselton Foreshore is the place to head, for quality food options with a view to match. There are endless Busselton breweries, bars and pubs that you'll be spoilt for choice.
17. Rocky Ridge Brewing
10 Marine Tce, Busselton, Western Australia.
Rocky Ridge Brewing is a modern, family-owned brewery in Jindong, just south of Busselton. They also have a great taproom and cellar door, complete with a food truck, set in a refurbished and renewed 1930s family home in central Busselton, super close to the Jetty.
Rocky Ridge brews a wide range of high quality and tasty beers, including interesting seasonals very much worth scoping out, all with a careful emphasis on fresh, local and sustainable produce. The brewery is 100% off-grid and is carbon neutral.
18. Shelter Brewing Co
11 Foreshore Parade, Busselton, Western Australia.
Situated right next to the famous Jetty, Shelter Brewing Co offers a unique selection of beers in their family-friendly Mail Hall setting and seasonal menus at their adjoining restaurant. The place has a definite laid back beach vibe and the views are unbeatable. Shelter Brewery Co offer brewery tours, including lunch on a private deck with fantastic views of the bay. Book your brewery tour online.
19. The Fire Station: Specialty beer and wine bar
68 Queen Street, Busselton, Western Australia.
Set in a 1930s fire station offering local craft beer as well some interesting international guests taps, organic and natural wines, and small local food producers. Try their house wine on tap!
Bookings are available online.
Busselton restaurants & dining
Stopping by on a larger adventure, or spending some days relaxing in Busselton, check out these popular restaurants and cafes next time you're in Busselton. All have an emphasis on quality local products, and they really need to be experienced next Busselton trip.
20. Hummingbird
60-66 Queen Street, Busselton, Western Australia.
Hummingbird serves vibrant and tasty modern Australian dine-in and takeaway, with a great vibe. The servings are generous and they do a very good brunch. Come early as they get busy.
21. Equinox Bar & Cafe Busselton
Foreshore Parade, Busselton, Western Australia.
An unbeatable foreshore location, great views of the sand and a great menu makes Equinox Bar & Cafe Busselton a great idea. They do take away fish and chips too.
22. Fish and chips
And speaking of fish and chips, there's no shortage of fantastic fish and chip take out spots. Some of the highest-rated ones include Gropers and Busselton Beach Shack Takeaway.
Busselton fishing & boating
Fishing is a favourite pastime in Busselton, and there are plenty of great spots to fruitfully cast a line. Thanks to the giant Jetty, you don't even need a boat!
The Busselton Jetty is a famous fishing spot, where you'll be landing a diverse range of species anywhere along its length. Larger varieties like samson fish, mulloway, tuna and salmon aren't out of the question. The most common fish caught on the Jetty are herring, skippy, gardies, tarwhine, crabs and squid.
Further afield, if you have access to a boat Geographe Bay has plenty to offer.
There are three boat ramps in Busselton, if you're looking to head out to Geographe Bay for some top-notch fishing, or exploring the beautiful coastline and the many little beaches and rocky points.
Port Geographe Boat Ramp: Extra large boat ramp with ample parking
Abbey Boat Ramp: Beachfront boat ramp with clean toilets.
Dolphin Road Boat Ramp: Launch your boat on the white sandy beach. Toilets and showers are nearby.
23. Fishing charters
A great thing to do in Busselton is to head out in the bay, or around the cape, with a local fishing charter. Legend Charters operate deep sea fishing tours leaving from nearby Dunsborough.
24. Yachting
Busselton and the pristine blue waters of Geographe Bay offer some of the most perfect sailing conditions in the country. Each year the area hosts WA's premier yachting regatta, Geographe Bay Race Week, drawing competitors from around the world. The Geographe Bay Yacht Club organises events for anybody to get involved, whatever their skill level.
Busselton national parks, walks & historical landmarks
There's more to Busselton than beautiful beaches and the excitement of the underwater world. Just outside town, the natural landscape provides lots of interesting family-friendly activities and things to see and do.
25. Tuart Forest National Park
Capel, Western Australia.
Just 15km northwest of Busselton is the towering tuart trees of Tuart Forest National Park. The majestic tuart tree only grows on coastal limestone 200km on either side of Perth and Tuart Forest National Park is the largest remaining pure forest of tuart in the world.
Tuart trees reach 33m high and an impressive 10m in girth. Head to Tuart Forest National Park for a walk among the beautiful trees and this highly unique ecological environment.
26. Possum spotlighting trail
Layman Road, Wonnerup, Western Australia.
The Tuart Forest National Park is home to WA's largest remaining wild population of the endangered western ringtail possum.
The family-friendly Possum Spotlighting Trail is a brilliant free family activity idea. It's an easy 1.5km, about 1hr, self-guided trail. It's designed to be walked at night, so bring a spotlight or large torch.
You'll more than likely come face-to-face with the nocturnal inhabitants of the Tuart Forest. The trail is safely marked by red reflectors and information plaques guide the way.
27. Wonnerup House
Layman Road, Wonnerup, Western Australia.
Take a self-guided tour of Wonnerup House, an interesting and picturesque National Trust of WA farm precinct, homestead, and school building built in 1859 by George Layman Jnr for his family. Located in a majestic area between Tuart Forest and the Vasse Estuary wetlands, the farm is open to the public to learn about those that built and lived on the farm, and the difficult and turbulent role it plays in the region's history.
Entry to Wonnerup House is by donation and an expansion of the on-site museum in progress.
28. Ambergate Reserve & Nature Walk Trail
Queen Elizabeth Ave, Chapman Hill, Western Australia.
Just 9km out of Busselton, Ambergate Reserve is a large regional park of coastal scrubland and woodlands, ideal for a scenic hike or a picnic lunch. The 4km loop trail is an easy walk and a great place to be amongst an amazing variety of native plants and wildlife. There are over 360 plant species recorded including marri, jarrah, peppermints, banksia and two dozen species of orchid. The reserve is especially glorious during the spring wildflower season.
Busselton art galleries, culture & entertainment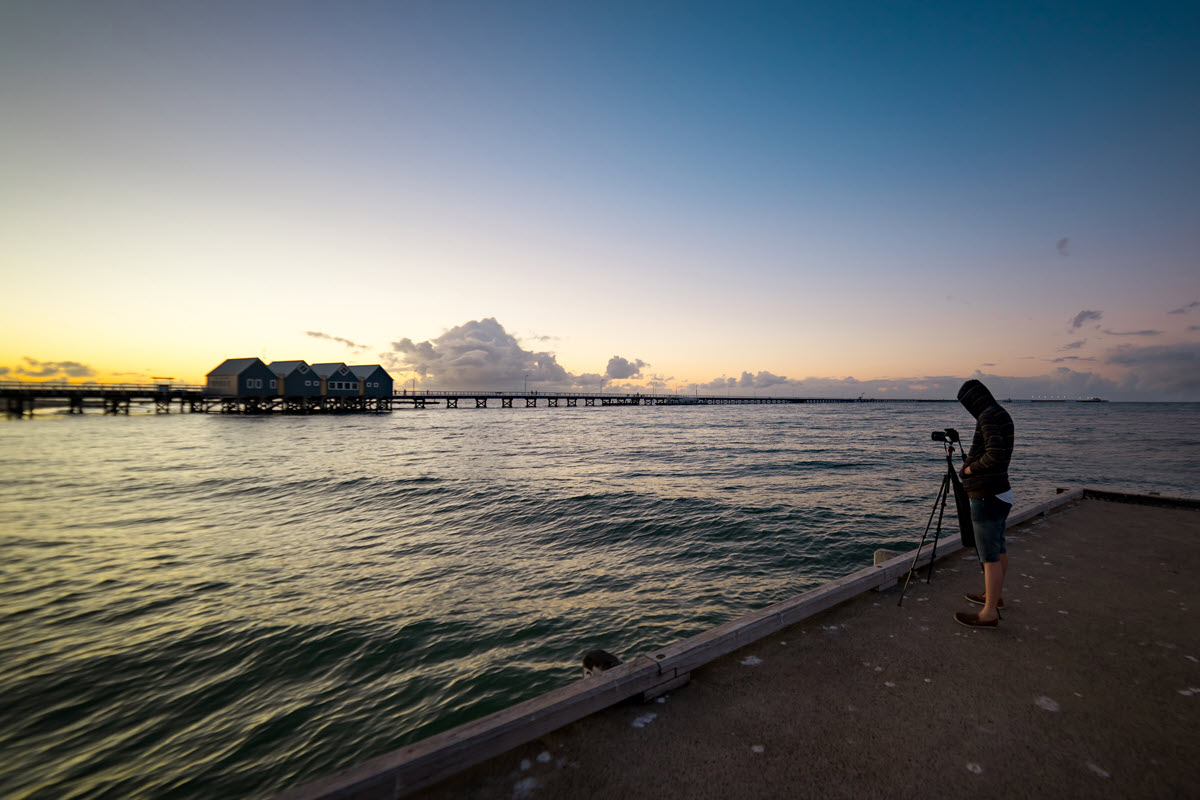 Photographers taking pictures of Busselton Jetty as the sun sets in Western Australia.
29. The Busselton Historical Museum
Old Butter Factory Complex, Peel Terrace, Busselton, Western Australia.
Situated in an old butter factory, and the banks of the picturesque Vasse River, the Museum is small but well-appointed featuring photographs, equipment and memorabilia tracing the family, social, civic, commercial and maritime history of Busselton.
The museum gives special attention to the famous 1920's Group Settlement Scheme, which shaped much of the South West.
30. Queen Street Cultural Precinct
Queen Street, Busselton, Western Australia.
Busselton's vibrant Queen Street Cultural Precinct features artist studios and workshops, a theatre, café, gardens, photogenic life-size bronze sculptures, and a historic Courthouse retail space.
Check out the Queen Street Cultural Precinct website for an up to date list of what's on.
31. ArtGeo Complex
The fabulous ArtGeo Complex, a centrepiece of Busselton's Queen Street Cultural Precinct, is a creative hub housed in State heritage-listed buildings from the 1860s, some of Busselton's oldest. ArtGeo regularly hosts interesting cultural events, visual art shows, performing arts, an annual art award and even free outdoor movies and food truck nights.
32. ArtGeo Gallery
The ArtGeo Gallery is a former bank refurbished into a stylish contemporary exhibitions space and presents local, national and international art shows.
The gallery plays host to an ever-changing exhibition schedule of contemporary Australian artists and hosts the highly anticipated annual City of Busselton Art Award. The award attracts artists from across the State contending for an acquisitive first prize of $10,000 and a solo exhibition in Gallery.
33. Historic Courthouse
The historic Courthouse contains a gorgeous gift shop featuring products designed and made in the South West and the Great Southern regions. You'll discover a great range of high-quality local art, jewellery, pottery, glasswork, cards, photography and woodwork. A great spot for retail therapy and for picking up unique souvenirs, that you won't see anywhere else.
Grab a coffee and a bite from the Lockup Coffee House, then stroll around the artist in residence studios in the converted stables.
The Courthouse and ArtGeo Gallery are open from 10am to 4pm daily, and entry is free.
34. Merenj Boodja Bush Food Garden
Take a stroll around the Merenj Boodja Bush Food community garden inside the ArtGeo Cultural Complex. The garden is filled with bush food plants depicting the six seasons recognised by Noongar culture.
35. Settlement Art Project Bronze Statues
A hot spot for selfies, the life-size bronze sculptures by WA artist Greg James reflect the Traditional Custodians, early European settlers and visitors, and acknowledge the timber industry of Western Australia.
36. Phil Hollett Gallery
Busselton based landscape photographer Phil Hollett has a gallery displaying his stunning large scale photos depicting the natural beauty of Busselton and the surrounding areas.
37. Jenny Taylor Designs
Acclaimed artist Jenny Taylor sells her original paintings, and a collection of vibrant homewares with her bright coloured Busselton inspired scenes applied, from her West Busselton home studio.
Sports & outdoor recreation
38. Primal Archery & Mini Golf
11 Cookworthy Rd, Abbey, Western Australia.
Give archery a go with a lesson, or try Archery Tag - kind of a mix between dodgeball and paintball (without the paint - or bruises). Featuring 5 and 10 target archery courses it's the perfect place for beginners to learn, and more experienced archers to hone their skills.
The targets vary in difficulty and each has multiple distances for you to shoot from. Gear rental available, or bring your own.
39. Bird Watching at Malbup Bird Hide
Off Layman Road, Wonnerup, Western Australia.
Busselton boasts a wonderful range of natural bird watching habitats - forest, heath, wetlands and ocean. The Malbup Bird Hide is across the road from Layman Picnic carpark, 100m from Wonnerup House.
By continuing along Layman Road and crossing the estuary near Lockville House, you will reach Wonnerup House (National Trust) on the left. Approximately 100 m beyond this is Layman Picnic Area car park. The hide overlooks Malbup Creek where it joins the Abba River and the Vasse Estuary.
40. The Par 3
1 Spinifex Ct, West Busselton, Western Australia.
Set in a picturesque setting of peppermint trees, on the historic Old Broadwater Farm in Busselton, The Par 3 has a lush 9 hole par 3 course and a newly constructed Mini-Golf Course.
41. Geographe Leisure Centre
Recreation Ln &, Queen Elizabeth Ave, West Busselton, Western Australia.
Conveniently located in the centre of town, locals and holidaymakers alike are welcome. There is a range of fitness facilities for all ages including three multi-purpose indoor courts, indoor and outdoor heated pools, a state-of-the-art gym with modern and interactive equipment, a group fitness studio with classes, an RPM/Spin studio, a cafe and a crèche.
42. Busselton skate park
Scout Road, Busselton, Western Australia.
The kids will love the family-friendly and expansive Busselton Skate Park, which has a huge 2000m2 of recreational space geared especially to young people. The park also has close to 90 meters of free-flow street skating space with a series of elements like kerbing, parking block ledges, skate rails and a smaller quarter pipe.
The park also has one of the largest bowls in Western Australia - at 18m long, 10m wide and 3m deep, best left to the pros, which should give the littlies something to aspire to. Those still learning to skate or BMX can utilise the smaller bowl which is 1.2m deep. There is plenty of seating, water fountains, green space, free barbeques and public toilets are located close by.
43. Discover Deadly
10 Wildwood Rd, Carbunup River, Western Australia.
Head just outside town to the Discover Deadly Education Centre where you can see over 30 different species of reptile, amphibian and arachnid, the largest display of its kind in the southwest!
Book your stay in Busselton
Ready for your next holiday in sunny Busselton?
Book your adventure with Summerstar staying at Busselton Lazy Days Caravan Park, just a stones throw from the beautiful coastline. With a range of accommodation options to suit any budget, book now to secure your spot.