Finding parks with ensuite sites in Western Australia and ensuite sites in South Australia is super easy with Summerstar Tourist Parks. With multiple parks across Western Australia and one in South Australia, no matter which location you're planning to visit, you'll find clean and affordable ensuite camping sites.
All you need to do is enter the number of people, which park you prefer, and your travel dates, and you will find plenty of ensuite caravan site options available for your stay.
What is an ensuite caravan site?
Ensuite sites are equipped with a private toilet, hand basin and shower, and some have powered sites to connect to your vehicle. It is a more convenient option, especially for families who prefer a bit of privacy during their stay.
These camping ensuite sites often come with a concrete slab that you can park your vehicle on, while some are grassed and/or also have space for a tent for travellers that prefer to camp.
It is very much a more hygienic option too. There are even options for having power, water and sullage connections to make it a comfortable stay at an affordable price.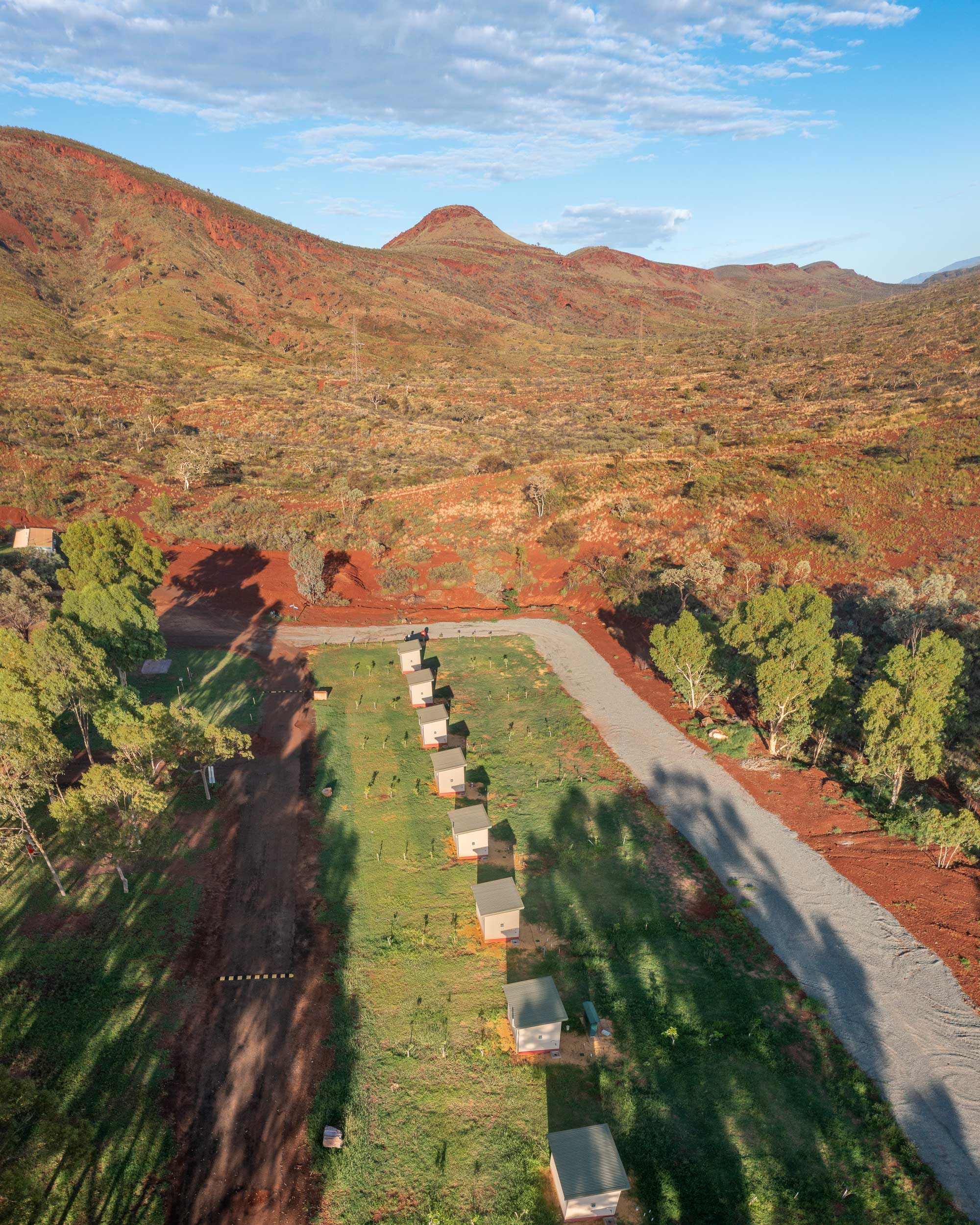 Powered Ensuite Sites at Tom Price Tourist Park
Find ensuite caravan sites in WA and SA
There are plenty of scenic options in Western Australia to choose from, with amenities and experiences that will help you find that fun, relaxing or adventure-filled vacation you and your family are looking for. There is also a ensuite camping sites in South Australia.
Summerstar holiday park sites across WA and SA
Summerstar Tourist Parks have a number of caravan parks with ensuite sites in WA and SA. Check out our guide to caravan sites with ensuite facilities below.
Margaret River Ensuite Powered Site Availability
While we don't have Busselton caravan parks with ensuite sites, we do have two caravan parks in Margaret River with ensuite sites. Head to Margaret River Tourist Park, located in the town centre. Visiting this park allows you to explore the beautiful countryside of Margaret River. With pet-friendly options, a jumping pillow, children's playground and powered ensuite caravan sites for accommodation for up to 6 guests, it is a perfect place to visit as a family. Book your ensuite site here.
Riverview Tourist Park Powered Ensuite Caravan Site
For those looking for a tranquil getaway, Riverview Tourist Park is perfectly located, nestled on river banks while still being walking distance to Margaret River town. It is a beautiful destination for those who enjoy tasting local foods and wines. View the range of ensuite sites and make your booking to enjoy a relaxing riverside stay. Head to our website to book powered ensuite sites in Margaret River today.
Geraldton Ensuite Camping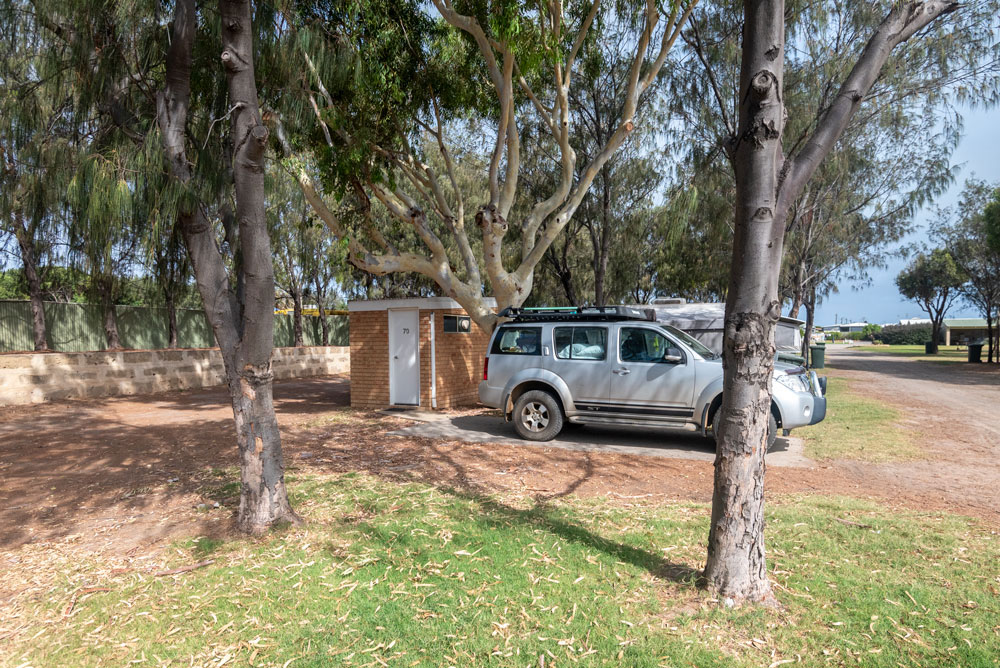 Geraldton Belair Gardens Caravan Park Powered Ensuite Campsite
Belair Gardens Caravan Park in Geraldton has powered ensuite site accommodation that sleeps up to 6 guests. Though these ensuite sites are an older style, you'll find clean amenities and sites that are either grass or hard-standing. The park itself is opposite a pristine beach where visitors can enjoy swimming and fishing, with the convenience of coming back to your private ensuite site to shower and refresh. The park also has a swimming pool for ensuite site guests to enjoy, and a playground for the kids so you can have a family-friendly stay with the added convenience of an ensuite. It is also near art museums and tours, a perfect base for exploring the surrounding Geraldton attractions.
Book your powered ensuite camping site at Geraldton Belair Gardens Caravan Park today.
Kalbarri Red Bluff Tourist Park Powered Ensuite Site Accommodation
Kalbarri Red Bluff Tourist Park is surrounded by the beautiful Kalbarri National Park. Summerstar Tourist Parks built the Kalbarri caravan park and caravan ensuite sites in 2018. All camping sites at Red Bluff are grassed powered ensuite sites with a shower, toilet and sink. These powered ensuite sites are also pet-friendly all year-round. Kalbarri offers a unique rocky coastal experience to visitors, with plenty of coastal cliffs and impressive gorges to explore.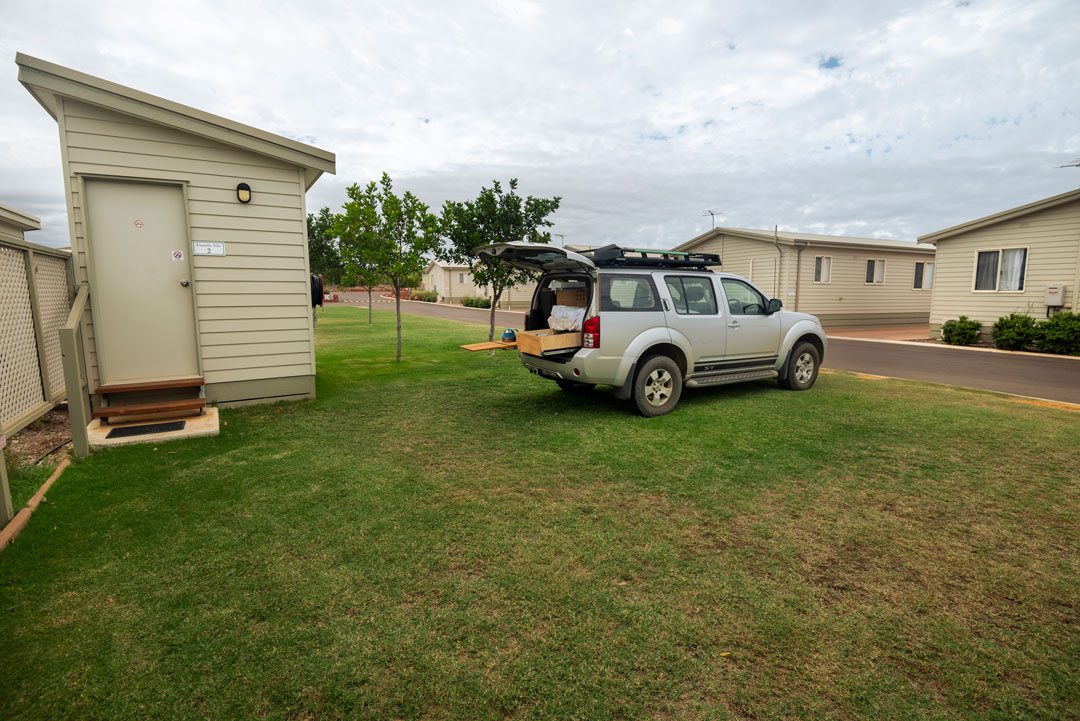 Powered Ensuite Camping at Kalbarri Red Bluff Tourist Park
The park is very popular, with a swimming pool and ocean views overlooking the iconic Red Bluff, meaning it's best to book in advance to secure your powered ensuite site.
Tom Price Ensuite Caravan and Camping Sites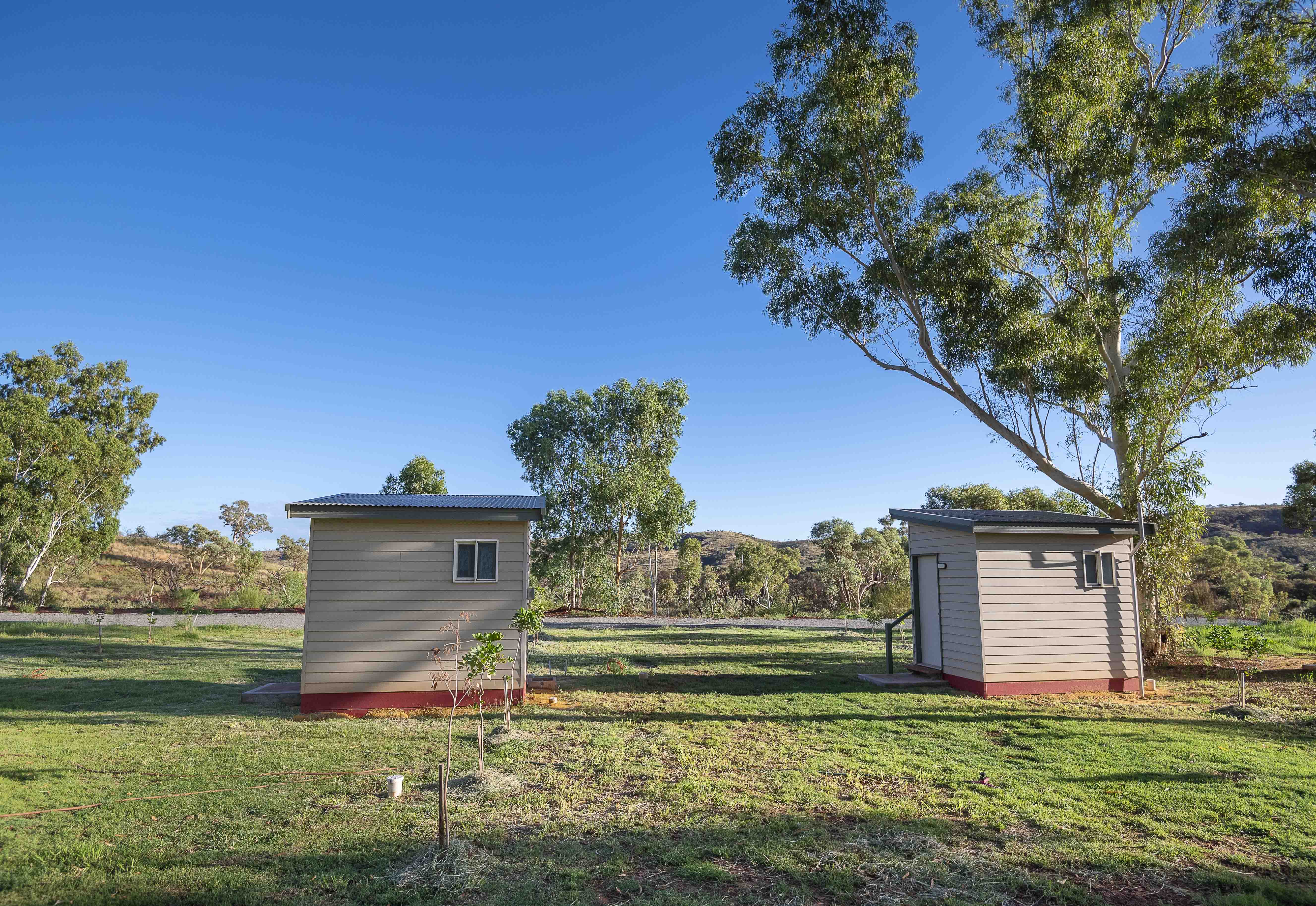 Grassed Powered Ensuite Sites in Tom Price
Tom Price Tourist Park is the perfect destination if you want to visit Karijini National Park, with the waterfalls and gorges just a 1-hour drive away. Day trips are perfect when you get to rest your head after a shower in your own private ensuite. The powered ensuite sites at Tom Price Tourist Park were installed brand new in March 2023, making it possible to go camping with ensuite facilities including a private shower, toilet and basin in a spacious private room. These ensuite sites are located at the back of the park on grassed sites that overlook the natural bush, making them perfect for tent camping with ensuite facilities, as well as ideal for caravans.
With only 12 ensuite sites available, it's a good idea to book ahead at Tom Price.
Tom Price Tourist Park Ensuite Site Interior
South Australia Ensuite Sites
Our first park outside of Western Australia, Ceduna Shelly Beach Caravan Park is one of the caravan parks with ensuite sites in South Australia. The park is situated on the stunning Eyre Peninsula and nestled next to its own stretch of beach, making an ensuite site the perfect option for visitors looking to enjoy beach days. The park also has a games room, camp kitchen, and large big rig sites with ensuites. So, if you're looking for ensuite powered sites in South Australia, this is the park for you!
Book your ensuite site in Ceduna, South Australia today.
Private Ensuite Site South Australia at Ceduna Shelly Beach Caravan Park
Pros and cons of ensuite sites for campers
Can't decide whether an ensuite site is a right option?
While those seeking a holiday unit with beds and a kitchen should opt for roofed accommodation, ensuite sites are perfect for travellers that prefer camping or caravanning but still want the privacy and comfort of their own facilities.
Pros
You have your very own bathroom.
It is more hygienic because it is not shared.
You do not have to go far for the bathroom, especially at night or in winter.
It ensures privacy and security.
You'll have access to power throughout your stay.
It provides a safe area to lock up your travel gear.
It's a great option for families with young children and babies.
Cons
While the facilities will be clean on arrival, you will be responsible for cleaning the facilities if any mess is made.
It is usually slightly more expensive than non-ensuite sites.
Pros and cons of caravans with inbuilt facilities
Again, it boils down to personal preference. Having caravans with inbuilt facilities is what most people are used to and therefore may be preferred - especially when venturing off the beaten track. However, having bathroom facilities external to the caravan may fare as a better option for those looking to make use of plumbed facilities.
Pros
You do not need to leave your caravan.
You do not need to carry your toiletries to the bathroom.
It ensures privacy and security.
Cons
You would need to clean your caravan facilities.
You are responsible for cleaning out the sewage.
If multiple individuals are staying with you, there will be a waiting time.
It is often a very cramped space.
Which option is best for you?
Weighing in on which of the two has the most advantages, it seems that using ensuite sites is the better option. Not only do they have more pros than cons, but they also provide a comfortable accommodation option at an affordable price.
It doesn't matter if you are in a motorhome, caravan or tent - ensuite sites work well. It provides an advantage for those who prefer a level of privacy when using the bathroom or for families with kids.
Camping in winter? Find a park with powered sites!
No more walking in the cold to the park's public bathroom, plus being connected to power will keep your mobile and heating devices on throughout your stay.
Book your next WA adventure
Visiting Western Australia's amazing rural towns and locations provides an amazing experience. With beautiful scenery and a range of parks to visit, you're sure to find the perfect ensuite site to relax and enjoy.
Some of the sites have accommodation for persons in wheelchairs or who have mobility difficulties which is a wonderful step into creating an inclusive experience for all.
Get inspired and plan your next holiday away today!