The Bay of Isles Esperance, otherwise known as the Recherche Archipelago in Western Australia, comprises 105 islands. The archipelago is located a few kilometres off Esperance and has a total area of 9,720 hectares.
The Bay of Isles also has over 1,500 islets, which are usually submerged just like most of the islands and only get exposed during low tides. The islands are characterised as granite outcrops, most of which have steep slopes, with no beaches.
Of all the islands in the Recherche Archipelago, the largest one is called 'Middle Island' with an area of 1,080 hectares. The only inhabited island in the archipelago is Woody Island, located 15 kilometres off the coast of Esperance.
The Recherche Archipelago was declared a nature reserve in 1954; nearly all the islands are off-limits. However, any trip to Western Australia or to Esperance Bay itself would be incomplete without surveying the beautiful Bay of Isles.
Besides, for nature lovers and adventurists, the archipelago has a lot to offer.
Here's a list of things to do in the Bay of Isles Esperance:
1. Boating through the Bay of Isles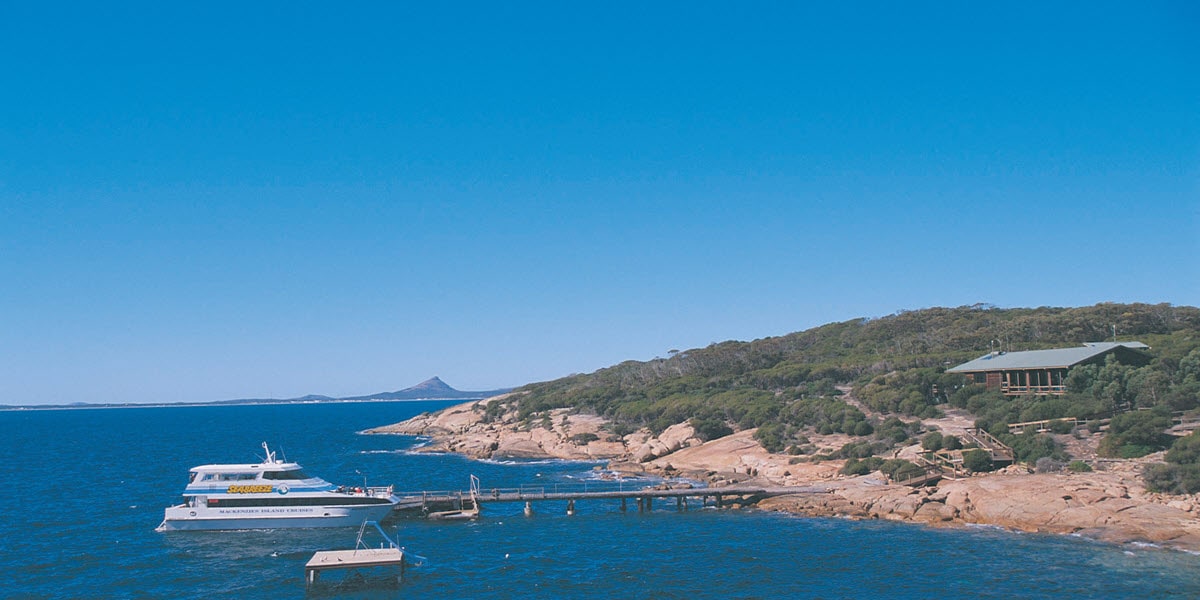 Woody Island, off the Esperance coast. Image credit: Tourism Western Australia.
According to Captain Matthew Flinders, a notable English navigator and cartographer who circumnavigated Australia in the 1800s, the Recherche Archipelago is 'an extensive mass of dangers'.
Even with a Recherche Archipelago map, compass or GPS as a guide, first-timers in the area would find navigating the waters quite challenging.
With most of the islands being steep-to granite outcrops, and islets of limestone and coral usually hidden from sight, even skilled sailors unfamiliar with the archipelago would struggle to navigate it.
However, if you're up for some adventure in this part of Esperance, you can go boating in designated safe zones. You can also opt for a boat charter, which is a safer option if you want to go sightseeing around the archipelago.
2. Birdwatching native Esperance birds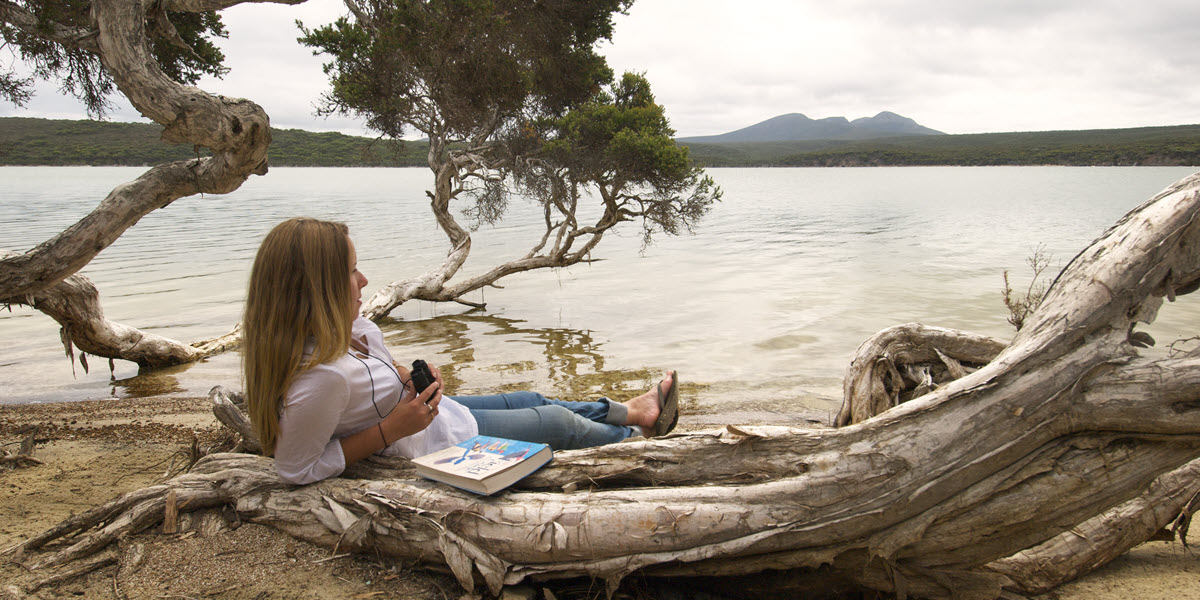 Bird watching at the Hamersley Inlet, located in the Fitzgerald River National Park. Image credit: Tourism Western Australia.
Unsurprisingly, the unspoilt nature reserve is home to a variety of flora and fauna, including rare bird species.
In fact, the archipelago is an Important Bird Area (IBA) according to BirdLife International.
Here, you'll find the Recherche Cape Barren goose, flesh-footed shearwaters, sooty oystercatchers and fairy terns. White-faced storm-petrels have also been known to make occasional appearances, as have rock parrots and red-eared firetails.
You can go on a wildlife cruise to observe avian wildlife across the archipelago or go birdwatching on Woody Island.
If you're looking for some alternatives, Stokes National Park just west of Esperance is also a birdwatchers dream destination.
3. Nature walks on Woody Island, Esperance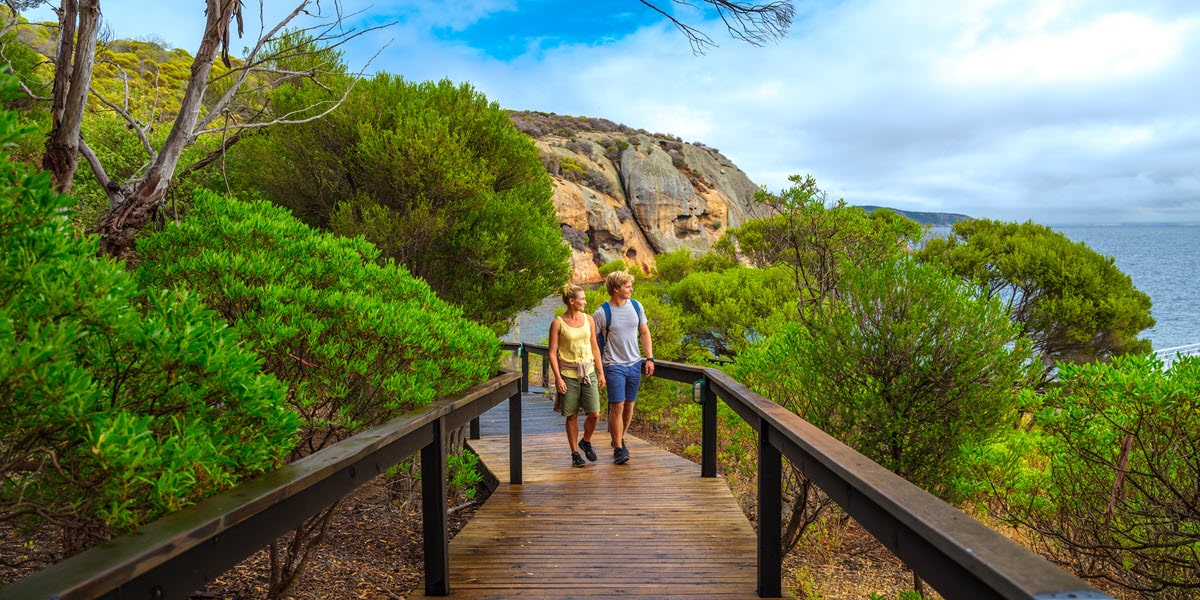 Nature walk on Woody Island, near Esperance. Image credit: Tourism Western Australia.
As Woody Island is the only inhabited island in the archipelago, it's the only place where you can go on nature walks.
There are three marked walking trails on Woody Island:
Island Top Walk (1-hour return): This 100-year-old trail leads to the summit of Woody Island and guarantees stunning views of the Recherche Archipelago.
Twiggy's Landing (40 minutes return): A superb choice for bird enthusiasts, this trail will take you up close and personal to the Mutton-Bird Rookery and give you a glimpse of sea birds' nests and Cape Barren geese.
Skinny Dip Bay (40 minutes return): Walking along this trail will take you past the water tanks and telephone tower on the hill and will lead you to Skinny Dip Bay – a small secluded bay that's rugged and beautiful.
You can also go for a guided 2-hour bush walk where you'll get the chance to learn about the history of the archipelago whilst getting a good view of the island's wildflowers and fauna.
And be prepared to meet some friendly skinks along the way.
4. Snorkelling or swimming in the Bay of Isles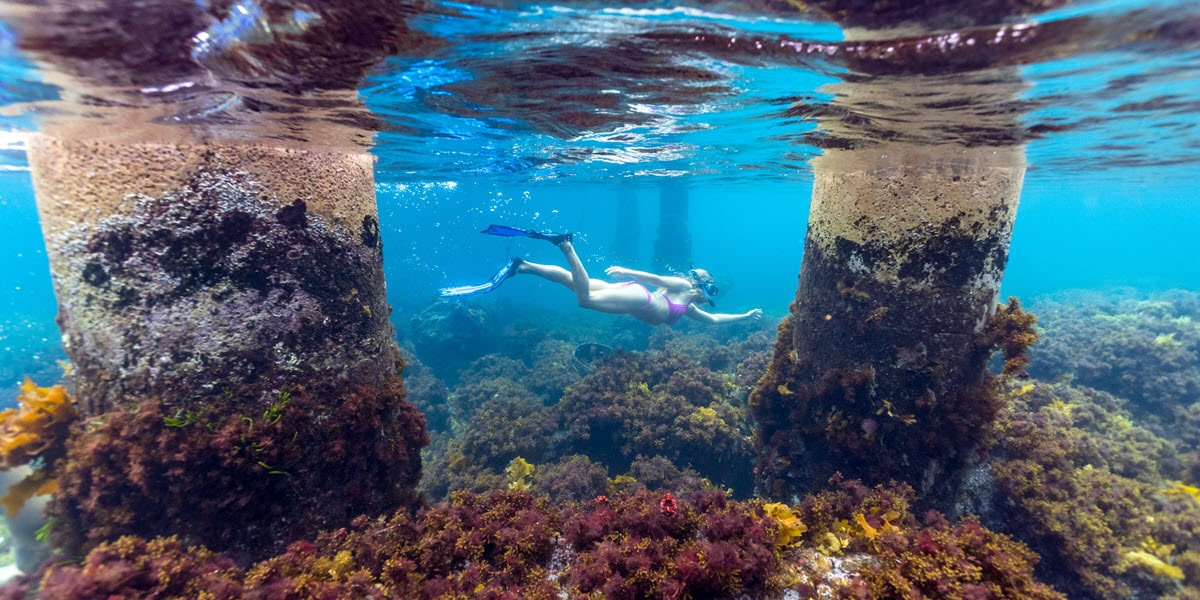 Snorkelling at Woody Island, near Esperance. Image credit: Tourism Western Australia.
If you want to spend most of your time in the water, there's the Woody Island Snorkel Trail where you just might be lucky enough to catch a glimpse of the leafy seadragon or Glauert's seadragon.
You can head to the snorkel trail from the beach or the swimming platform at Shearwater Bay.
Avid snorkelers can go for a boat charter to explore swim-throughs and underwater caves across the archipelago. Here, you'll get a chance to see wrasse, spot gropers, harlequin fish, red snappers and blue devils.
Of course, you also have the option to just swim it out in the calm waters of Woody Island.
5. Fishing the Recherche Archipelago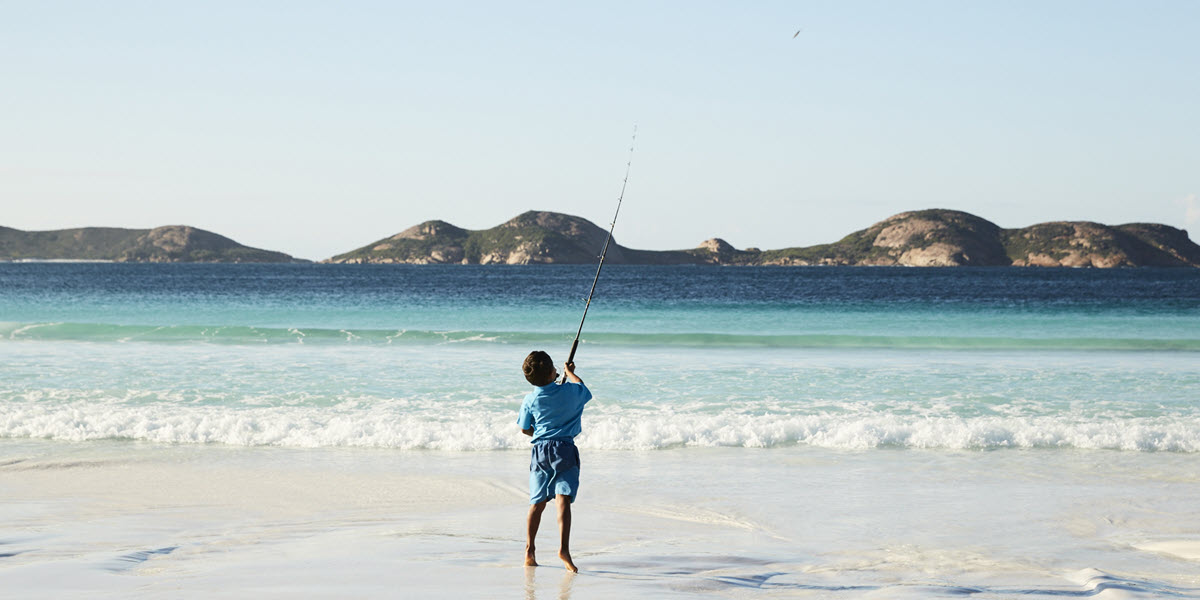 Fishing at Lucky Bay, Cape Le Grand National Park. Image credit: Tourism Western Australia.
Go on a solo or family fishing trip aboard any one of the boat charters heading to the Recherche Archipelago. Aside from giving you spectacular views of the archipelago, going on a boat charter gives you a chance to go on a deep-sea fishing adventure.
Who knows, you just might catch yourself a tuna, snapper, nannygai, dhufish, breaksea cod or shark.
6. Esperance Eco Tour or Wildlife Cruise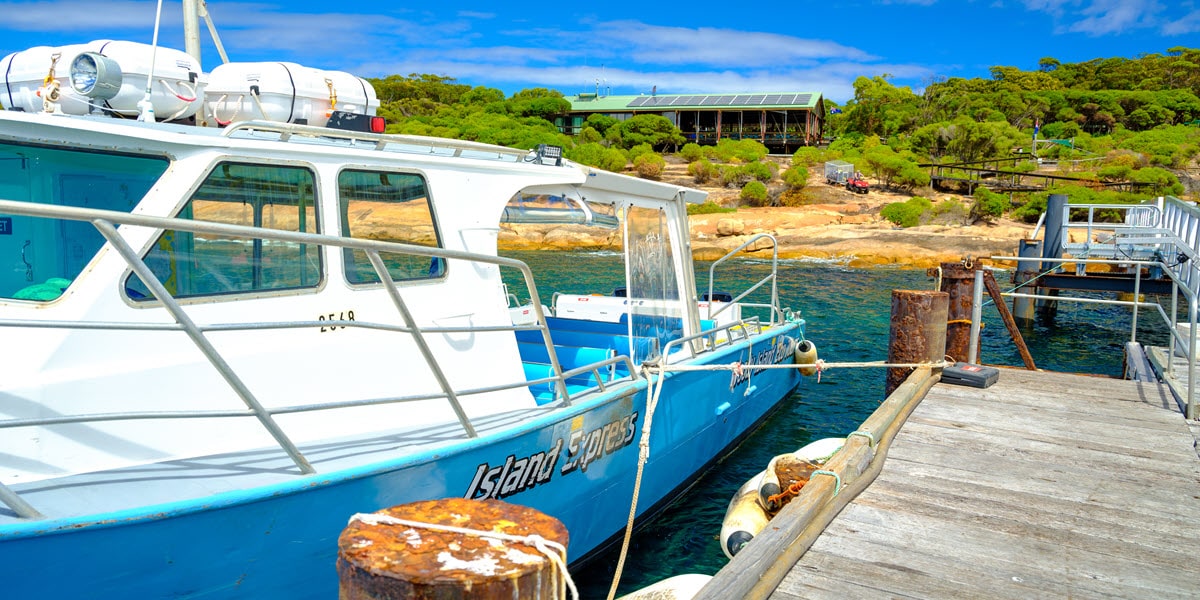 Island Express at Woody Island, near Esperance. Image credit: Tourism Western Australia.
To see the best of what natural wonders the archipelago offers, you can go on an archipelago eco-tour or wildlife cruise departing from Esperance.
The guided tour will take you around a few islands in the Recherche Archipelago, giving you a close view of wildlife in their natural habitats. You'll have a chance to see New Zealand fur seals, Cape Barren geese, dolphins (common and bottlenose), sea lions and white-bellied sea eagles.
Depending on the season, you might have the opportunity to see whales, too.
7. Middle Island and Lake Hillier Tour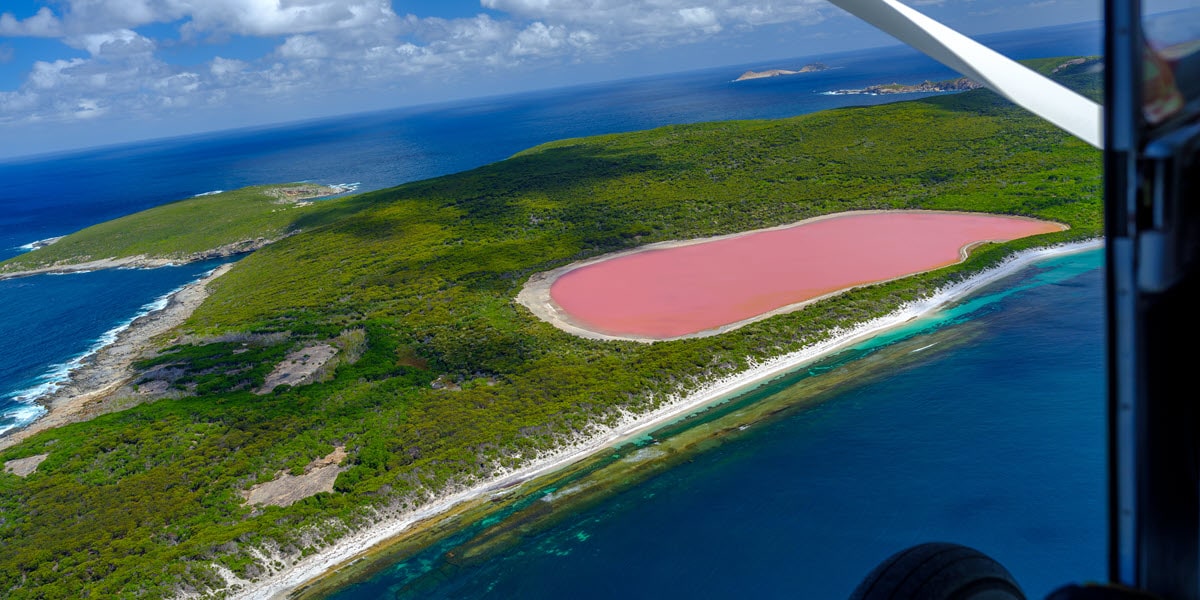 Aerial view of Lake Hillier, Middle Island near Esperance. Image credit: Tourism Western Australia.
Though uninhabited, Middle Island is teeming with wildlife.
It's usually off-limits to tourists, as it's classified as an 'A' Class Nature Reserve managed by the Department of Biodiversity, Conservation and Attractions (DBCA).
It's also the island where the world-renowned pink-coloured Lake Hillier is located. There are two ways by which you can see Middle Island and Lake Hillier: by plane or by boat charter.
You can book a scenic tour flight from Esperance Airport, which is guaranteed to give you a view of the island and the stunning pink lake from the top.
Some boat charters are permitted to go to Middle Island and take tourists close to Lake Hillier at certain times of the year. A trip to the island will give you a glimpse of a large granite hill called Flinders Peak. Lake Hillier is just a short walk from the beach.
There are also remnants of a historical settlement on the island, as well as many of the best Esperance beaches in its northern bays.
So, when you plan for your trip to Western Australia or Esperance, make sure you give yourself a few days to enjoy the sights and sounds that await you in this gorgeous archipelago.
To ensure an enjoyable holiday, book your Esperance accommodation and explore Esperance with Esperance Bay Holiday Park.