Travelling with dogs can be an incredible experience, but it can also be challenging if you're not adequately prepared. This is especially true when it comes to travelling with a dog, and it can be even more daunting if you're planning on travelling around Australia.
However, with the right preparation and some helpful tips, travelling with a dog can be a fun and rewarding experience for both you and your four-legged friend.
Here are some things to consider when planning a road trip with your furry friends:
1. Take your dog for a health check
Before hitting the road, make sure that your dog is healthy and up-to-date on all necessary vaccinations.
Even if your dog seems healthy, a visit to the vet is recommended to ensure that your dog is healthy enough for travel, and to get any additional vaccinations your vet may recommend. This will also be good for your own peace of mind before you depart and hopefully prevent any unwanted surprises while on the road.
2. Plan your route and dog friendly accommodation in advance
When travelling with a dog, it's important to find dog friendly destinations and plan your route including where you'll rest your head each night in advance. Not all hotels and campsites are dog friendly, so be sure to call ahead and confirm that your furry friend will be welcome.
Planning your journey and pet friendly accommodation in advance will also help you avoid any unexpected delays or issues. Many caravan parks across Australia are dog friendly, however not many hotels will accept pets.
Our tip: 12 of our Summerstar Tourist Parks have pet-friendly caravan parks and camping sites available! Browse our parks and book in advance on our website so you can hit the road knowing there's a place to park up for the night.
3. Pack all the necessary supplies
When travelling Australia with a dog, it's essential to pack all the things you'll need and avoid any unnecessary stops or purchases along the way.
This includes enough food and treats for the duration of your trip, water, bowls, a leash, poop bags, pet carrier, toys, a pet first aid kit, and any medications your dog may need during your getaway. It's also a good idea to bring a longer chain or leash to allow your dog some freedom while still keeping them secured when at a campsite or picnic spot.
If you do plan on camping, be sure to bring a dog bed, or something that your pet can sleep on to keep them comfortable while in an unfamiliar place.
Additionally, if you are planning on a long trip travelling Australia with your dog, it may be a good idea to have pet insurance.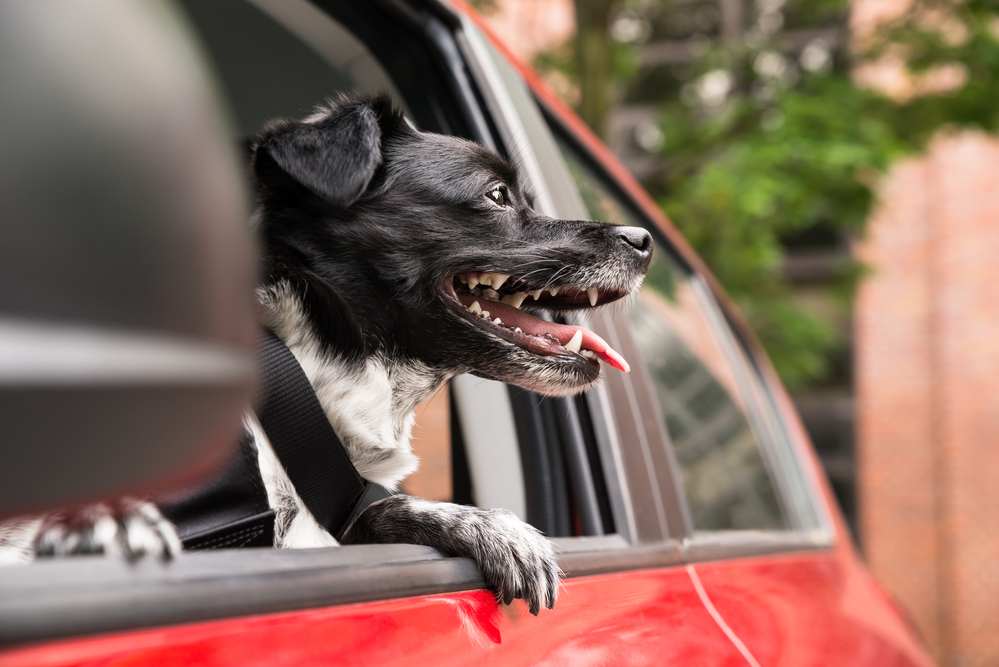 4. Get your dog acclimated to car travel
Some dogs can get anxious or experience motion sickness when travelling in a car. To help your dog get acclimated to car travel, take them on short trips and gradually increase the duration of the trips to get them used to it before you depart on your journey.
Additionally, you can make travelling with your dog more comfortable for them by opening the windows to provide fresh air.
5. Take frequent breaks
When travelling with a dog, it's important to take frequent breaks. Dogs need to stretch their legs, go to the bathroom, and get some fresh air, just as humans do.
Plan to take breaks every few hours, and be sure to give your dog plenty of opportunities to stretch and move around. A good way to do this is to research where dog parks are ahead of your journey.
Our tip: Some of the road houses and petrol stations around Western Australia are even equipped with dog safe enclosed exercise areas for convenience when travelling with dogs, so check online before you travel and plan your stops for every few hours.
6. Be mindful of the weather
Parts of Western Australia can be incredibly hot, so it's important to be mindful of the weather when travelling with a dog. Be sure to bring plenty of water and to avoid leaving your dog unattended in the car where possible.
If you are going to leave them in the car, leave the windows down a touch and avoid leaving them for extended periods of time, as temperatures can quickly rise and become dangerous for your furry friend.
Some say that giving your dog an ice block to chew can be a great way to help them cool down.
7. Follow local laws and regulations
Western Australia has some laws and regulations to be mindful of when it comes to dogs, particularly when travelling. In most cases, dogs are not permitted in National Parks or in some Nature Reserves, so be sure to do your research before you hit the road and make sure you are complying with all relevant laws and regulations.
This will ensure the safety of both the natural flora and fauna and your dog. If you are keen to visit a National Park or areas that don't allow dogs, check to see if there is a local kennell service or pet sitters that might be able to mind your furry companion for a day or few hours. That way, you'll still be able to explore all the incredible places that Western Australia has to offer!
It is important to note that different states and territories have different laws and regulations when it comes to pets such as dogs, so be sure to research each one if you are planning on travelling further afield in Australia.
8. Have fun!
Finally, don't forget to have fun! Travelling with a dog can be an incredibly rewarding experience, and it's an excellent opportunity to bond with your furry friend. So take plenty of photos, explore new places, and enjoy the journey.
9. Book your trip
Book in advance and stay at one of our pet-friendly caravan, holiday and tourist parks when you road trip with your dog. Summerstar Tourist Parks has 12 pet-friendly parks when you book on a pet-friendly caravan or camping site.