WA is home to some of the most breathtaking natural wonders in the world, including an abundance of stunning waterfalls. From the cascading falls in the South West to the remote cascades in the north, there's no shortage of magical waterfalls to discover in WA.
Exploring the waterfalls of Western Australia is an unforgettable experience that should be on every nature lover's bucket list.
Whether you're looking for a challenging adventure or a tranquil oasis, there's a waterfall in WA that's perfect for you. In this article are some of the best waterfall locations across WA to help you plan your next adventure.
1. Quinninup Falls, Margaret River Region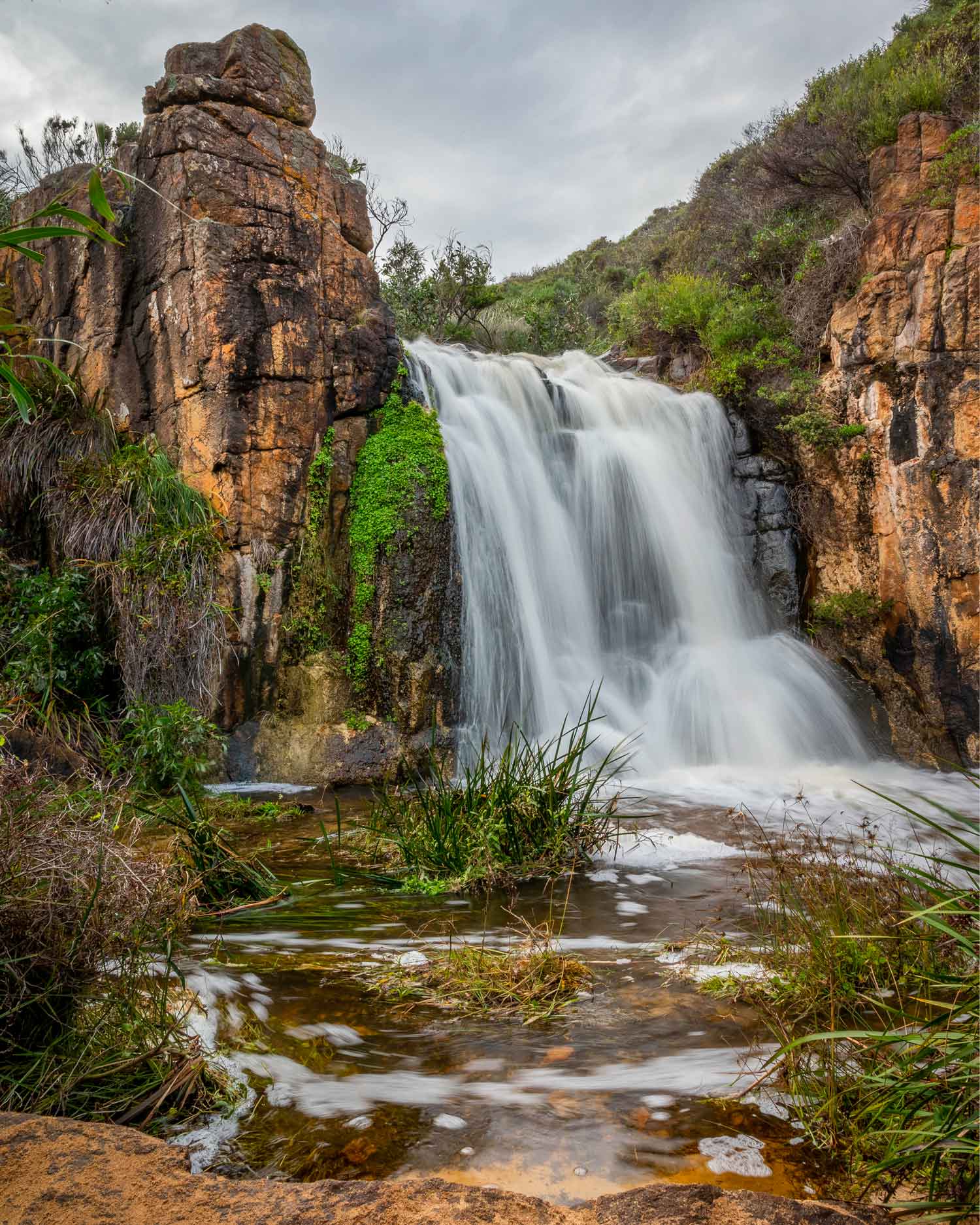 Annabel Claire Photography @_annabelclaire_ on Instagram
Surrounded by stunning scenery and walking trails, the ocean-facing Wilyabrup Quinninup falls is a popular spot along the Cape to Cape Track; a 123km-long steep trail from Cape Naturaliste to Cape Leeuwin in the Margaret River Region.
As a site of great cultural significance to the Aboriginal people of this area, be sure to walk softly along the short walk trail and leave no trace when visiting these beautiful falls.
Stay at any one of our three Margaret River Region parks; Busselton Lazy Days Caravan Park, Margaret River Tourist Park or Riverview Tourist Park, and discover this waterfall nearby with a wonderful day trip.
Reasons we love this waterfall:
Impressive views of both the ocean and the Leeuwin-Naturaliste National Park
Perfect for bushwalking with the family
2. Beedelup Falls, Pemberton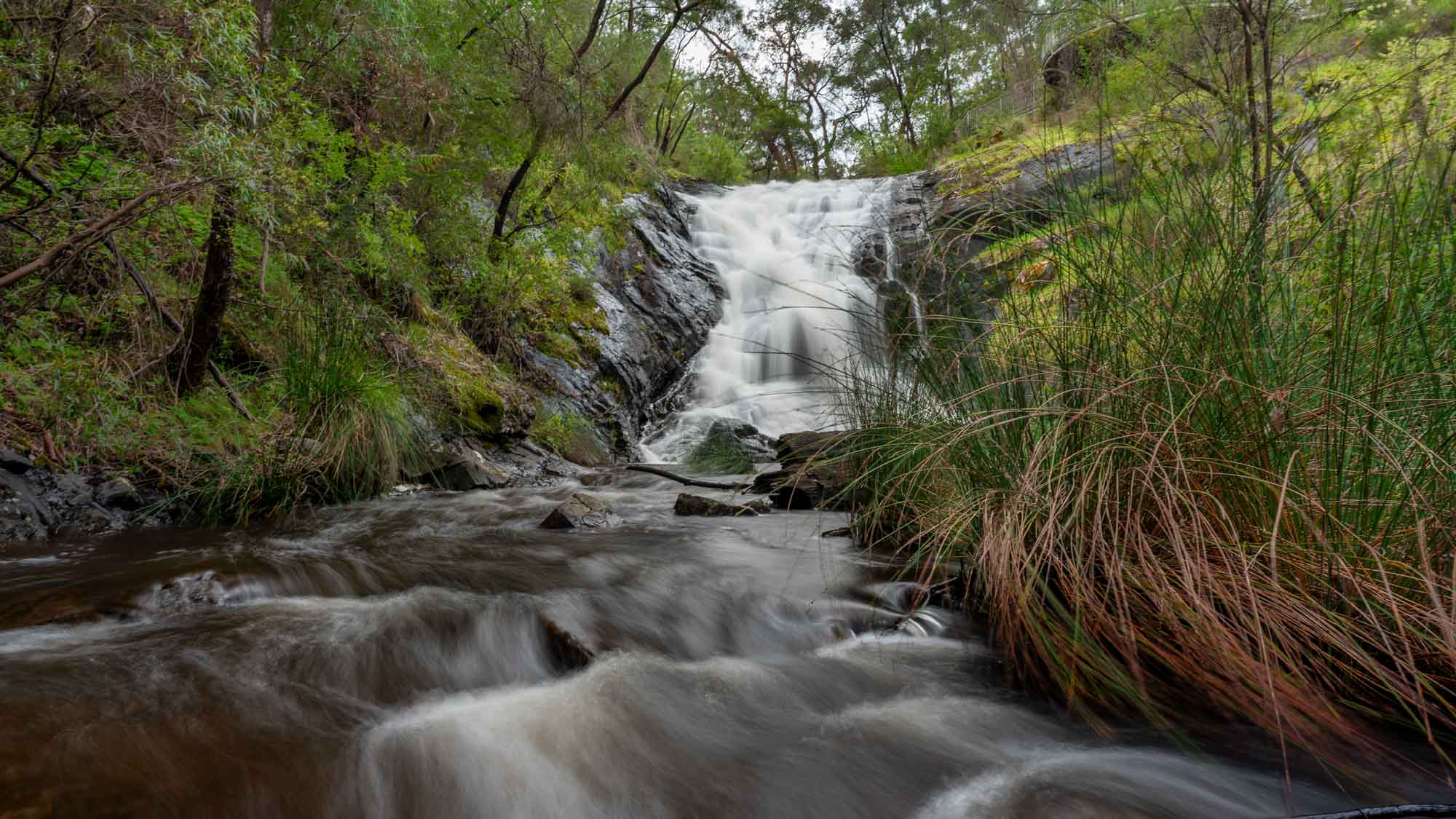 Annabel Claire Photography @_annabelclaire_ on Instagram
Located near the town of Pemberton, Beedelup Falls is one of the beautiful Perth waterfalls and is a popular tourist spot that attracts visitors from all over the world. The small waterfall cascades down a series of rocky steps into a deep river pool, surrounded by lush forest and stunning scenery.
There's also a suspension bridge that offers a bird's eye view of the falls. This is a great place to stop and stretch your legs on the way from Margaret River to Walpole, or a fun day trip from Walpole Rest Point Caravan Park. The best part? The falls flow year-round and the lookout is wheelchair accessible from the car park to the falls.
Highlights of Beedelup Falls:
Flows year-round
Wheelchair accessible viewing platform
Suspension bridge provides birds-eye-views
3. Circular Pool and Fernhook Falls, Walpole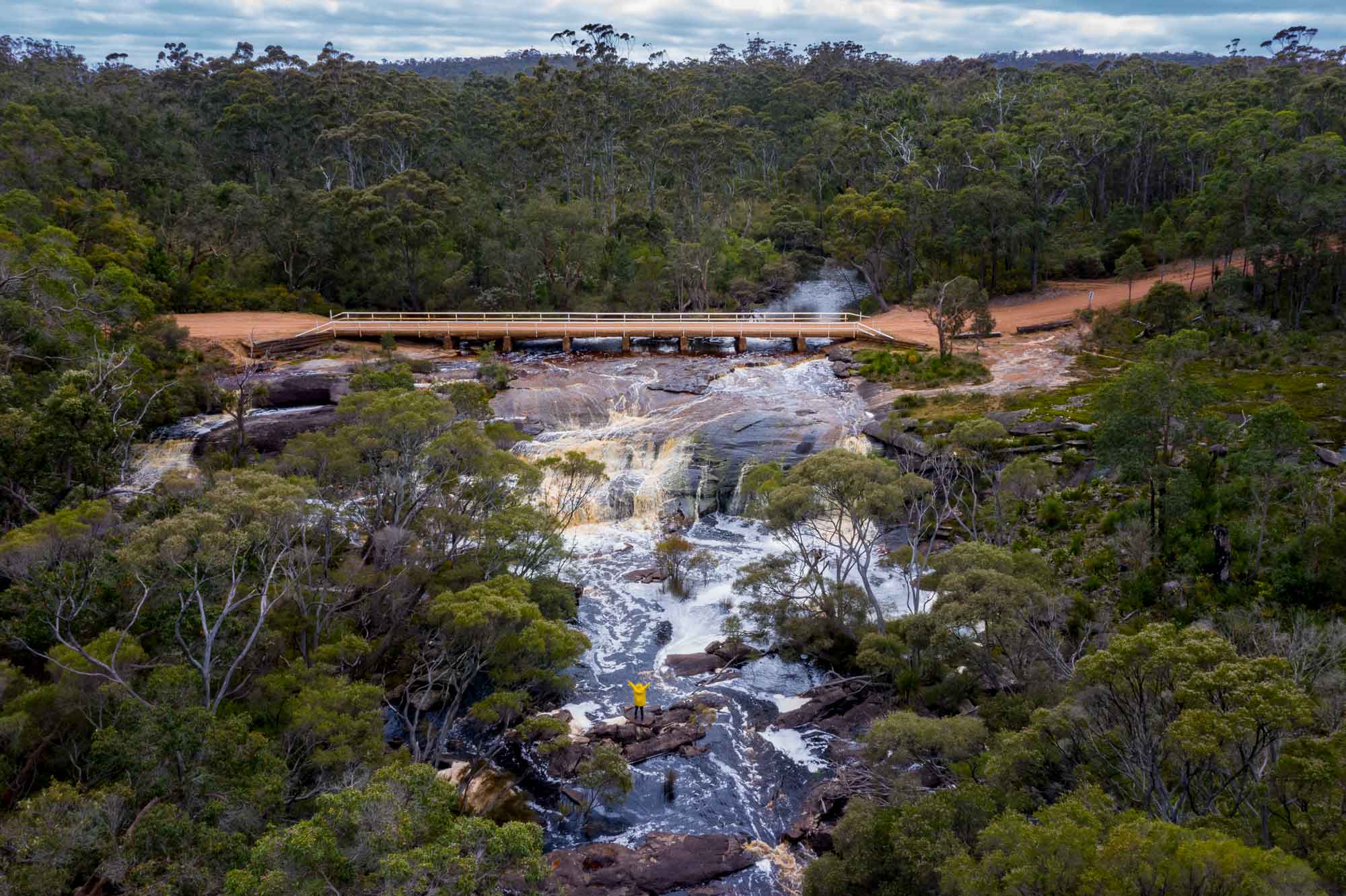 Annabel Claire Photography @_annabelclaire_ on Instagram
Located in the heart of the Walpole-Nornalup National Park, Circular Pool and Fernhook Falls is a magical waterfall location in Western Australia.
The waterfall here is not steep, but it is wide, flowing as part of the Frankland River over stunning rock formations and lush vegetation. This spot is ideal for swimming and picnicking and has bush walk trails, making it an adventurous day out.
Our tip? Stay at Walpole Rest Point Caravan Park and explore more of the Walpole Wilderness while here.
The best things about Fernhook Falls:
Wide waterfall with unobstructed views
Swimming hole
Perfect for picnics with the family
4. Cascade Falls, near Esperance
About 70kms west of Esperance on Loop Road will land you at Cascade Falls. Best visited after a day of rainfall, the water cascades (hence the name) over striking granite rocks. Spend the afternoon rock-hopping and picnicking before putting your head to rest at Esperance Bay Holiday Park.
Casade Falls are great for:
Exploring when the weather isn't perfect
Rock-hopping and picnics
5. Fortescue Falls, Karijini National Park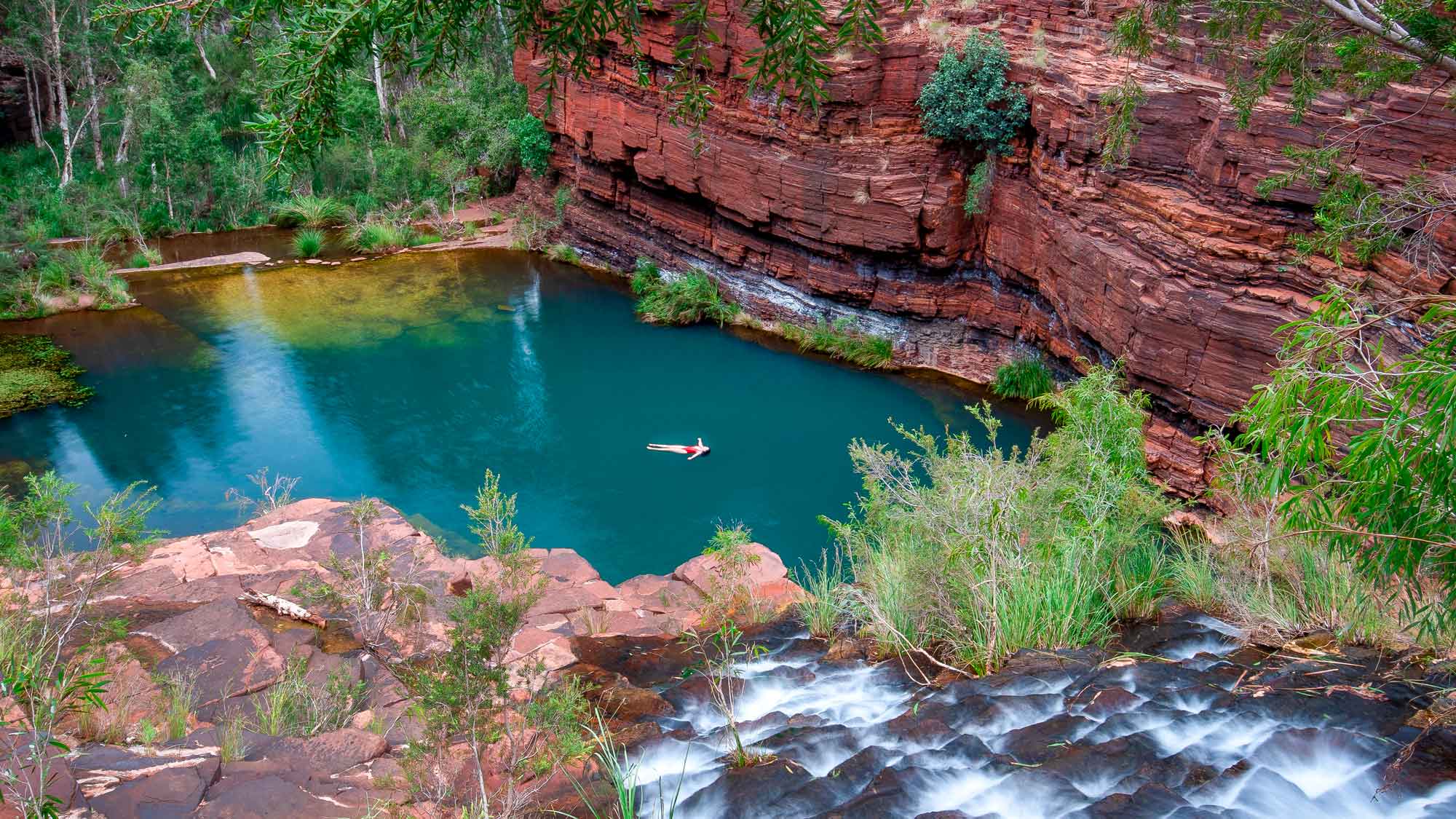 Annabel Claire Photography @_annabelclaire_ on Instagram
Located in the north west at Karijini National Park, Fortescue Falls is a popular spot for swimming and picnicking. The falls drop into a deep pool surrounded by red rock ledges and cliffs, creating a stunning natural oasis. The surrounding area is also home to some of the best hiking trails in the park.
Our tip: Tom Price Tourist Park is just over an hours' drive from Karijini National Park with all the creature comforts so you can relax after a long day of exploring.
What we love about Fortescue Falls:
The striking colour of the green-blue water
Perfect for cooling off on a hot day
Surrounded by hiking trails and close proximity to Fern Pool
6. Fern Pool, Karijini National Park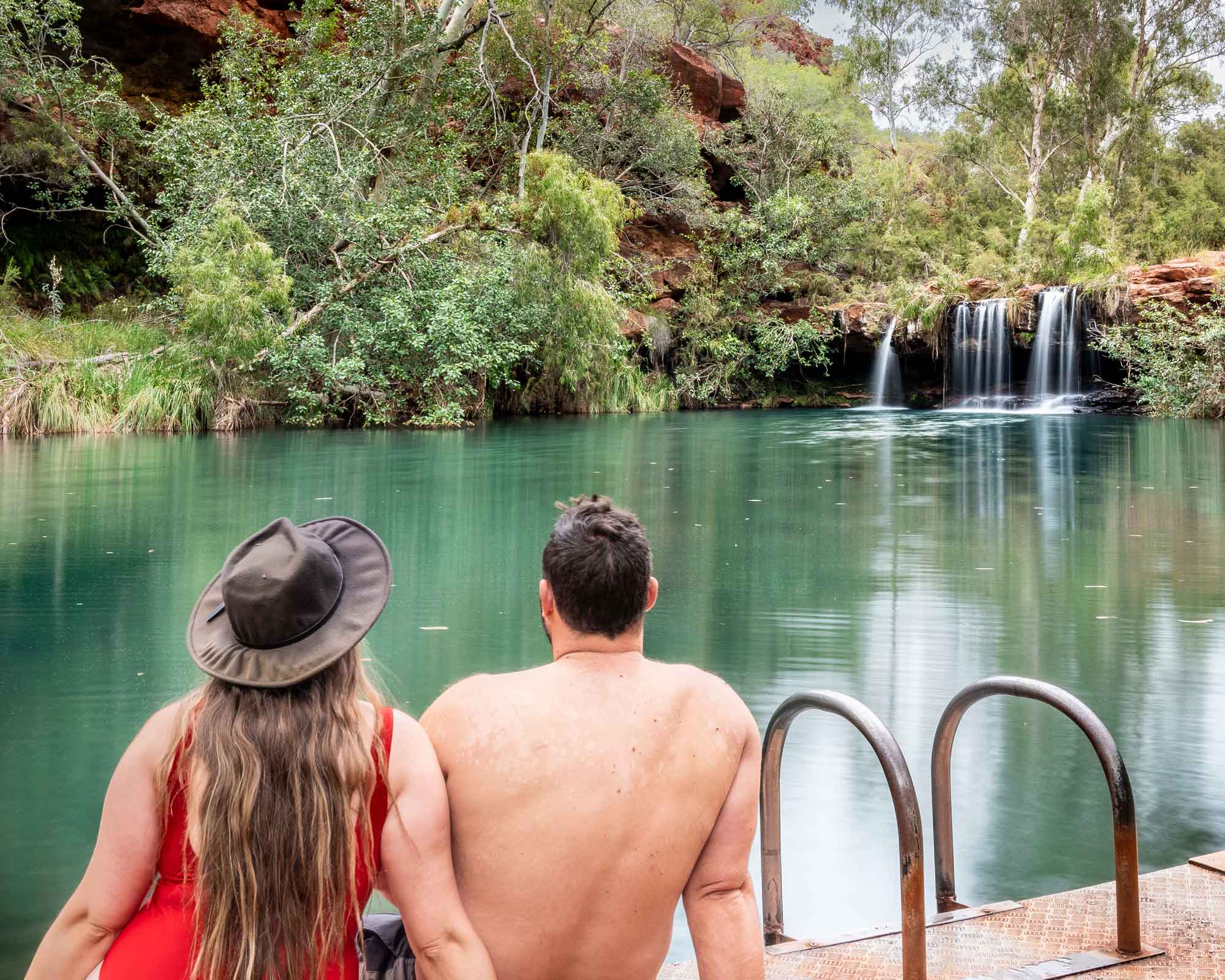 Annabel Claire Photography @_annabelclaire_ on Instagram
Also located in Karijini National Park, Fern Pool is one of the most picturesque waterfalls in Western Australia. The falls, located within Dales Gorge, drop into a crystal clear plunge pool surrounded by lush ferns and towering rock walls. The water is cool and refreshing, making it a great spot for a swim on a hot day.
As a site of Aboriginal significance, be sure to enter the water quietly and refrain from climbing or jumping the waterfall. A float in the pristine natural waters will soothe your skin after the hike!
What makes Fern Pool waterfall so great:
Wide natural pool is pristine and ideal for a dip
You can swim right up to the stunning waterfall
7. Mitchell Falls, The Kimberley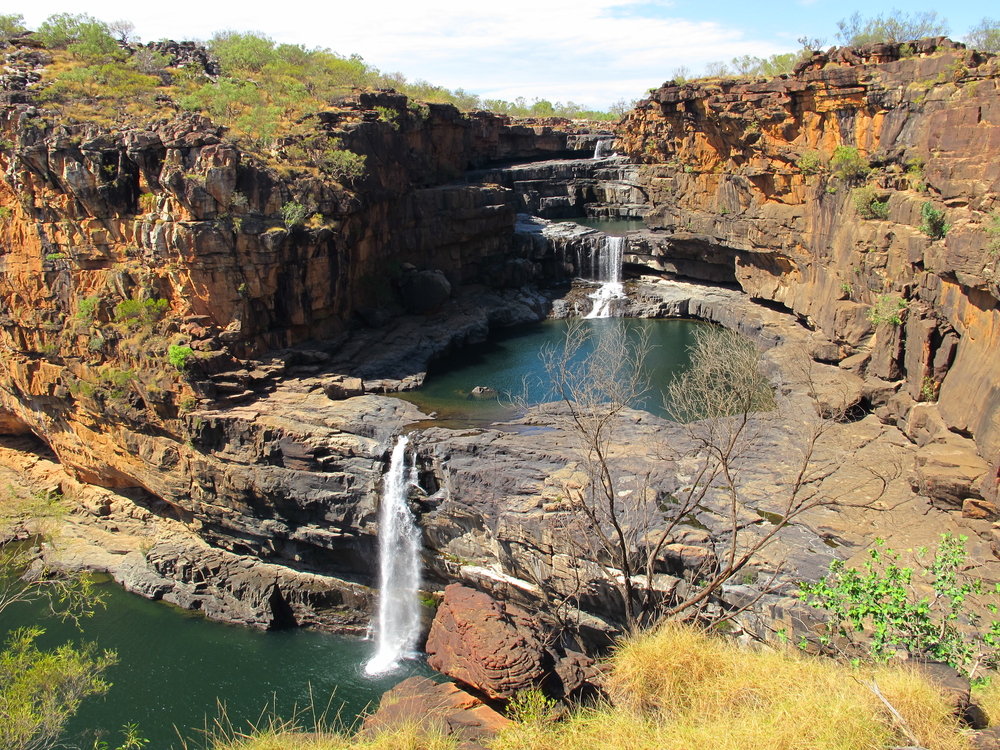 Located in the Kimberley region of WA, Mitchell Falls is one of the most stunning waterfalls in the country. The falls are made up of four tiers, with the highest tier dropping over 80 metres into a deep pool below.
Access to the falls is via a challenging 4WD track or by air, making it a true adventure. Scenic flights to Mitchell Falls depart from Broome or Kununurra, so you can choose to stay at Broome Caravan Park and tick this incredible WA waterfall off your bucket list.
Highlights of Mitchell Falls:
Spectacular four tiers providing dramatic views
One of the most breathtaking waterfalls in Australia
Remote and adventurous
8. Kooljaman Falls, Broome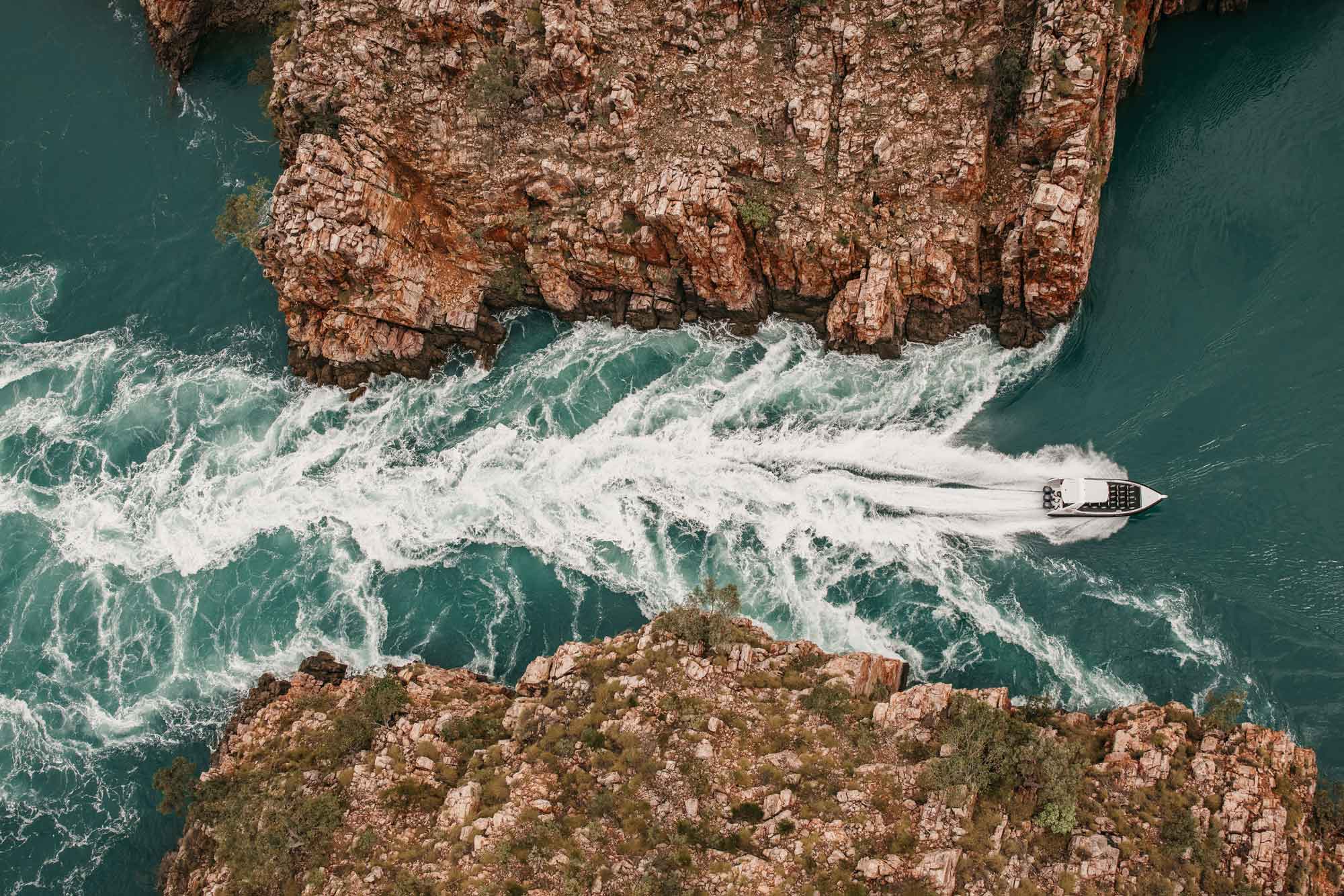 Horizontal Falls. Photo Credit: Tourism Western Australia
Possibly the most impressive and secluded waterfall in the Kimberley region of Western Australia, Kooljaman Falls, also known as Horizontal Falls is a must-visit. This unique horizontal waterfall can be experienced only via a scenic flight or fast boat tour, both of which provide stunning views of the Indian Ocean and coastal landscape here.
Day tours into this remote wilderness depart from Broome and Derby during the season and the adventure is bound to be one you'll never forget.
What makes Horizontal Falls worth visiting:
Nowhere else is quite like it
One for the bucket-list
As you can see, Western Australia offers a wide range of stunning waterfalls that are perfect for exploring during your next Summerstar Tourist Parks getaway.
Book your trip
Whether you're looking for a peaceful picnic spot or an adventurous hike, these waterfall locations are sure to be a highlight of your trip. So pack your bags, grab your camera and get ready to experience the magic of WA's waterfalls.
With so many different locations to choose from, there's sure to be a waterfall near one of our many park locations that will take your breath away.
Visit our website today to book accommodation for your next adventure!