Western Australia, located in the southern hemisphere, has low humidity levels and virtually no air pollution, creating pristine night skies and the ideal location for stargazing. Visitors can enjoy magnificent views of the Milky Way galaxy across numerous dark-skies stargazing spots with clear visibility.
So crucial are the dark skies that the Australian government has a policy to protect them against light pollution.
Visitors can view other bodies during stargazing in WA, including the Magellanic Clouds, the quintessential Southern Cross, and the Aboriginal constellation of the Emu in the Sky.
Discover 10 top stargazing spots in Perth or WA that will elevate you to higher starry heights.
---
2023 Partial Solar Eclipse (April)
At approximately 11:30am on April 20th, the tip of Western Australia's North West will experience a partial solar eclipse. One of nature's most phenomenal occurrences, many local and international tourists will make their way to WA's north to witness this rare spectacle.
With a few Summerstar locations offering the perfect viewing area, we recommend booking ASAP before we're full. We've included some links below with more information about what to expect in Eighty Mile Beach and Carnarvon.
---
1. Eighty Mile Beach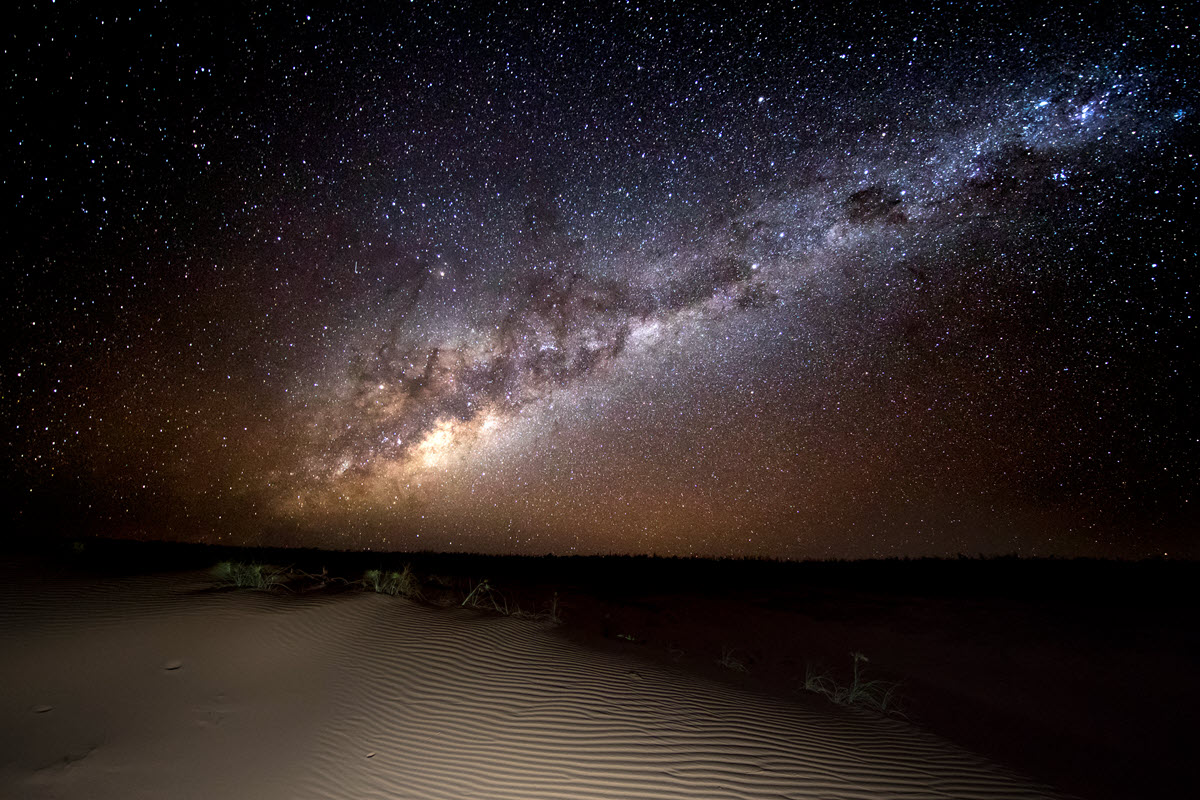 A stunning display of light and stars over the sandy shoreline. Photo credit: Tourism WA.
Located along the Indian Ocean, Eighty Mile is an elegant beach with beautiful landscapes. It is far from the bright city lights of major cities, giving visitors peaceful, uninterrupted stargazing. The beach is also free from light pollution, resulting in the high visibility of stars.
Eighty Mile Beach is excellent for night photography and astrophotography. Visitors can take advantage of the picturesque starry skies to capture bright images of the stars.
80 Mile solar eclipse visibility
2. Carnarvon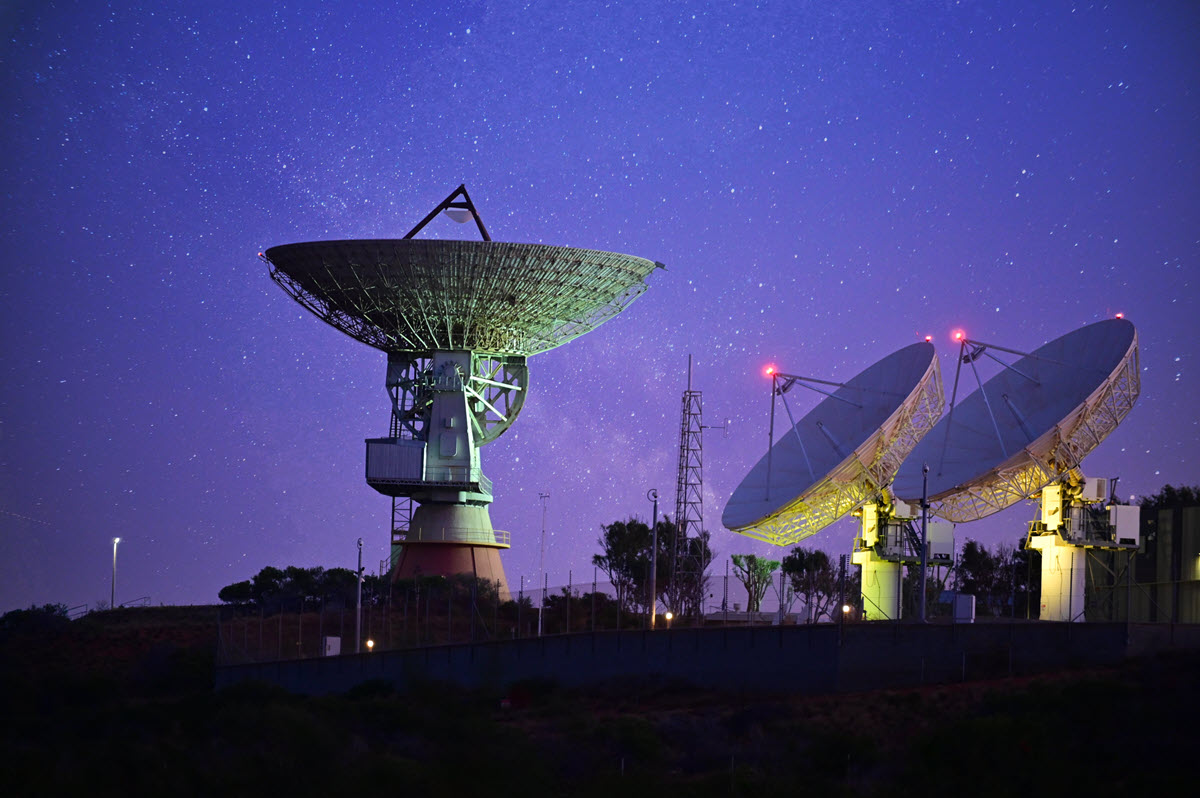 Stars shining behind the NASA Satellite Earth Station in Carnarvon, Western Australia.
The serene atmosphere and lack of light pollution in Carnavon make it a spectacular location to go stargazing. Located in a remote area in WA's north, Carnavon offers a clear night sky view of planets and various constellations. The sky bodies are visible to the naked eye, but you can use telescopes if you want a more profound view.
The sky is pitch-black at night, with long stretches of stars that don't seem to end. The crisp and clear air of Carnavon also makes the star sparkle against the sky. The Milky Way is visible as well, with beautiful nebulae and bright stars.
Carnarvon solar eclipse visibility
3. Karijini National Park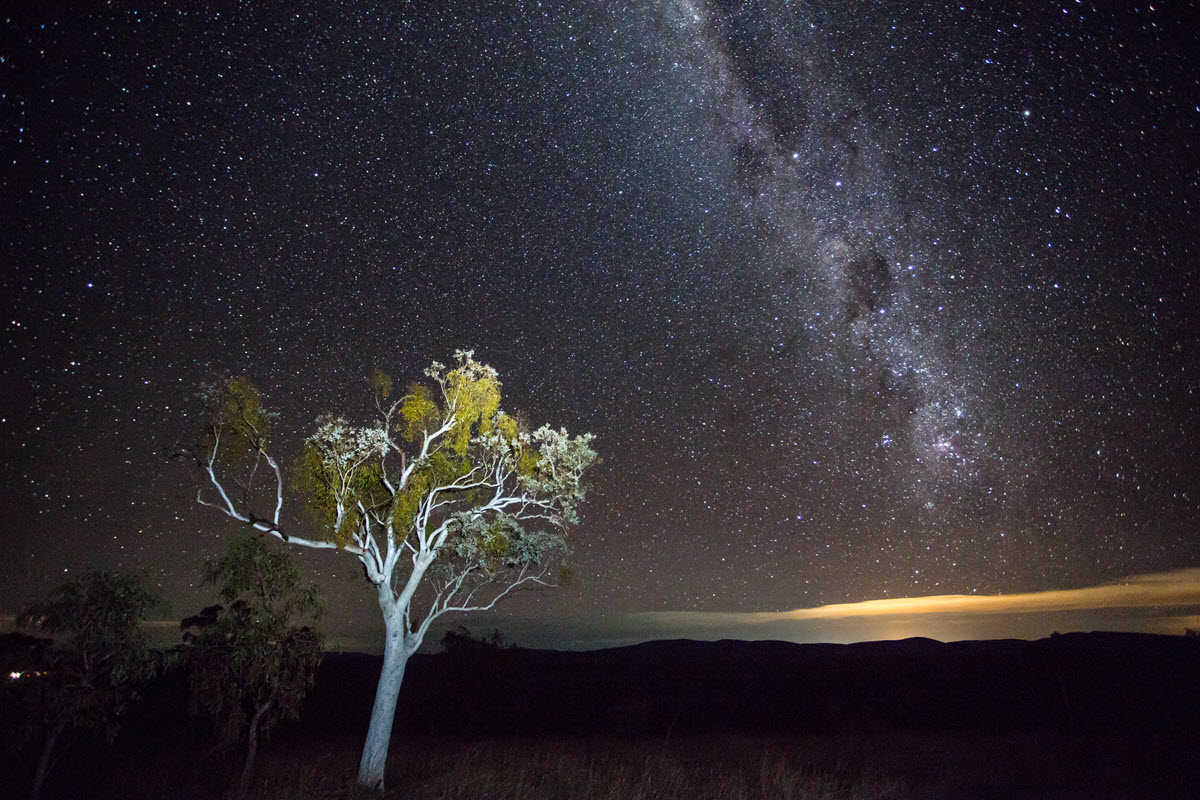 A stargazers escape to the remote Karijini National Park. Photo credit: Tourism WA.
Located in Pilbara, Karijini National Park is famous for its clear night skies. Visitors have unparalleled views of the stars and galaxies. So get out your astro binoculars and get gazing!
The diversified landscape with waterfalls, creeks, and gorges also provides an elegant space for stargazing.
Karijini National Park is dark and relatively free of artificial light, giving stargazers a breathtaking night sky view. Stars and constellations stretch over the horizon, creating a beautiful photography spot.
Stargazers who want to stay overnight can take advantage of the park's camping spots or if you want a more comfortable stay, check out Tom Price Tourist Park.
4. Lucky Bay
Wondrous pink and purple night sky in Lucky Bay is something you'll remember. Photo credit: Tourism WA.
A unique mix of a remote location and clear night skies make Esperance's Lucky Bay a spectacular environment. Proximity to the Southern Ocean means the bay is endowed with clear, cloudless skies. The sombre nights make the white beach perfect for stargazing in a natural nighttime environment.
Located southeast of Esperance, Lucky Bay is one of the few lucky spots where stargazers can glance at the elusive aurora australis. Due to its pristine waters and sands, it is an unspoiled spot to stargaze. Stargazers who enjoy astrophotography can enjoy a clear night with stunning coloured displays visible via a telescope.
5. Roebuck Bay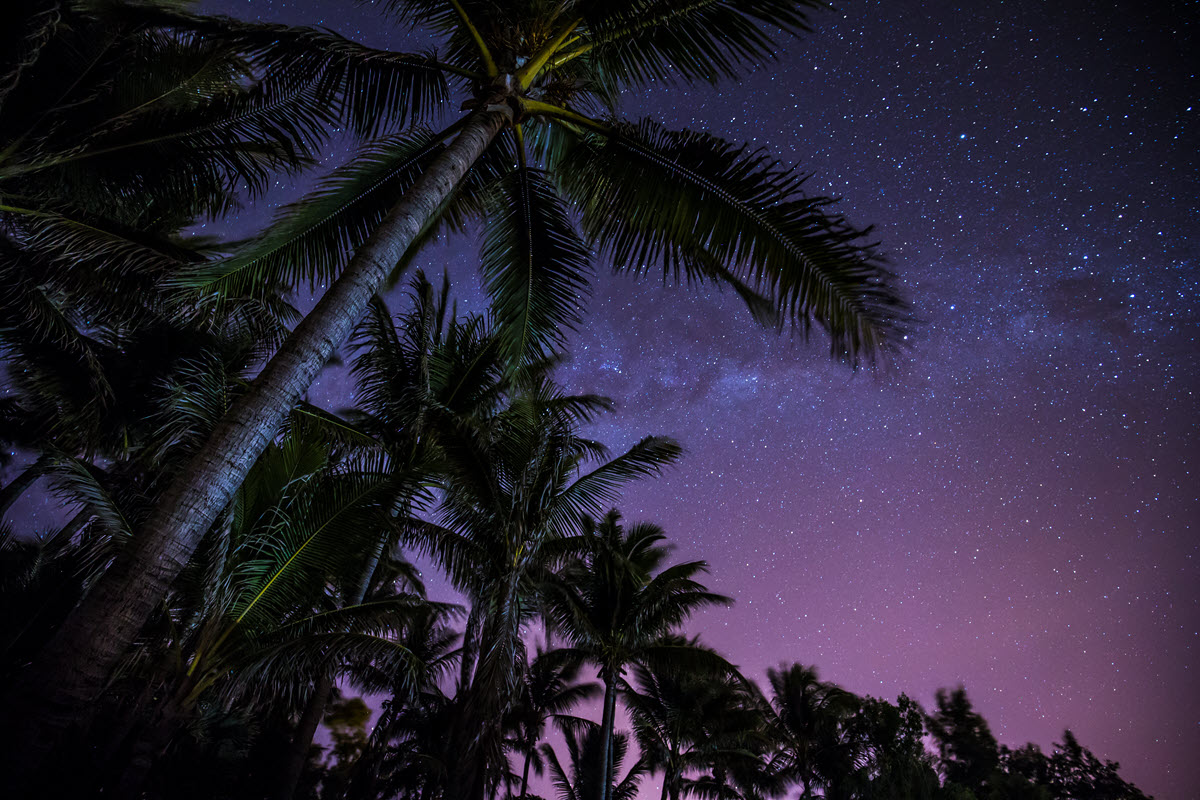 The northern skies in Western Australia light up at night. Photo credit: Tourism WA.
The remote Roebuck Bay in Broome has clear nights and lacks light pollution, making the bay ideal for stargazing, with spectacular views of the Milky Way and other celestial bodies. The absence of light pollution makes the stars appear brighter, with a stunning sky view.
Roebuck Bay is an excellent photography spot during the dry season. Once a month, from March to October, the reflection of the lights on the tidal flats creates an optical illusion of stars climbing to the moon. Astronomers and stargazers can view distant astronomical elements through a telescope.
6. The Pinnacles Desert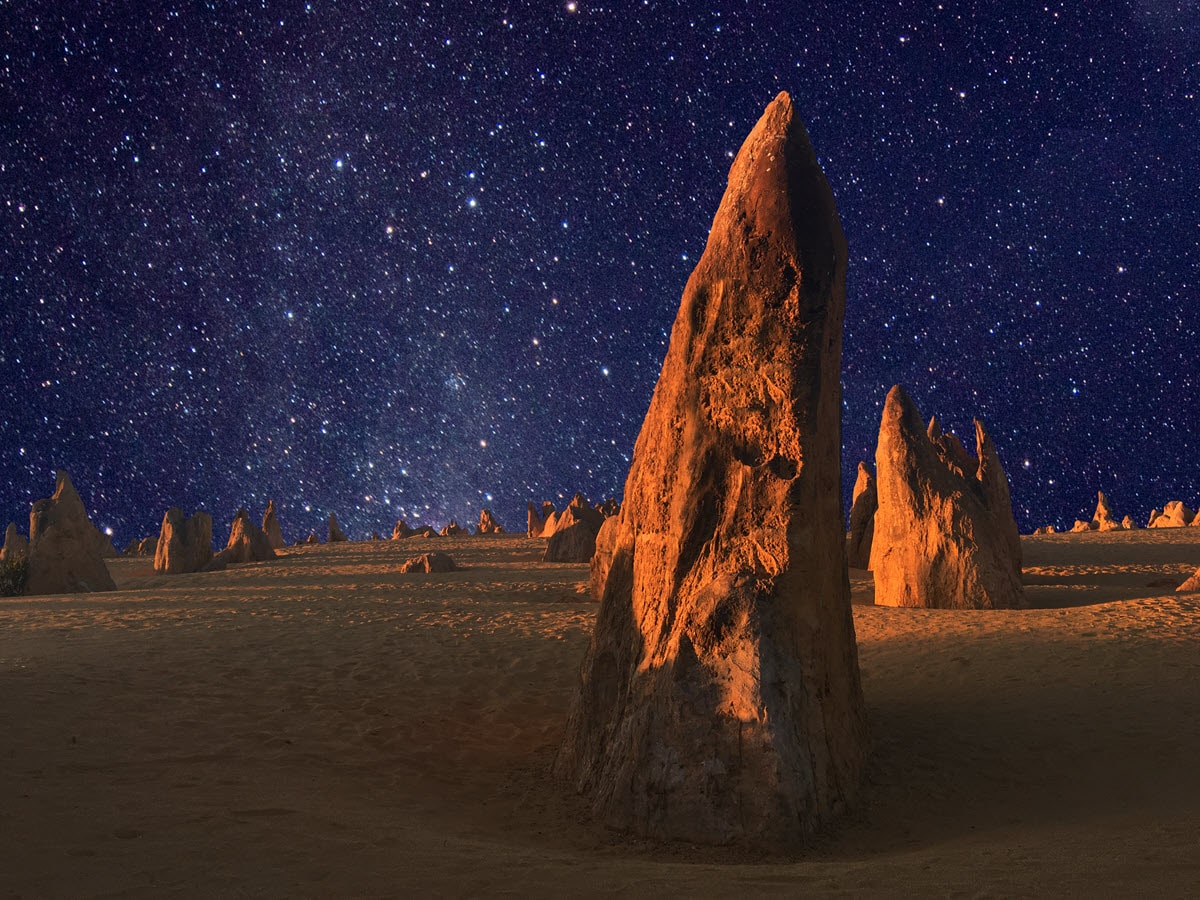 The stunning sky lights with stars when it hits night at Nambung National Park.
Beautiful sceneries, clear night skies, and isolated location make the Pinnacles Desert near Jurien Bay ideal for Perth stargazing. The area is free from air, noise, and light pollution, providing an uninterrupted stargazing site. For lovers of dark-sky camping, while the vastness of the Pinnacles Desert creates a serene stargazing spot, stop close by to camp under the skies with multiple camping options within an hours' drive from the National Park.
Its unique sandy desert and unconventional pinnacles offer an elegant backdrop for stargazing. It is also renowned for its picturesque views and sunsets, making the area optimal for photography and astrophotography.
7. Gravity Discovery Centre Yeal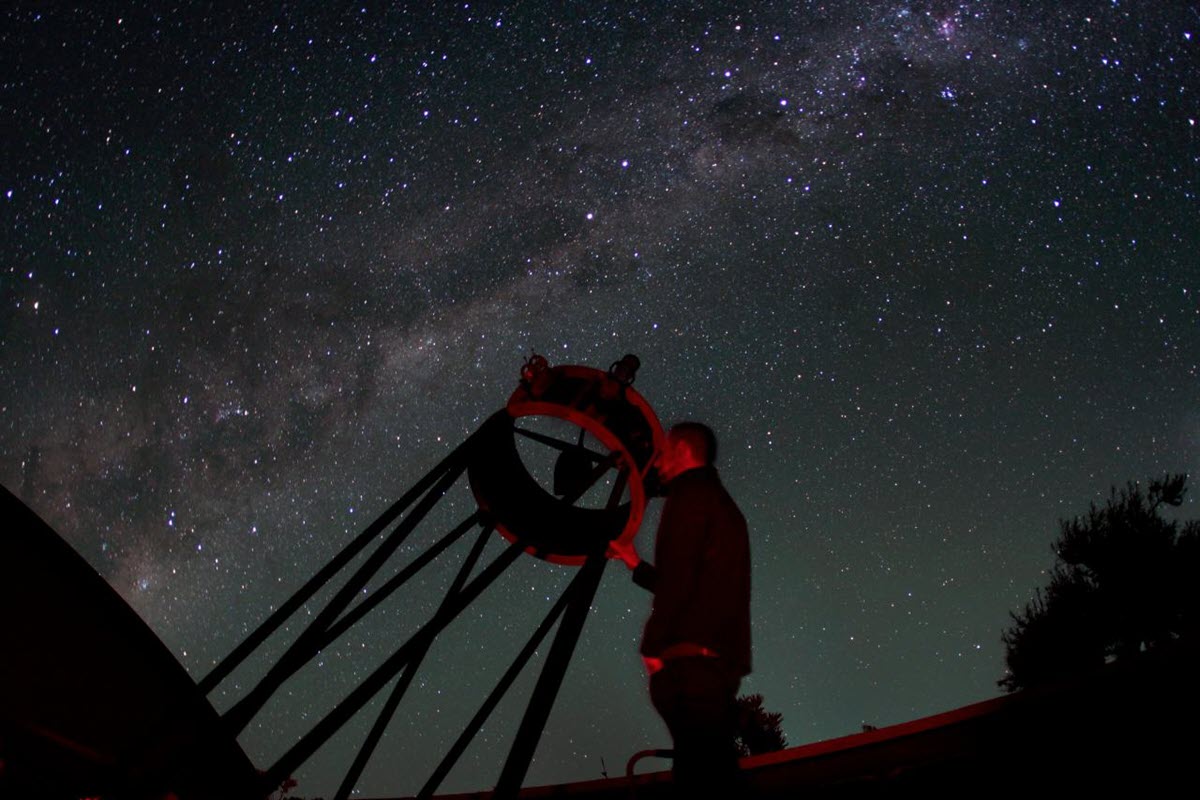 Exploring the night sky on a tour with The Gravity Discovery Centre. Photo credit: https://gravitycentre.com.au/.
The Gravity Discovery Centre in Yeal, Western Australia, is ideal for stargazers who want to learn astronomy. Visitors can participate in guided night sky tours to view astronomical elements. Interactive displays and activities like star talks add to the educative sessions, while indigenous elders are usually available to teach visitors about Aboriginal astronomy.
The site includes the Gingin Observatory, which, as part of the gravity precinct, has up-to-the-minute telescopes, a fully retractable roof, and vital astronomy information. Visitors enjoy a quiet outback with only the stars and moons providing light during stargazing. Planets, galaxies, clusters, and nebulae, too, make the beautiful sky view even more breathtaking.
8. Horrocks Beach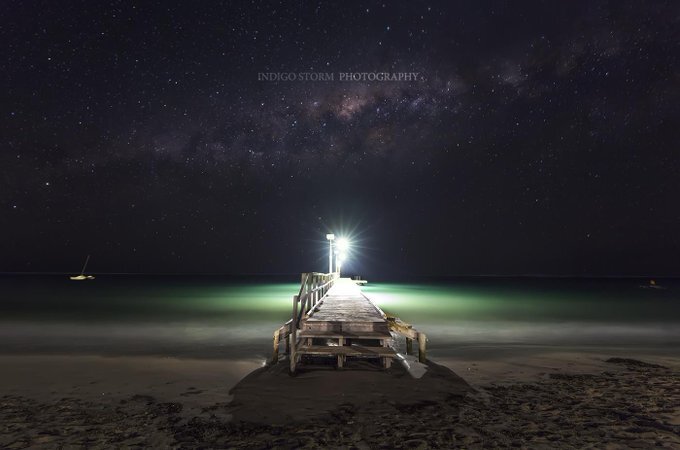 The jetty showcased in Horrocks with a stunning display of stars above. Photo credit: @indigostorm5 on Twitter.
Located in the northern parts of the Indian Ocean, Horrocks Beach is a perfect spot that provides an unobstructed night sky view. The distance from major cities gives stargazers a peaceful and quiet stargazing experience. Expansive, flat beaches make Horrocks Beach a beautiful scene for photographs.
The stunning sunset views allow stargazers to see the transformation of the evening-to-night sky. Stargazers can then have breathtaking views of the beautiful star trails, galaxies, and planets. The beach's sandy shores also provide a magnificent backdrop for starry night photos.
9. Margaret River Tourist Park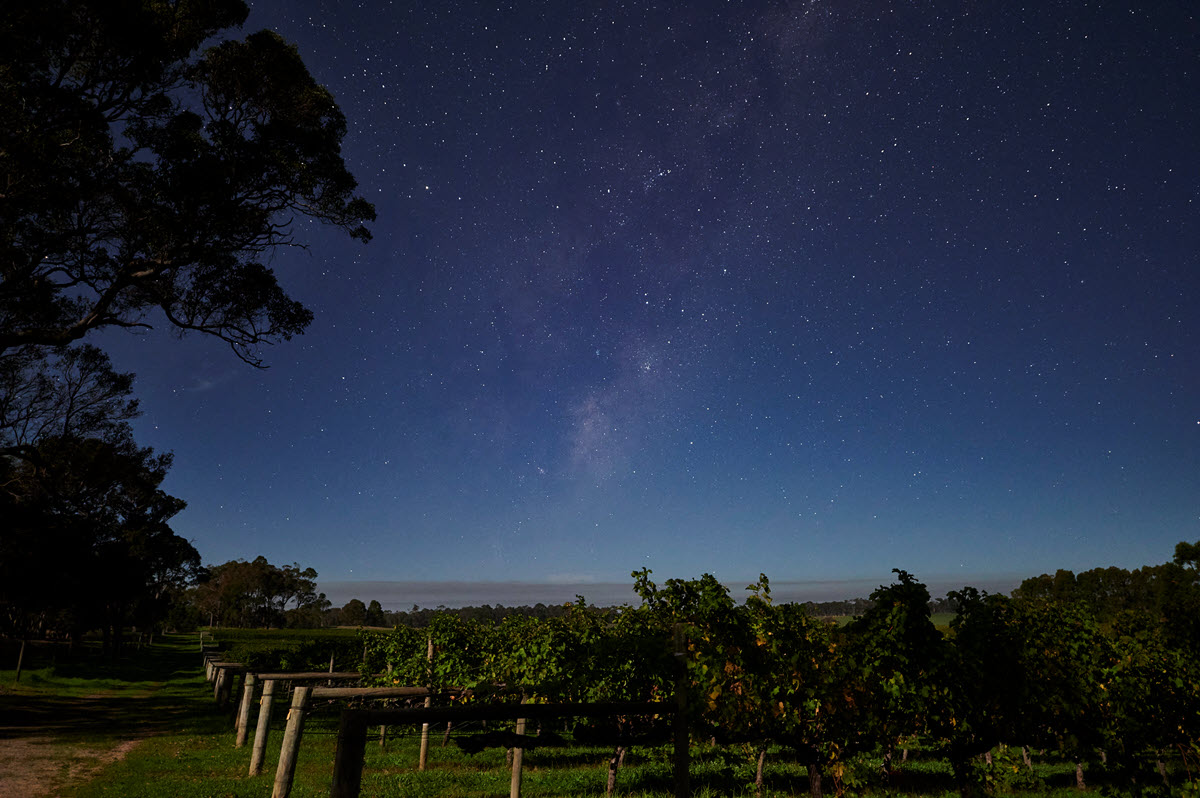 Margaret River lights up with stars as night sets over the local wineries. Photo credit: Tourism WA.
Located just 3 hours south of Perth City, open skies surround the edge of the Margaret River with minimal artificial light. The environment makes it a great spot to view the planets, stars, and constellations. Night skies can be so dark that stargazers can even see the Milky Way.
Stargazers at Margaret River Tourist Park and Riverview Tourist Park can enjoy other stargazing-related activities, including guided tours, planetarium shows, and educational talks.
10. Perth Observatory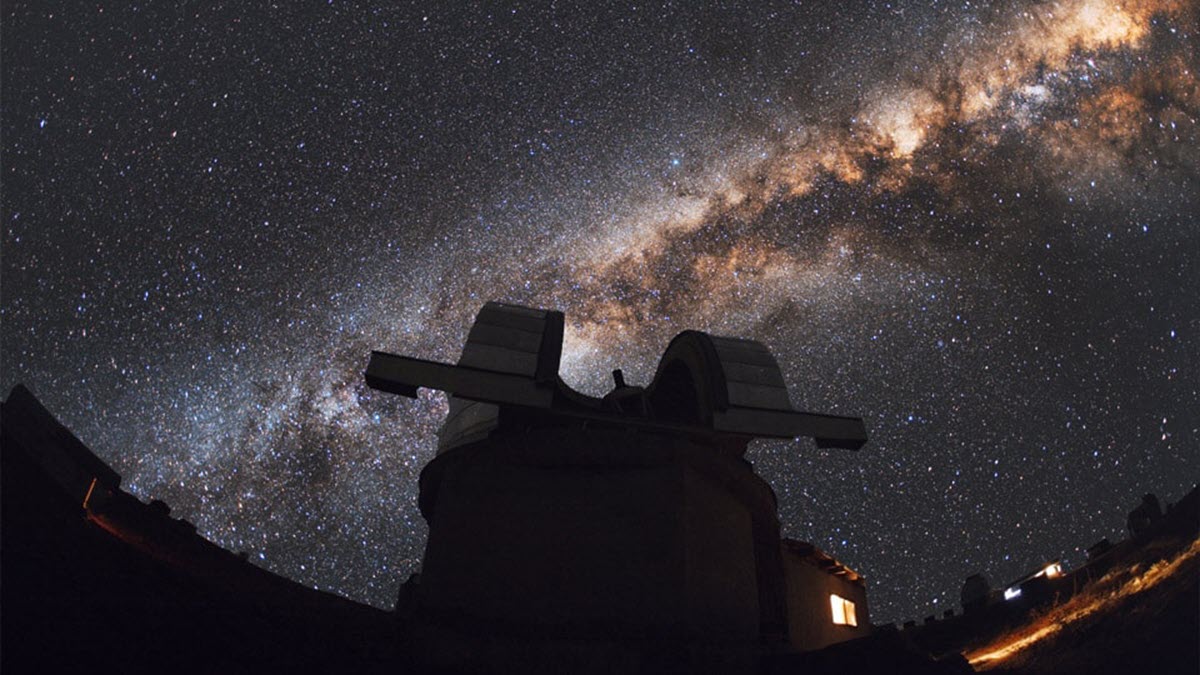 All stargazing enthusiasts should pay the Perth Observatory a visit. Photo credit: https://www.perthobservatory.com.au/.
Perth Observatory is located in a rural area, providing visitors with a fantastic opportunity to appreciate the night sky — there is no light pollution that reduces the visibility of stars like in more urban areas. Visitors can view nebulae, star clusters, dying stars, and various planets in the southern hemisphere planets.
The observatory offers telescopes to make stargazing in Perth more detailed. It has staff who are experts in astronomy and provide assistance during stargazing. Visitors can utilize the observatory's exhibition, knowledgeable guides, and astrophotography pointers to make the most out of their stargazing adventure.
The stargazing spots above are located away from much artificial light and have some of the darkest skies — stargazers may not be able to see stars close to the bright lights of the CBD.
Experience stargazing in comfort with Summerstar Tourist Parks
For visitors who want a better experience and a comfortable stay, accommodation at Summerstar Tourist Parks is a great place to start. With parks along WA's stunning coastline, we provide comfortable accommodation and guidance to stargazers, astronomers, and all travellers.