If you've ever thought that weekdays in the Margaret River Region are synonymous with closed doors and missed opportunities, we're here to debunk your theories! While the region that stretches from Busselton to Augusta in Western Australia's South West is known for its vibrant weekend atmosphere, we've got the low-down on hidden gems that come alive during midweek adventures.
From Sundays to Thursdays, an array of hospitality venues, cellar doors and attractions eagerly await your arrival. Whether you're a wine aficionado seeking wineries open during the week, a food lover in search of delectable dining options, or a thrill-seeker ready to embark on exciting activities, the Margaret River Region has it all.
And to make your mid-week getaway even more enticing, we're offering a special 20% discount on roofed accommodation types at our South West Summerstar Tourist Parks this winter down south - available from now until the end of August. These fantastic midweek accommodation specials are perfect for your quiet and relaxing getaway, without sacrificing any of the fun.
So, pack your bags, escape the weekend crowds, and immerse yourself in the beauty and charm of the Margaret River Region during the week.
Below we've compiled the ultimate guide to what's open in Busselton and Margaret River so you can discover what to do during the week and make the most of your midweek escape.
What's Open Midweek in Busselton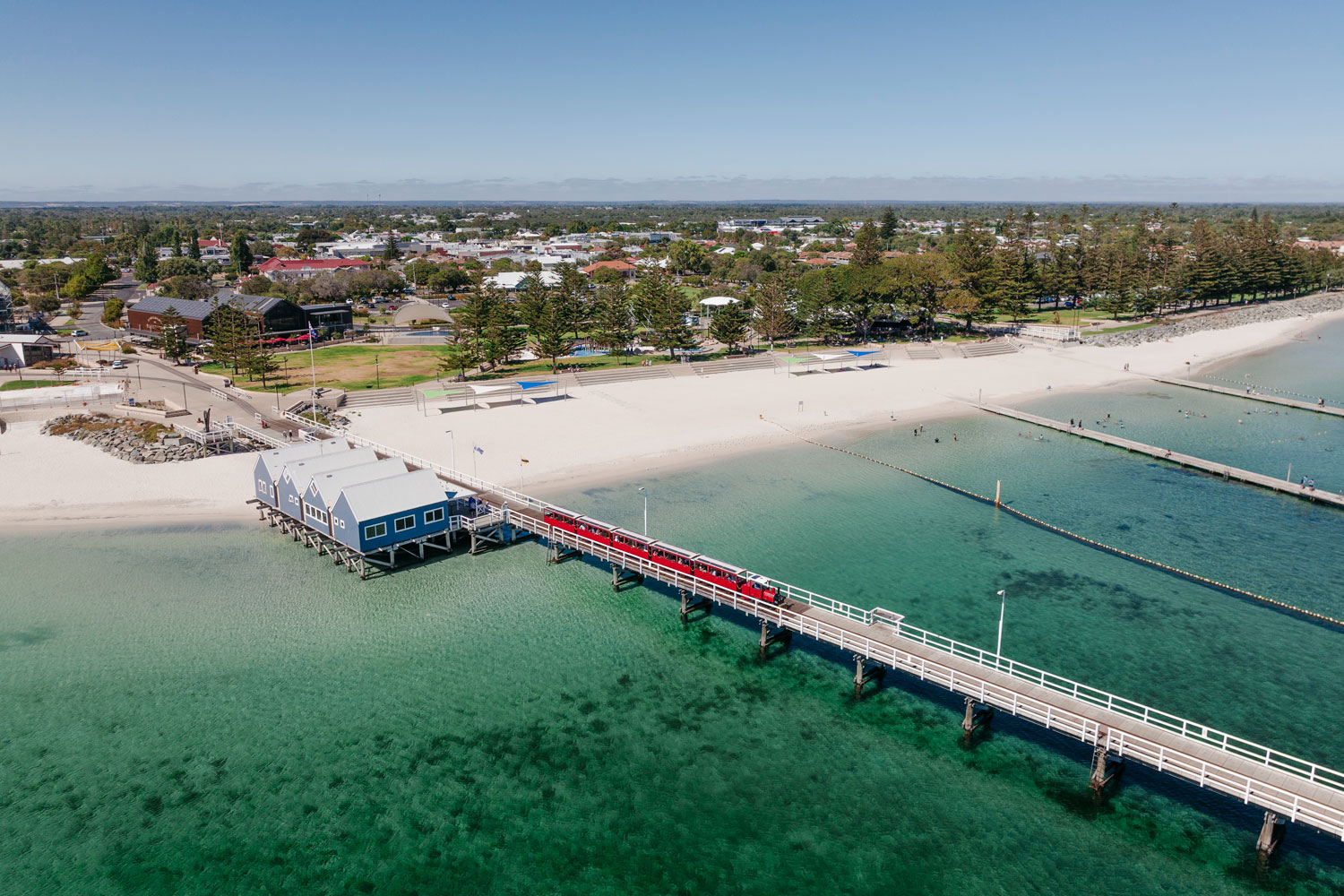 Aerial view of Busselton Jetty. Photo Credit: Tourism Australia
Cafes and Restaurants
1. Rise & Co Craft Bakery + Cafe
(open every day from 7.30am - 2pm for breakfast and lunch).
This artisan bakery and cafe will tantalise your tastebuds with freshly baked bread, delicious coffee, and some of the best breakfast bites in Busselton. What's more, it's just a 5-min drive from Busselton Lazy Days Caravan Park, making it the perfect first stop for your weekday morning adventure.
2. Claudio Bakehouse
(open Thursday to Monday 7:15am - 2.30pm, closed Tuesdays and Wednesdays)

Perhaps the best-kept secret of the South West, Claudio Bakehouse opened up shop in Abbey in May 2022 and have been bustling busy ever since! And it's easy to see why - their Romana pastries and pinsas are hand crafted to perfection.
Think custard-filled croissants, decadent sweet delights and loaded savoury toasties paired with excellent coffee. This is a must-visit while in Busselton - and it's just a 4-min drive from Busselton Lazy Days Caravan Park.


Ed note: Though being locally owned and run by a husband and wife duo, they do tend to take a well deserved break in the winter time. Check their Facebook page for updates.
3. The Good Egg
(open Monday to Friday from 6.30am - 5pm and from 7am - 4pm on Saturdays and Sundays, although note the kitchen closes at 2pm)
If you're on the hunt for a delightful breakfast or lunch spot in Busselton during the week, recommend The Good Egg, a local gem that will satisfy your cravings and leave you wanting more. This charming eatery, open mid-week, serves up a mouthwatering menu that caters to all taste buds.
From hearty breakfast options to scrumptious lunch creations, The Good Egg is a haven for food enthusiasts seeking a memorable dining experience. Whether you're indulging in their famous eggs benedict or savouring their delectable burgers, each bite will leave you wanting to come back for more.
4. Al Forno
(open 5pm to 8pm Tuesday to Sunday, closed Monday)
If you're craving gourmet pizza or a traditional European feast for dinner in Busselton during the week, Al Forno (which, fun fact, means "from the oven") is the spot for you. This is a culinary gem that promises to curb the cravings.
From wood-fired pizzas to mouthwatering pasta creations, each bite at Al Forno is a burst of flavour and satisfaction. Whether you're in the mood for classic Italian favourites or innovative gourmet delights, this restaurant has something to please every palate.
5. Ooze & Tang
(open 5-9pm for dinner on Mondays and Tuesdays, Fridays and Saturdays, closed Wednesdays and Thursdays)
Perfect for a special occasion or celebration (yes, it's on the pricier side), this groovy new little restaurant-cross-bar in Abbey oozes atmosphere (pun intended)! Be greeted by the wonderful staff and an ever-changing menu serving up dishes using only the freshest seasonal ingredients - from Asian-inspired dishes or their creative twists on classic favourites, each bite is a culinary delight. The fact that they're open on Mondays and Tuesdays is a bonus, making the perfect midweek dinner treat.
6. Tonic By the Bay
(open every day from 8am - 9pm for breakfast, lunch and dinner)
Sit back and relax at Tonic By the Bay, a tavern-like venue just a hop, skip & a jump from the beachside near Broadwater. Here you can enjoy the ambience of the outdoor courtyard and beer garden, or cosy up by the heaters inside.
Food wise there's a chance to indulge for breakfast, lunch or dinner. If the latter, they offer up a pretty tasty classic pub-grub meal, or gourmet pizzas with mouth-watering classic sides with their own special twist.
Wineries and Breweries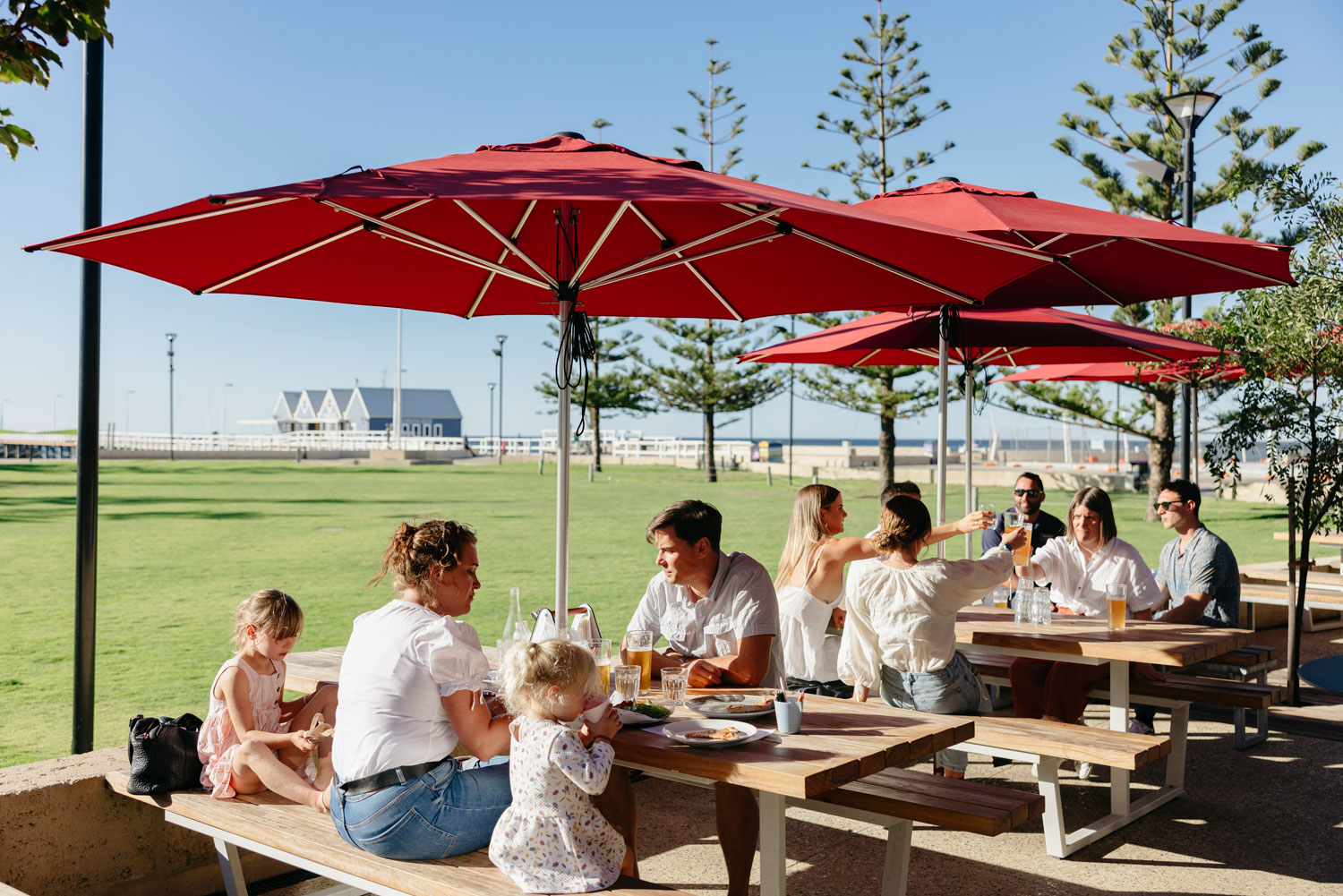 Shelter Brewing Co., Busselton. Photo Credit: Tourism Australia
1. Shelter Brewing Co.
(open 7am - 10pm every day)
If you're looking for things to do during the week, a visit to a local and family favourite on the Busselton Foreshore, Shelter Brewing Co, is a must. is a hub of vibrant energy, exquisite brews, and mouthwatering cuisine. As proud owners of Busselton Lazy Days Caravan Park, we couldn't be happier to have this gem right on our doorstep. What sets Shelter Brewing Co. apart is not only its passion for crafting exceptional beers but also its commitment to providing an incredible experience from dawn till dusk.
Yes, you read that right! They open their doors at 7am, perfect for starting your day with a delicious breakfast and a freshly brewed coffee. From there, the fun continues until 11pm, allowing you to savour their incredible offerings throughout the day and well into the evening.
Whether you're indulging in a mid-week lunch with friends, enjoying a sunset beer overlooking the picturesque Geographe Bay, or experiencing the lively atmosphere during their evening events, Shelter Brewing Co. promises a memorable experience from start to finish.
2. Whicher Ridge Wines
(open Wednesday to Sunday 12pm - 5pm, closed Mondays and Tuesdays)
Proudly a Busselton winery, Whicher Ridge Wines is a hidden gem just a 20-minute drive from the town centre. Here you'll find a winery, vineyard, cellar door and sensory garden all rolled into one and a refreshing focus on sustainability.
Whether you're a wine connoisseur or a novice enthusiast, Whicher Ridge Wines offers a diverse range of varietals, from their elegant Chardonnay to their bold Cabernet Sauvignon, each sip is a testament to their dedication to producing outstanding wines. A wine tasting might just be one of the best things to do during the week down south!
3. Rocky Ridge Brewing Co.
(open every day from 11am - 7pm on Monday to Thursday and until 8pm on Fridays and Saturdays)
An institution in their own right, the team at Rocky Ridge have become a beacon for beer enthusiasts seeking exceptional brews. Their cellar-door style venue just a stones' throw from the Busselton Foreshore is the perfect place to taste their latest creations.
From their carefully selected ingredients to their meticulous brewing process, every pint of Rocky Ridge beer is a testament to their passion for pushing boundaries and creating unique flavour profiles. Whether you're a hop lover, a fan of rich stouts, or crave refreshing pale ales, Rocky Ridge Brewing Co offers a diverse range of beers that cater to every palate.
Attractions and Things to Do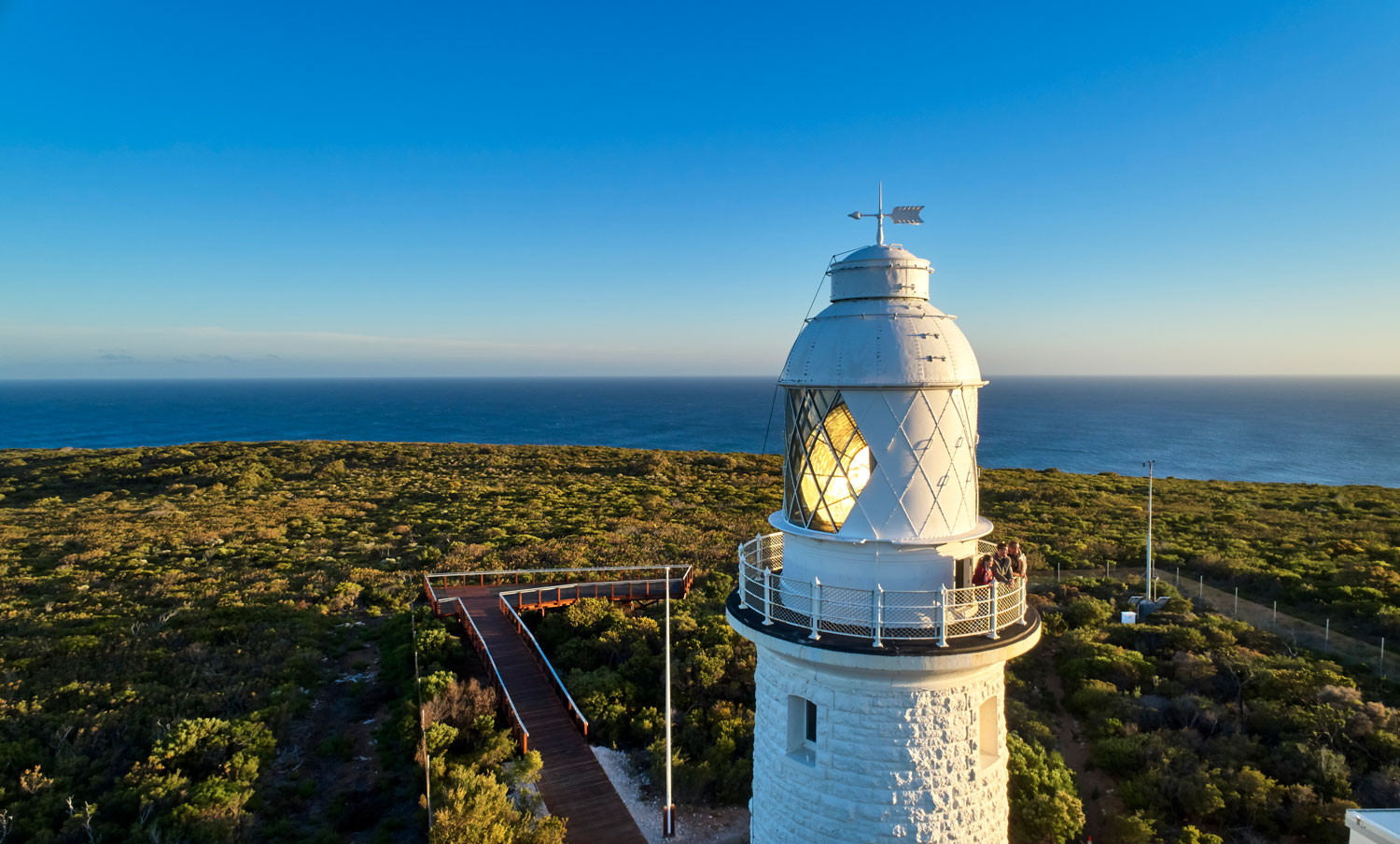 Cape Naturaliste Lighthouse, near Dunsborough. Photo Credit: Australia's South West
1. Busselton Jetty
(The jetty structure is open 24 hours a day, 7 days a week. The Interpretive Centre and Heritage Museum is open 9.30am-4.15pm every day. The Jetty Train operates on the hour, weather permitting from 10am - 4pm daily. The Underwater Observatory tours depart the Interpretive Centre on the hour from 10am - 3pm every day).
A trip to Busselton wouldn't be complete without a visit to the iconic Busselton Jetty. While many think it's only bustling on weekends, the Busselton Jetty is ready to welcome you with open arms throughout the week.
Take a leisurely stroll along the 1.8-kilometer stretch, soak in the breathtaking coastal views, and immerse yourself in the fascinating history of this heritage-listed landmark. From the underwater observatory to the vibrant marine life thriving beneath the crystal-clear waters, there's an abundance of natural wonders to discover.
Whether you're seeking a peaceful escape or an educational family outing, the Busselton Jetty offers endless opportunities for adventure and relaxation, all within easy reach during the week.
2. Origins Market
(open 8.30am - 6pm Thursday to Sunday, closed Monday - Wednesday)
Starting your getaway on a Sunday? Origins Market is open and ready for visitors! Unfortunately, they close again until Thursday, but if you're travelling midweek it's worth an extended stay to enjoy delicious tastings or purchase a trinket or two to take home.
3. Cape Naturaliste Lighthouse
(open 9am – 5pm with guided tours departing every hour from 9.30am - 4.30pm)
The Cape Naturaliste Lighthouse near Dunsborough is a fabulous day trip to take from Busselton during the week. Here is a chance to delve into the fascinating maritime history of the Cape region, with tales of shipwrecks, lighthouse keeper life, and the significance of the landscape around this area.
What's Open Midweek in Margaret River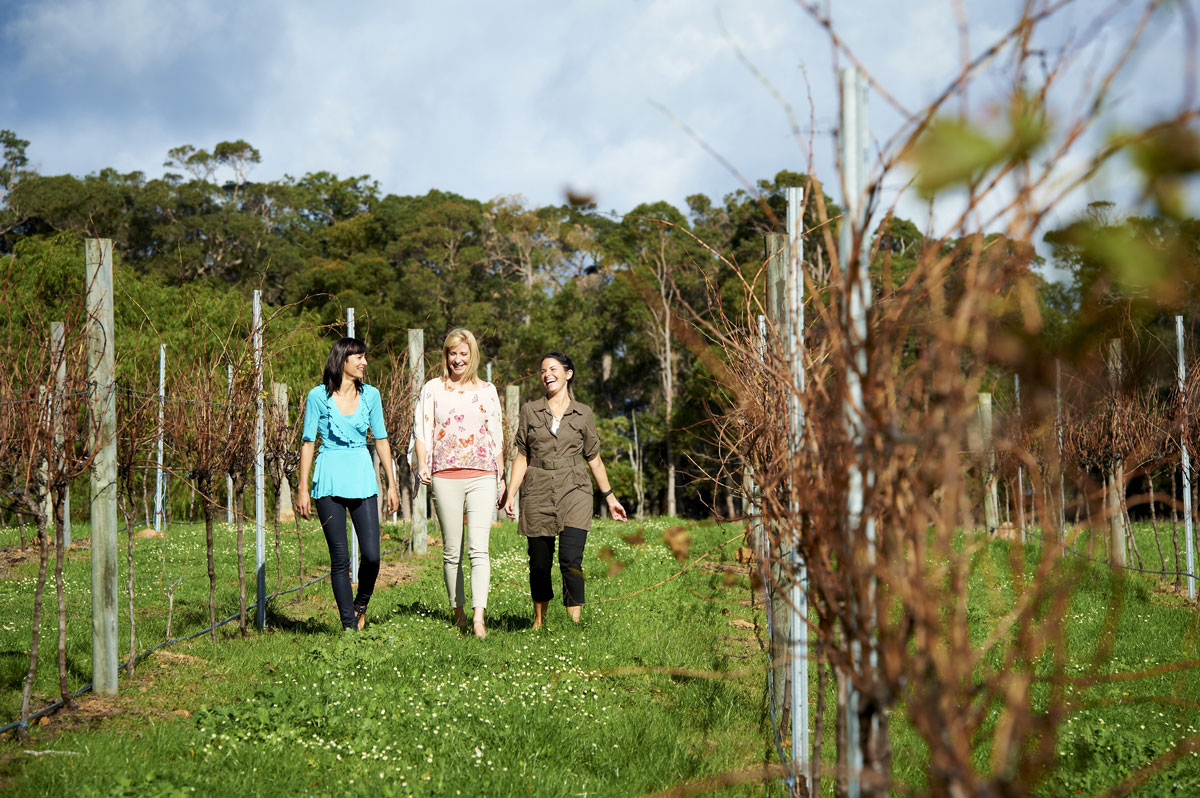 Vineyard, Margaret River Region. Photo Credit: Tourism Western Australia
In Town
1. Margaret River Bakery
(open every day from 7am - 2pm Mondays to Saturdays and 8am - 2pm Sundays)
Step into the charming world of Margaret River Bakery, where the aroma of freshly baked bread and pastries will work up your appetite. Open throughout the week, this local favourite has been serving up delectable treats for years.
From flaky croissants to indulgent pies, each bite is a delightful journey of flavours. Whether you're looking for a quick morning pick-me-up or a leisurely lunch, the Margaret River Bakery is a must-visit destination for food lovers.
2. Margaret River Brewhouse
(open every day from 11am and until 7pm from Mondays to Thursdays and 9pm from Fridays to Sundays)
The Margaret River Brewhouse is your haven for exceptional brews and a warm, inviting atmosphere. This lively establishment crafts a range of unique and flavorful beers onsite, ensuring that every sip is a celebration of craftsmanship.
Take a mid-week break and indulge in a tasting paddle while soaking in the vibrant ambience. With a menu offering delicious food to pair with your brews, the Margaret River Brewhouse is the perfect spot to unwind and savour the region's thriving craft beer culture.
3. Settlers Tavern
(open every day. From Mondays to Thursdays hours are 11.30am - 10pm, Fridays 11.30am - 12am, Saturdays 11am - 12am and Sundays 11am - 10pm. The kitchen is open daily from 12pm - 3pm and 5pm - 8.45pm)
Nestled in the heart of Margaret River, Settlers Tavern is an institution that has been drawing locals and visitors alike for decades. Step inside and discover a lively atmosphere, live music, and a menu that showcases the best of local produce. From mouthwatering burgers to succulent steaks, every dish is a testament to the region's culinary prowess.
Whether you're seeking a casual mid-week dinner or a night out with friends, Settlers Tavern offers an unforgettable experience that blends great food, live entertainment, and warm hospitality.
4. Miki's Open Kitchen
(open Tuesdays to Saturdays 6pm - 11pm, closed Sundays and Mondays)
Prepare to embark on a culinary journey like no other at Mikis Open Kitchen. This intimate restaurant is a true gem for food lovers seeking an exceptional dining experience. Led by acclaimed chef Miki, the menu highlights the finest local ingredients and a fusion of flavors that will tantalize your taste buds. With a focus on showcasing seasonal produce and crafting unique dishes, Mikis Open Kitchen offers a memorable culinary adventure that is perfect for a mid-week treat.
5. Morries
(open Tuesdays to Saturdays 5pm - 10pm, closed Sundays and Mondays)
Immerse yourself in the vibrant energy of Morries, a lively and stylish venue that caters to every palate. With an extensive menu featuring both contemporary and classic dishes, there's something to satisfy every craving.
From mouthwatering share plates to delicious mains and tempting desserts, each dish is crafted with care and flair. Whether you're enjoying a mid-week lunch or a relaxed dinner, Morries promises a memorable dining experience that embodies the spirit of Margaret River.
Nearby
1. The Common Bistro
(open from 3pm - 8pm Monday to Friday and 12pm - 8pm Saturdays and Sundays)
This little bar and bistro just outside of Margaret River town, it's a vibrant and welcoming venue that offers a unique dining experience. With a focus on sustainability and community, this trendy eatery serves up a delectable menu inspired by local and seasonal ingredients.
From hearty lunches, dinners and tempting sweet treats, The Common is the perfect place to get a feed during your mid-week adventures. Immerse yourself in the relaxed ambience, enjoy the friendly service, and savour the flavours that showcase the region's culinary excellence.
2. White Elephant Beach Cafe
(open 7am - 3pm every day)
Nestled on the stunning shores of Gnarabup Beach, White Elephant Beach Cafe combines breathtaking views with a mouthwatering menu. Open throughout the week, this coastal gem offers a delightful dining experience where you can indulge in fresh, locally sourced ingredients. Start your day with a scrumptious breakfast as you soak in the panoramic ocean vistas, or drop by for a leisurely lunch with a side of sea breezes.
Wineries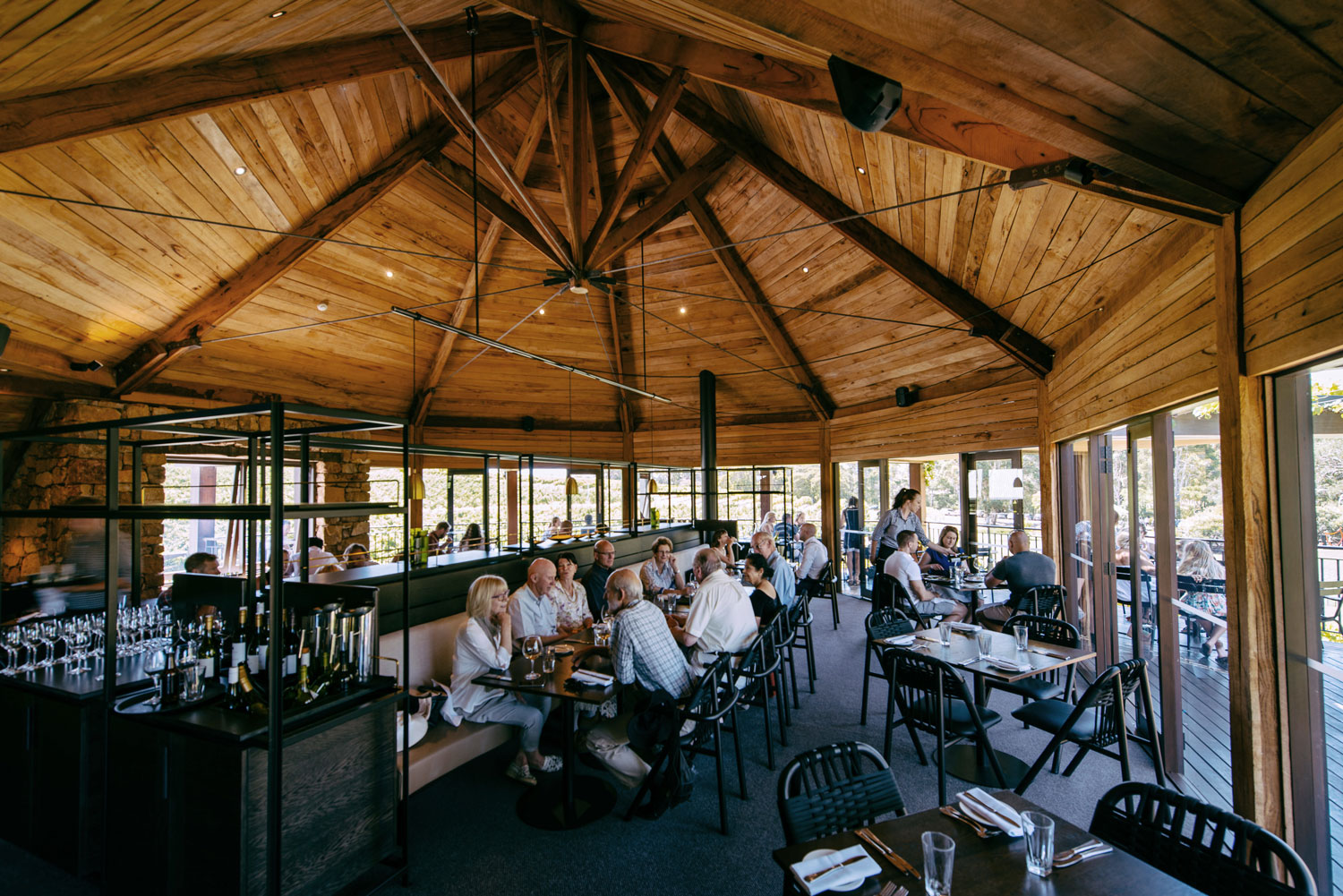 Vasse Felix, Margaret River. Photo Credit: Tourism Western Australia
Indulge in a wine lover's dream with wineries open during the week, where you can savour the finest vintages and enjoy unique tasting experiences.
1. Bettenays Margaret River
(open every day from 10am - 5pm)
This family-owned winery is known for its award-winning wines and spectacular views. Admire the stunning surroundings as you indulge in a wine tasting experience that showcases the craftsmanship and dedication of the Bettenay family.
2. Gralyn Estate
(open every day from 10.30am - 4.30pm)
With a reputation for producing outstanding wines, Gralyn Estate is a must-visit destination for wine enthusiasts. Discover their premium range of varietals as you immerse yourself in the serene vineyard setting. Whether you're a wine connoisseur or just beginning your wine journey, the friendly staff at Gralyn Estate will guide you through a tasting experience to remember.
3. Vasse Felix
(open every day from 10am - 5pm with lunch reservations available from 12pm - 3pm)
As one of Margaret River's founding wineries, Vasse Felix has played a pivotal role in shaping the region's wine industry. Explore their picturesque estate, surrounded by rolling vineyards, and sample their renowned wines that perfectly showcase the Margaret River terroir.
Don't miss the opportunity to dine at their acclaimed restaurant, where the menu highlights the region's finest produce.
4. Credaro Wines
(open every day from 10.30am - 5pm)
A multi-generational family-owned winery, Credaro Wines is dedicated to producing exceptional wines that reflect the unique character of the Margaret River region. Enjoy a warm welcome as you taste their award-winning wines, and gain insights into their winemaking philosophy that combines tradition with innovation.
5. Domaine Naturaliste
(open every day from 10am-5pm)
Renowned for its commitment to crafting elegant, cool-climate wines, Domaine Naturaliste is a true gem in the Margaret River wine scene. Step into their cellar door and embark on a journey of sensory exploration, as you sample their exquisite wines that showcase the harmony between fruit purity and winemaking finesse - all while sitting right next to the very vines that grew the grapes.
Attractions and Things to Do During The Week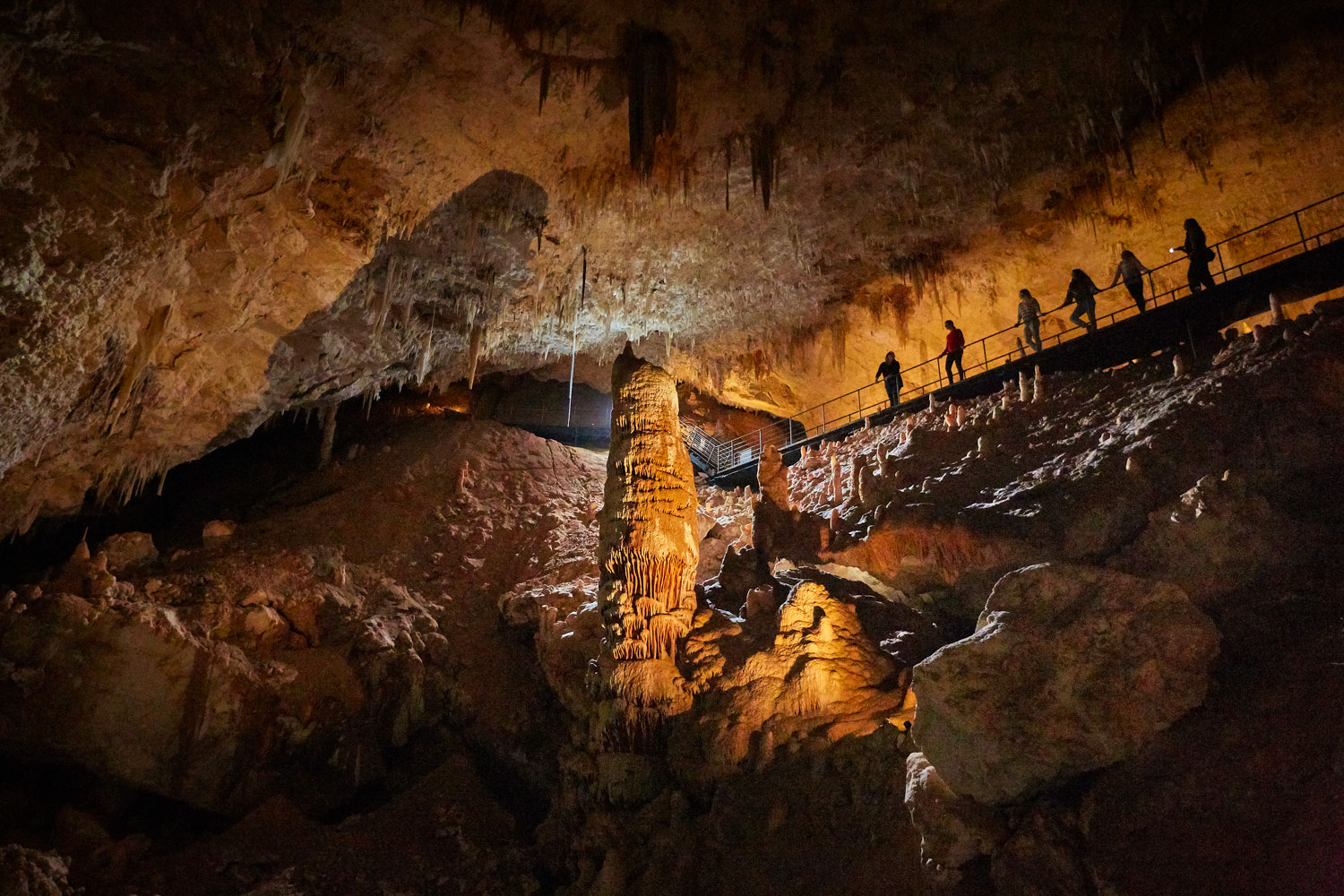 Margaret River Caves. Photo Credit: Tim Campbell
1. Margaret River Caves
(open 9am - 5pm daily)
Delve into the fascinating underground world of the Margaret River Caves. Step into a realm of awe-inspiring stalactites, stalagmites, and ancient formations that have been meticulously crafted over millions of years. Join a guided tour at Jewel Cave, Lake Cave, or Ngilgi Cave (on the hour from 9.30am - 4.30pm daily) or the self-guided Mammoth Cave (audio tour 9am - 5pm daily) and learn about the geological wonders and rich history that lie beneath the surface.

Vasse Virgin, Wilyabrup. Photo Credit: Tourism Western Australia
2. Vasse Virgin, Wilyabrup
(open 10am - 5pm daily)
Immerse yourself in the sensory delights of Vasse Virgin's Wilyabrup location. Discover the art of olive oil and natural skincare production as you explore their boutique store and production facility, open every day of the week. Indulge in a tasting experience of their exquisite olive oils, gourmet products, and luxurious skincare range, all crafted with care and passion.
3. Cape Leeuwin Lighthouse
(Interpretive Centre and cafe open 9am - 4pm daily. Lighthouse tours depart every half hour from 9am until 4.30pm)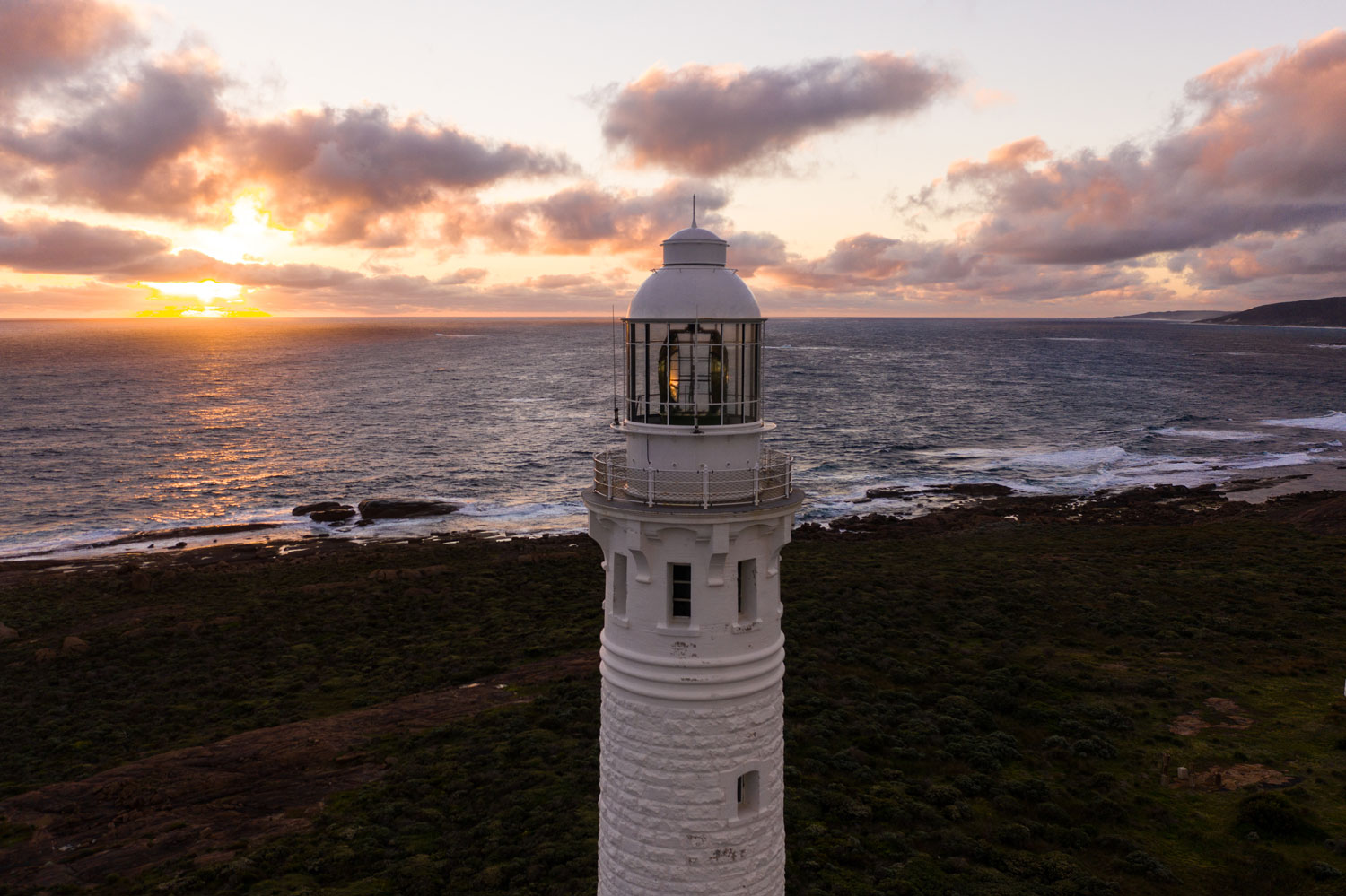 Cape Leeuwin Lighthouse, Augusta. Photo Credit: Tourism Western Australia
Stand at the southwestern tip of Australia and witness the meeting point of the Indian and Southern Oceans at Cape Leeuwin Lighthouse. Join a tour and climb to the top of this iconic landmark to be rewarded with breathtaking panoramic views of the rugged coastline and gain insights into the maritime history and fascinating tales that surround this historical site.
4. Margaret River Discovery Co.
Embark on a journey of discovery with Margaret River Discovery Co. Join their expert guides as they unveil the region's hidden gems, showcasing the best of Margaret River's landscapes, wildlife, and local produce. From scenic river cruises to gourmet food and wine experiences, immerse yourself in the beauty and bounty of the region.
So there you have it, a whole suite of places open midweek! Get ready to explore the picturesque Margaret River Region during the week and discover the wealth of activities to do and things to see.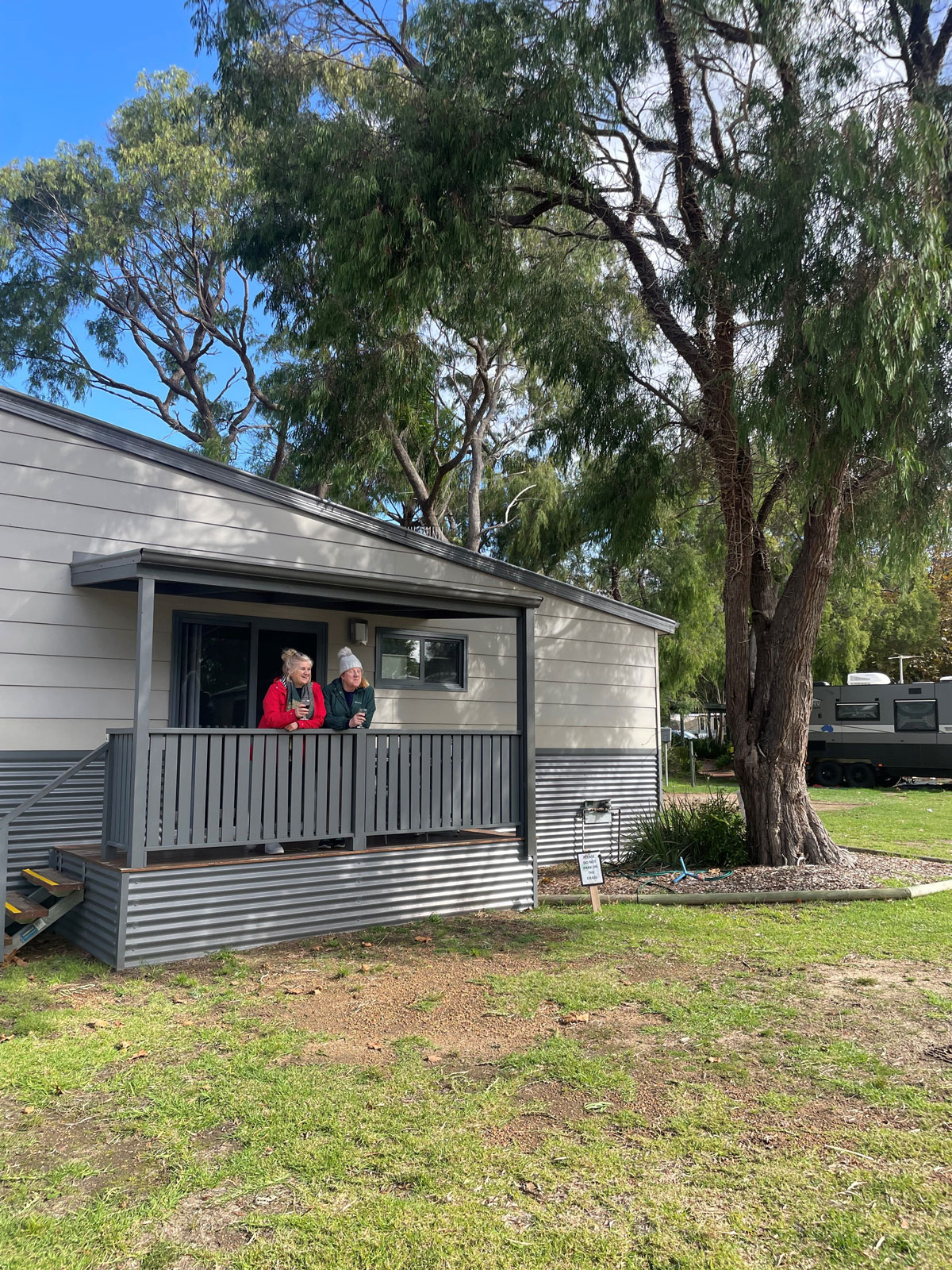 Margaret River Tourist Park
Book your trip
This winter down south, we've got 20% off midweek stays (available Sundays to Thursdays) in roofed accommodation types at Busselton Lazy Days Caravan Park, Margaret River Tourist Park, Riverview Tourist Park in Margaret River, and also Walpole Rest Point Caravan Park further afield. Terms & Conditions apply, see website for details.
Book your stay today at a Summerstar Tourist Parks property and take advantage of our exclusive midweek accommodation specials this winter down south.