Broome is a beautiful coastal town located in the Kimberley region of Western Australia. Known for its stunning beaches, crystal clear waters, and vibrant culture, Broome holidays are perfect for tourists looking for an unforgettable experience. Broome family holidays can also be a great opportunity to have a relaxing getaway with your loved ones.
Holidaying in Broome offers a diverse range of activities for tourists. Whether you're looking for a relaxing beach holiday or an adventure-packed trip, Broome has something for everyone. So pack your bags and head to Broome for a memorable holiday experience.
If you're planning on holidaying in Broome, here are some tips on how to make the most of your time away.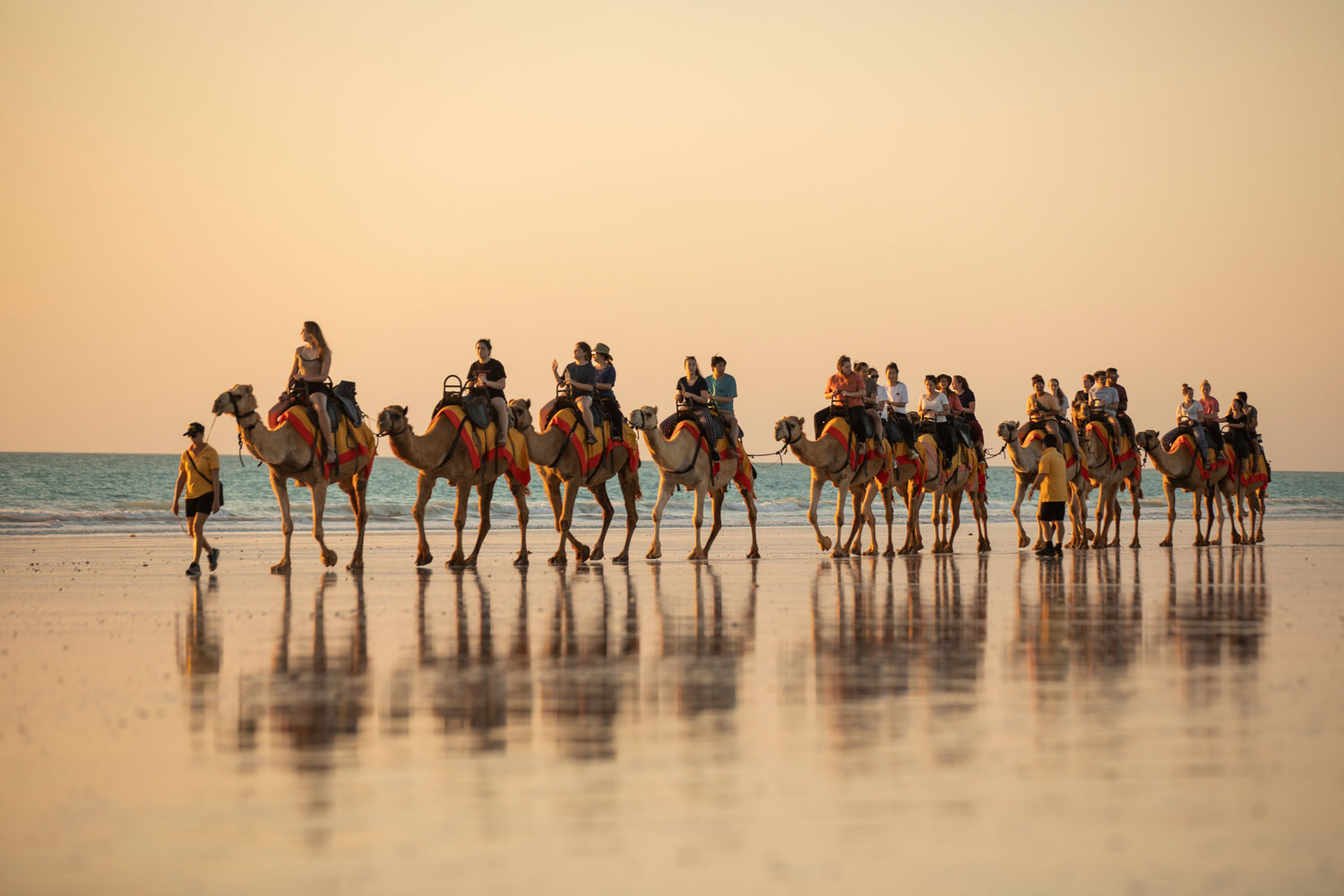 Tourists enjoying a sunset camel ride at Cable Beach. Photo credit: Tourism Australia.
1. Explore the beaches
Broome holidays wouldn't be the same without a visit to its beautiful beaches. Cable Beach is the most famous of them all, with its 22-kilometre stretch of white sand and turquoise water.
Here or the nearby Town Beach are perfect places to spend a day lounging on the beach or taking a dip in the ocean (seasonally from July to September). You can also enjoy a sunset camel ride on Cable Beach, which is an iconic Broome holiday experience.
While holidaying in Broome, you won't want to miss a trip to the vibrant and colourful Roebuck Bay, or the rugged sandstone cliffs and dinosaur footprints at Gantheaume Point.
2. Visit the local markets
Time to find a memento to take home after your Broome Getaway! The town has a vibrant local culture, and the markets are the perfect place to experience it.
The Courthouse Markets are held every Saturday, and you can find everything from fresh produce to handmade jewellery.
The famous pearl markets are held at the Broome Courthouse Gardens on Sundays, where you can shop for the world's finest pearls. Or you can visit one of the world's finest pearl showrooms. You can even take a tour of a pearl farm!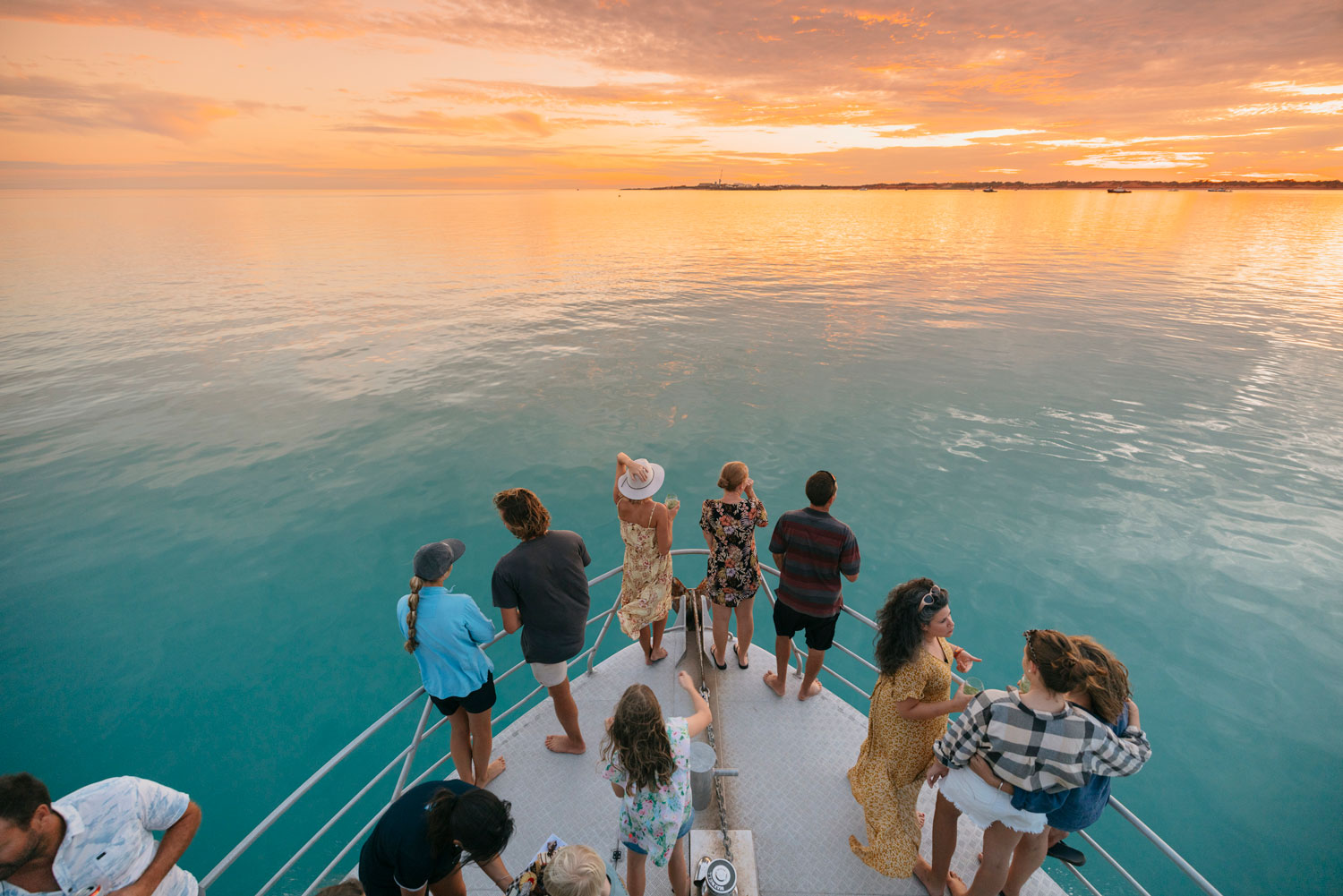 Beautiful sunset views on a Broome boat cruise. Photo credit: Tourism Australia.
3. Go on a sunset cruise
Watching the sunset over the Indian Ocean is a must-do activity while holidaying in Broome. You can even take a sunset cruise with one of the local operators and watch the sun go down while sipping a cocktail or champagne. It's a romantic way to spend an evening and an excellent opportunity to take some stunning photographs of the northern coast.
4. Learn about the local history
Broome has a rich history, and there are several museums and cultural centres where you can learn about it. The Broome Historical Museum is a great place to start, where you can explore the town's past and learn about the pearling industry. You can also visit the Memorial Pearl Luggers Museum.
You must also visit the Japanese Cemetery, which is a tribute to the many Japanese divers who lost their lives during the early days of the pearling industry.
5. Join a Scenic Flight
A scenic flight over Broome is an incredible way to take in the town's stunning natural beauty from above. You can book a helicopter or small plane tour and see the turquoise waters of the Indian Ocean, the red cliffs of the Kimberley, and the rugged landscapes of the outback.
Picturesque landscapes in the Kimberley. Photo credit: Tourism Australia.
6. Take a trip to the Kimberley
Broome is the gateway to the Kimberley region, which is home to some of the most remote and stunning natural landscapes in Australia.
You can take a day trip or an extended tour to explore the rugged terrain, waterfalls, and gorges. It's a once-in-a-lifetime opportunity to experience the raw beauty of the Australian outback.
7. Enjoy Fresh Seafood
Broome is famous for its fresh seafood, and you'll find plenty of restaurants serving up delicious seafood dishes. One of the best places to enjoy the local fresh seafood is at the local fish market, where you can choose from a variety of freshly caught fish, prawns, and crabs.
Our tip: stock up on local delicacies and cook up a feast from the camp kitchen or your self-contained accommodation at Broome Caravan Park.
8. Watch the Staircase to the Moon
The Staircase to the Moon is a natural phenomenon that occurs during certain months of the year, roughly 2-3 times per month from March - October, where the reflection of the full moon over the exposed tidal flats of Roebuck Bay creates the illusion of a staircase leading up to the sky.
This breathtaking event can be seen from various locations in Broome, including Town Beach and the Roebuck Bay lookout, among others.
If you are holidaying in Broome during March to October, don't miss this breathtaking natural event!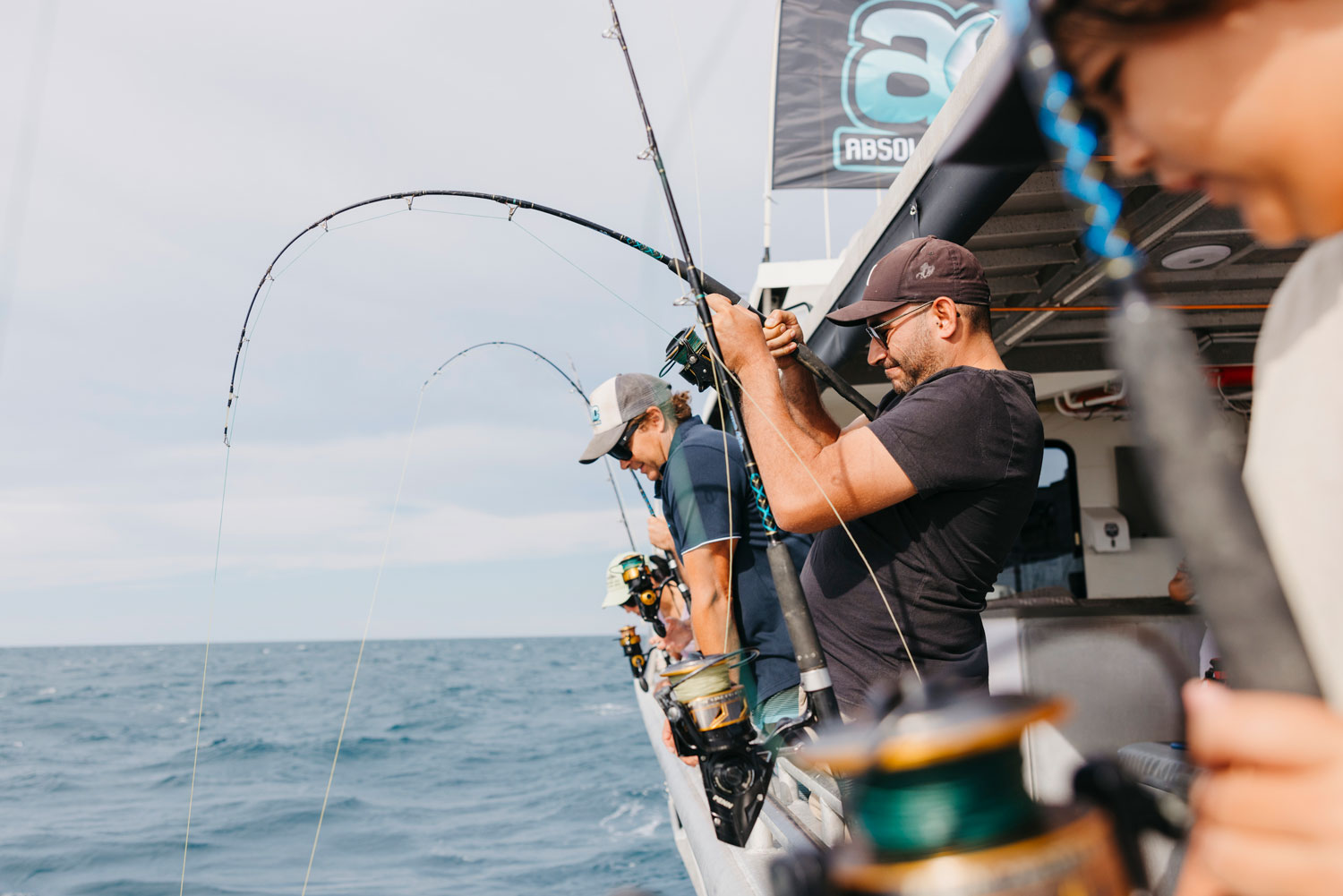 Fishing charter in Broome, WA. Photo credit: Tourism Australia.
9. Go Fishing
Fishing is a popular holiday activity in Broome, and you'll find plenty of opportunities to cast a line and catch some fresh fish. You can go fishing from the shore, or you can book a fishing charter and head out to the ocean to catch bigger fish like barramundi, sailfish, and marlin.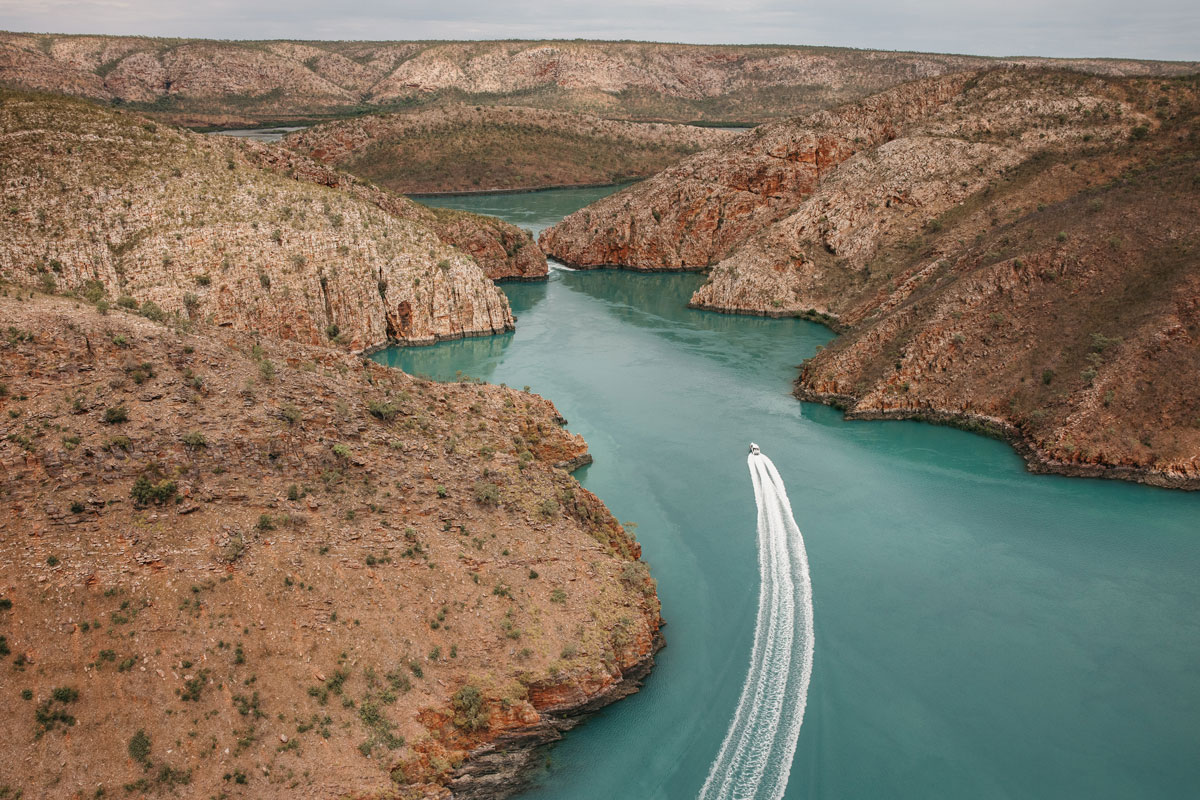 Horizontal Falls in Broome. Photo credit: Tourism WA.
10. Visit the Horizontal Falls
The Horizontal Falls are a natural wonder located in the nearby Kimberley region. The falls are created by massive tidal movements that rush through narrow gaps in the cliffs, creating a horizontal waterfall effect.
You can book a tour and witness this incredible natural phenomenon up close.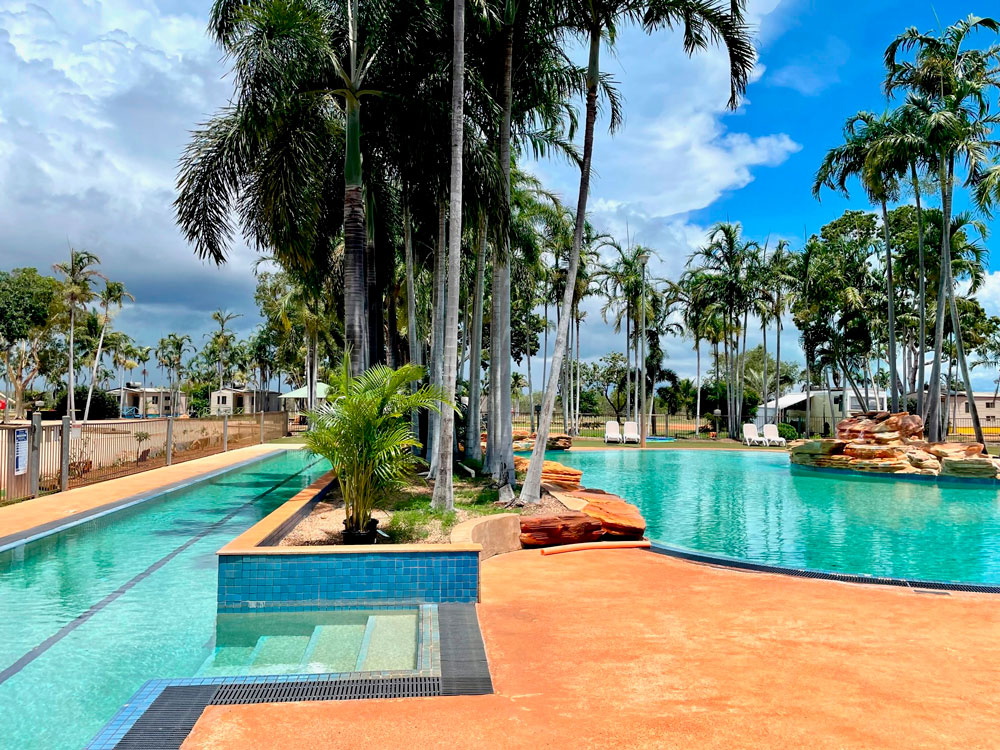 Enjoy a relaxing day by the pool at Broome Caravan Park
11. Relax and Unwind
Ever heard of 'Broome Time'? It's the concept that time has a different meaning here than anywhere else on Earth, and the "slip into Broome time" phrase denotes relaxing in a wonderful stage of half-sleep.
This is one of the best things about holidaying in Broome - the opportunity to relax and unwind. Whether you're lounging on the beach, taking a dip in the ocean, or enjoying a massage at a spa, you can take a break from the hustle and bustle of everyday life and recharge your batteries - which is what a Broome holiday is all about!
Book your trip
We have the perfect place to base yourself at Broome Caravan Park, just outside of town and nestled amongst large stands of established trees, the park enjoys a peaceful and relaxing retreat complete with a resort-style swimming pool.
Make a booking online now so you don't miss out on your 2023 Broome holiday.