Western Australia is a vast and beautiful state that's home to some of the most picturesque locations in Australia, making it the perfect destination for Instagrammers and photography enthusiasts alike. From pristine beaches to rugged outback landscapes, there's a diverse range of destinations that will make your Instagram followers green with envy.
Witnessing breathtaking views and bucket-list places is one of the best parts of travelling and taking photos of these aesthetic places helps us keep the memory of our holidays alive.
Think photo locations with stunning coastlines, crystal-clear waters, unique wildlife, and much more. To help you plan your next photo-worthy getaway, we've compiled ten of the most Instagrammable travel destinations and photo locations in Western Australia that you need to visit on your next road trip.
1. Broome and The Kimberley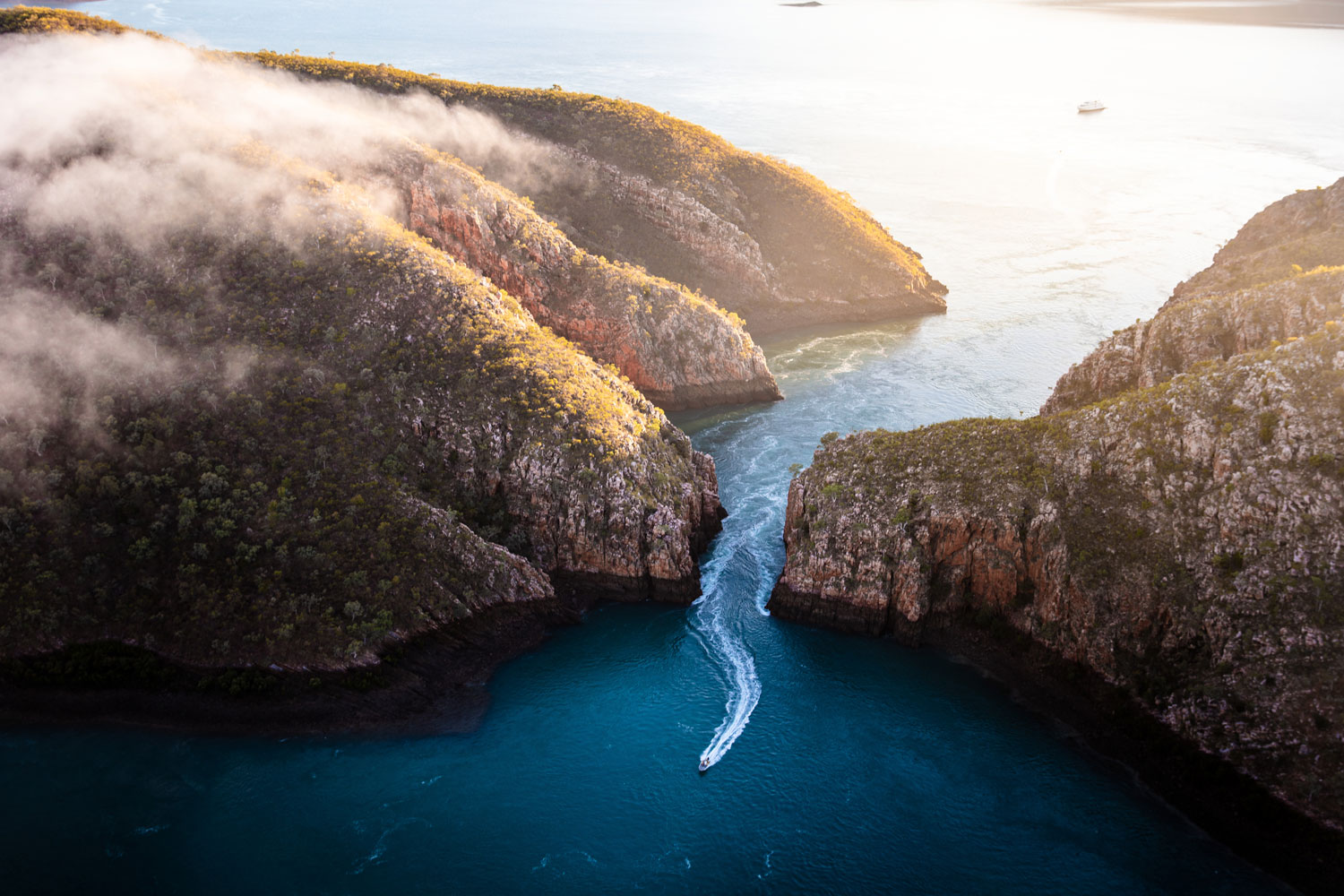 Horizontal Falls. Photo Credit: Tourism Australia
If there's one place in Western Australia that has iconic one-of-a-kind landscapes for stunning photos, it's the very north of the state. From the stunning turquoise waters of Cable Beach in Broome to the rugged gorges of the Kimberley, there's no shortage of picture-perfect spots to capture your memories.
Stand in awe as the fiery sunsets paint the sky in vibrant hues, creating a magical backdrop for your photographs. Explore the ancient rock formations, hidden waterfalls, and vast open plains that showcase the raw beauty of this region.
Cable Beach in Broome is one of Western Australia's most iconic beaches, with its long stretches of white sand and crystal-clear turquoise waters. It's a perfect place for those who want to capture stunning sunset photos, where the sunsets are known for being particularly spectacular. If you're looking for the perfect Instagram shot, a must-visit location is the famous camel rides, a unique way to explore the beach and take some great photos with these gentle giants.
Few places can rival the captivating beauty of Horizontal Falls in Broome. This natural wonder is a photographer's dream, offering a unique and exhilarating experience. Capture the sheer power of the tidal phenomenon as the ocean rushes through narrow gorges, creating stunning horizontal waterfalls.
The rugged cliffs, swirling waters, and surrounding untouched wilderness provide an awe-inspiring backdrop for your shots. Whether you're capturing the adrenaline-pumping boat ride or the breathtaking aerial views from a seaplane, Horizontal Falls will leave you with extraordinary photographs that showcase the sheer magnificence of nature.
Whether you're a professional photographer or simply seeking Instagram-worthy moments, Broome and The Kimberley will leave you spellbound with their natural splendour and photogenic allure.
Our tip: Book at Eighty Mile Beach Caravan Park during your road trip to Broome and book a stay at Broome Caravan Park to start exploring the best photo spots.
2. Margaret River Region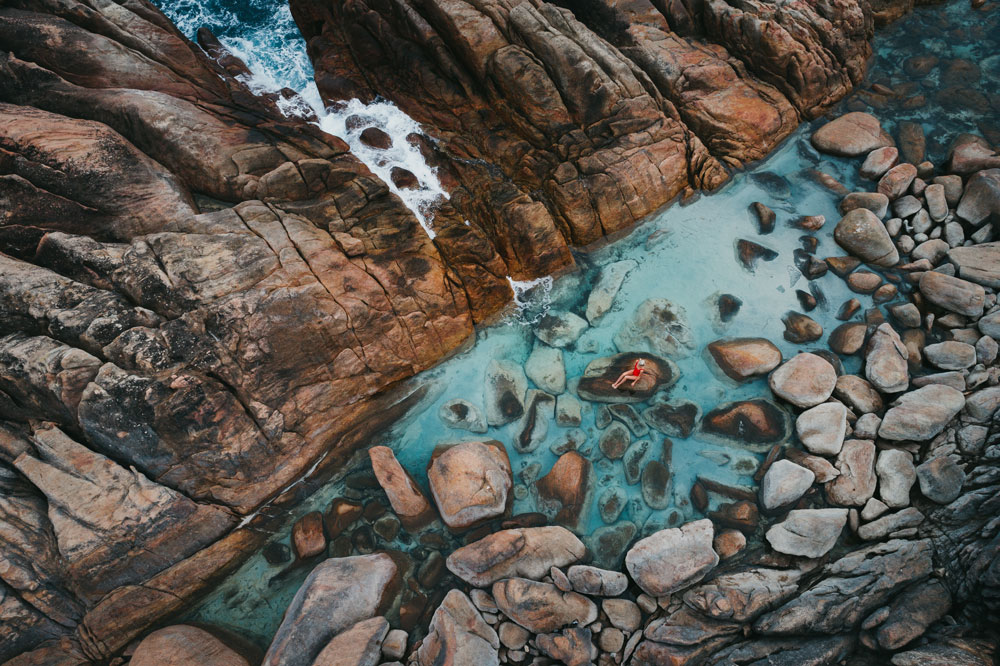 Injidup Natural Spa, Yallingup. Photo Credit: Jarrad Seng
The Margaret River Region is one of the most popular travel - and photography - destinations in Western Australia, famous for its world-class wineries, pristine beaches, and lush forests. Stretching from the towns of Busselton to Augusta and spanning everywhere in between, the region has some of the best photo locations going around.
The most Instagrammable locations near Margaret River include the Busselton Jetty, a nearly 2km-long wooden piled jetty stretching out to sea; the stunning Boranup Forest, a magnificent karri forest with towering trees that create a magical atmosphere, and Injidup Natural Spa, a picturesque rock pool that mimics a waterfall when ocean waves crash over and feed into the clear waters, to name a few.
Our tip: Book a stay at one of our Margaret River Region parks; Busselton Lazy Days Caravan Park, Margaret River Tourist Park, or Riverview Tourist Park and spend a few days exploring to get the perfect shot.
3. The Pinnacles Desert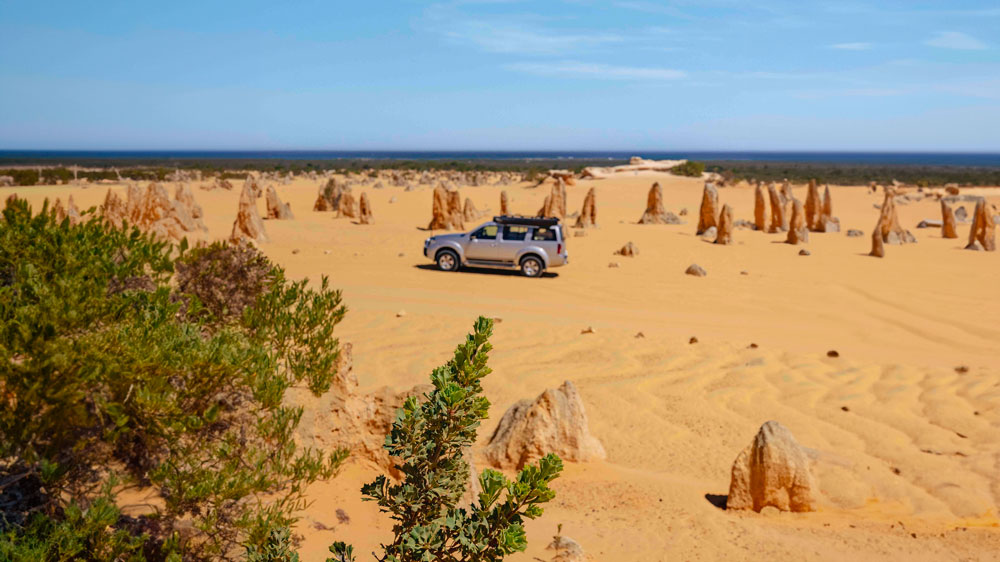 The Pinnacles Desert, Nambung National Park. Photo credit: Annabel Claire Photography @_annabelclaire_ on Instagram
Located just a few hours north of Perth and near Jurien Bay, The Pinnacles Desert is an incredible natural wonder that's perfect for Instagram photos. This otherworldly landscape here is unlike anything else in Western Australia and features thousands of limestone pillars that rise out of the sand, creating a stunning and unique photo opportunity.
Rightly so, The Pinnacles Desert is a popular destination for photographers, and there are plenty of opportunities to capture some truly unique and awe-inspiring Instagram photos. The best time to take amazing photos is during the golden hour, just before sunset, when the light is soft and warm.
Our tip: Book a stay at Jurien Bay Tourist Park, just a 30-minute drive from The Pinnacles Desert so you can visit multiple times for the best photo ops.
4. Kalbarri National Park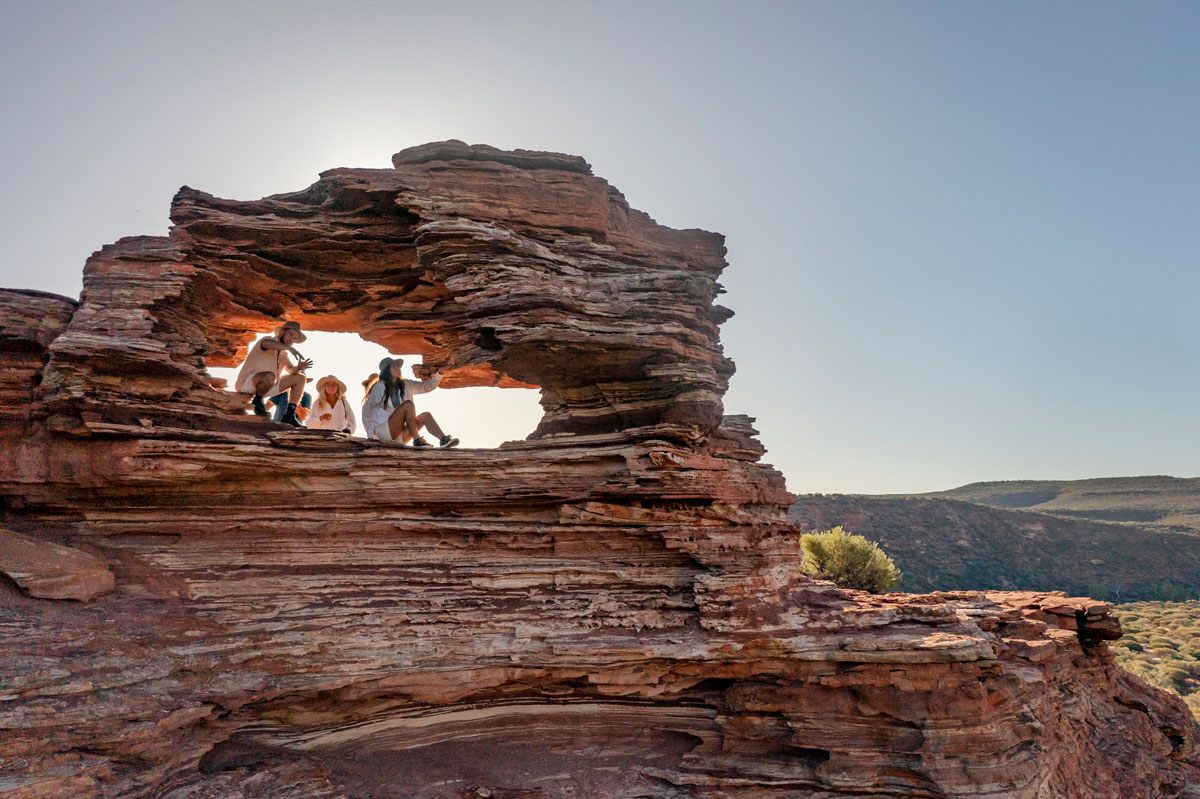 Nature's Window with D'Guy Charters, Kalbarri National Park. Photo Credit: Tourism Australia
Kalbarri National Park is located in Australia's Coral Coast, roughly a five hour drive north from Perth and is home to some of the most spectacular natural scenery in Western Australia. The park features amazing photo opportunities such as rugged coastal cliffs, impressive gorges, and stunning wildflowers in the spring.
The best Instagram locations are found when you venture inland into the national park in Kalbarri and visit the iconic Nature's Window, a natural rock arch that frames the Murchison River; the Kalbarri Skywalk, a viewing platform suspended high above the Murchison River Gorge; and the Z Bend Lookout, which offers breathtaking views of the gorge here.
Book your stay at Kalbarri Red Bluff Tourist Park and get ready to unleash your creativity and capture unforgettable moments in this picturesque paradise.
5. Perth City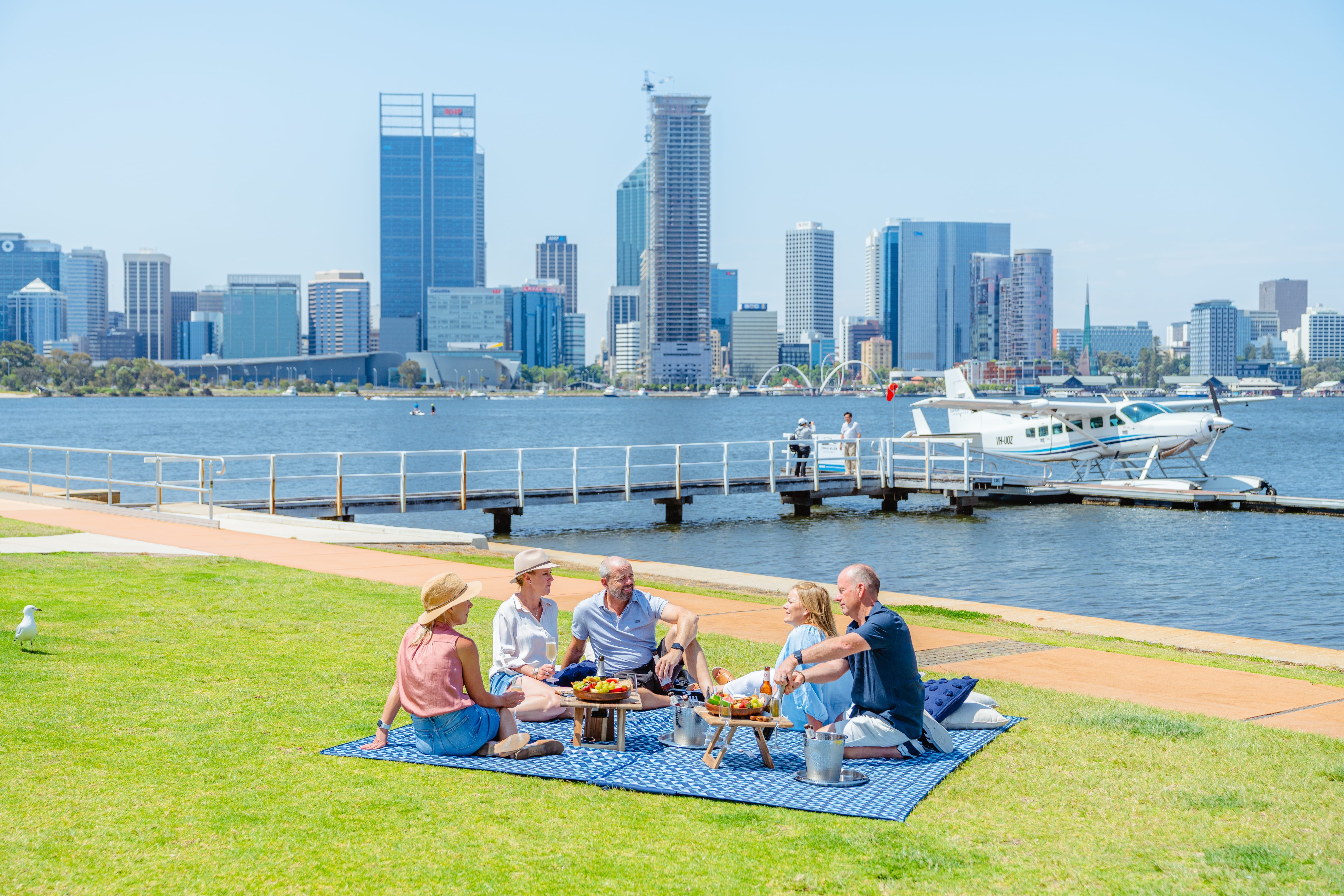 Perth City with Swan River Seaplanes. Photo Credit: Tourism Australia
Perth City is the capital of Western Australia and has plenty of Instagram locations. One of the most popular places is Kings Park and Botanic Garden, where visitors can take stunning photos of the city skyline and the Swan River.
The bustling Elizabeth Quay is another popular photography spot; and you won't want to miss the colorful street art in Northbridge. Another favourite and secret photography spot in Perth City is John Oldham Falls, tucked in a lush urban park next to the Narrow's Bridge.
Take a ferry across the river to South Perth Foreshore to get the ultimate view of the Perth City skyline. It is especially spectacular at night when you can see all the city lights.
While in Perth, don't miss the historic Fremantle, a port city located just 30 minutes south of Perth; from its iconic Victorian-era architecture to its bustling markets and lively street art, there's plenty to photograph here for your Insta feed. Wander through the enchanting lanes and alleys, where every corner holds the potential for a stunning shot.
6. Ningaloo Reef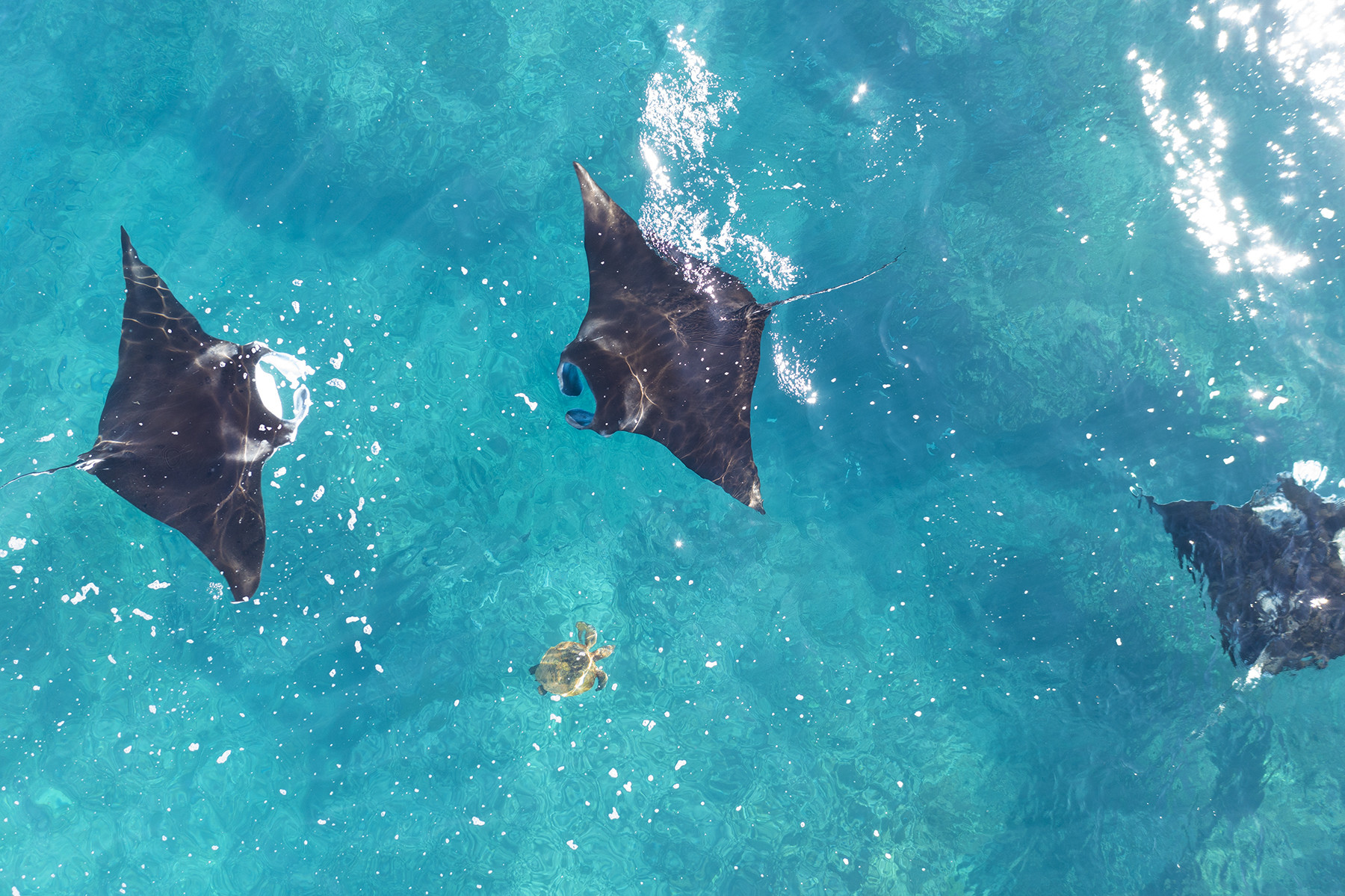 Ningaloo Reef. Photo Credit: Tourism Western Australia
Ningaloo Reef is world-heritage listed and a stunning destination for those who love underwater photography, with its crystal-clear waters and diverse marine life. The reef is home to many species of fish, turtles, and manta rays, and the whale shark season (March-July) is an excellent opportunity to take a photo with the world's largest fish. Another unique Instagram spot in Ningaloo is the famous Turquoise Bay, with its pristine sand and turquoise waters.
Our tip: Stay at Carnarvon Capricorn Holiday Park on your way up to Coral Bay and Exmouth and explore the epic coastline here which offers many photo locations.
7. Karijini National Park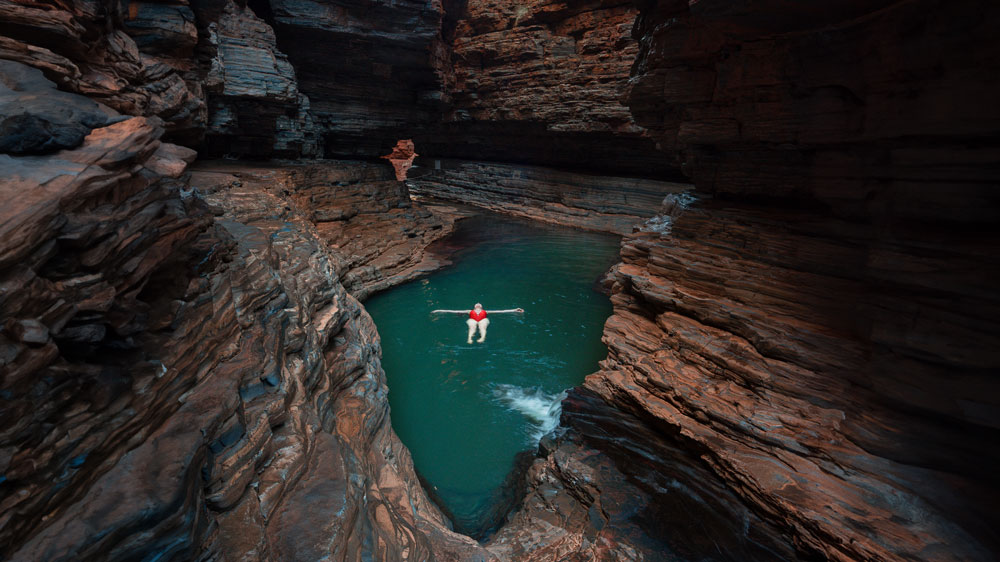 Kermits Pool, Hancock Gorge, Karijini National Park. Photo credit: Annabel Claire Photography @_annabelclaire_ on Instagram
Nestled in the heart of Western Australia's rugged Pilbara region, Karijini National Park is just under a hours' drive from Tom Price and boasts dramatic gorges, cascading waterfalls, and ancient rock formations that will leave you in awe. Explore the narrow chasms and hidden pools of Fern Pool and Fortescue Falls, where you can capture the essence of tranquillity and natural wonder.
The iconic Hancock Gorge and its stunning layered walls surrounding the green-blue Kermits Pool offer a perfect backdrop for your Instagram feed. Whether it's the vibrant colours of sunrise and sunset, the raw power of nature, or the mesmerizing reflections in tranquil waterholes, Karijini National Park promises to be a visual feast for photographers seeking that perfect shot.
Book a stay at Tom Price Tourist Park, the perfect base for your Karijini photography adventure.
8. Esperance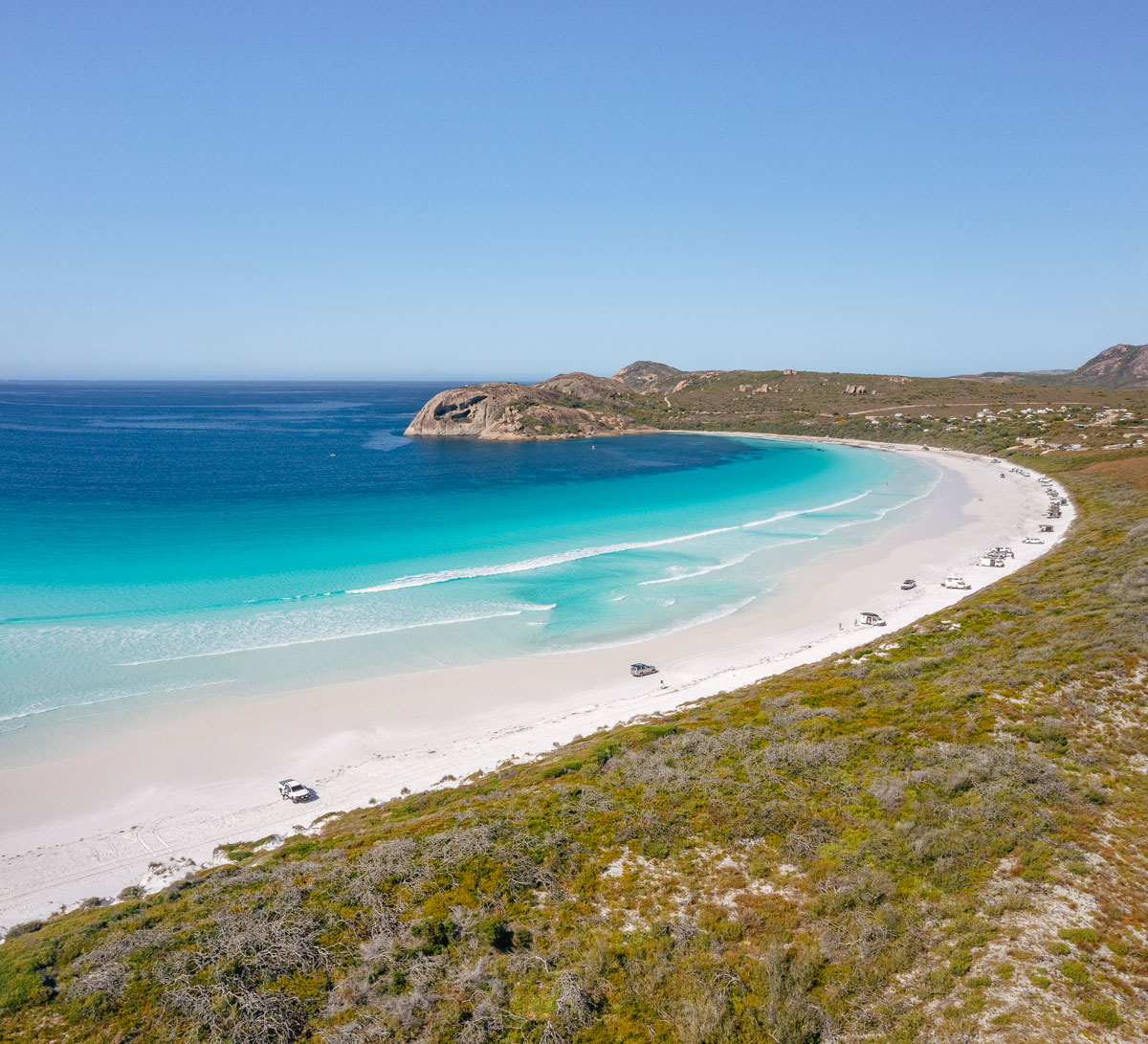 Lucky Bay, Cape Le Grand National Park, Esperance. Photo Credit: Annabel Claire Photography @_annabelclaire_ on Instagram
If there's one place that most deserves a spot on the Instagrammable travel destinations list, it's Esperance. With its pristine white sandy beaches, crystal-clear turquoise waters, and dramatic granite rock formations, this region is a treasure trove of stunning landscapes waiting to be captured.
From the famous Lucky Bay, known for its resident kangaroos lounging on the beach, to the secluded Hellfire Bay and breathtaking Twilight Cove - just 11-mins from Esperance Bay Holiday Park, every beach in Esperance and Cape Le Grand National Park offers a unique and picturesque backdrop for your photography adventures.
Whether you're capturing the vibrant sunsets, the rugged coastal cliffs, or the playful waves crashing against the shore, you'll find endless opportunities to create mesmerising images that showcase the beauty and serenity of this remarkable destination.
9. Rottnest Island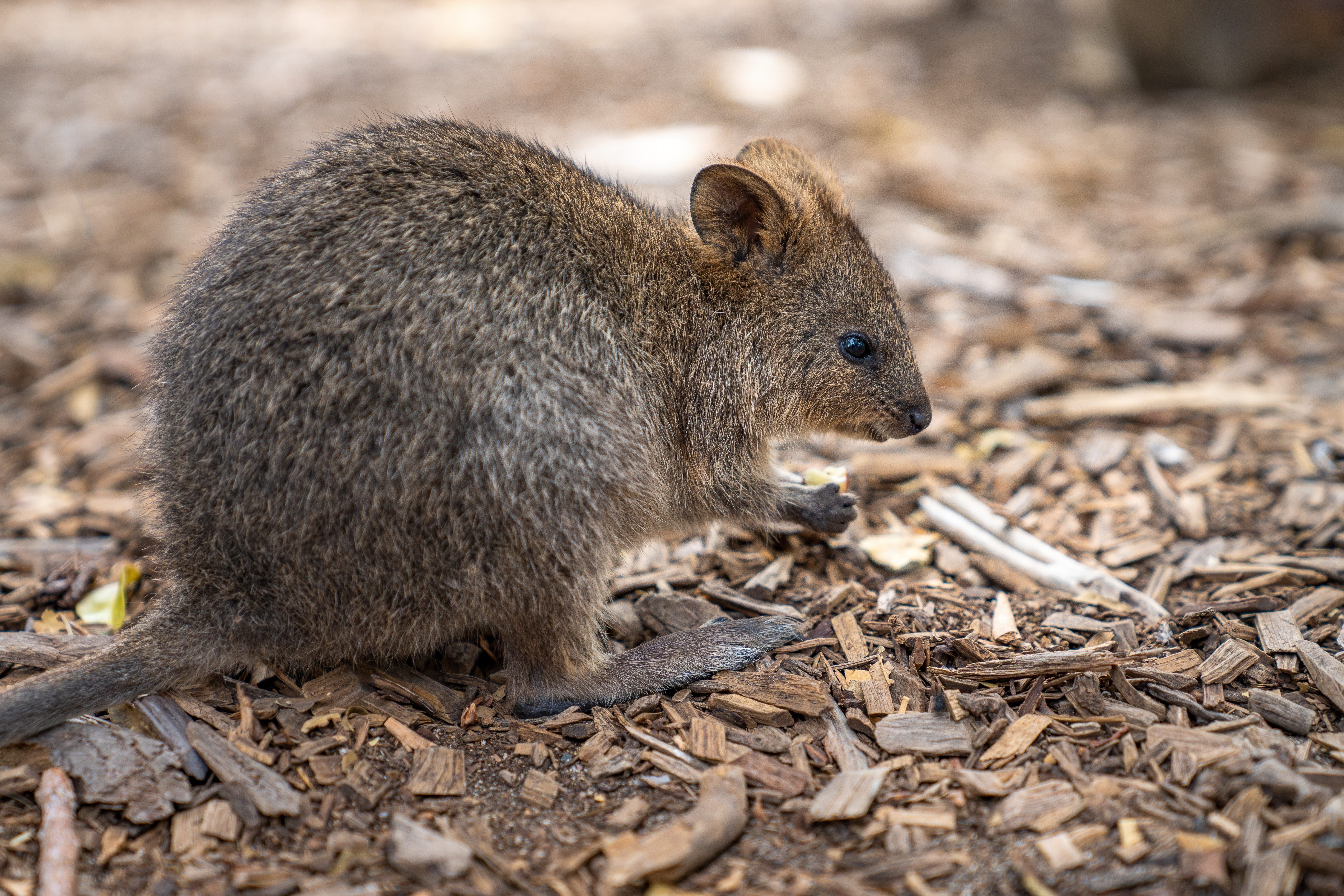 Quokka, Rottnest Island. Photo Credit: Tourism Australia
Located just off the coast of Perth, Rottnest Island is a popular destination for locals and tourists alike. The island's stunning natural beauty is unmatched, and there are plenty of opportunities to capture great photos - from the famous quokkas, small marsupials known for their friendly and photogenic nature, to pristine beaches and some of the most popular photo locations on the island at the likes of The Basin, Pinky Beach, and Little Salmon Bay. Additionally, exploring the island on a bicycle can be an exciting way to discover hidden Instagram-worthy spots.
So there you have it! Western Australia offers a diverse range of Instagrammable travel destinations, from stunning beaches to rugged outback landscapes, and there is something for everyone. Whether you're an adventurer or just looking for a relaxing getaway, Western Australia has plenty of locations to explore and photograph.
Book your stay
Summerstar Tourist Parks are lucky enough to operate caravan, holiday and tourist parks in most of WA's most Instagrammable destinations and stunning photo locations.
Browse our parks today and plan and book your next photography-worthy holiday.